Using My Magic
While traveling the globe, I have observed most of the world using way more fresh herbs than Americans do, even despite the booming business of growing and selling fresh herbs here: whether it be in grocery stores or farmers markets. Americans buy herbs like crazy but are still not as comfortable using them and, when they do, they use only tiny amounts. Americans are curious but conservative when it comes to using fresh herbs. I have made it my lifelong mission to change that.
In my long herbal life thus far the question I have been asked most about herbs exposes this fresh herb hesitation: "How do I use them all up?" My answer has always sounded as smart-assy as I am, despite the sincerity. "You just do. You just use them up." Transcend the conservatism. Learn at least a little about the flavor and potencies of the herbs you like, play and take risks. That's how we grow as cooks and eaters.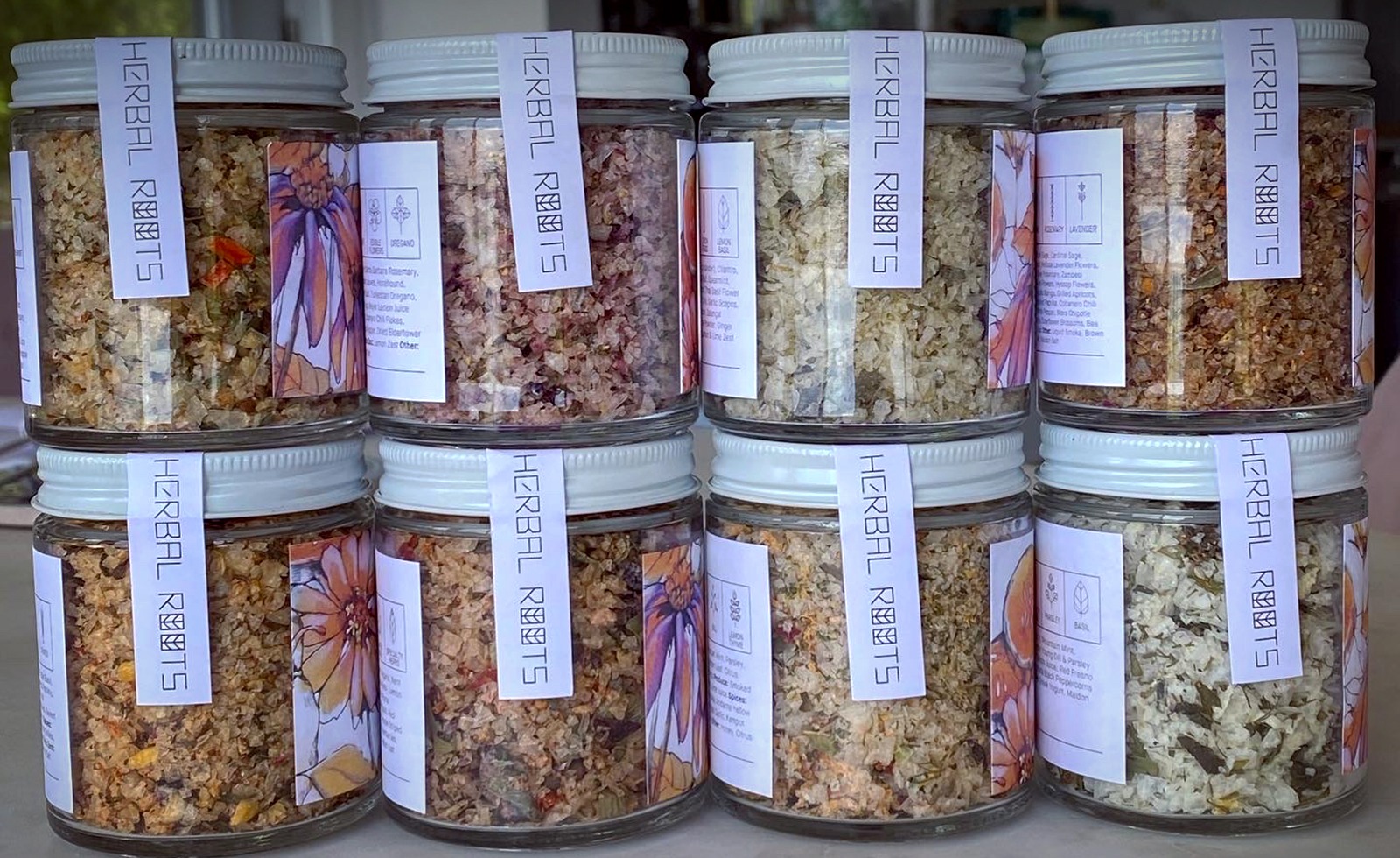 It doesn't help that most recipe writers only use small amounts of fresh herbs in recipes and tend to write-in dried herbs as that's been historically what people have in their cupboards. Cookbooks are the same, most editors shy away from the writers who use larger amounts of fresh larger amounts of fresh herbs  as they fear it's not a scalable or interesting  to the average cooker, again despite the hefty purchases of fresh herbs occurring. More often there are more fresh herbs used for the  food styling aspect in recipes than there are in the actual recipe. I invite you to start noticing this.
(Still, most chefs, cookbook writers and industry folks use larger amounts of fresh herb in their own kitchens One would think the industry would want to unmask this.)
I have always had my work cut out for me in trying to encourage fresh herb usage in American kitchens. My herbal salts, which are all packed full of fresh herbs, are just one way to increase excitement about herbs.
Oh, and the answer to: "How do I use your salts?" It's the same. Just use them.
The Seasonality Importance
Part of my culinary mantra is to help make cooking and eating a more flavor-filled, easier and more pleasurable experience. In my over 25 years teaching how to cook (I started in my early 20's), I have found that teaching people about what grows in each season helps them make better culinary choices. When you use ingredients in peak season, you should get peak flavor; that on its own makes food taste better. Pairing peak season foods with spices, condiments and other goods known to enhance that item gives people more knowledge. From there they can creatively expand or, like many, hold onto their foolproof flavor-filled recipes. I believe in both.
My salts are a way to showcase seasonal combinations, moods and feelings in a little jar. They showcase the possibilities of the moment when it comes to seasonal ingredients. With my salts, consumers can learn how to utilize the seasons offerings and begin to understand how both traditional and modern pairings can lead to better cooking skills.
Case in point my Summer 2022 Herbal Salt- The Vegetable Series – Summer Tomato Black Olive-Oregano Salt. It highlights the traditional and seasonal pairing of tomatoes, bell peppers oregano, basil and olives and tosses in a slew of other seasonal items that feels much like an Italian or Greek  summer tomato salad on the palette. In this salt, you not only taste peak summer ingredients but you are prodded to think about traditional flavor pairings that have lasted through time. You can dream or riminess of tomato salads from all over the Mediterranean.
Summer Tomato Black Olive-Oregano Salt
Fresh Herbs:  Syrian Oregano, Turkistan Oregano, Kent Oregano, Greek Oregano, Parsley, Purple Basil, Lemon Basil, Lemon Leaf  Produce:  San Marzano Roma Tomatoes, Kalamata Olives, Red Bell Peppers, Red Fresno Chilies  Spices:  Tomato Powder, Purple Striped Garlic  Citrus Zest: Lemon Zest  Other:  Caperberries, Balsamic Vinegar, Parmesan Cheese, Maldon Salt
Maldon Salt
I use all kinds of salts when making my herbal magic, but mostly I use Maldon flake salt. I landed on Maldon salt for a few reasons. First I'm able use a lot of wet ingredients with out the salt melting down. It also doesn't burn as easily. (Yes, I found out that salt burns as I dry my salts at a higher temperature.) Maldon salt melds into hot, warm and wet foods at a lovely pace, taking  a bit more time than granule salt, and in my opinion imparting a more co-mingled over all final taste without pushy salt forwardness
I use kosher salt to boil water and for few other things like baking but my go-to salt is Maldon for most everything else.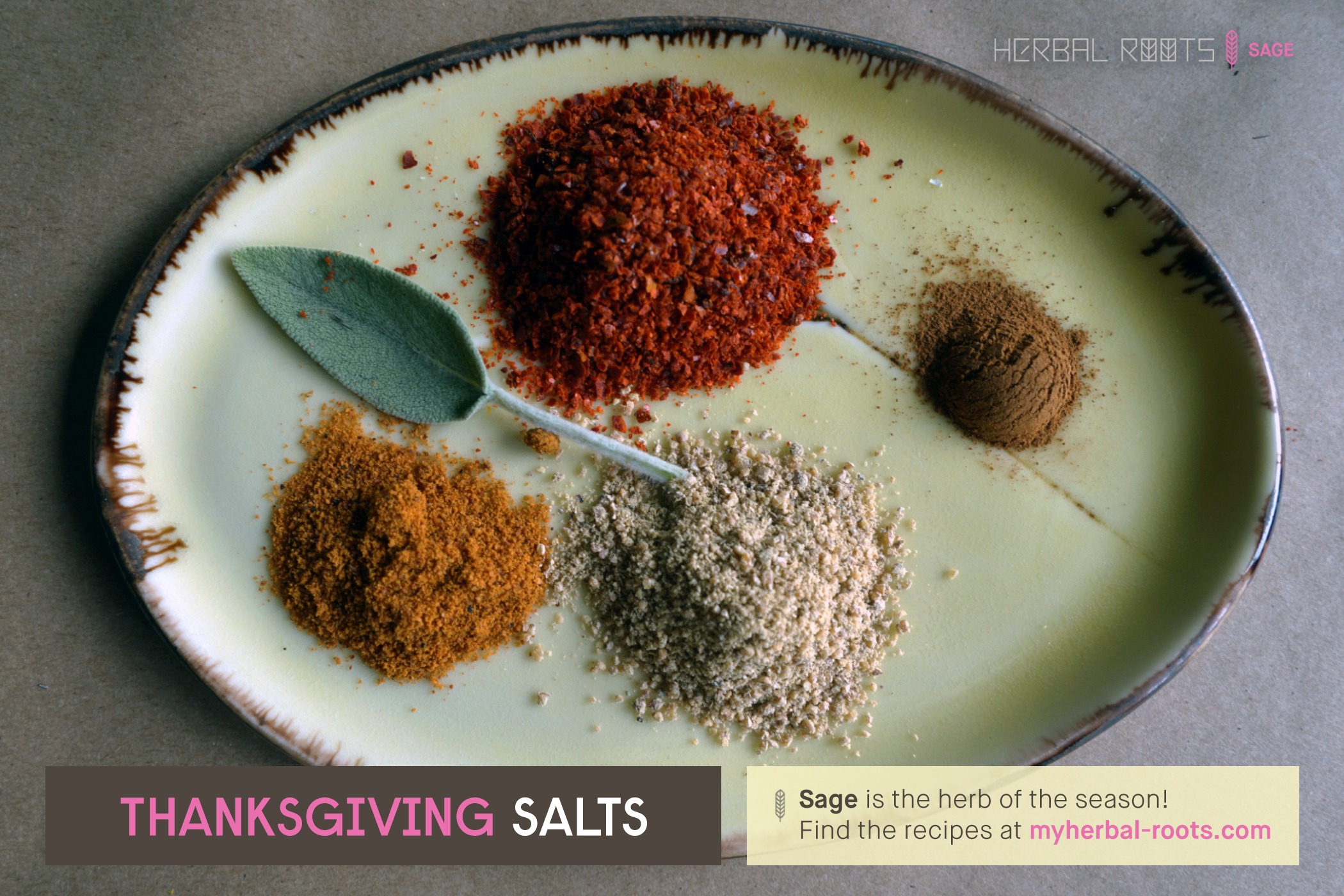 Spices
The spices I used are intended to complement each moment in the season as well as ad climax to the seasonal fruits and vegetables, as well as proteins like beans, fish, poultry and meats, including wild game. My spices added are an extremely thoughtful and also  an instinctual process. My global travels have embedded countless offerings, that reside in my memories. The spices themselves, the people, places and harvest and drying techniques all contribute to my intuitional feel for what's needed. Historical and customary use and pairings collide with my natural creative flare. I like to use a lot of unknown spices that will add subtle flavors the tongue may not recognize, but is delighted to meet.
My Smoky Apricot & Mango BBQ Floral Salt, another of my Summer 2022 Herbal Salts- The Fruit Series embodies my direction when it comes to spices. I combine  spice flavors and memories from my travels to places like Istanbul, Israel and Mexico and unite them with  passionate new ideas that come from somewhere deep inside me, that I cannot quite articulate. My spice use combinations, along with many of the  unknown wacky and weird herbs tend to create an avant-garde feel to my salts, like something that feels familiar but is also like nothing ever had.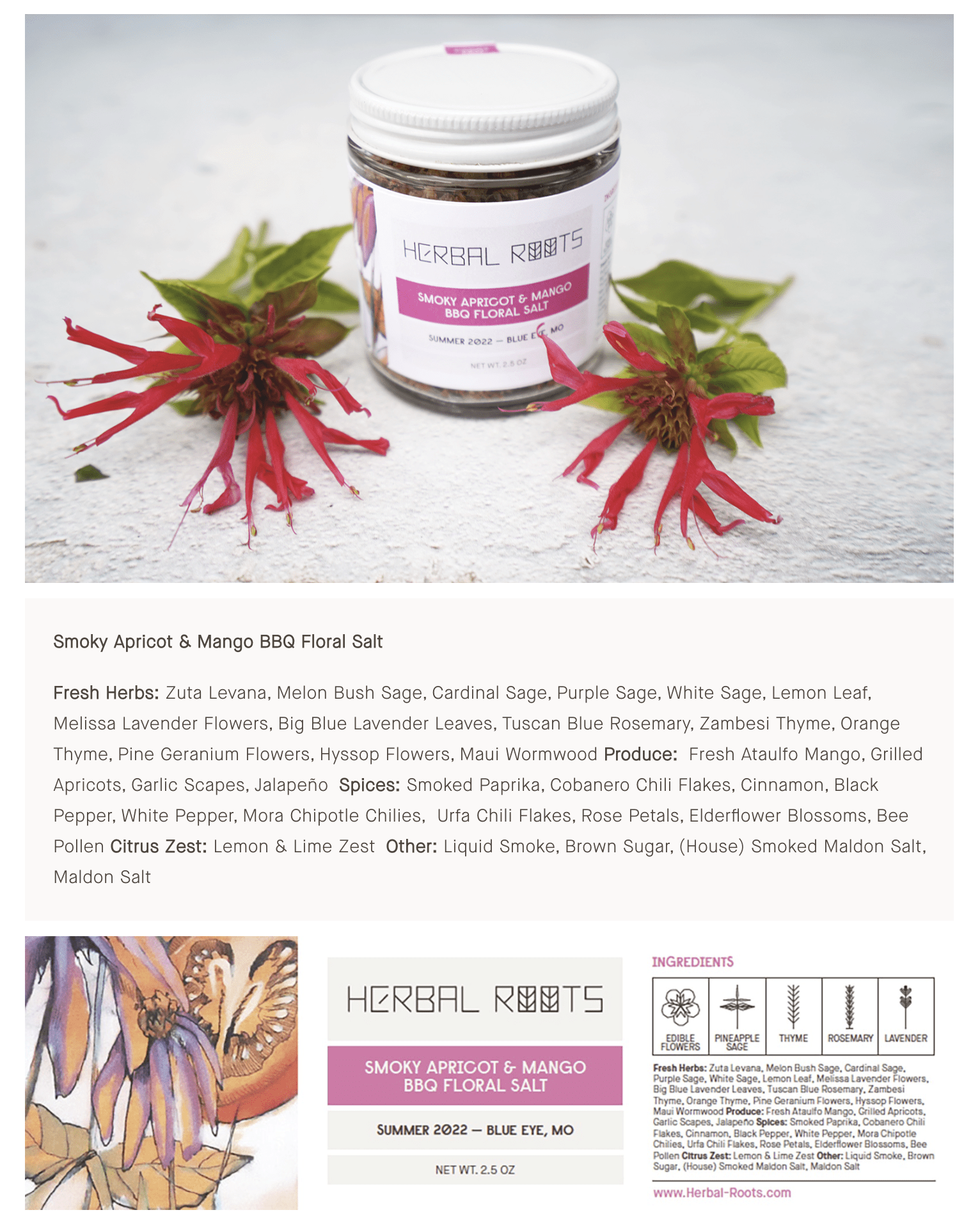 Smoky Apricot & Mango BBQ Floral Salt
Fresh Herbs: Zuta Levana, Melon Bush Sage, Cardinal Sage, Purple Sage, White Sage, Lemon Leaf,  Melissa Lavender Flowers, Big Blue Lavender Leaves, Tuscan Blue Rosemary, Zambesi Thyme, Orange Thyme, Pine Geranium Flowers, Hyssop Flowers, Maui Wormwood Produce:  Fresh Ataulfo Mango, Grilled Apricots, Garlic Scapes, Jalapeño  Spices: Smoked Paprika, Cobanero Chili Flakes, Cinnamon, Black Pepper, White Pepper, Mora Chipotle Chilies,  Urfa Chili Flakes, Rose Petals, Elderflower Blossoms, Bee Pollen Citrus Zest: Lemon & Lime Zest  Other: Liquid Smoke, Brown Sugar, (House) Smoked Maldon Salt, Maldon Salt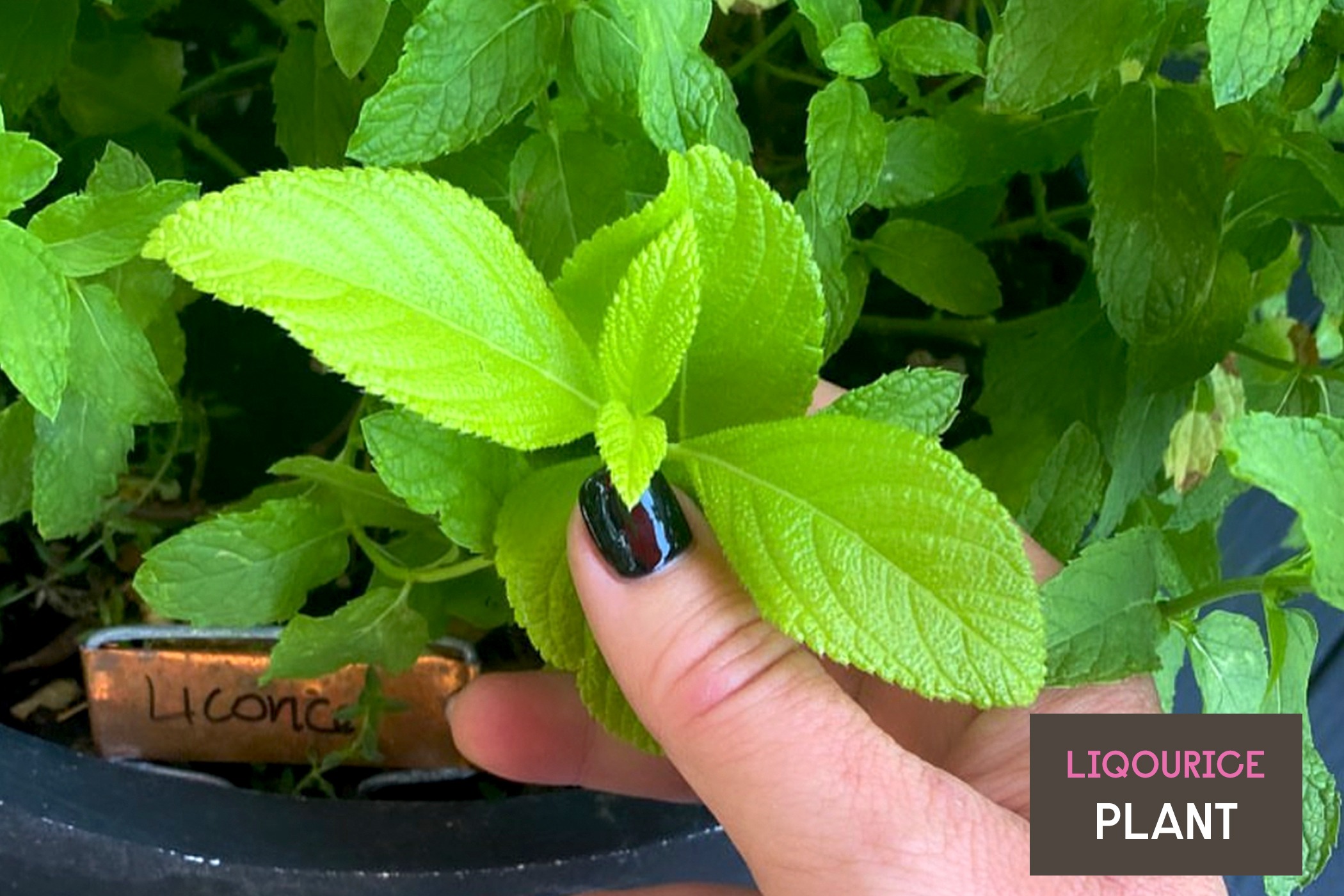 The Herbs
Obviously my herb salts are loaded with fresh herbs, and each season reflects the peak performance of the herbs. The herbs are the life of my salts. They bring a fresh live here-and-now feeling that creates an instant excitement. That for me is the best way to describe the feeling of using fresh herbs in cooking- they ignite passion and their strength in potency, softness, vibrancy and flavor aids and relaxes the cooker into creating better food.
I like to use the herbs to impart flavor variances by using them when they are young (shoots) and as they get old (flowers, seeds and roots). This style of usage in addition to adding very specific new flavors that are similar to ones we know helps remind us all that everything changes in each moment and change is useful.
I utilize most of the staple herbs at peak timing that the average person knows in addition to many unfamiliar varietals. Since most people do not have access to specialty herbs or don't grow them themselves, I see this as a way to expand our collective knowledge.
The Summer Melon Herb Salt, another of my Summer 2022 Herbal Salts- The Fruit Series is a potent illustration of my herb use. I use not only a significant number of unknown herbs like Rau Rom and Vietnamese Mint but I use Thai basil flower buds, which taste reminiscent of spicy cinnamon but fresher and move alive and the pretty white flowers of lemon basil which taste  of soft lemon with hints of sharp anise.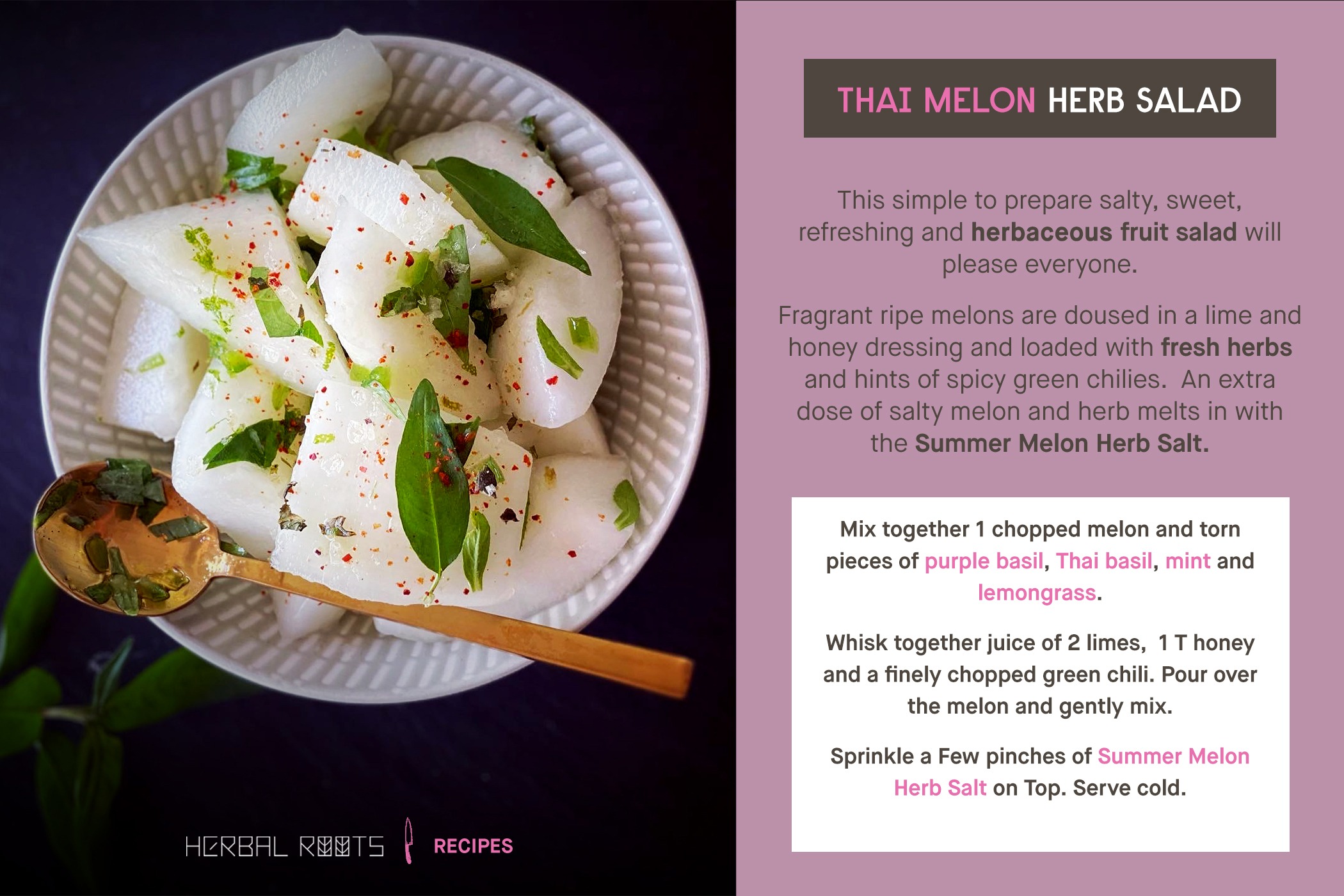 Summer Melon Herb Salt
Fresh Herbs: Rau Rom (Vietnamese Coriander), Cilantro, Japanese & Vietnamese Mints, Thai Basil, Spearmint, Lemongrass, Lemon Basil, Lemon Basil Flowers, Purple Basil, Thai Basil Flower Buds  Produce:  Galia Melon, Serrano Chili, Garlic Scapes, Lime Juice  Spices: Lemongrass Powder, Galangal Powder, Matcha Powder, Markut Lime Powder, Ginger Powder, White Pepper  Citrus Zest: Lemon & Lime Zest  Other: Maldon Salt
My Oven Technique
Most of the herb salts on the market are dehydrated in dehydrators using very low temperatures – 95-106 degrees F. typically. I use a European style (blows hot air) convection oven and I cook my salts (sometimes multiple times) at a much higher temperature, between 220-245 degrees F. I like this hotter style because it allows the ingredients to somewhat cook together: mingling and melting into each other. Everything in the mix becomes one commingled flavor and still each flavor shines. The Maldon salt holds up well in my method and the ingredients tend to coalesce into the flakes. The salt itself becomes flavored versus salt just mixed together with other stuff.
When I incorporate wet ingredients I do 2-3 different dries, making sure all the wet material has been incorporated into the salt first. Sometimes with more bulky items, like olives or tomato pieces I might chop them up and dry them first a little – so that they are fully dried in the finished salt.
I also incorporate a lot of cooking techniques to prepare things to put into my salt, grinding fresh pineapple with fresh chilies in a molcajete  as I did for my Pineapple Green Chili Verbena Salt (Summer 2022 Herbal Salts- The Fruit Series) or smoking  honey & spiced carrots in my smoker. (Summer 2022 Herbal Salts- The Vegetable Series)
There is a lot of thought and preparation that goes into these salts, and I can personally taste each technique in the finished salts.
Pineapple Green Chili Verbena Salt
Fresh Herbs: Lemon Verbena, Honey Melon Sage, Strawberry Geranium Flowers, Pineapple Mint, Spearmint, Evening Primrose Petals Produce: Fresh Pineapple, Lime Juice, Serrano Chili, Red Bell Peppers, Garlic Scapes, Green Dandelion  Spices: Smoked Paprika, Sumac, Bee Pollen  Citrus Zest: Lemon & Lime Zest  Other: Smoked Oak Water, Hot Mustard, Pineapple Powder, (House) Smoked Maldon Salt, Maldon Salt
Fruits and Vegetables
Although my passion for herbs is the center of the salts, seasonal fruits and vegetables are the support system. I'm equally as passionate about seasonal eating as I am about herbs and I want my salts to reflect my credo. More flavor and enjoyment can be had in cooking with and eating seasonal fruits and vegetables. Witnessing the rest of the world placing significant value on the eating of fresh fruits and vegetables early on in my life embedded in me a notion that equates fresh seasonal offerings to optimal taste, nutritional and even community. I want my herb salts to reflect this value and if at all possible lead the users to thinking about seasonal eating and its value to our lives. It would be impossible for me to capture any moment in any season without the usage of fresh seasonal fruits and vegetables.
I absorb extreme creative fuel from this aspect. There is no fruit or vegetable I can't use in my salts; the possibilities are endless and joyous. My favorite of my Summer 2022 Herbal Salts, my Summer Fig Rosemary Salt was perhaps the most joyous seasonal herb salts I have created yet. I love figs but they are one of the most fleeting fruits. They are not and will never be a fresh fruit offering that can be prolonged once ripe and picked. For me they are a distinct snapshot of the end of summer. With this salt I drizzled royal jelly, which I had brought back from the Greek Island of Kefalonia where I had enjoyed many figs in peak season, over the figs  was lemon juice and zest and then mashed and macerated the mixture into the salt. This beautiful purple hued salt has tiny flecks of dried fig in it that melt into anything it used on. It reminds the mouth just how special and fleeting figs are.
Summer Fig & Rosemary Salt
Fresh Herbs: Pink Majorca and Santa Barbara Rosemary, Big Blue and Spanish Lavender Leaves, Horehound, Lemon Leaf, Licorice, Ginger Bush, Turkestan Oregano, White Sage  Produce: Fresh Figs, Meyer Lemon Juice  Spices: Cinnamon, Nutmeg, Cobanero Chili Flakes,  Sweet Paprika, Robusta Black Pepper, Dried Elderflower and Lavender Blossoms  Citrus Zest: Lemon Zest  Other: Kefalonia Royal Jelly, Maldon Salt
Odds & Ends
I'm known for my odds and ends, using up things most don't use. With most of my salts, once the basic idea has melded in my brain and I have written the general idea down, I simply open the fridge or look in the pantry to let it percolate even more.  Yogurt, parmesan cheese, Chinese mustard, red chili sauce, preserved lemons, capers, honey: I've used it all. Each item imprints a very specific extra flavor note that makes my herb salts spectacular, accentuating the moment of the season.
My Tzatziki Cucumber Dill Salt (Summer 2022 Herb Salts- The Vegetable Series) was formulated just like this. I wanted to make a cucumber dill salt, cucumbers after all are one of the most abundant items in summer. While formulating the recipe I had glanced in my fridge and saw the Greek yogurt I had been meaning to use up, the Idea of creating a tzatziki and adding that to my salt conceptualized on the spot. Next thing you know I had a beautiful dill and cucumber forward herb salt packed with tiny dried cucumber particles and hints of the sour yogurt flavor in the background.
Tzatziki Cucumber Dill Salt
Fresh Herbs:  Dill, Moroccan Mint, Mountain Mint, Spearmint, Parsley, Basil, Tender Young Dill & Parsley Seeds  Produce:  Cucumbers, Lemon Juice, Red Fresno Chilies  Spices:  Dill Pollen, Robusta Black Peppercorns  Citrus Zest:  Lemon Zest  Other:  Greek Yogurt, Maldon Salt
How to Use Them
There is just one rule to the use of my salts……..use them.
There are however a few ways I like to use the salts when I first make them, these simple usage ways allow me to really taste the salts and have become my go-to method for testing the taste of my salts.
Scrambled eggs are my favorite way to try out each new salt. The simplicity of taste in a scrambled egg allows for the overall herbal salt flavor to be discovered and also every granular flavor sticks out. This method of my testing salivates my idea center for how I want to use them in cooking. I will never forget the first time I put my  Thanksgiving Herb Salts (Fall Herb Salts 2020) on eggs, the hints of cinnamon in the salt shone through and I couldn't believe how much I enjoyed that flavor on eggs and how my eggs felt exceptionally seasonal, which I have loved ever since in daily egg eating routine.
I equally love to flavor steak with the salts, specifically a rib eye. I think a steak flavored with a seasonal salt is exceptional and, again, I can taste hints of the season, bits of flavor that make the steak better. There is something about the rib eye, I think it might be the fat, which allows for the life and vibrancy, in particular of the fresh herbs, to come potently forward in the perfect way. The steak tastes fresher and more seasonal but still meaty like I like a steak.
But, again, there is just one rule to using my salts: use them. Don't save them. Use them in all your seasonal cooking, and if you happen to have some summer salts left in winter, add a bit of summer to your winter. Use them while cooking, use them as finishing and put some on the table for others.
They are flakes of joy, so use them generously!