Spring Herbal Salts & Pepper
I haven't always had a garden. In fact, a good portion of my adult life (the part where I lived in Brooklyn for 13 years) didn't include one at all. Those times I did have a garden, many creative and good ideas sprung forth from it. Making seasonal fresh herb salt-and-peppers was one of those ideas, and they are by far one of my most versatile and useful herbal endeavors. When you do have access to a garden the experimental process of trial and error is cheaper and easier, but through my own process with and without a garden I can report some good results and share some of my herbal ideas; so, regardless of whether you have a garden or not, you certainly will have the tools and recipes to whip up a batch of herbal seasonings whenever the whimsy hits you, as it does me.
These herbal seasonings are like magic potions that I personally must have on hand to fulfill my whimsical cooking flavor fantasies. The idea, oddly, came through one of those $0.99 cookbooks at Barnes and Noble. I always buy these books. Yes, I buy them because I feel bad that the author's hard work is on sale for pennies and want to support them, but I also always find inspiration for my creative culinary endeavors, as I did with this 99-cent salt and pepper book. I have a major salt fetish (those that know me can confirm this.) This book enraptured me and gratified my need to dive deeper into salt and pepper. The book essentially was the muse for what has become one of my strongest culinary skillsets: creating seasonal, herbal salt and pepper seasonings that are wildly creative.
Since the dawn of time, salt, pepper, and herbs have been essential commodities. They were crucial to the evolution of our relationship with food. This can be seen in the art of preserving, flavoring, medicating, curing, and simply enhancing. For a very long period of history, they were used as currency throughout the world, and while most of us don't use them as such today, they still reign as one of the world's most essential culinary ingredients. Of course, uses of herbs are as diverse as the many varieties themselves. Combining them is one of the most universal aspects of cooking and eating throughout the world. Salt, pepper, and herbs enhance the flavor of our meals. They also serve very instrumental purposes – for preserving, masking, and emphasizing, as well as adding flavor more generally.
Most folks in the food and recipe writing world tend to think of salt and pepper as… well, black and white. When we dig a little deeper, we can see a rainbow of flavors, colors, uses, and varieties. We might summarize this phenomenon as herbaceous opportunity. As the world grows smaller – and I sound like a broken record with this saying – so grows our knowledge regarding the vast range of options to season our foods. So, too, goes our perception that there is a right or wrong way to explore food and flavor.
In addition to not being able to tolerate plainness, I have always felt a great deal of joy while making these herbal seasonings. I feel an even greater joy in the act of using them, and of course, tasting the results. My herbalized salt and pepper game does the task of salt or pepper in a new, fresh way. My method adds layers of fresh flavor along various steps – macerating, marinating, tenderizing, cooking, and seasoning before the first bite. The seasonal aspect makes each dish feel more alive with the season, which reminds me of the important work of living in the now.
In terms of salt and pepper, most of us need to step it up and keep learning about these commonplace (and often taken for granted) table fixtures. I'd like to help you explore the magic of salt and pepper a bit further, in the hopes that you too can create great joy in your kitchen with them. It can be as easy as adding fresh herbs into the mix! Using different types of salts and peppers while pairing fresh and dried herbs (plus spices!) can truly enrich your cooking in a way that says, "What took me so long?!"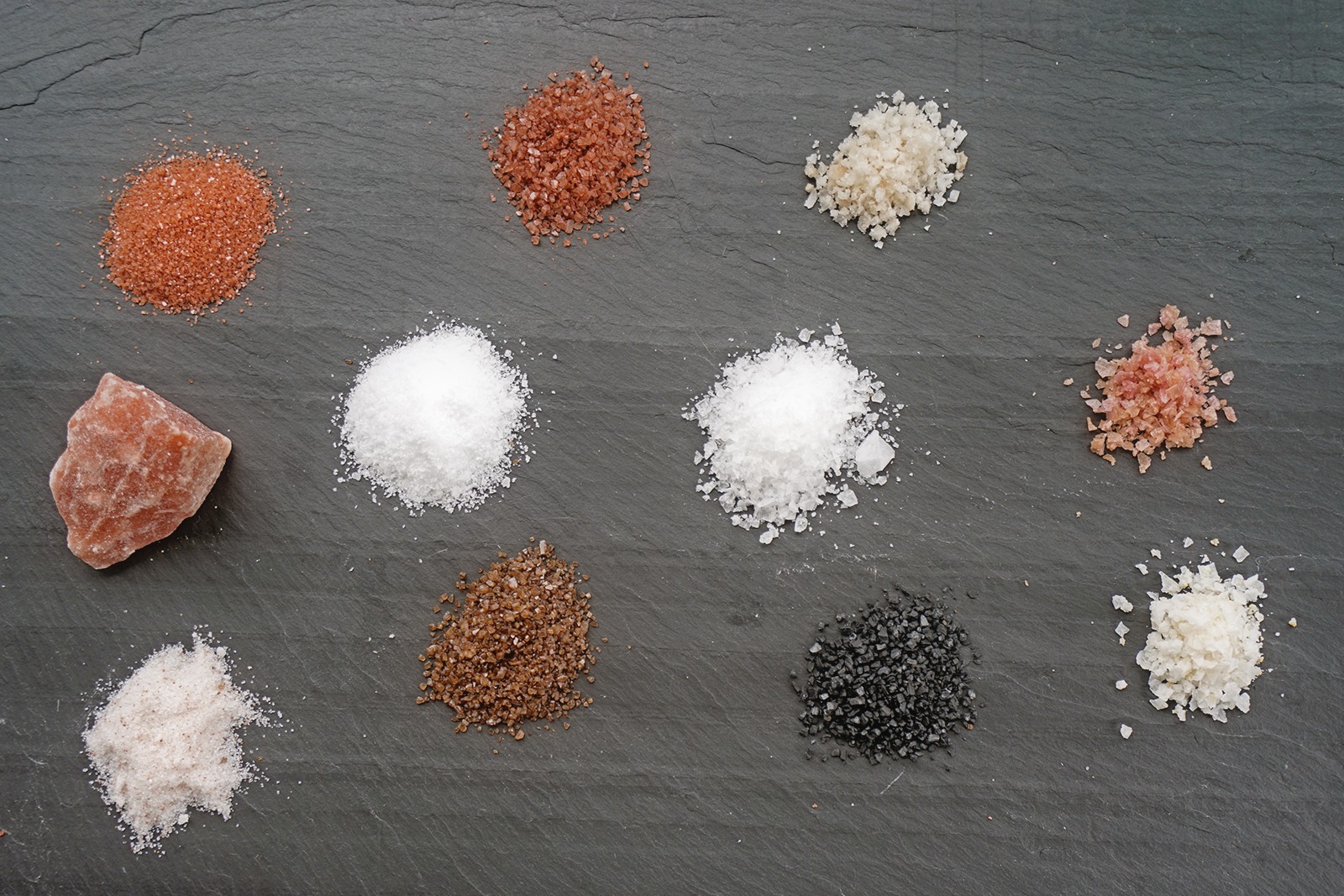 salt
Salt was originally used for preserving. Preservation of meats with salt was and still is common. Salt has evolved into one of the most practical, useful, and cheap resources for creating consistently exciting, tasteful foods. An essential mineral for all living beings, natural salt is obtained from sea water and rock deposits. It can range in colors from white to grey, pink, red, brown, and black depending on the other minerals present and the level of processing.
As we move into a healthier way of living and a less deprecating way of treating our planet, we are slowly returning to salts that are purer and more natural. For many years, western processing of salt dictated that only white salt was acceptable. Again, as the world grows smaller and our knowledge of it changes, we have become wiser in finding that the natural options out there are not only purer and less processed, but also less threating to the planet and our health. How's this for a motto: "Out with the highly processed and refined, and in with the pure and natural!" There are a plethora of options out there just waiting to be discovered.
BASIC SEA SALT
Sea salt consists of large, soft salt crystals made by simply boiling and evaporating salt water. It is typically mild in flavor and rich in minerals. The most widely used type of salt, sea salt is compatible with most types of cooking, and it dissolves easily. It is one of the best salts when used raw and best for baking as well.
KOSHER SALT
Kosher salt, a salt most food writers rave is the most versatile of all, was originally named because it was the salt used to kosher meat. It is basically rough sea or land (table) salt. It's coarse and more dense than basic sea salt and less refined, comprised mostly of larger flakes.
FLEUR DE SEL
Fleur de Sel is essentially a sea salt, a sort of evaporated salt water, but specifically from a single day's evaporation of the salt crust on the top of a salt pond. It is the least salty and purest part of the saline. Prized for its delicate flavor, it is a great all-around salt.
GREY SEA SALT
Grey sea salt is hand-harvested from the Atlantic Ocean. The harvester sweeps the top of the evaporating sea water to collect it. Subtle in flavor and grey in color, it is typically wetter than the others. Due to its clumping nature, it is best used in cooking rather than on raw foods.
HIMALAYAN PINK SALT
Himalayan salt is 2 million years old, from the inland seas of India. The pink color comes from the iron that is trapped in the ground; with a very delicate flavor and pleasing aesthetics, it can be used for salt type garnishes like margarita glasses and salted limes.
ROCK SALT
Rock salt is the coarse portion of the sea salt left behind in the evaporation process. This larger salt is best used either in the grinder or for picking, rubbing, or baking into fish. The granules are too hard to add straight to food so they are better for things with longer cooking times which allow ample time for dissolution.
PINK SEA SALT
Pink sea salt is sourced inland from old dried up seas. Like Himalayan salt, it is light in flavor and contains much iron, though not as much as the Himalayan. It is also very nice looking sprinkled on foods.
BLACK MINERAL SALT
Black salt is an unrefined mineral salt. It ranges from pinkish gray to dark grayish black, and has a strong sulfuric flavor. Black salt is mined in India and (surprise!) is most popular in Indian cuisines.
MALDON FLAKE SALT
An English flake salt, made in the town of Maldon, Essex, is used most often on finishing dishes. It's crunchy, with a clean salt flavor. It's made with seawater that's taken from estuaries on dry weather days when the salt content is high.
Other notable salts worth mentioning and part of my own salt collection are: Hawaiian salt, Peruvian Pink salt, smoked salts (alder, hickory), and black lava salts.
Pepper
Technically a berry, the peppercorn grows on a vine and produces several little berries. Most often, the berries are dried in different stages of the ripening process somewhat like coffee. Today we are seeing a new resurgence of peppercorn berries used in much earlier stages of the ripening process (and without being dried, as well). Native to India, the typical colors are green, pink, red, white, and black. Bright red, like bell peppers, is the finally ripened color. The spiciness of the peppercorn comes from the chemical piperine; interestingly enough, piperine has been found to help boost metabolism in humans.  
There are many specialty peppercorns that we are fortunate to have readily available these days, and I find them all quite magical to work with, these include Szechuan and long peppercorns, as well as fresh peppercorns.
As in all procedures used to cure or process foods, peppercorns are treated differently depending on color. All can be made naturally and without chemical or additive help; it is important, though, to mention that much of our mass-produced black pepper is not made the same way, and of course, there is some controversy over health hazards behind processing the peppercorns on this level. For our purposes, I am specifically speaking about peppercorns produced and treated without chemical additives and in a natural process.
GREEN PEPPERCORNS
Unripe dried peppery berries, green peppercorns are aromatic, with a very mild and fresh flavor, which lends well to cheeses, tomatoes, and fruit.
BLACK PEPPERCORNS
Pickled green and then sundried, black peppercorns are the most widely used. The black comes through the browning enzymes, which turn with the effect of the pickling and drying process. It has a much more earthy and spicy taste and is used on most foods.
WHITE PEPPERCORNS
White pepper is made by soaking the almost ripe berries in water and then removing the skin by rubbing them, then, they are dried. White pepper is spicier than the others and more pungent, but it does not carry as intense of an aroma. The flavor pairs well with soups, beans, and seafood.
PICKLED PEPPERCORNS
Pink or green peppercorns have been pickled in vinegar or brine. They are best known for their use in pepper or Tabasco sauce. They are very tangy and spicy, and good in creamy sauce and on meats.
PINK PEPPERCORNS
Not true peppercorns, pink peppercorns come from the Schinus tree. They lack the familiar peppery aroma and have a more piney flavor. Pink peppercorns work with both sweet and savory dishes.
LONG PEPPERCORNS
Long peppercorns have a more complex flavor but are similar to the taste of black pepper. While black pepper tends to taste of one note, long pepper tastes more like a medley of Indian spices, harboring both sweet and spicy tones. It has a warming quality versus the spicy bite of black pepper. A mortar and pestle will break these up with ease.  
My herbal spice recipes evolve season to season. They are based on what's available in my garden and at my store, but also what I happen to be working on recipe-wise (or whatever crazy new flavor ideas from within me unravels).
A mortar and pestle and/or spice grinder are helpful tools in the herb, salt, and pepper spice trade. You can use a coffee grinder, but I would definitely limit its use to spices if you go this route.
Here are a few of my latest & greatest unravelings!
Spring Herb Basic Seasoning Salt & Pepper Mix
This is the Lawry's season salt of my forefathers. A general all-around seasonal seasoning, I keep this mix in a little bowl on my counter and use it to season meats, soups, pastas, and a wide variety of recipes. It's got a little bit of everything in it: salt, pepper, herbs, spices. I find this useful on everything, including meats and fish.   
Makes ¾ cup of seasoning  
Ingredients
½ cup kosher salt
1 tablespoon Aleppo red pepper
1 tablespoon black pepper, freshly ground, coarsely
2 teaspoons pink peppercorns, freshly ground, coarsely
1 tablespoon lemon* zest
1 tablespoon fresh mint leaves, chopped superfine
1 tablespoon fresh parsley leaves, chopped superfine
1 tablespoon fresh fennel fronds, chopped superfine
*use organic unwaxed citrus and make sure citrus and herbs are completely dry
Directions
Preheat oven to 225°F. Combine all ingredients in a large bowl and mix thoroughly. Place the mixture on a lined baking sheet allowing ample room, making sure to flatten the mixture completely against the bottom of the pan. Place in the oven and bake for about 15 minutes. The zest and herbs should crumble easily when pressed together with your fingers. Allow to cool and process with your fingers by rubbing zest and herbs together. Store in an airtight jar for up to two months. Do not refrigerate.
Spring Herb Finishing Salt
This is a must in my kitchen, when I run out of it I can feel something is lacking. With this recipe, I rarely do the same thing twice. I love experimenting and find any tiny tinge of a unique flavor to be a kind of adventure. Since this recipe is for finishing, I like it rather herbaceous and absolutely seasonal. It really makes the present moment of the season pop with the flavor that nature seems to want us to notice right here and now.
Makes ¾ cup of seasoning
Ingredients
½ cup Maldon Flake Salt
1 tablespoon lemon* zest
1 teaspoon orange* zest
1 teaspoon Aleppo red pepper flakes
1 tablespoon fresh mint leaves, chopped superfine
1 tablespoon fresh parsley leaves, chopped superfine
1 tablespoon fresh fennel fronds, chopped superfine
2-3 chive blossoms, remove tiny flower heads (petals) for use, discard stems
1 nasturtium flower, petals only, chopped super fine
*use organic unwaxed citrus and make sure citrus and herbs are completely dry
Directions
Preheat oven to 225°F. Combine all ingredients in a large bowl, and mix thoroughly. Place the mixture on a lined baking sheet allowing ample room, making sure to flatten the mixture completely against the bottom of the pan. Place in the oven and bake for about 15 minutes. The zest and herbs should crumble easily when pressed together with your fingers. Allow to cool and process with your fingers gently (to avoid pulverizing the flake salt) by rubbing zest and herbs together. Store in an airtight jar for up to two months. Do not refrigerate.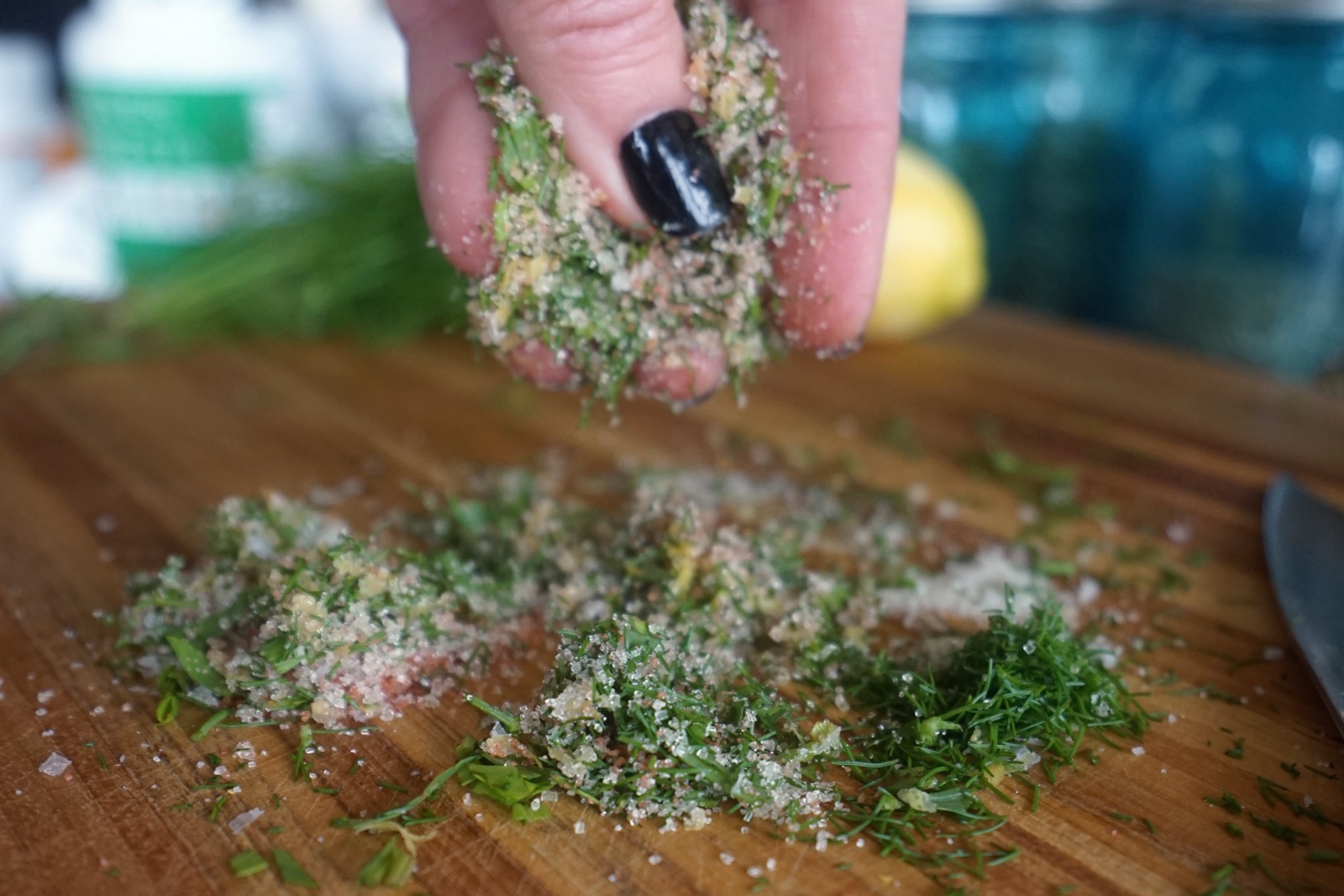 Spring Cocktail Salt/Sugar
I do a lot of cocktail and mocktail recipes, and I'm not a fan of garnish that isn't useful. To me garnish should be subtle, add flavor, and certainly be attractive. It should not overwhelm the drink proportionally. Long ago, I discovered that herbal salts and sugars were a means of both flavoring my cocktails and garnishing them with a pretty look.
A salted rim is great but often they add way too much salt. I find a mix of salt, sugars, and herbs to be just the trick, utilizing different types and sizes to impart pleasing textures. This one is super seasonal and utilizes fennel fronds (which I just adore). It is perfectly cheeky paired with fresh grapefruit juice – which just happens to be in season now, too! Putting the fennel in a salt-sugar mix allows me to actually enjoy the taste. It's not like I'm going to eat the damn frond sticking out of my glass! And yes, I also add it to my actual drink…  
Makes ½  cup of seasoning
Ingredients

1 tablespoon pink Himalayan salt
1 tablespoon cane sugar
1 tablespoon lemon* zest
1 teaspoon fresh tarragon leaves, chopped super fine
1 tablespoon fresh fennel fronds, chopped super fine
5-6 drops Bittermans Hopped Grapefruit Bitters
2 tablespoons Maldon Flake Salt
*use organic unwaxed citrus and make sure citrus and herbs are completely dry
Directions
In a mixing bowl combine the Himalayan salt, sugar, zest, and fresh herbs. Using your fingers, rub the herbs, zest, salt, and sugar together. This will lodge the flavors together and break apart the herbs and zest a bit more. Once everything is mixed, add the bitters and Maldon salt. Gently mix it all up again with your fingers, being careful not to break apart the flakes.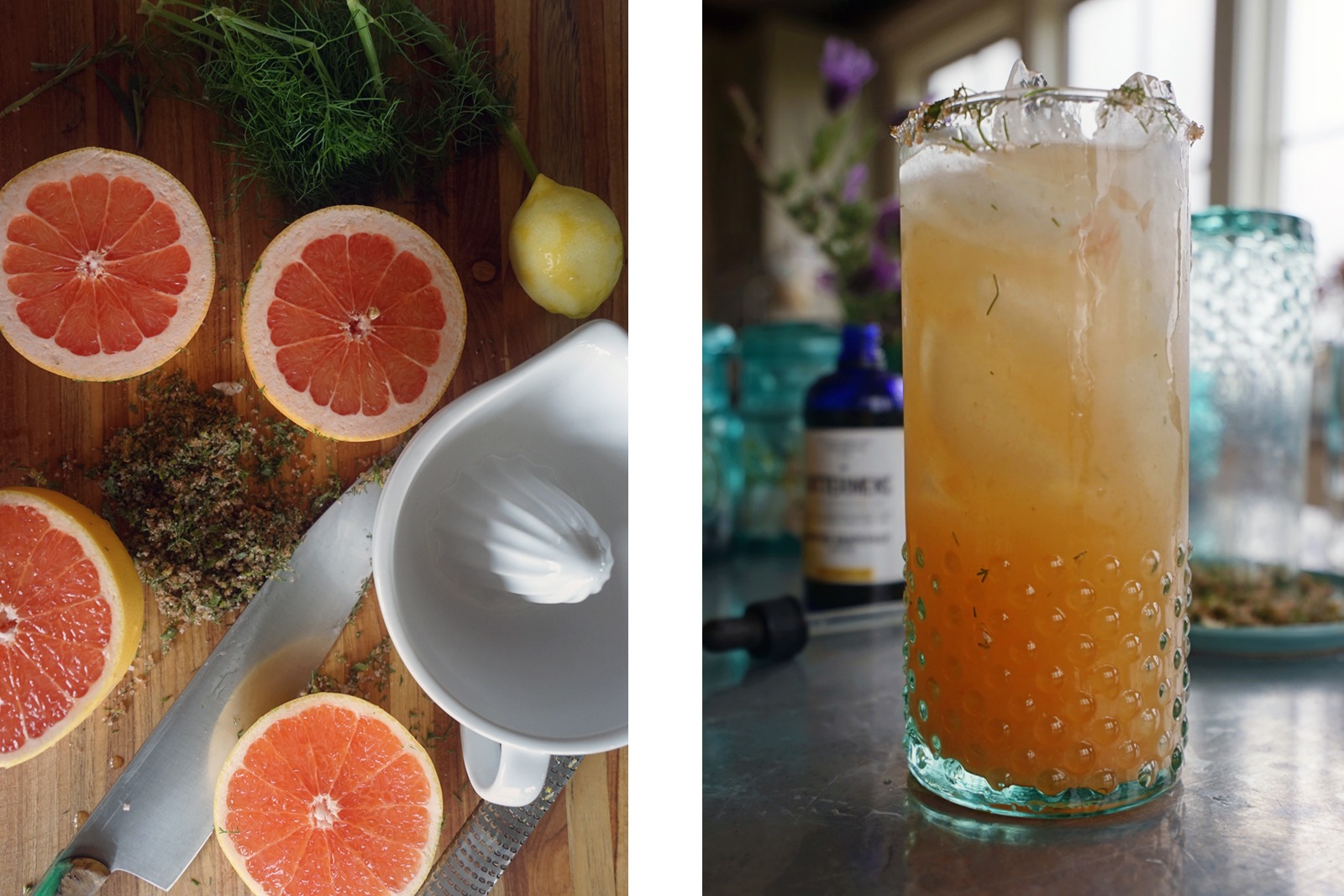 My Salty Dog Bit You
A good salty dog cocktail is one of my favorite home cocktails, especially in spring, where both southern California and Texas grapefruits are at their peak of flavor. I used to say that I only like the ruby varietals, but my father had a tree of the yellow ones which had the perfect background note of tart. My version uses either fresh fennel syrup or fresh fennel juice, depending on how much work I want to put into it.  The herbal salt on the rim gives a bit of extra flavor and freshness that demands you sit back and notice spring. Make a big pitcher of the juice for a crowd. Makes a great mocktail! The Spring Cocktail Salt/Sugar included tarragon which complements both grapefruit and fennel wonderfully.
Ingredients
Spring Cocktail Salt/Sugar
2 ½ ounces vodka or gin
1 ounce fresh fennel juice (juice the fronds and a chunk of fennel)
3 ounces fresh grapefruit juice
Ice
Directions
Place a bit of the cocktail salt on a small plate. Moisten the entire rim of a large highball glass, and then gently dip the rim of the glass on the plate, rolling to get it around the entire rim. Fill the glass with ice.
Long Pepper Minted Strawberries & Vanilla, Black Pepper Yogurt Panna Cotta
In my mango work, we created a healthy dessert recipe, Mangoes & Yogurt Panna Cotta, that is not only easy and forgiving but quite impressive to guests. It's the perfect recipe for a fancy dinner party or a lazy weekend at home. I'm obsessed with the endless possibilities of toppings for it, but this black pepper version of the actual panna cotta might be the last one I ever make, it's that perfect. Black pepper and vanilla make the absolute best flavor companions, I love a tinge of sultry spice in my dessert. I use long peppers and mint for my seasonal topping. The longpeppers macerated with the strawberries imparts both sweet and spicy tones. This adds a luxurious flair, making me feel extra exotic while consuming it, giggling knowing how it was created with ease.
Serves 4-6
Ingredients
FOR THE PANNA COTTA
½ cup water
1 packet gelatin (1 ounce or 2 tablespoons)1 tablespoon honey
½ cup hot water
½ vanilla bean, split and seeds scraped (reserve the vanilla pod)
2 teaspoons cracked black pepper
2 cups Greek yogurt
2 cups whole milk
FOR THE LONGBERRY-MINTED STRAWBERRIES
2 cups strawberries, sliced thick
1 tablespoon white balsamic vinegar
1-2 tablespoons sugar
3 longpeppers, coarsely ground
Vanilla bean, scraped (reserved from the panna cotta part of the recipe)
2 tablespoons fresh mint leaves, chopped
Directions
FOR THE PANNA COTTA
Whisk together the water and gelatin in a small bowl, and let sit for about 3-5 minutes. In the meantime, combine the milk and yogurt together in a large bowl and whisk until totally smooth. Set aside. In a blender combine the honey hot water and vanilla seed scrapings, and puree until smooth.  Add the yogurt and milk, and blend again until silky smooth. Add the gelatin mixture, and blend for only a few more seconds. Pour evenly between 6 ramekins or glasses (I like to use stemless wine glasses). You will need room for about 7-8 ounces in each glass plus about an inch of space for the topping. Refrigerate the panna cotta for at least 3 hours.
FOR THE STRAWBERRIES
Gently mix together the strawberries, vinegar, sugar, and ground longpepper. Add the scraped remnants of the vanilla bean to the bottom of the bowl, allowing the juices to extract a little vanilla and add it into the mix. Allow the mixture to macerate for at least 30 minutes and up to a few hours at room temperature. Once the mixture has macerated, gently mix in the fresh mint. Serve at room temperature topping on the cold yogurt panna cotta.
Add the strawberry topping to the top of the set panna cotta, and enjoy!