Most people reserve bubbly for special occasions, but I happen to love it with tacos on Tuesday, salad on Wednesday, or steak on Friday. Any day and any occasion go. For special occasions, I like to herbalize my bubbly. I have a few formulas I use to enhance my sparkling wine. I  add  a few herbal flowers and/or leaves.  I use herb  and/or spiced syrups and herbed fruit nectars. Herbs elevate sparkling wine to even greater celebratory heights. Holidays or any day worth celebrating.
Mother's Day makes a good occasion to break out the bubbly and add fresh spring herbs. The process is simple yet it offers a big wow factor. It also allows for personal creativity – an essential in feeling celebratory. Whether you're hosting a brunch, making mom breakfast in bed, or a throwing fancy dinner party, souping up your bubbly will deliver joy to both the maker and the drinker. The idea is wonderful for kids too, offering moms something a little more satisfying than a dried macaroni necklace.
It doesn't matter if you are serving champagne, prosecco, cava, or a sparkling wine. They are all good choices, and there is plenty of good stuff in every price range. One of my favorites is a $18 bottle made in Armenia.
Popping the Cork
Professionals recommend first loosening the cage on top of the cork (don't remove it). While holding the cork steady, slowly rotate the bottle (which your holding at a 45-degree angle). As you feel the cork starting to loosen, increase pressure on your cork hand to catch the cork once it's released. If you turn the bottle slowly enough, the cork will pop into your hand and get caught by the cage. It should only fizz a little at most. I pull the cage off, and let the cork pop right into my hand. [Note: I twist the cork and not the bottle, but I am left handed so maybe I learned backwards…]
Storing
Sparkling wine is more sensitive to temperature. The bubbles and flavor can change if the temperature changes greatly. This is often why sparkling wine is bottled in darker light resistant glass to help control temperature abuse. Optimal storage temperature is between 40 and 60 degrees F, and it can be stored upright or horizontally.
Chilling
Sparkling wine should be served super cold. Ideal serving temperature is between 40 and 45 degrees F. If the wine is chilled to this specific temperature, optimal flavors will flow (aka it tastes better). There are a few great methods to flash chill a bottle of wine. Refrigerate it for at least 3 hours, or pop it in the freezer for about 15 minutes. Submerging the bottle in a bucket of ice water for 20 minutes will also do the trick. Vintage champagne (you will know if you have this) should be served warmer, between 54-58 degrees F.
Serving
An average bottle of sparkling wine will yield about 4-5 glasses. Pouring sparkling wine successfully is an art form best learned with practice. Ideally you want to pour 3-4 times, depending on how many bubbles appear, keeping a consistent flow (speed of pour). Do not hold the bottle by the neck. There is an imprint on the bottom of most sparkling wines. You can place your thumb in that imprint, supporting the bottom with the other fingers and guide the neck with the other hand to pour. Always fill the glass about 2/3 full. A little room is left to collect the aromas, thus enhancing the experience. Sparkling wine doesn't retain its integrity well after opening, so it's best enjoyed once opened. There are some toppers that will help preserve it for 24-36 hours, but more than that turns to a pity.
The only confines to herbalizing bubbly is found in a lack of creativity. Which technically shouldn't  confine anyone can goggle other people's ideas. My three favorite formulas will make the process easier and teach the idea using my favorite spring recipe for each style.  Making fancy sparkling libations worthy of celebrating and ordinary Monday or elevating a special holiday is in your reach.
Fresh Herb Leaves and Flowers
Sometimes keeping it simple is the most beautiful route. I love just a small herb flower or leaf placed in the glass. I prefer potent herbs like mint, rosemary, and fragrant flowers like jasmine and lavender, but any of them work. It's a slight tinge of herbaceousness that just feels special. I like to add a berry because the extra texture and color looks beautiful. Plus, a berry macerating in bubbles tastes wonderful at the bottom of the glass.
TIP:
Don't overdo it. Garnish should be subtle and useful.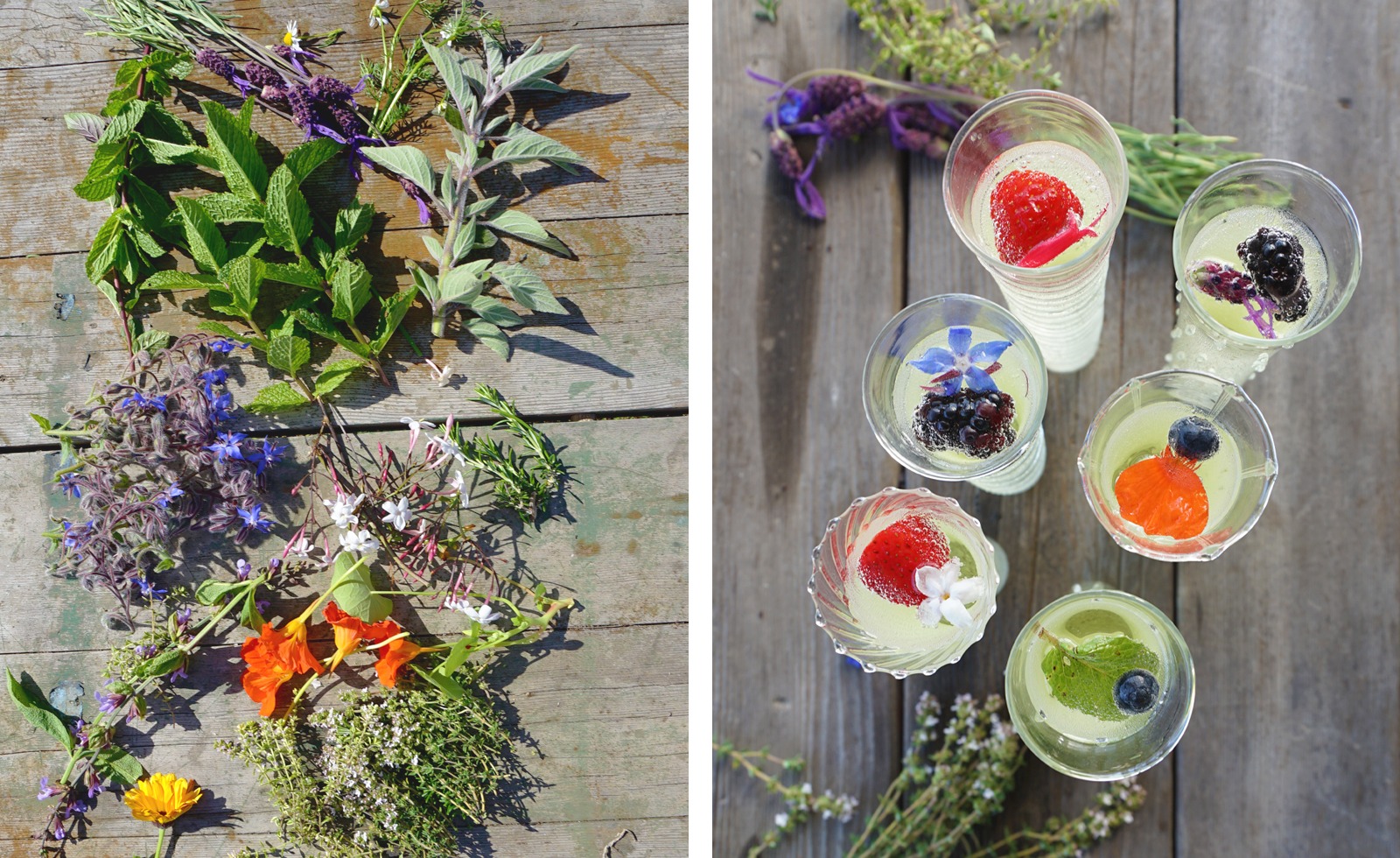 Herb and Spice Honey or Sugar Syrups
The last thing sparkling wine needs is sugar. If you are going to add sweetness to your bubbly, be very careful. Too much sweetness is the pits. Use herbs and spices as balancing agents. With this method you'll be making a simple syrup, but, contrary to what you read, it does not have to be a 1:1 ratio or made with sugar. My typical ratio is 75% liquid to 25% sugar (sweet), and I only use raw sugar which I believe lends a great viscosity. I also use honey syrups a lot, and I use the same ratio. Coconut sugar is another sugar that works well  for syrups as it doesn't add flavor that's too deep for sparkling wine.
Another myth is that you have to cook herbs when using in simple syrups. I love blending tender  spring fresh herbs with a simple syrup and then straining to make a powerful fresh herbal nectar, like I did for this Sorrel Daiquiri for Food Republic. The raw blended-maceration technique keeps the vibrant color and freshness of more tender herbs. Simmering heartier herbs (like rosemary, thyme, and lemongrass) in the syrup imparts better flavor into the syrup.
TIP:
Incorporating a little spice helps ensure that the final syrup has great balance and isn't too sweet. Peppercorns pair excellently with the bubbles in sparkling wine, and there are so many peppercorns to play with. I love pink peppercorns for spring.
Blackberry Mint Pink Peppercorn Prosecco
Makes 1 cups of syrup
Ingredients
Handful of fresh mint leaves
1 teaspoon pink peppercorns, cracked
¼ cup honey
¾ cup water
10-12 blackberries
Fresh Mint leave garnish
Bottle of super cold processo
Directions
Combine the mint, peppercorns, honey and water in a small sauce pan and bring to a boil.  Turn off heat and stir until the honey completely dissolves. Let the syrup cool completely for about 15 minutes. Strain and discards solids. In a mason jar or other container combine the blackberries and the syrup and refrigerate at least three hours.
To make a prosecco drink, add ½ ounce of the honey syrup to the bottom of a champagne flute. Add one  of the soaking blackberries and fill with cold prosecco (2/3rds full). Garnish with a mint leaf.
Herbed Fruit Nectars
I'm a lover of seasons. There are a few things I obsessively and routinely do as each season comes. One of them is celebrating each season with bubbly and the fruit nectar de jour. This method of adding a touch of fruit nectar brings the feeling of celebrating the coming season. Strawberry-basil evokes summer love, and parsley-rhubarb screams spring. Mangoes, my muse, are wonderful with sparkling wine. Their perfumed essence accentuates cava especially.
TIP:
Blend fresh fruit or macerated fruit with a little water. Choose fresh fruit that's sweet, so you don't need to add sugar. Some fruits need to be simmered in water, like the heartier herbs to extract more flavor. I tend to add a little sugar or honey with this method.
Mango Lavender Cava
Makes 1 drink
Ingredients
1 cup mango-lavender honey nectar
1 bottle of  super cold cava
lavender wand garnish
Directions
Follow the directions for the mango-lavender nectar and make sure it has ample time in the refrigerator and is ICE cold. Place a ¾ ounce of nectar in a short stemless wine glass and fill with cold cava. Garnish with fresh lavender wands.
Herbs, Booze, and Bubbly
I'm not one of those people that says everything is better with booze, but some things really are. There are a few sparkling wine concoctions that really taste great with a mixture of booze, fresh herbs and sparkling wine.
TIP:
Think of the booze as more of a flavor agent than a alcohol potency addition. Bitter  and sweet liquors make wonderful additions as do smaller amounts of herbaceous spirits like gin and even good quality tequila.
Spring Herb French 75
Makes 1 drink
Ingredients
2 ounces gin (preferably not too junipery)
1 ounce Spring Herb Syrup* (recipe follows)
Sparkling wine
Herb Flower Garnish
Directions
In a shaker, combine the gin and the Spring Herb Syrup. Shake vigorously until cold, about 15 seconds. Strain into an old fashioned champagne or coup glass, and fill with sparkling wine.  Garnish with a flowering sprig of herbs or herb flowers.
Spring Herb Syrup
Makes 2 cups of syrup
Ingredients
1 ½ cup water
1 cup sugar
2 teaspoons lemon zest
¼ cup lemon juice
1 handful of fresh mint with or without flowers
1 handful of fresh lemon thyme with or without flowers
1 handful of fresh parsley with or without flowers
A few fresh sorrel leaves
Directions
Combine water, sugar, and lemon zest in a medium saucepan, and bring to a boil. Reduce the temperature to low, and simmer for about 3-5 minutes. Allow the mixture to cool, and add ¼ cup lemon juice. Place the syrup into a blender and add fresh herbs (about 2-3 handfuls in total, making sure it's mostly leaves and not stems). Blend the mixture until ultra-smooth and liquefied. Strain through a fine mesh strainer or cheesecloth. Use immediately in order to maintain the bright green color.