Belated Celebratory Action
Birthday's, both of my own and of those I care about, have always been a source of extreme joy for me since I was little. There is such significance in the celebration of a not just a birth, but the days lived thereafter. A simple day that traces back to our first breaths on this planet, a landmark for the day the essence inside us collided into the energy of all other living things and the responsibility that comes with as a human. The anniversary of all of this has always reminded me of how remarkable it is that I am here and how exciting that simple fact is. I feel confidence, gratitude and joy  during this time of year and it has always seemed to be the perfect day (month in this case) to present and launch my greatest annual achievements and ideas. Essentially thrusting them into the world so that they too can interfuse into an existence that is way beyond just me.
My birthday reminds me of my individualism as well as my connection to others here with me. I can't help but want to share parts of me with the world on my birthday!
April 10th was my birthday, I know, I know, that is a few weeks back now! But I moved another notch on the wall, a rather big notch as I hit the special mile marker of 50 years old. In its lead up I had been dreading it. I had never cared about my age or getting older, but this one was different, I seriously did not want to be fifty, but now I am, and it actually doesn't feel any different than 49. Proving- AGAIN- we often worry about things for nothing.
Not only was this a big birthday but the timing of it was horrible in terms of  being able to devote time to my usual annual birthday events/announcements; like when I opened Ger-Nis International and Ger-Nis Culinary & Herb Center on my birthday and other years when launched several small ventures like supper clubs, social clubs, and like  when I launched this blog  4 years ago on my birthday.
This year I have been insanely busy with my work for Crespo Organic Mangoes, way more so than usual and for a myriad of reasons. I'm juggling more than I ever have and as you know my new Missouri life has been filled with challenges and set backs on the culinary center gardens consuming even more of my energy and time. But serious progress and positivity has and is happening  in every aspect of my life and my work; but instead of sitting here and writing about it, announcing it to the world on the actual date, I decided to jump over to Miami and celebrate turning 50, which I did, with dear friends by my side, hot humid air swirling around my body, warm salty ocean water penetrating my soul and I even got to soak in the magic of some special mango orchards. It was a lovely trip and despite it being the first time I missed announcing something big on the day; big things happened and it is never too late to share what we are proud of with others, especially for an Aries women. So happy belated birthday to me, I celebrate myself by showing off some of the recent and new action for Herbal-Roots, the project that ignites my soul most.
As you likely know if you are reading this, I have been building Herbal-Roots in my "spare" time. I built the blog My Herbal-Roots, first, just for me. I wanted to have a place to write about my herbal passions without the need to impress or conform. I wanted a piece of my latest herbal venture to have a place where I can freely be me. Without thinking about it as a business. So I created some separation. On one side Herbal-Roots (which me and my sweet little team of freelancers have been quietly building in the background). Herbal-Roots is/will be a business that will offer herb lovers a place to learn about and enjoy all things herbs, which includes recipes, tips, tricks, tools and more. It will also be the place where my herbal salts are sold as well as useful and beautiful herbal kitchen tools and necessities. The emphasis will be on seasonality and eventually, if all goes as planned you will be able to buy seasonal subscriptions of organic fresh herbs (yes even the wild and wacky ones) directly to your door.
My Herbal-Roots on the other hand is my blog, its attached loosely to the business but 100% me. My Herbal-roots has given me incredible space to refine my writing and recipes and discover more about what's inside of me through the simple act of blog posting. I am able to learn and grow through my blog as a cook, a writer and a photographer. Do people read these posts? Who knows, and honestly who cares, they are really for me and for anyone that wants a deepr glimpse into me.  Most of my new recipes land on the blog before anywhere else, embedded inside each blog post and we know how much people hate that in recipes.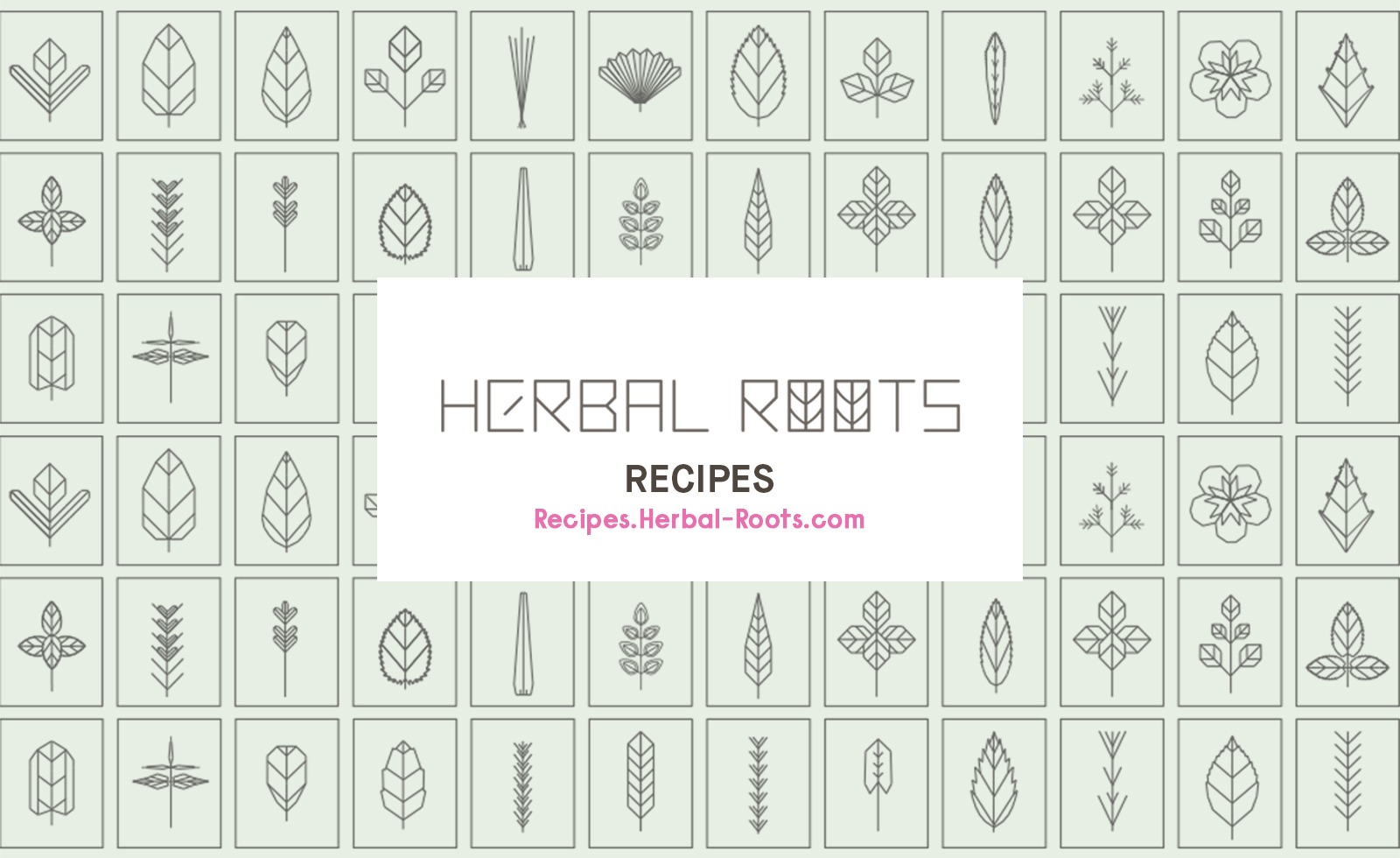 Yes, we have heard it time and time again- people don't want lots of text, they want recipes. And they don't want them embedded in blogs. Food bloggers get a lot of hate for the writing part and so instead of shaming them (and me), I decided to give everyone what they want and do both. Technically I have been doing this very thing having a blog (with recipes) and a just recipe site since 2011 when I opened the Ger-Nis Culinary & Herb Center. That site is long gone, but I have my recipes still up, mainly just for my own archive and easy searching. Don't just if you go to the site, its fairly basic and serves a purpose for me. It's been hacked a number of times and I rarely spend money upgrading anything unless I have to.
Ok, so the big birthday announcement is that we have finally finished the seasonal recipe templates for Herbal-Roots and I can now start to put my recipes up on the site. The emphasis is on seasonal. I want to teach people how to naturally gravitate towards eating seasonal through the use of herbs.
The building of the recipe section of the site took a lot of time and thoughtfulness. I took into consideration all of the gripes we all have about recipe sites  – too much blog story, too many pop up ads, too many cookie cutter plug in and too many photos (making it hard to find the recipe from a phone).
I wanted clean and simple recipe posts and I wanted to develop and ad free space in terms of the way conventional advertising is done on recipe sites these days. I wanted my advertising space to be more about what helped make these recipes; farmers, products, fruits, vegetables, brands, people, places, kitchen tools etc. There are a lot of ways to make money in this world, we do not need to make money on every single aspect of what we do.  Recipes today should be simple to find, quick to use formats as much as they need to be well written and actually work, something conventional web advertising frankly has ruined for all of us.
I opted not to use recipe plug ins as I have had nothing but difficulties in other sites I have built and managed. My secret weapon programmer and I realized  a while back, we didn't need to use recipe plug ins- they are all too cookie cutter for me anyhow and I think they make sites look less beautiful than they otherwise would be. Technically I cant even figure out what they really do or why people think they are useful. Hiring good programmers is a way better option in my opinion.
I think the end result of what my team has created in terms of the recipes for Herbal-Roots hits all the right buttons: Easy to find ( we are in the process of programming a rather complicated search mechanism), easy to read on a phone, easy to print or share, just the right amount of prose and they are pretty to look at!
There is no paid advertising on the recipes and there never will be, but we give shoutouts to the things that make the recipes better as I mentioned earlier. My recipes have always been and always will be free. I have plenty to make money off of but if my goal is to get more people to use fresh herbs in their cooking than I need to help them do that.
This is a work in progress that takes a lot of my own personal time and money not to mention whilst working the more than full time mango gig. There are more things coming soon; the search mechanism for searching recipes, the e-commerce part of the site, where I will be selling the herbal salts is in final programming stages now as well and soon maybe we will even a home page. Eventually I promise you will be able to look up information about how to use Zuta Levana, make my sausage pasta recipe, order a box of seasonal herbs to your home and buy a mortar and pestle. And if you know me, you know I do what I say I am going to do.
Things take the time they take, the journey they say is where the fun is at! I want you all, on my birthday (month) to see the progress- the art!
Welcome to the seasons.
Spring.     |     Summer.     |     Fall.     |     Winter.     |     All Seasons.