Spent Blooms & Wild Persimmons
Unbeknownst to most people, an herb garden on the verge of disappearing into a cold winter offers some of the most potent flavors imaginable for making culinary magic. The same herb garden that appears to be dying an unceremonious death is alive and rich with potency. The metaphor is strong: life cycles carry the essence of transformation and change, and change offers something new; in this case new flavors, aromas and textures that we might not expect.
My herb gardens tend to be wild, not surprising I suspect. Most try and control gardens, I go with the flow my Missouri garden is pretty wild. Part of this wildness is because, I'm lazy, in the way that I don't  like to exude effort that's not needed, and in my Blue Eye abode I have had to grow many herbs in subpar conditions: too much shade, too little water, soil that is too acidic or in spots Inca (my dog) wont pee. This is real and herbs thrive in realness, which is likely why I have always been drawn to them.
I have found great beauty (and flavor) in my wild herb garden here in Missouri.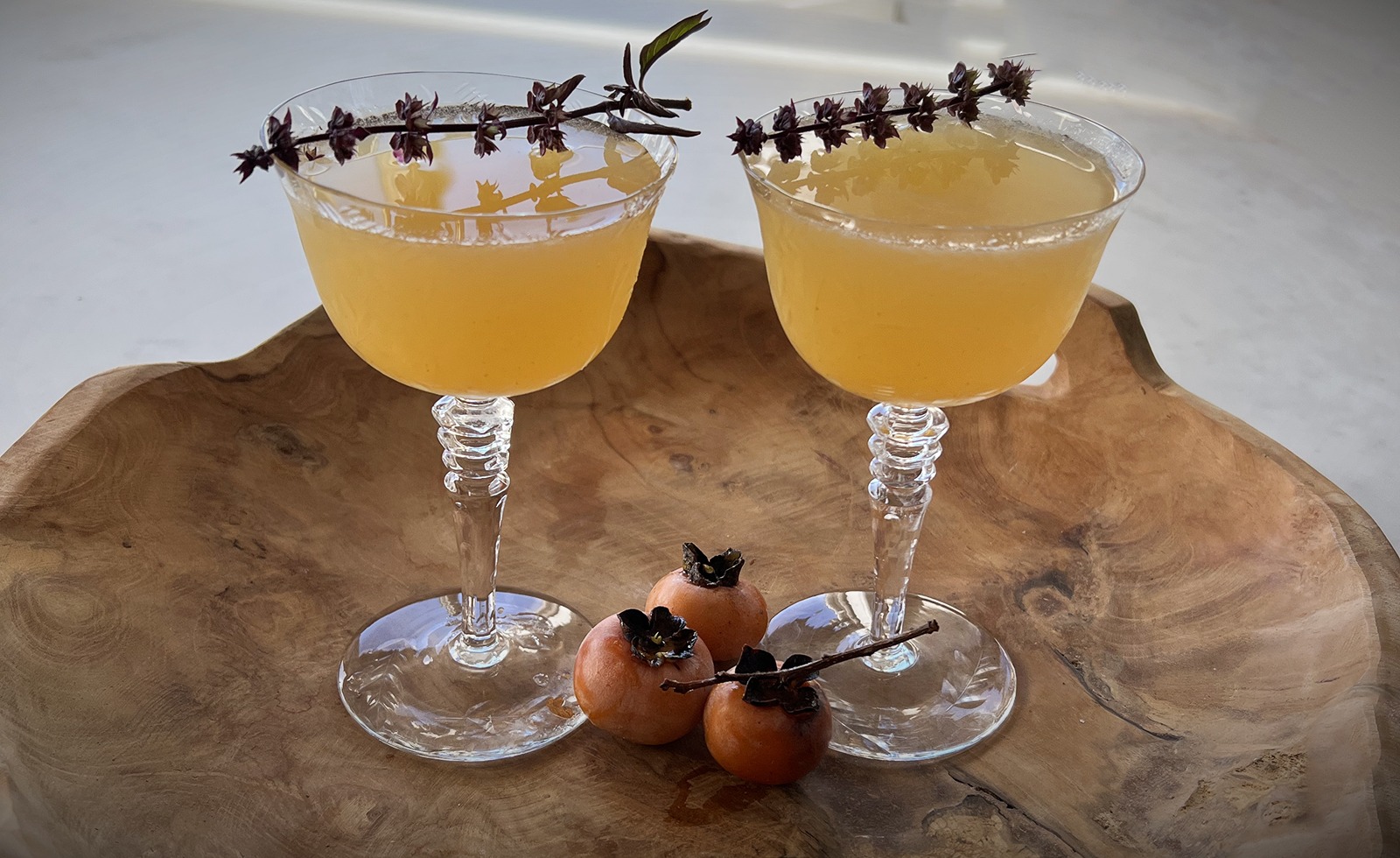 I love herbs for their tenacity, their resilience, their awesome ability to be something no matter what. The way their flavor changes depending on the season, the weather, the conditions, their stage of life, always offering something special. I am inspired by the way herbs live in this world. I'm constantly learning about how simple and pleasurable it is for them to be constantly alive and thriving. My herb garden and I have a good exchange of energy, I think.
This time of year my seemingly dying garden thrives with weird little bits of beauty in everything from their roots to new little shoots from bursts of sun amidst cold and, of course, all the seeds and spent blooms. Most people haven't paid much attention to spent blooms or really know what it means beyond some kind of flower. A spent bloom is a bloom that has finished flowering and is basically dying off. All gardening advice is the same; spent flowers should be removed promptly to promote continued blooming. Of course, with freezing temperatures looming, more blooms will not happen, so this is the ideal time of year to let them go, allow the plants to prepare for the winter and go dormant or, in many cases, die off completely and rebirth as a new plant. I will admit I often let them go in all seasons,  I just let the plants do their thing and then collect and extract their essence for my culinary artistry.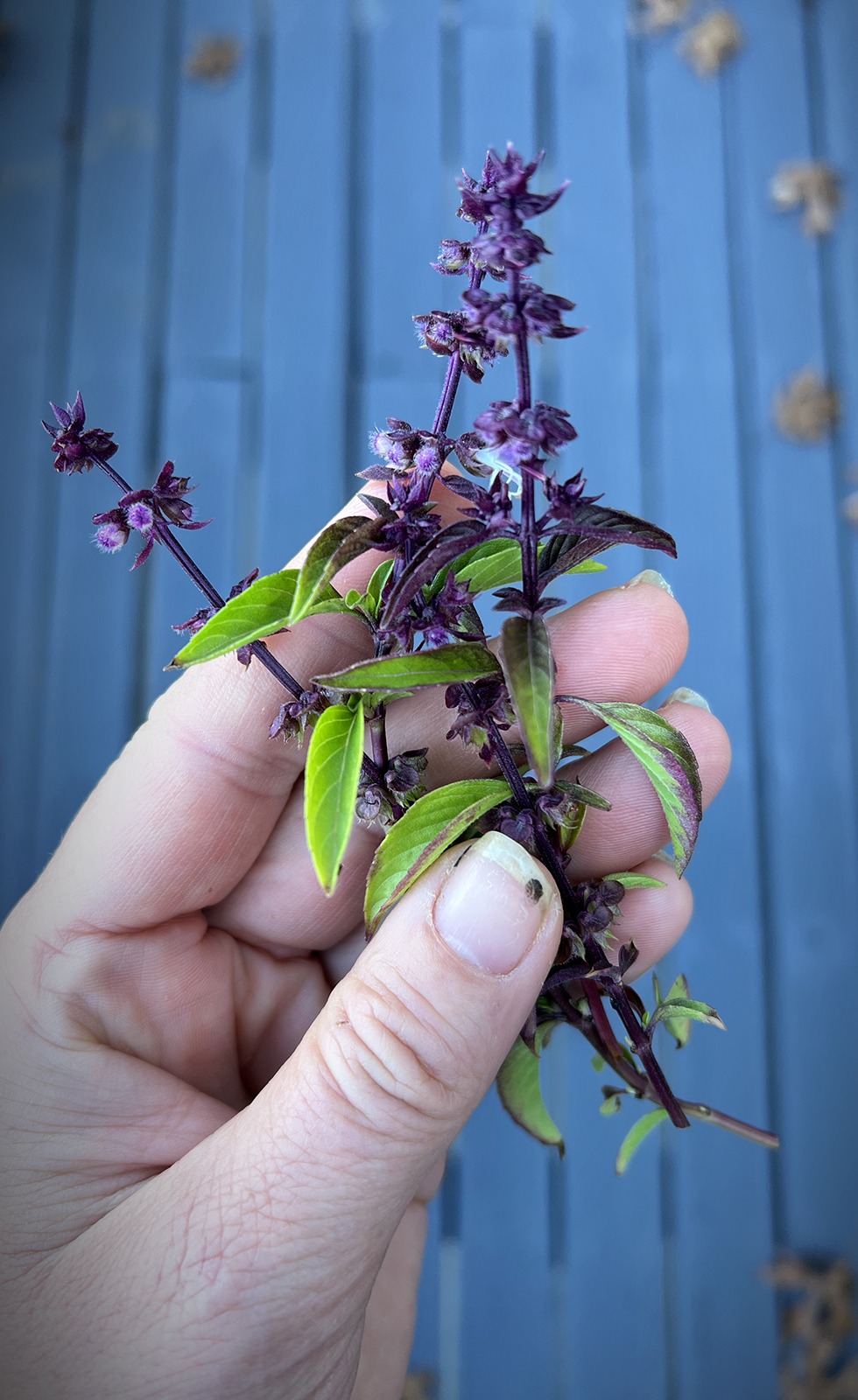 I love using spent flowers in my culinary creations. They have incredible aroma and flavor, very different from the plants and flowers when they are in peak production. There is something very fall and wintery about spent blooms. I use them in many of my herb salts, and I love to use them as cocktail garnish, which I recently did for a Missouri Wild Persimmon Cocktail I made for friends with Thai Basil spent blooms.
Thai Basil spent blooms are my favorite; they have a stunning dark purple color and one of the most incredible smoky burnt cinnamon aromas. I have learned to use them in all forms including when they are brown and seedy. The flavor constantly evolves as the bloom matures and begins to wither away. Even when I think the bloom is dead it has a potent flavor. That's a great metaphor for aging.
I had no idea how well they would pair with a super impromptu cocktail I made after foraging for wild persimmons along Table Rock Lake here in Blue Eye, MO. Many of my best ideas come out of nowhere, inspired by ingredients (naturally) but also the feelings in the moment which, in this case, was a free frolicky kind of feeling with the warm-sweet sensual taste of the wild persimmons.
Wild persimmons, also called American persimmons or "sugar plums", as some folks believe reference the line " while visions of sugar plums danced in their heads" in the poem The Night Before Christmas, are North American fall treat.
Around where I live in Missouri these special little fruits are ample this time of year, often being found along the lake shore as they thrive in more open space environments as opposed to the thicker forests a bit inland from the lake. I never really noticed just how many there are until the leaves fell and the  orange dots stuck out amidst the drab brown leafless trees.
Wild persimmons are bright orange with a dull lackluster skin tone. They are tiny and round, about an inch in diameter and have several little flat plum-like seeds in them that make them a bit hard to deal with for culinary use, if you ask me.
While some insist that they are only good after a series of frosts, this year proves that theory totally wrong as we had one  minor frost and unseasonably warm weather and this year's persimmons (the only ones I have tasted to be fair) are incredible sweet and delicious.
I of course had it in my head to make a Fall-2022 Herb Salt with them for a while, knowing they would fit right into this season's theme, The Hunters & Gatherers series. I knew of one tree on an island that some friends take me too from time to time and  I went out in late September to try and pick some, they were not ripe and  I quickly discovered that when not ripe they have an unbelievable and unforgettable bitter, astringent quality that gives you more dry mouth than you have ever experienced. Like pear skin times a million.
But this past weekend (early November) they were totally ripe and we gathered them. They were exquisite tasting. They have such a unique flavor. Warm, caramel like sweetness and kind of sensual tasting. They are similar in a way to a super ripe and honey-sweet apricot but have more earthiness to them and a tinge or orange essence.
I have about five pounds in my freezer so I am excited to do some of my herbal artistry with them this winter, but it's the cocktail that I made for my friends that is super shareworthy.
I made a simple syrup by cooking down whole, smashed ripe wild persimmons with sugar and water and spices and straining it all. My idea was to create a  syrup with a fall vibe, warm and persimmon-fruity and a tinge bitter from the peels of the persimmons. Thankfully, my syrup was not too sweet.
I grabbed gin as my friends who were here like gin. And then I grabbed the Meletti Amaro, not totally sure why except I love amaro and I wanted something slightly softer than my usual go-to. Amaro is a bitter liquor made from botanicals. Meletti Amaro is a beautiful soft amaro that has a chocolaty caramel taste and is a bit sweet. I thought it would be a perfect addition to this impromptu cocktail. I added some lemon for acidity and some Kumquat liqueur for a little more sweetness and because I tend to like oranges and persimmons together. I shook it up and double strained it so that the bitter pulp of the persimmons wasn't present. I wanted a delicate and fresh feel; it was a sunny warm fall day after all.
I topped each glass with a Thai basil spent bloom which gave way to its smoky cinnamon aroma while sipping the drink, and it was exquisite.
The result was one of my best Missouri cocktails yet!
MO Wild Persimmon
Makes 1 drink
Ingredients
1 ½ ounce gin
½ ounce kumquat liqueur
½ ounce Melfetti Amaro
1 ½ ounces Wild Persimmon Syrup*
½ ounce lemon juice
Thai basil spent bloom
Directions
Combine all ingredients in a shaker filled with ice and shake vigorously for about 30 seconds. Double strain into a coup style glass and garnish by laying a Thai Basil spent bloom on top.
Wild Persimmon Syrup
Makes 2 ½ cups of syrup
Ingredients
2 cups ripe wild persimmons, stems removed and smashed whole
1 cup water
½ cup sugar
½ teaspoon cinnamon
½ teaspoon white pepper
¼ teaspoon mace
½ teaspoon nutmeg
¼ teaspoon clove
2 teaspoons freshly grated ginger
Directions
Place all ingredients in a medium saucepan and bring to a boil. Reduce heat and simmer for 10-12 minutes. Strain pushing down with the back of a spoon to extract all pulp from the persimmons. Allow strained syrup to cool completely before use.
.