Summer 2022 Herbal Salts- The Fruit Series
SOLD OUT! Sorry
Even though these are sold out, this will give you a good idea of what is to come.
Something deep inside me lights up in the presence of fresh herbs. I am enraptured by them, as well as those who grow and use them. I hope I can inspire you to use more of them.
Fresh herbs have been a symbol of my own artistry and creative spirit since I started growing them in my garden in Eugene, Oregon, in my early 20's. Not only are they a staple in my cooking, but they have sprung up in every aspect of my life ever since.
My Herbal Roots is the creative manifestation of everything herbal I have experienced along the way, and a projection of all to come. It's a place for me to share my herbal passion indiscriminately, allowing me to document the herbal moments that light my path, providing a home to pause in celebration and appreciation.
I have been conscious of my own innate passionate streak from an early age. Like many others, I remember coloring outside the lines as a child. What set me apart was the self-confidence I had that couldn't be swayed by anyone telling me it was wrong. My inner strength carried me forward from the get-go, fearlessly driving me to where and who I am today.
The Summer 2022 – The Fruit Series is a manifestation of my life in Missouri. I hope you enjoy.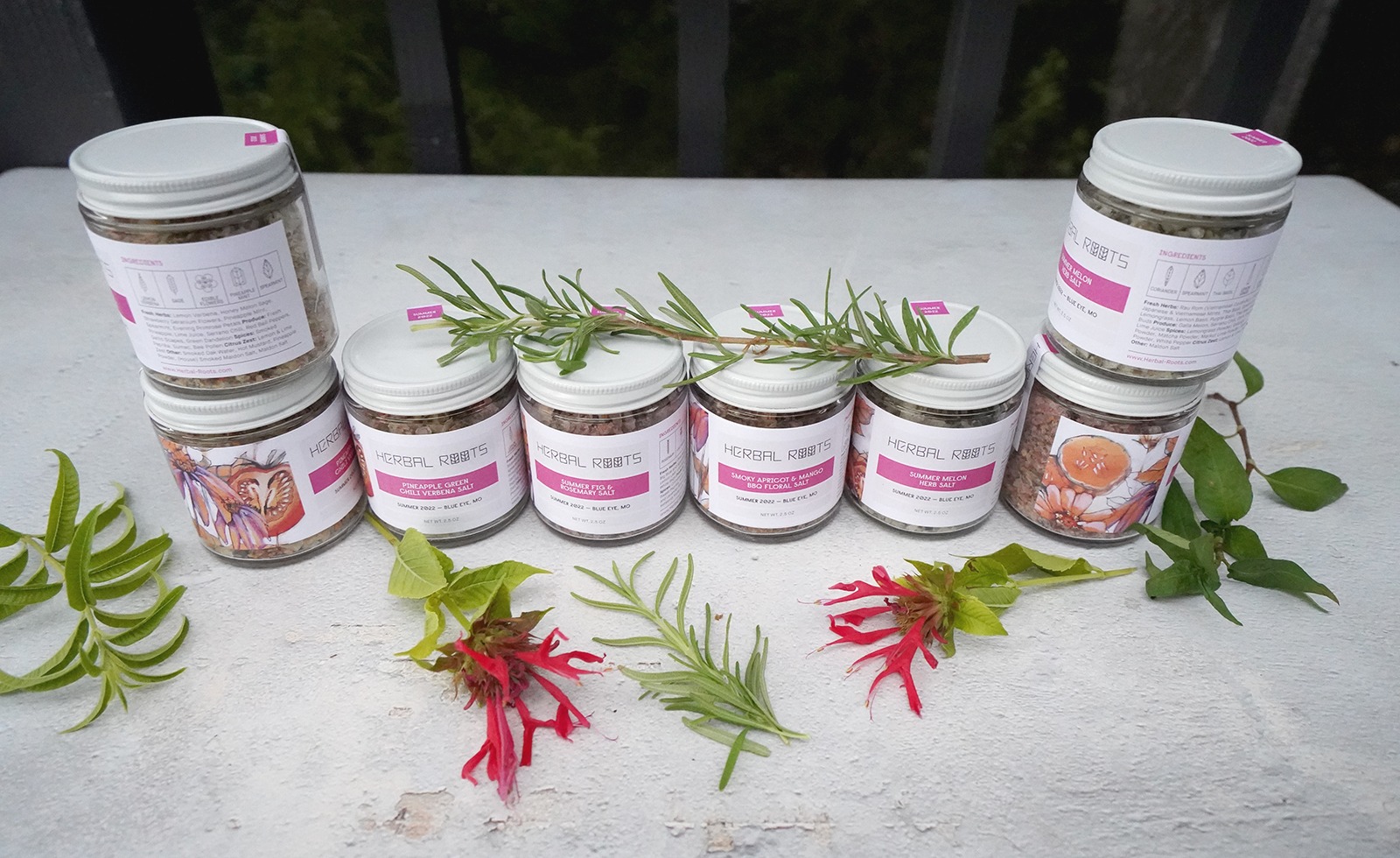 Pineapple Green Chili Verbena Salt
Fresh Herbs: Lemon Verbena, Honey Melon Sage, Strawberry Geranium Flowers, Pineapple Mint, Spearmint, Evening Primrose Petals Produce: Fresh Pineapple, Lime Juice, Serrano Chili, Red Bell Peppers, Garlic Scapes, Green Dandelion  Spices: Smoked Paprika, Sumac, Bee Pollen  Citrus Zest: Lemon & Lime Zest  Other: Smoked Oak Water, Hot Mustard, Pineapple Powder, (House) Smoked Maldon Salt, Maldon Salt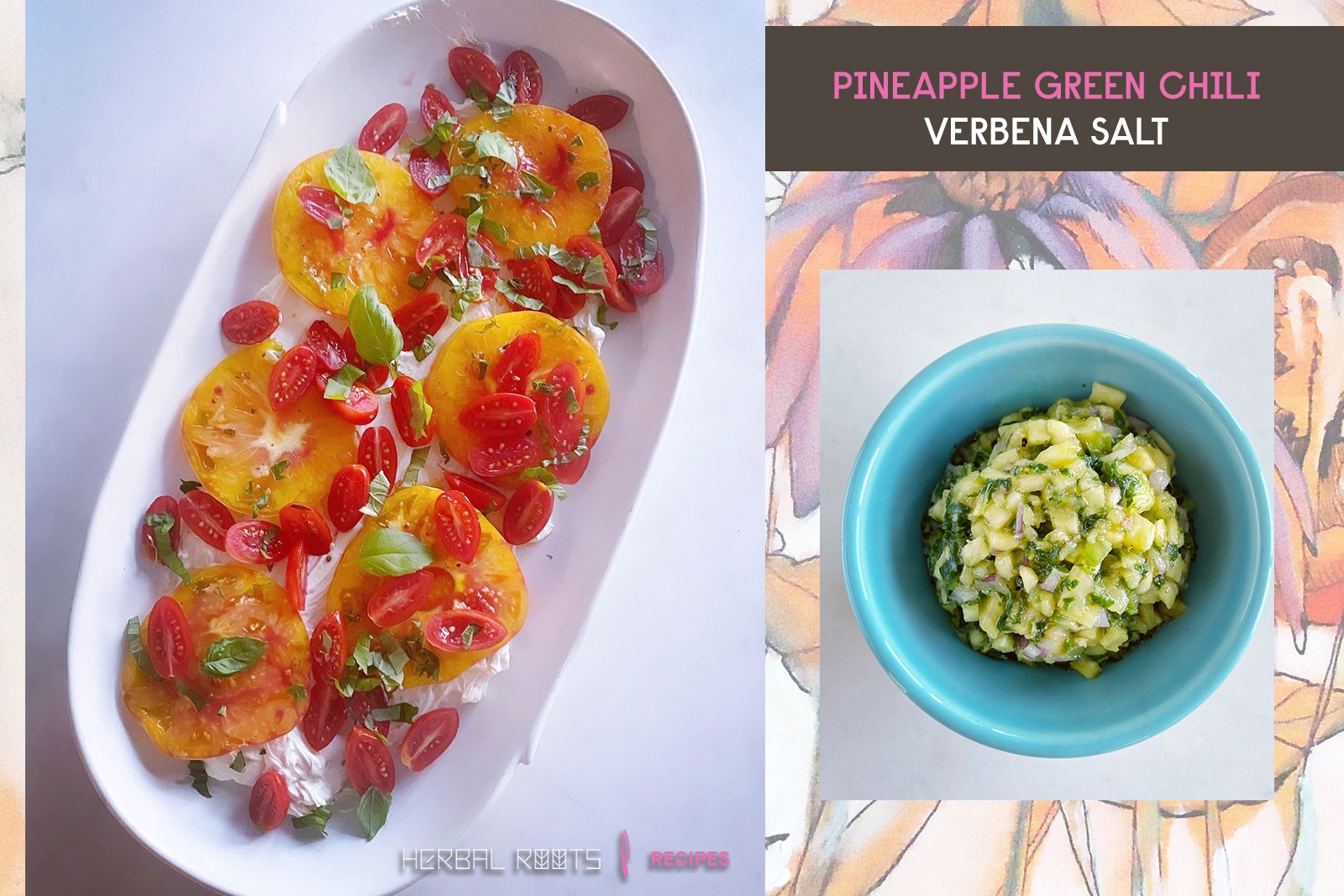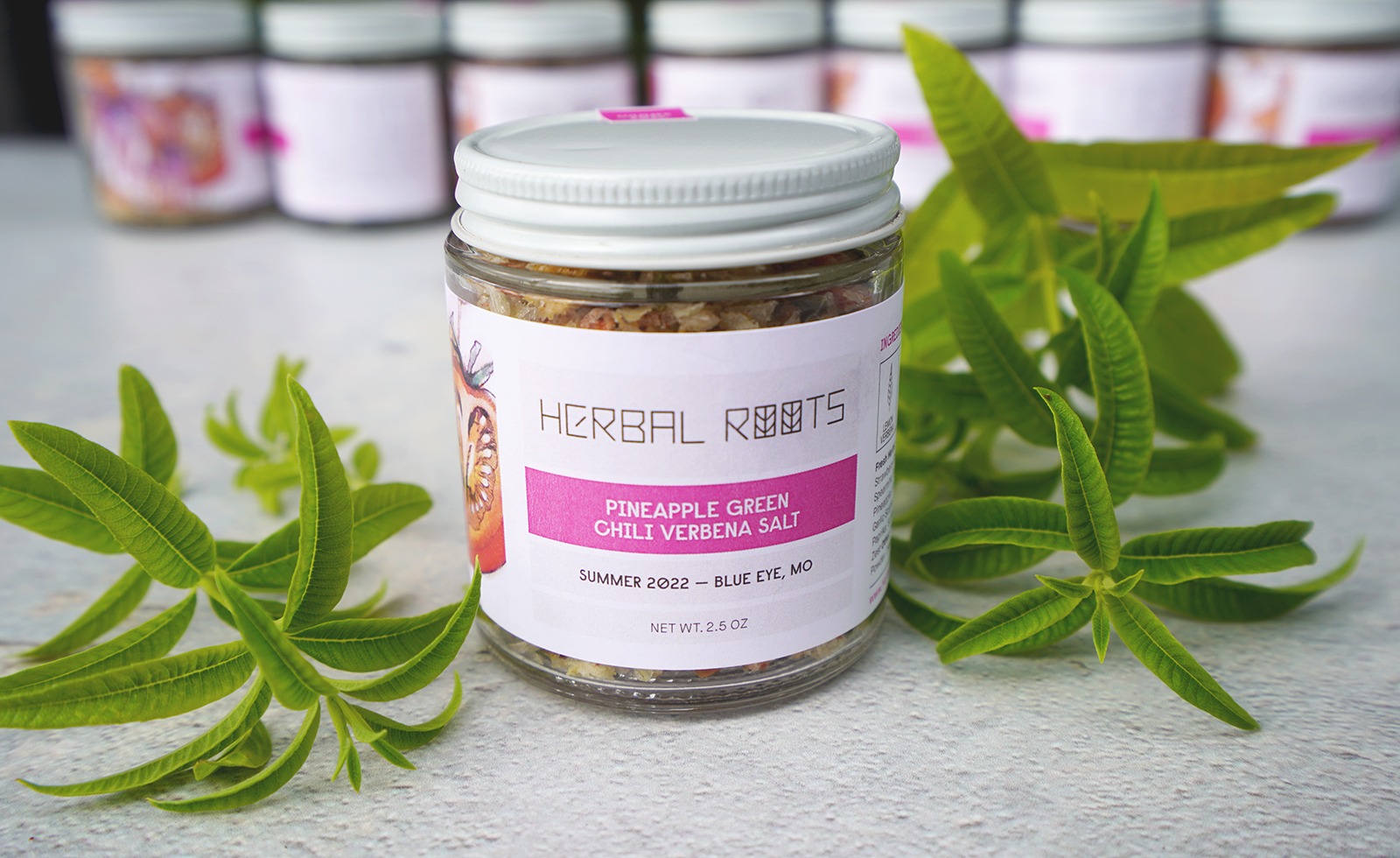 Summer Fig & Rosemary Salt 
Fresh Herbs: Pink Majorca and Santa Barbara Rosemary, Big Blue and Spanish Lavender Leaves, Horehound, Lemon Leaf, Licorice, Ginger Bush, Turkestan Oregano, White Sage  Produce: Fresh Figs, Meyer Lemon Juice  Spices: Cinnamon, Nutmeg, Cobanero Chili Flakes,  Sweet Paprika, Robusta Black Pepper, Dried Elderflower and Lavender Blossoms  Citrus Zest: Lemon Zest  Other: Kefalonia Royal Jelly, Maldon Salt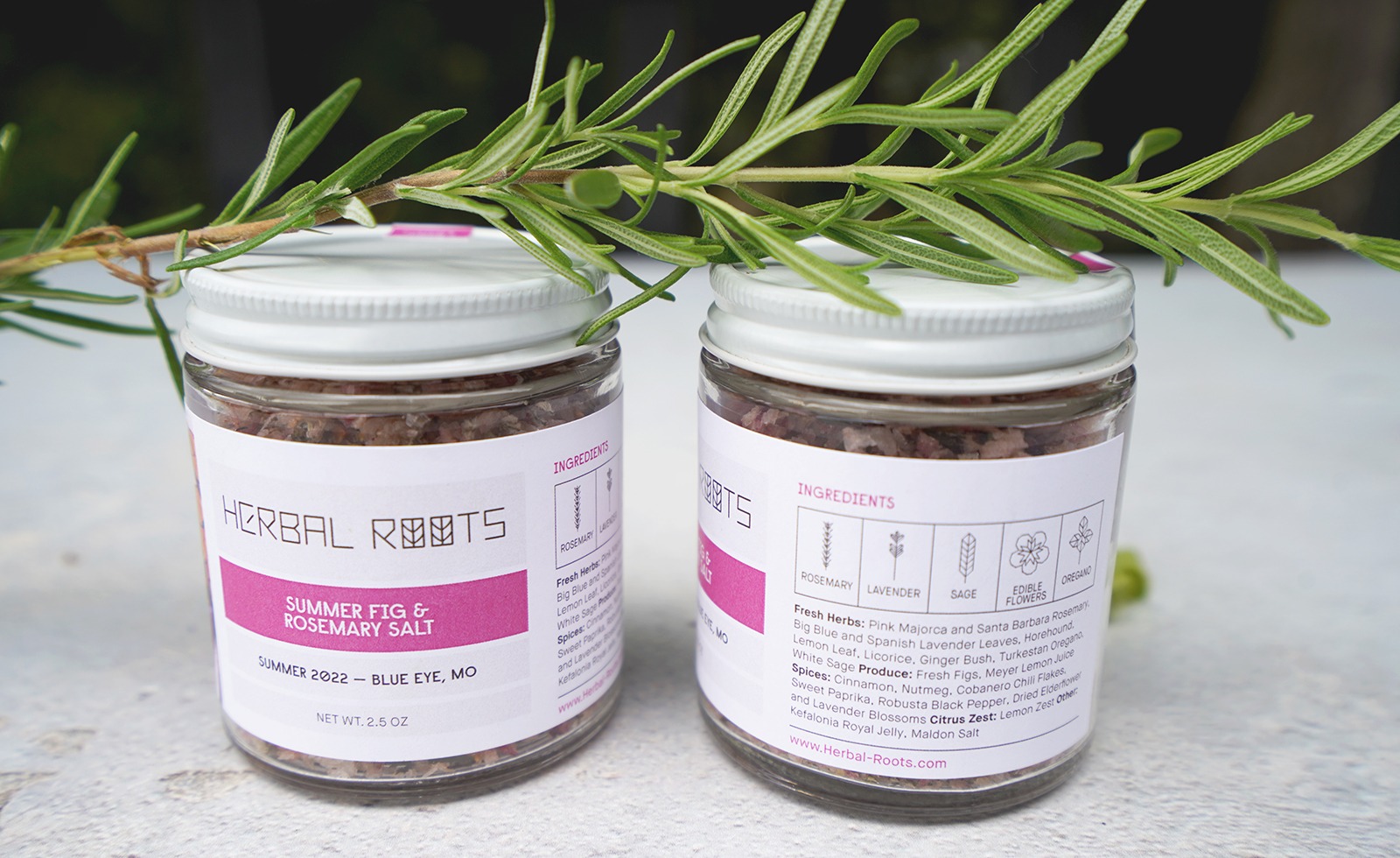 Summer Melon Herb Salt
Fresh Herbs: Rau Rom (Vietnamese Coriander), Cilantro, Japanese & Vietnamese Mints, Thai Basil, Spearmint, Lemongrass, Lemon Basil, Purple Basil, Thai Basil Flower Buds  Produce:  Galia Melon, Serrano Chili, Garlic Scapes, Lime Juice  Spices: Lemongrass Powder, Galangal Powder, Matcha Powder, Markut Lime Powder, Ginger Powder, White Pepper  Citrus Zest: Lemon & Lime Zest  Other: Maldon Salt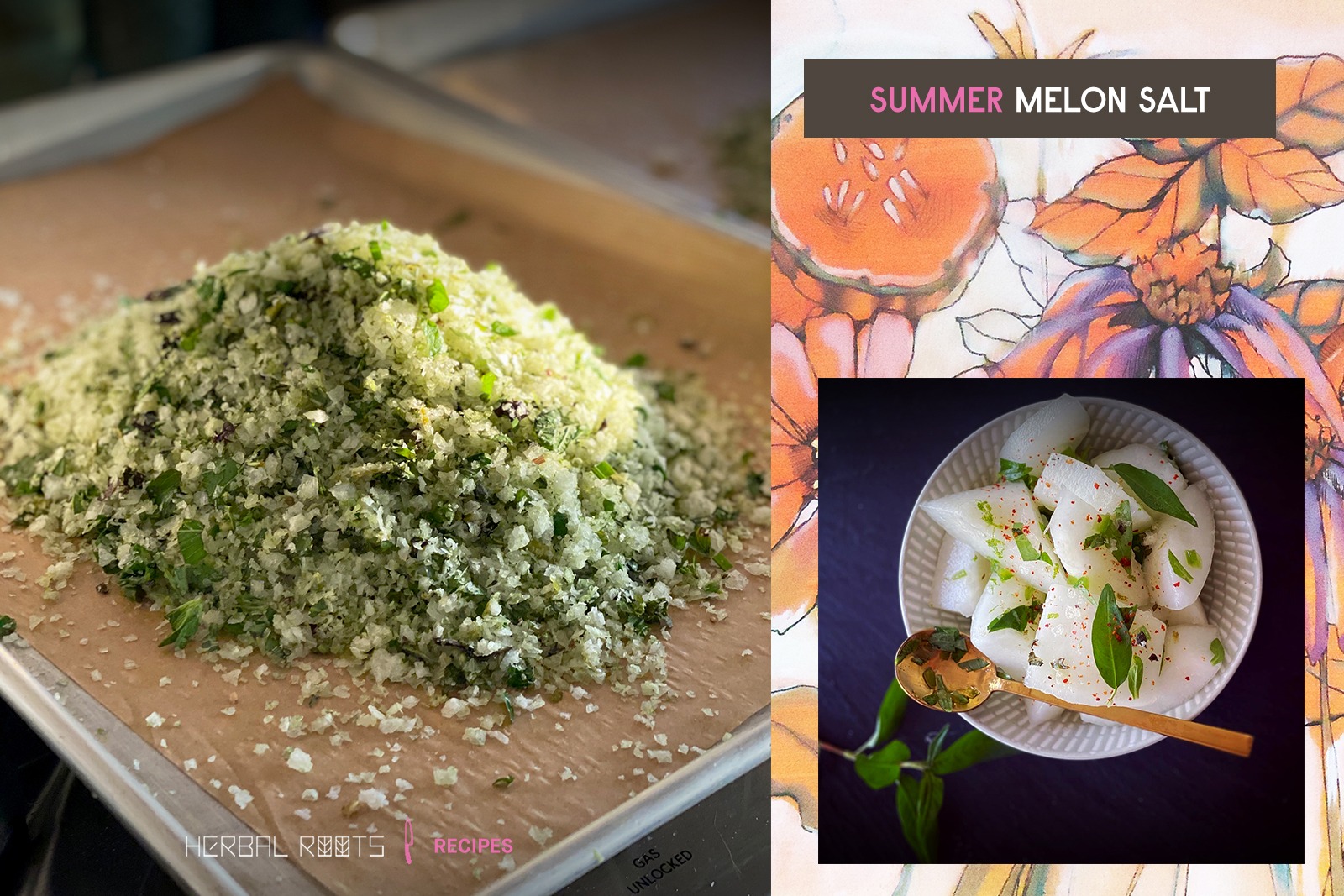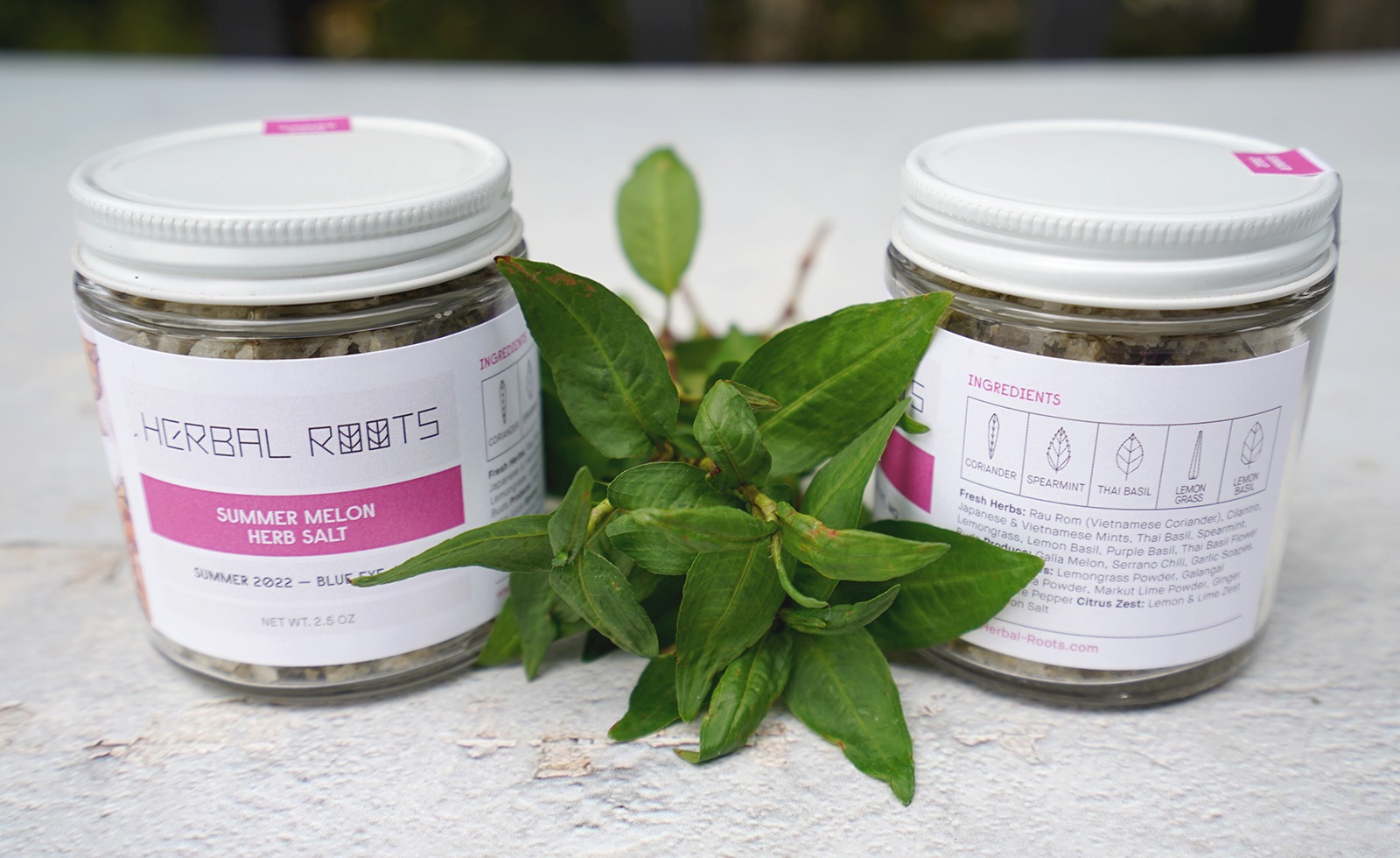 Smoky Apricot & Mango BBQ Floral Salt
Fresh Herbs: Zuta Levana, Melon Bush Sage, Cardinal Sage, Purple Sage, White Sage, Lemon Leaf,  Melissa Lavender Flowers, Big Blue Lavender Leaves, Tuscan Blue Rosemary, Zambesi Thyme, Orange Thyme, Pine Geranium Flowers, Hyssop Flowers, Maui Wormwood
Produce:  Fresh Ataulfo Mango, Grilled Apricots, Garlic Scapes, Jalapeño  Spices: Smoked Paprika, Cobanero Chili Flakes, Cinnamon, Black Pepper, White Pepper, Mora Chipotle Chilies,  Urfa Chili Flakes, Rose Petals, Elderflower Blossoms, Bee Pollen Citrus Zest: Lemon & Lime Zest  Other: Liquid Smoke, Brown Sugar, (House) Smoked Maldon Salt, Maldon Salt