Citrus Season, Zest & Herbs
While it's true that my favorite season is spring due to the deluge of budding, blooming and sprouting spring herbs, peas, baby artichokes and asparagus, wintertime has some extraordinary offerings in the form of citrus that strongly excite me. Not just the fruit but the zest, which leads me on many more kitchen adventures. I'm here to remind all of the access we have these days to citrus variety and also suggest to all that they use more zest, in general and especially in the peak of winter citrus season.
Not only are we seeing produce departments stocked up with the full line up of citrus  "commodities" – lemons, limes, orange, or grapefruit, but we are seeing an extraordinary amount of specialty, nuche and heirloom varietals. California's plethora of passionate organic citrus farmers, many with older orchards, are pushing variety and flavor over volume and homogeneity and our grocery stores and farmers markets (if you are lucky to be in California) are reaping the benefits.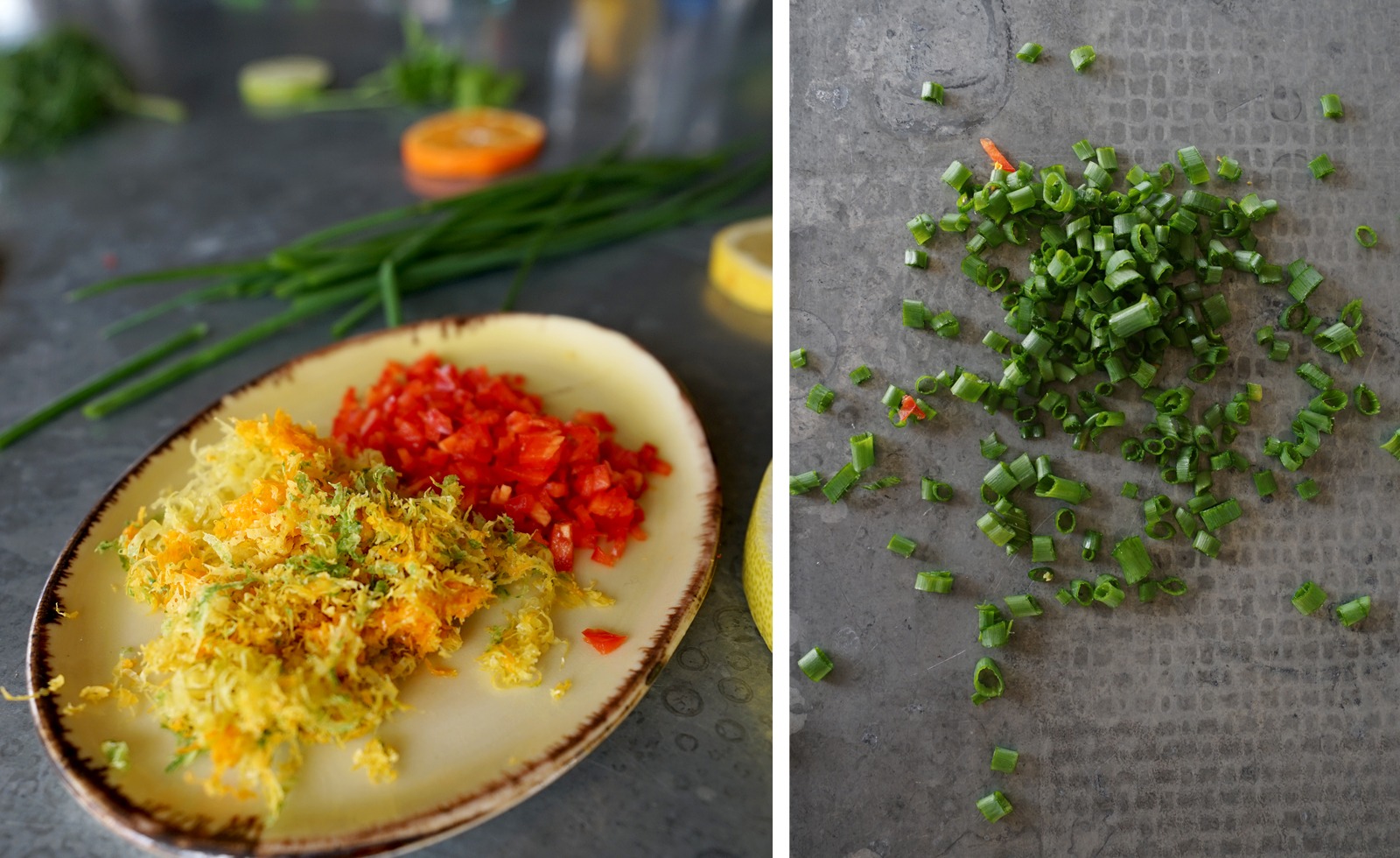 Buck Brand is for me the most notable of California citrus brands and the one that gets me excited in winter time.  Buck Brand hails from Deer Creek Heights Ranch in (Terra Bella) Porterville, California. They have over 275 acres of organic heirloom specialty citrus-over 80 different varietals including many specialty and niche items. Grower Lisle Babcock is a legend in Citrus. Everything is handpicked on the ranch and this time of year all of my favorites become plentiful: heirloom navel oranges, sweet limes (musabi), finger limes, Buddhas hands, Meyer lemons, Etrog, torange ( a large non bitter lemon like fruit hailing from Iraq) and tangerines like their TDE- part Temple Orange or a Tangor (which is actually half orange and half Royal Mandarin), part Dancy Tangerine and part Party Encore Tangerine.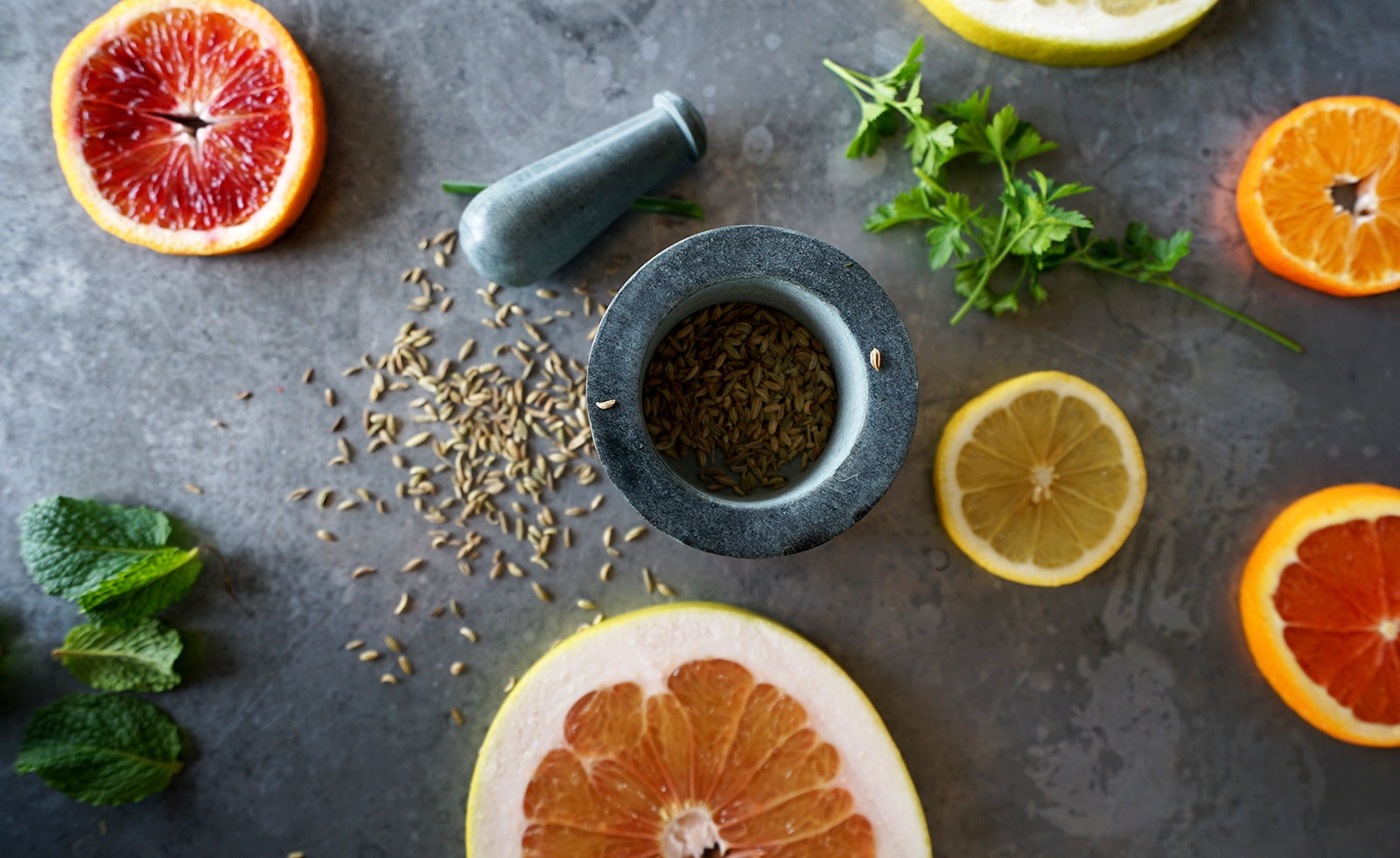 Not only am I eating and using all the fruit I can get my hands on from Buck Brand (and other growers) but I'm using the zest in everything I do. It's a wonderful time to get zesty, all of the winter seasonal items seems to beg for citrus flavor and zest!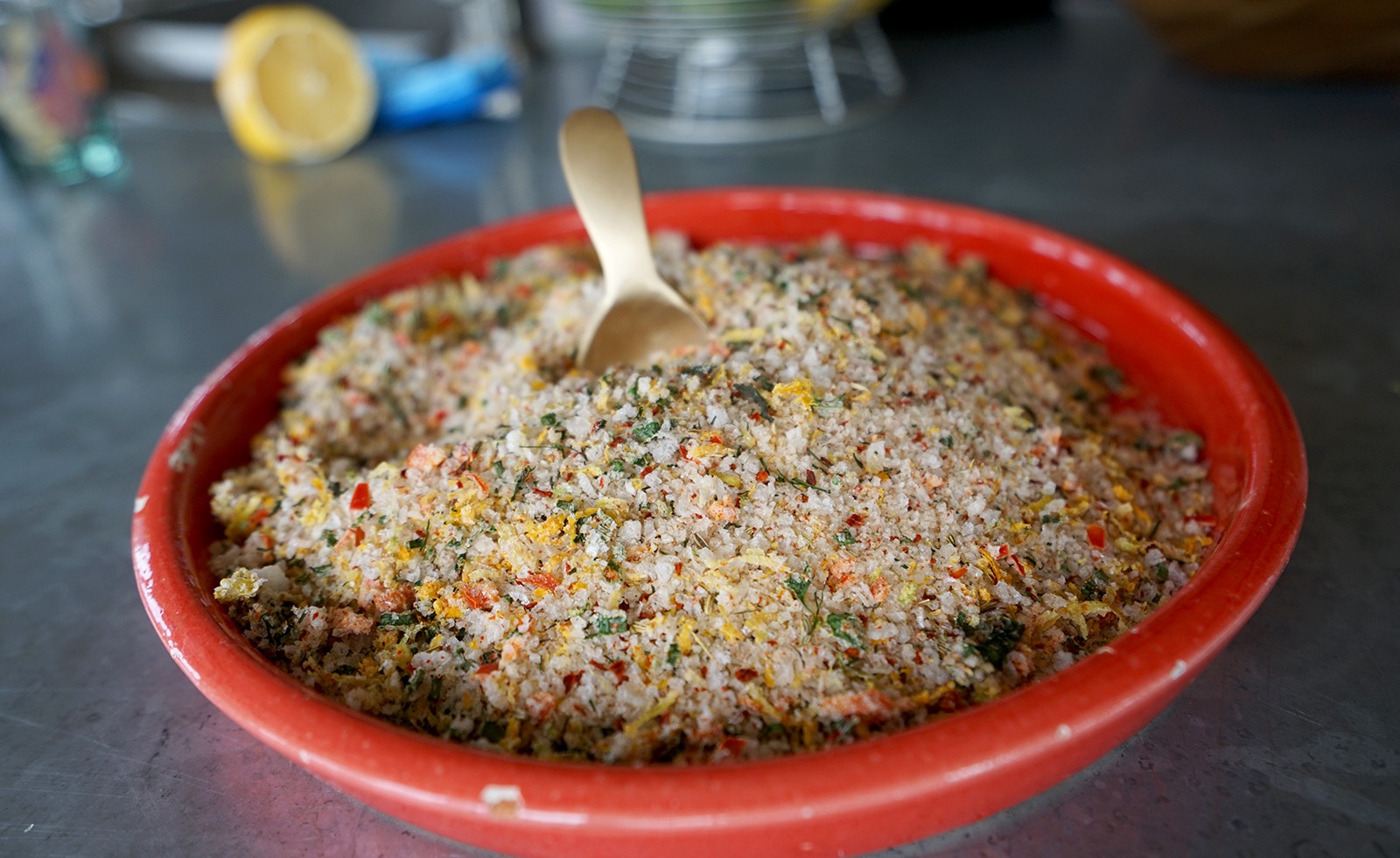 Winter Citrus Herb Salt
Makes about 2 cups
This is a super bright, bold zest forward, herbaceous salt. I put it on all my winter goods- sweet, savory and above all fresh. I like to think of my salt recipes add an exact essence of a time in the season and this one embodies citrus season. I love it on citrus, avocados, crab, salads, pasta – and even put a pinch on my cocktails and mocktails. Be creative with your zest options.
Ingredients
½ cup chopped super finely chopped parsley leaves
1 tablespoon super finely chopped mint leaves
1 tablespoon super finely chopped tarragon leaves
1 tablespoon super finely chopped chives
1 tablespoon super finely chopped fennel fronds
4 -5 nasturtium flowers, chopped fine
2-3 coriander flowers, chopped fine
1 red chili pepper, deseeded and chopped super fine
1 tablespoon lemon zest
1 tablespoon tangerine zest
2 teaspoons grapefruit zest
2 teaspoons pomelo zest
1 tablespoon Aleppo pepper
1 teaspoon crushed fennel seeds
1 ½ cups Maldon flake salt
Directions
Pre Heat oven to 200 degrees F.
In a medium mixing bowl, mix together all of the fresh herbs, flowers, zest and Aleppo pepper. Gently fold in the salt, using your fingers mix all the ingredients up, making sure there are no clumps o zest in the mix. Place the salt/herb mix on a baking sheet covered with parchment paper so that its spread out evenly across the entire sheet and flat. Place in the oven and bake for about 14 minutes or until the herbs seem to have a lot less moisture but are not totally dried. Store in a small bowl on your counter for a few weeks.
Toss the salt over fresh citrus and other winter produce items.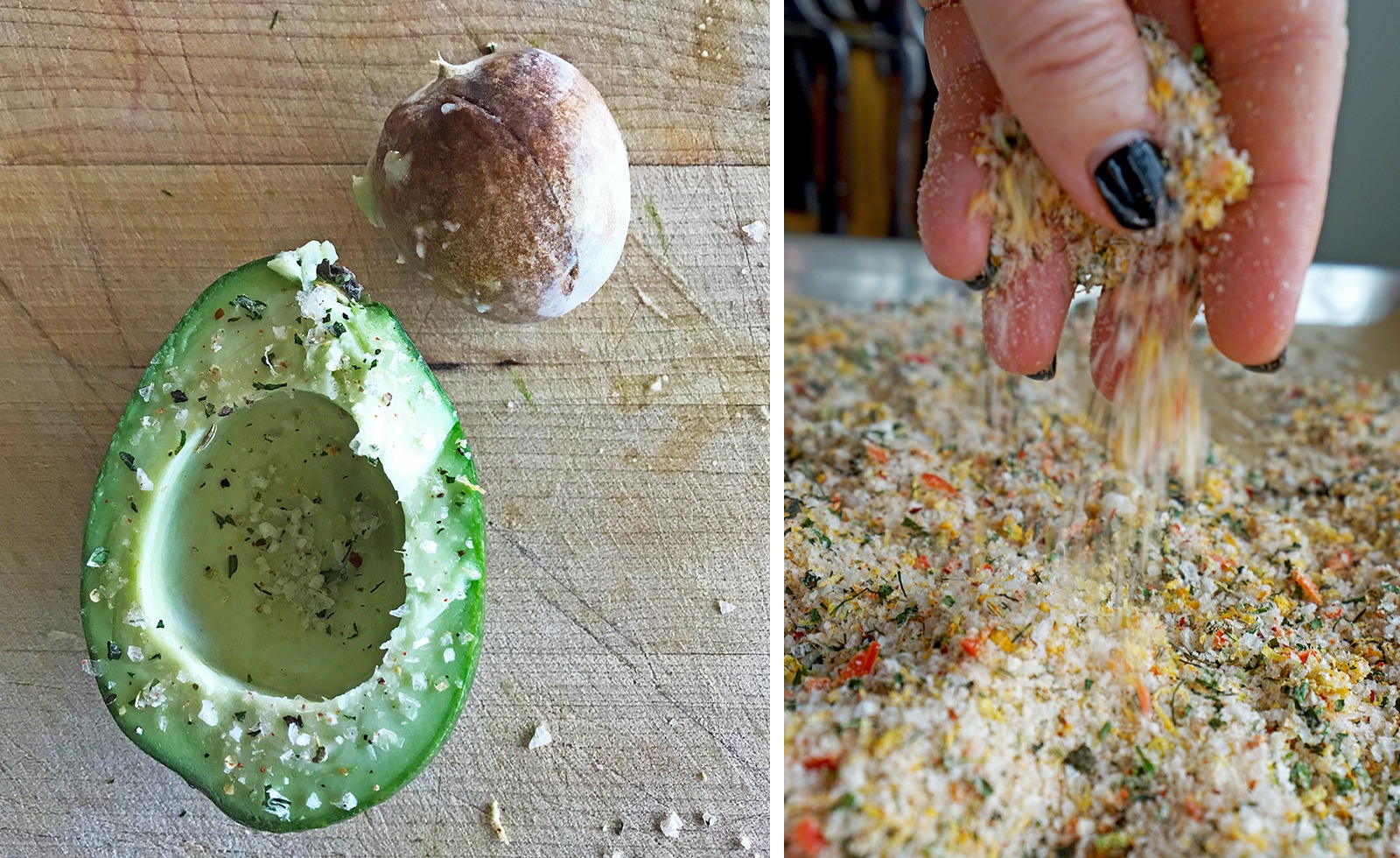 Fuerte or Bacon Avocado with Citrus Salt
Serves 1
Growing up as a little girl in southern California, we ate a lot of avocados. My father used to eat them with a spoon, cutting them in half and sprinkling Lawry's garlic salt all over them. It's a tasty way to eat avocados, sure, but it's also a deeply nostalgic flavor for me- one that I have been trying to recreate without the use of a preservative and chemical filled season salt. My Winter Citrus and Herb Salt does just this. This is one of my favorite snacks and the best way to use up an avocado that must be eaten NOW!
Ingredients
1 avocado, cut in half, seed removed
1 teaspoon Winter Citrus Herb Salt
Directions
Sprinkle the salt all over the avocado, eat with a spoon!
Blood Orange Roasted Beets
Makes 3-4 roasted beets
No matter what I am making with roasted beets this is the recipe I start with. The combination of oranges and beets is lovely and my go to. If you are roasting different color beets, wrap them in foil separated, otherwise the colors bleed.
Ingredients
3-4 whole beets, washed and trimmed
2 tablespoon extra-virgin oil
2 teaspoons Winter Citrus Herb Salt
Zest of 1 blood orange
Juice of one blood orange
Directions
Pre-heat oven to 375 degrees F. Place a piece of tin foil down on a baking sheet and place the whole beets down in the center. Drizzle the olive oil over the top followed by the Citrus Herb Salt and zest. Squeeze the juice over them and then wrap them up tightly in the tinfoil. Bake for about 40 minutes or until the beets are soft when poked with a sharp knife.
Cool and peel. Refrigerate for up to a week.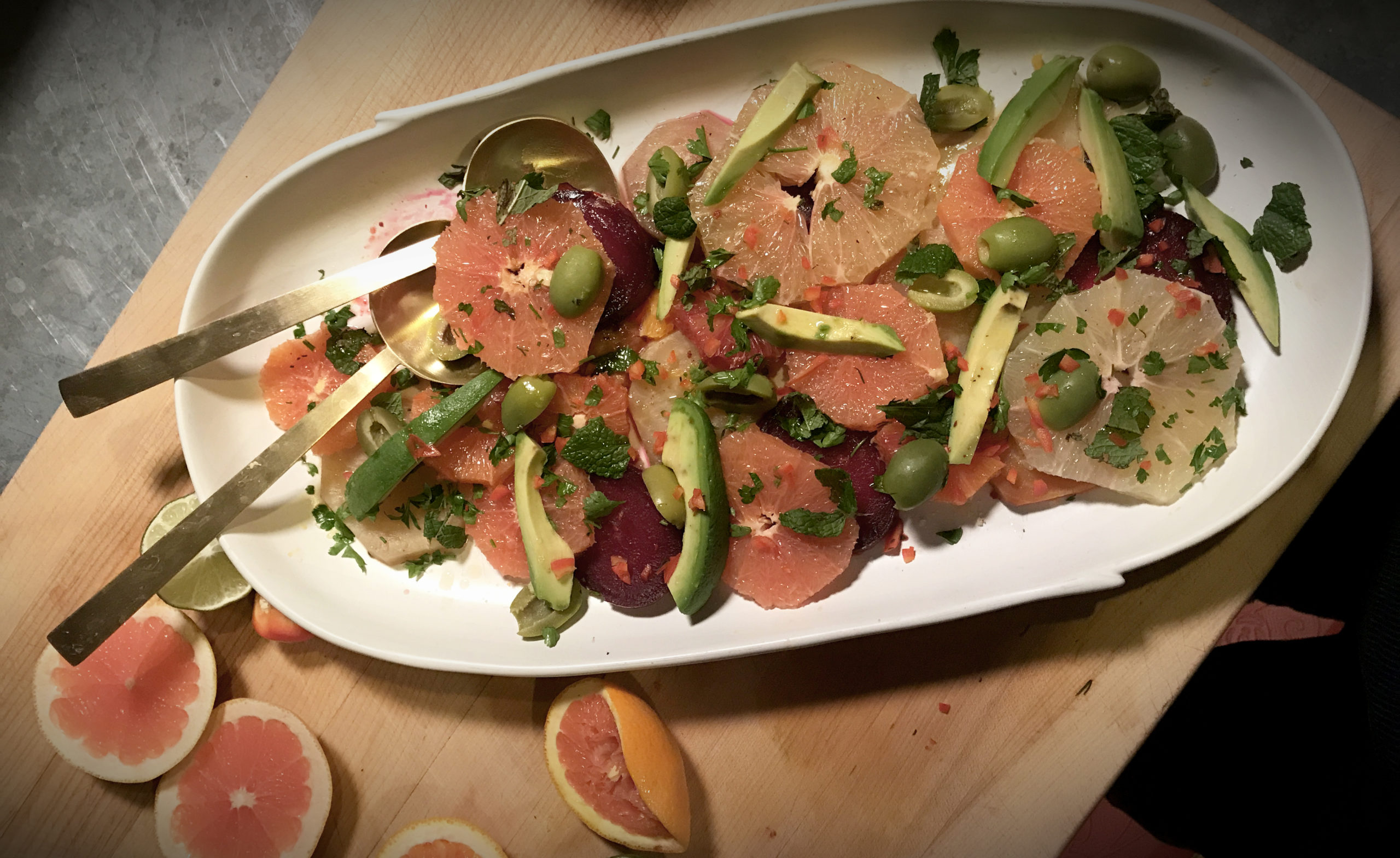 Winter Citrus & Herb Salad
Serves 4
Ingredients
1 cara cara orange
1 blood orange
1 honey orange
1 pomelo
3-4 roasted beets: red, candy striped and orange, peeled and sliced
1 teaspoon Meyer Lemon Zest
¼ cup Castelvetrano green olives, roughly chopped
¼ cup fresh parsley leaves
1 tablespoon fresh mint leaves
Small handful of fennel fronds
2 tablespoons lemon juice
¼ cup blood orange juice
2 teaspoons champagne vinaigrette
1 clove garlic, finely chopped
1 tablespoon tahini
1 tablespoon extra-virgin olive oil
1 teaspoon Winter Citrus Herb Salt
Directions
Prepare the citrus by slicing it into thin rounds and removing the peel with a knife, little by little. Arrange the citrus on a large platter and lay the beets around over the top. Sprinkle the zest over the top, followed by the olives and parsley, mint and fennel leaves.
Whisk the lemon and orange juice together with the vinegar, tahini and olive oil and season with ½ the Winter Citrus Herb Salt. Drizzle the dressing over the top and sprinkle the remaining ½ teaspoon of Winter Citrus Herb Salt over the top of the salad.
Pomelo Vodka with Rosemary Zest Salt
Makes a few drinks
The Buck brand Shaddock pomelo varietal is my favorite and I love drinking it. With or without vodka its extraordinary A little rosemary pomelo-zest salt on top and this is my perfect winter moment. The Bay Laurel bitters make a fantastic addition to this drink. I use Monarch Bitters brand from Petaluma.
Ingredients
1 teaspoon Maldon salt
1 teaspoon fresh rosemary
2 teaspoons pomelo zest
Juice of 2-3 pomelos
2 ounces vodka or gin (optional)
California Bay Laurel Bitters (optional)
Directions
To make the salt, mix the salt, rosemary and zest together in a small bowl.
Fill a glass with ice and if you are using booze add it to the glass, otherwise skip and simply fill the glass with juice. Lace a few drops of the Bay Laurel bitters on top followed by a pinch of the pomelo rosemary salt.