Anise Hyssop, Summer's Candy
If you are lucky enough to have a garden you need to grow Anise Hyssop. It's easy to grow and one of the most beautiful in the garden during all growing stages, not to mention that its incredibly versatile in both sweet and savory recipes.  It's often available at farmers markets during the summer and if you can get your hands on it one way or another – do grab some.
The plant itself is unbelievably stunning and looks more like an ornamental flower bush than an edible herb. It's a member of the mint family and has very large mint shaped leaves. Its coloring is rather unique, and changing. In the early stages of the plant it's pale green leaves can have deep purplish notes, similar to purple sage. When it flowers the leaves turn dull and pale and it has statuesque and vibrant purple pompomish flowers. The plant grows tall too, typically about 4 feet high.
Its favor is even more wonderful than its looks. It tastes of sweet black licorice, reminiscent of the old-fashioned licorice candies- sweet and  smooth. The leaves, flowers and stems are all quite useful in the kitchen and can be utilized in both sweet and savory concoctions. Each of the parts have different potency of flavor which makes for better specification of flavor when using it in the kitchen.
The plant, a native to the great plains and upper mid-west, was coveted by Native Americans for its extraordinary medicinal uses in its leaves, stems and flowers. Tea made from the fresh leaves treats coughs, congestion, fevers, and even diarrhea. Crushed leaves and stems can be made into a salve and used to treat sore, tired muscles and limbs. The natural antibacterial and anti-inflammatory properties of the plant makes it useful as a topical treatment. One of the most important uses that early Native Americans had for anise hyssop was for hearth heath. Thought to strengthen and clear out a dispirited heart.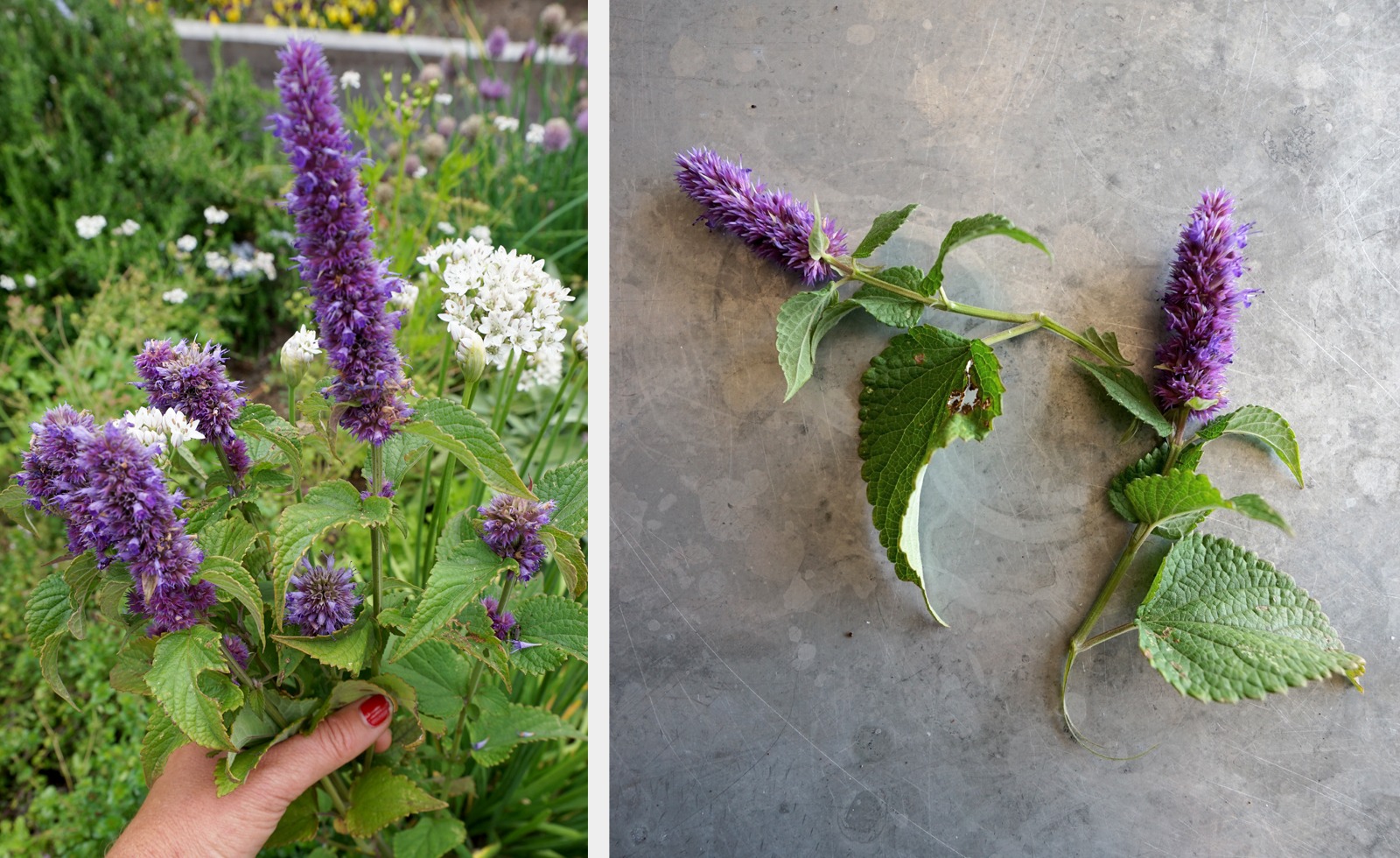 This is my first time growing it and I am enraptured. It is quite magical so far and it attracts a lot of bees and butterflies and other beneficial insects, and I have to assume it attracts good omens too. My heart has felt a lot more dispirited since I've been watching it grow and bloom.  The creative ideas and recipes have been equally joyful to imagine and carry out.
The creative ideas and recipes have been equally joyful to imagine and carry out. Culinarily I find it to be one of the most versatile and useful herbs in the garden, it feels like a special treat to have and use.  Most, including me describe its flavor as sweet black licorice, which is correct, but like everything there is more to it. Like many member so the mint family that have the camphor oil ( cat nip, oregano, sage, lavender) and thus there are subtle notes of pine, lemon peel, black pepper and tinges of spice, that melt into the sweetness of this herb, which is one of the sweetest herbs I have planted my garden, yet well balanced.
I have found it to be lovely on salads and salad dressings. It ads a sweetness that savory dishes are often missing, especially the flowers which are much less potently sweet than the leaves. I toss them over my tomatoes and on fruit salad and by far the best pairing I stumbled upon, with a basic google search, was cucumbers. I also found that the herb works well with all melons and especially when using melons in savory recipes.  The best tip I can give with this herb is to not let the lack of information on google stop you from experimenting with it in all different kinds of dishes. Unlike some of the strong tasting herbs, this on just melts into things wonderfully.
Strawberry-Peach Licorice Cobbler
Serves 6
This recipe is adapted, using the Crispy Peach Cobbler recipe from Smitten Kitchen. Obviously, I use anise hyssop in my version. I also use one bowl, my arm (as opposed to a hand mixer), less sugar, more butter and combine strawberries with peaches.
Ingredients
5 peaches, halved and cut into 5 wedges
10 strawberries, halved
Juice and zest of 1 lemon
½ cup sugar, plus ½ cup
1 tablespoon finely chopped anise hyssop leaves
½ cup (½ stick butter) softened
1 tablespoon finely chopped anise hyssop flowers
¾ cup all-purpose flour
1 teaspoon baking powder
1 teaspoon salt
¼ cup milk
2 tablespoon hot water
Directions
Heat over to 350 Degrees F. Lightly grease a small square baking pan, I used a 9 X 9-inch baking dish. Place the peaches and strawberries in the baking dish and add the lemon juice and zest. Gently mix them together and set aside.
Using your fingers, rub together the hyssop leaves and sugar in a mixing bowl, until you mix them into a gritty herb sugar. Add the softened butter. Using a wooden spoon and some arms strength cream together the butter and sugar mixture until its fluffy. About 2-3 minutes.
Add anise hyssop flowers, the flour, baking powder, and salt and continue to mix until combined and thick. Add the milk, a little at a time and mix. Once all the milk is incorporated mix a little faster for about 30 seconds straight until you get a fluffy but thick batter.
Spoon a few blobs all over the fruit, making sure you do not totally cover the fruit, the fruit should be peaking out the top in various sections. Using the back of the spoon, level out the blobs a little bit. Sprinkle the remaining ½ cup sugar evenly over the top on top and then drizzle the hot water over the sugar.
Place the baking dish onto a lined baking sheet (I cover mine in parchment paper) to avoid the mess that comes with the fruit bubbling over in your oven.  Place in the oven and bake for about 50 minutes or until the top of golden brown.
Allow to cool about 20 minutes, the original recipe is adamant about 30 or more, but I like it still warm on my first slice so 20 is my go to number that allows the op to firm up crispy and the insides are warm. I like it with anise hyssop ice cream melting over it!
Anise Hyssop Ice Cream
Makes 3 cups
Ingredients
2 cups heavy cream
1 cup whole milk
¼ teaspoon salt
1 giant handful anise hyssop, leaves, stems and flowers
5 egg yolks
1/2 cup sugar
Directions
Combine the cream, milk, salt and anise hyssop in heavy bottomed saucepan and heat to a simmer. Allow the mixture to simmer about 5 minutes and then remove from heat, steeping herbs for about 30 minutes.
Once the herbs have been steeping for 30 minutes, place the pan back on the burner and begin to heat to a boil. While the milk is getting hot, whisk together the eggs and sugar. Once the milk is hot taking a few big spoonsful of the hot milk, a little at a time, and whisk it into the egg yolk mixture; you want a total of about ½ cup. This tempers the eggs so that they don't curdle when they cook in the hot milk, allowing the eggs to combine and make the custard. You can then whisk the tempered eggs into the sauce pan. Whisking constantly, bring the mixture just about to a boil and then reduce heat to medium or medium low. Use a wooden spoon and stir constantly about 4 minutes. I like to set a timer to keep track. Make sure you don't overcook or that the burner isn't too high or the eggs will scramble.
Pour the mixture through a mesh strainer into a glass bowl and discard the hyssop. Place the glass bowl inside another big bowl if ice water in order to cool the custard quickly. Stir for a few minutes and them let the custard cool completely inside the ice bath. For best results chill the custard in the refrigerator for 12 to 24 hours. I use the freezer and speed this part up. Just until its very cold but not at all frozen, about 10 minutes. Freeze the ice-cream in an ice cream maker according to instructions.
Strawberry Anise Pom Pom
Makes 1-2 mocktails
This recipe is one of the most refreshing things I have made in a long time and the anise hyssop pleasantly surprised me in this drink. I whipped it up one day when a few of my teenage nieces where at my house and I wanted to impress them and teach them they too could enjoy evening sunset drinks with adults and even better they could take the idea home with them. One of the young ladies tasted the leaves of the anise hyssop in my garden and said it tasted like candy and I knew it was going to make a good sweet drink for her. The pompom garnish was just cool enough to impress the teenagers and evoke a super session on snapchat, which made me confident it looked as good as it tasted. I use Monarch Bitters Wild Flower Syrup, which is always a clear winner with both adults and kids.
Ingredients
3 strawberries
2 -3 anise hyssop leaves, torn
1 small anise hyssop flower, torn
2 teaspoons sugar
1 teaspoon lemon zest
Juice of one lemon
1 ounce Monarch Bitters Wildflower syrup or simple syrup
Sparkling water
Anise hyssop flower and leaves garnish
Directions
In a cocktail shaker, combine the strawberries, torn hyssop leaves and flowers, lemon zest and sugar and muddle until a pesto like consistency occurs. Add the lemon juice and the syrup and fill the shaker up ¾ of the way with ice. Vigorously shake for about 30 seconds straight. Fill the shaker with sparkling water and stir. Strain into either a coup style class or a large glass filled with ice. Garnish with a few anise hyssop flowers and leaves.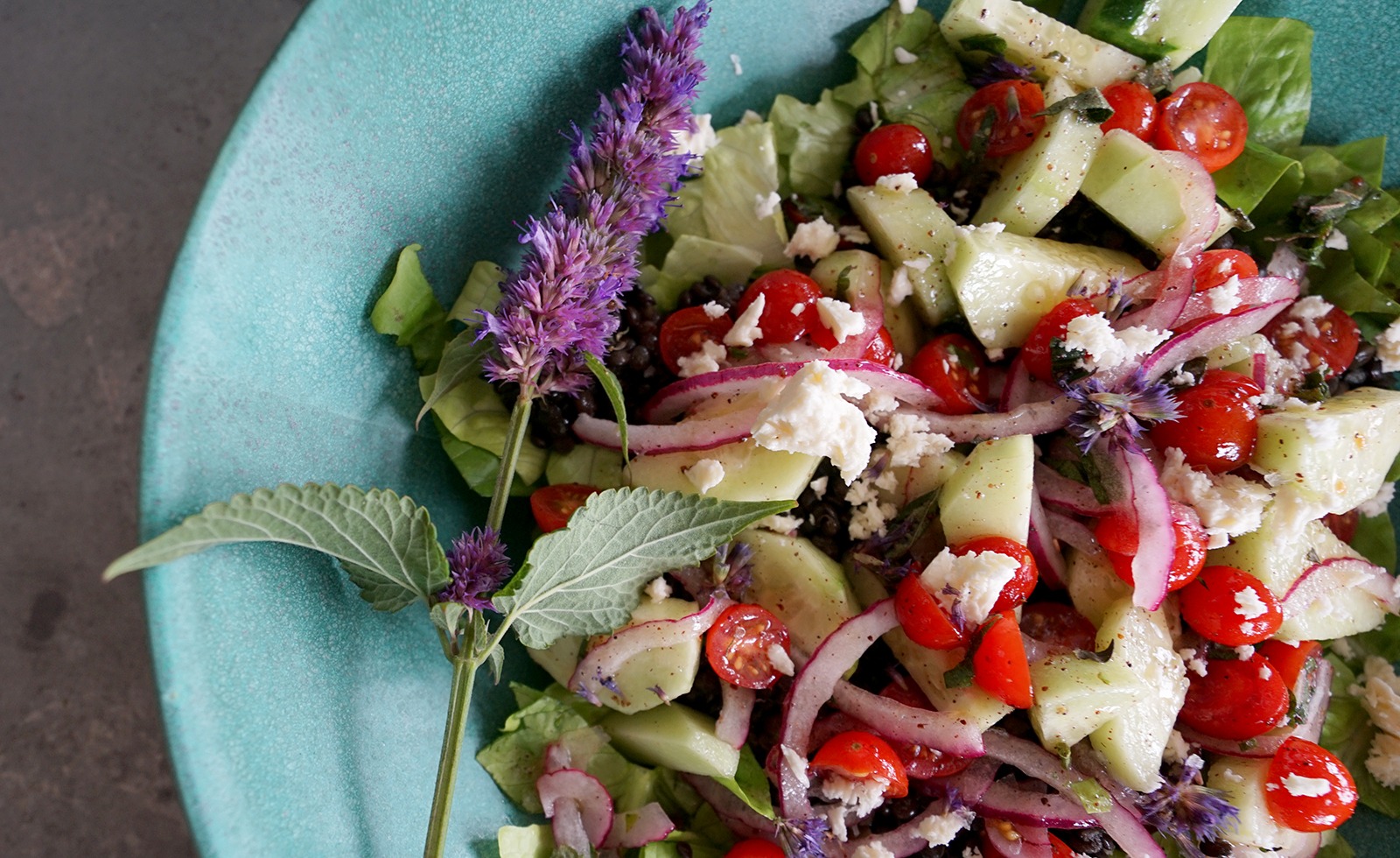 Chopped Cucumber Salad with Black Lentils, Anise Hyssop & Sumac
Serves 4-6
Cucumbers are surprisingly delicious with anise hyssop. Try the pair together in cold cucumber gazpacho or a refreshing anise hyssop cucumber cocktail. This simply dressed salad utilizes this beautiful pairing, showcasing the savory side of the fresh herb, complementing it with bright citrusy sumac. The salad is refreshing and light, but still filling. It's easy to whip together and can be eaten as a stand-alone salad or as a side salad for grilled meats or fish.
Ingredients
¼ cup extra virgin olive oil
juice of 1 lemon
2 tablespoons white balsamic vinegar
1 teaspoon sumac
½ teaspoon salt
1 English cucumber, halved and sliced
½ cup sliced thin and halved red onions
¾ cup cherry tomatoes, halved
2 tablespoons chopped fresh anise hyssop leaves
2 cups chopped romaine or little gem lettuce
1 cup black lentils, cooked and salted
¼ cup feta cheese, crumbled
Herbal Roots Seasonal Herb Flake Salt- summer 2019 edition (optional)
Directions
Whisk together the olive oil, lemon juice, vinegar, sumac and salt in a medium bowl. Add the cucumbers, onions, tomatoes and hyssop and toss together until mixed.
Assemble the salad by laying down some chopped lettuce, topped with the lentils. Pour the dressed cucumbers and onions over the top evenly and top with crumbled feta. Season with a little seasonal herb flake salt.
Summer Herb Blackberry Rum Cordial
Makes 1 quart
Inspired by a bottle of white rum that's had me captivated this summer- Copalli White Rum. I'm generally not a big fan of rum- it usually feels too sugary sweet for my palette. This one is herbaceous and feels "jungly", which makes sense since it is made at Anya Fernald's eco resort in Belize- Copal Tree Lodge . It has a cool ocean breeze feel to it, not the suntan lotion kind but a cool, thick vegetative jungle vibe. It's potent but drinks light. I melds perfectly with all the herbs and the blackberries, creating a rum drink that is ultra-summery, but not tropical. The aperitif or vermouth addition pulls the liquor together, I'm not married to one brand, choose one you like and that's dry.
Ingredients
2 cups smashed blackberries
zest and juice of 1 lemon
zest and juice of 1 lime
1 cup sugar
2 teaspoons cracked pink peppercorns
2 teaspoons cracked coriander
1 teaspoon dried rose petals
½ cup anise hyssop leaves, chopped
2 tablespoons lavender flowers
2 tablespoons fresh rose petals or 2 teaspoons rose tea
2 tablespoons chopped, lemon verbena leaves
1 ¾ cups Copalli White Rum
½ cup dry vermouth
Directions

Combine the blackberries, zest and citrus juice, sugar, spices, flowers and herb in a quart size mason jar and mix well. Once its mixed, shake it and put it in the refrigerator to macerate for a few days, shaking a few times a day, extracting the oils and essence from the herbs and spices.
Once the mixture has macerated place it in a small sauce pan and bring to a light simmer, stirring constantly and making sure all the sugar has completely melted. Remove from heat and allow to cool completely. Strain the mixture using a mesh strainer. Pour the rum and the vermouth over the straining mixture, pushing down on all the berries and spices with the back of a spoon, extracting as much essence as possible. Once the mixture has fully strained, discard the solids and place the cordial in a mason jar and refrigerate overnight. Serve it on its own neat or over ice.