My Herbaceous Istanbul
Istanbul is one of my favorite places in the world. I have been several times, but this past trip was the best yet. I love Istanbul for its food, its diverse culture, its historical significance and most of all its energy. Its energy seems to simultaneously encompass an appreciation for both the traditional and modern. In Istanbul, I feel very much alive and part of the world. A feeling that brings me great comfortability. It's reminiscent of New York City, in that it feels more a part of the world rather than a part of a singular nation. As an American, it also reminds me that there is more to the world than simply modern Christian culture. I think that's important.
To be in this diverse city at this exact time in history, can feel like celebrating all the world's potentiality while simultaneously recognizing the roots of its sufferings. Watching a country on the verge of either making the same mistakes other developed nations have or choosing to carve a better path forward, is both nerve-wrenching and hopeful.
To be able to learn the deeper history of this part of the world, especially as it has never been taught to me in school, is a gift. It requires me to be purposely and forcefully open to that which often feels viscerally foreign. I feel my body and mind growing more open while sensing how acutely connected I am to that which is ancient inside me. Americans like me, the immigrated kind, so seldom get to feel this power since we've not inhabited American lands for very long.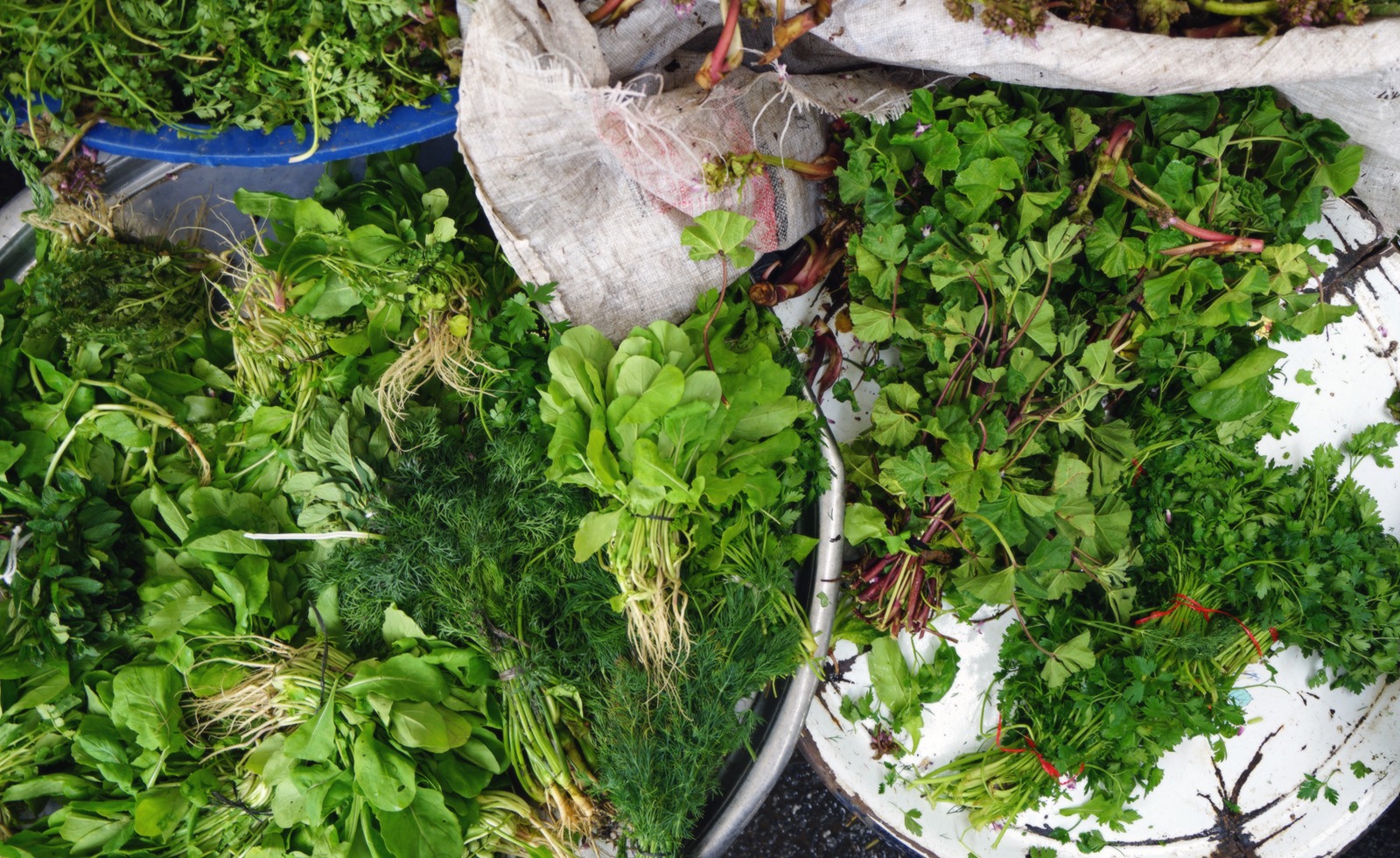 I'm not one to tell others what they should or shouldn't see while exploring the globe. We all experience the world differently, influenced by our own history, culture, and interests, and I believe anything we see and experience is beneficial. More than anything I recommend staying open, being adventurous and going with the flow. The most powerful experiences come when you let go of expectations and simply enjoy your surroundings. Move toward what interests you and at the same time allow room for new interests and the interesting to emerge.
I am happy to share my experiences in Istanbul, not to tell you what to do, but in the hopes that it may inspire you to plan your own trip there, based on your own interests and curiosities. I, for one, ventured over to celebrate my birthday and launch this new Herbal Roots enterprise. As such, my attention was on the herbaceous side of Istanbul. If you're reading this, you probably know that my curiosities are rooted in food and agriculture and of course people and thus some history- which undeniably affects all of these things, especially in an ancient land like Turkey.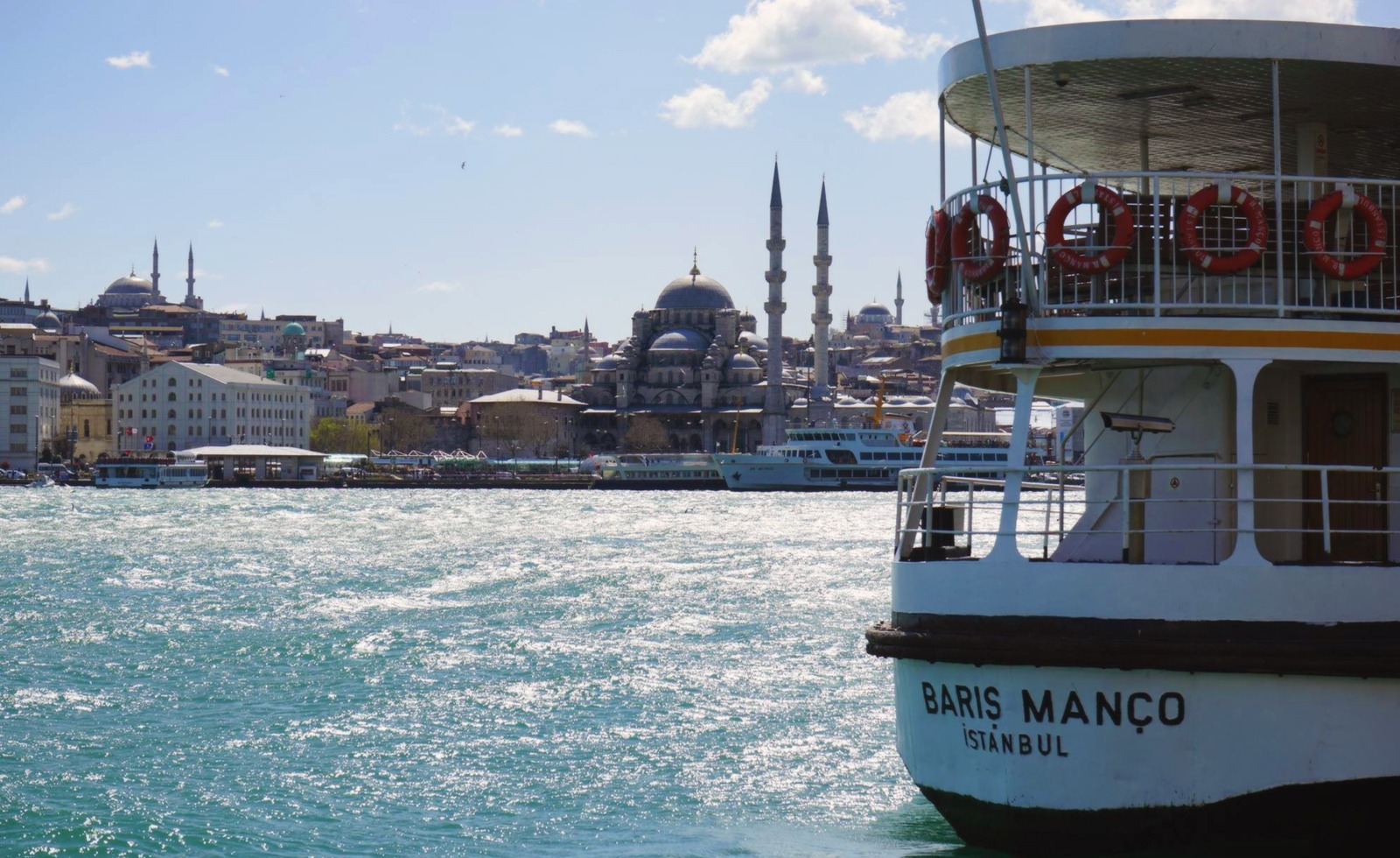 History
Turkey is part of the cradle of civilization or Mesopotamia, where ancient civilizations are thought to have originally developed and from where many great empires emerged and vanished. There is an inescapable energy felt when standing on these ancient soils, and a lot to learn here.  I'm not usually one for tours, as I often end up feeling stuck inside a box; however, in historically rich locations, I think they are a great benefit. Private or small group tours are my preference. Although they cost more, they're generally worth it, especially for someone who asks a lot of questions like I do.
I had previously toured Istanbul's old city with a private guide but since my friend Danielle was accompanying me on her first trip to Istanbul (and overseas!), I thought it a good idea to do it again. I knew there would be more to squeeze from taking this tour twice.
Our guide Betül Basak, came recommended by my last guide Mesut Han. Betül was better than I could have hoped for, especially for two independent women like us. The tourist destinations within the historical center of the old city, are felt differently with an exceptionally informed guide, who speaks our language well and understands embedded western cultural and religious "viewpoints and bias".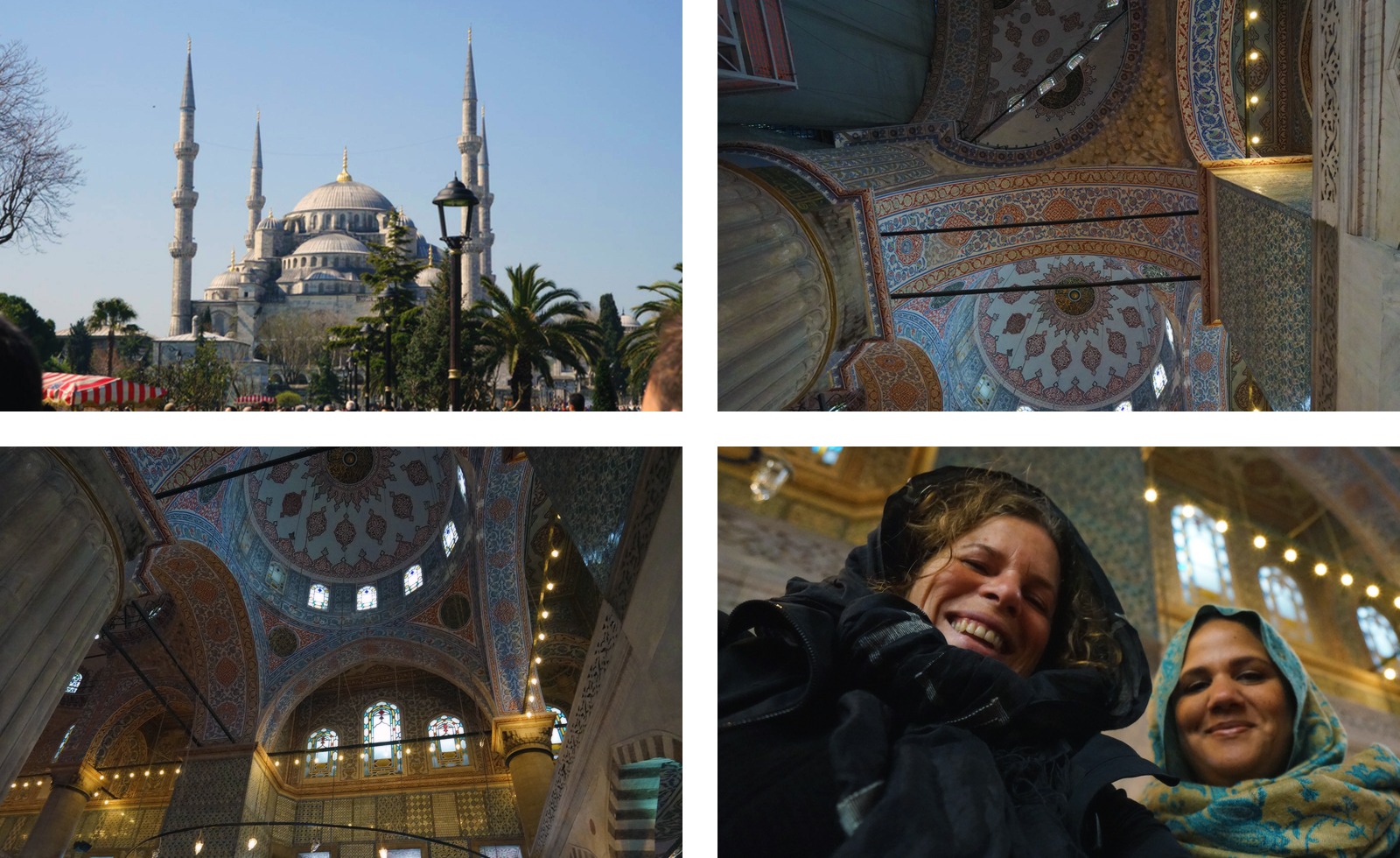 With Betül, I encountered a more feminine-centric side of the history. This differed remarkably from my last tour, with a former partner focused more on the (male-centric) religious details and minutia. It feels more powerful to experience history being presented in a way that highlights the more diverse realities on the ground at the time, and currently. I could tell this time around that history's storytelling voice was starting to change and it felt good to be a part of that. This tour made me feel hopeful for the young men and women who may escape the confines  of male-centric tourism. As Betül pointed out several times, new discoveries within history are not only literally being unearthed but re-examined differently, by an emerging field of women ( and diversity) in archaeological and historical fields.
Whether or not you take a guided tour, I encourage you to learn a bit about the history of Istanbul. Istanbul (Constantinople) has been an epicenter of civilization for over three thousand years. It was colonized by the Greeks, overtaken by the Romans and was the capital of the Roman, Byzantine and eventually the Ottoman Empire. It was one of the most populated cities in the world for much of history. It sits geographically in a highly coveted location which made it nearly invincible and advantageous for trade and movement by land and sea.
I recommend doing the historical touring upon arriving as it lends itself to a richer perspective while meandering through the labyrinths of cobble stone streets.
Since we had other agricultural places to be on this trip, we didn't spend too much time at the historical sites, but I recommend these five sites. Don't skip the Haram section at Topaki Palace. It's an extra cost, but well worth it.
Blue Mosque (Sultanahmet Camii)
Basilica Cistern (Yerebatan Sarnici)
Food
Food and culture are intrinsically connected and when traveling I can't help my increased attraction to the food the more I get to know the people and culture. In Turkey, it's easy, the flavors, the techniques and the agriculture is so precise and detail oriented that it's rather impossible not to ascend into food heaven and fall in love with the people.
Istanbul has always been a place where many traditions co-exist. The Istanbul I am most attracted to is a mix of modern and traditional, where old ways intersect with new ideas. I resonate toward fresh herbs, fruits and vegetables and prepared foods made simply with these products. I'm not afraid of a high-end restaurant, but I'm rather distrusting of them to begin with, knowing that the food allure in a place like Turkey is rooted in tradition.
Just walking and trying food is my preferred method of experiencing any city's food scene. I like to do a little research first but not to hold myself too tightly on a plan. Traveling, like life itself, doesn't happen as we think it will, so planning will only get you so far. Being prepared is different than having a strict plan. I like to meander openly and enjoy.
This trip I had the desire to meet some local farmers and see their farms, so I reached out to my friend Robyn Eckhardt who is an amazing (and legitimate) food and travel writer on Turkey, Europe and Asia. (Robyn's cook book, Istanbul and Beyond is a fantastic look at the food and culture of Istanbul, as well as some of the country's most diverse and unfamiliar regions. Her recipes deliver the authentic taste, which is rare.)  Robyn recommended that I look to Ansel Mullins, one of the co-founders of Culinary Back Streets. Ansel lived in Istanbul for many years working as their bureau chief. Not only did they prepare and plan some amazing agricultural/farm tours for me, but we got a glimpse of the food and culture in a lot of parts of the city I had never noticed.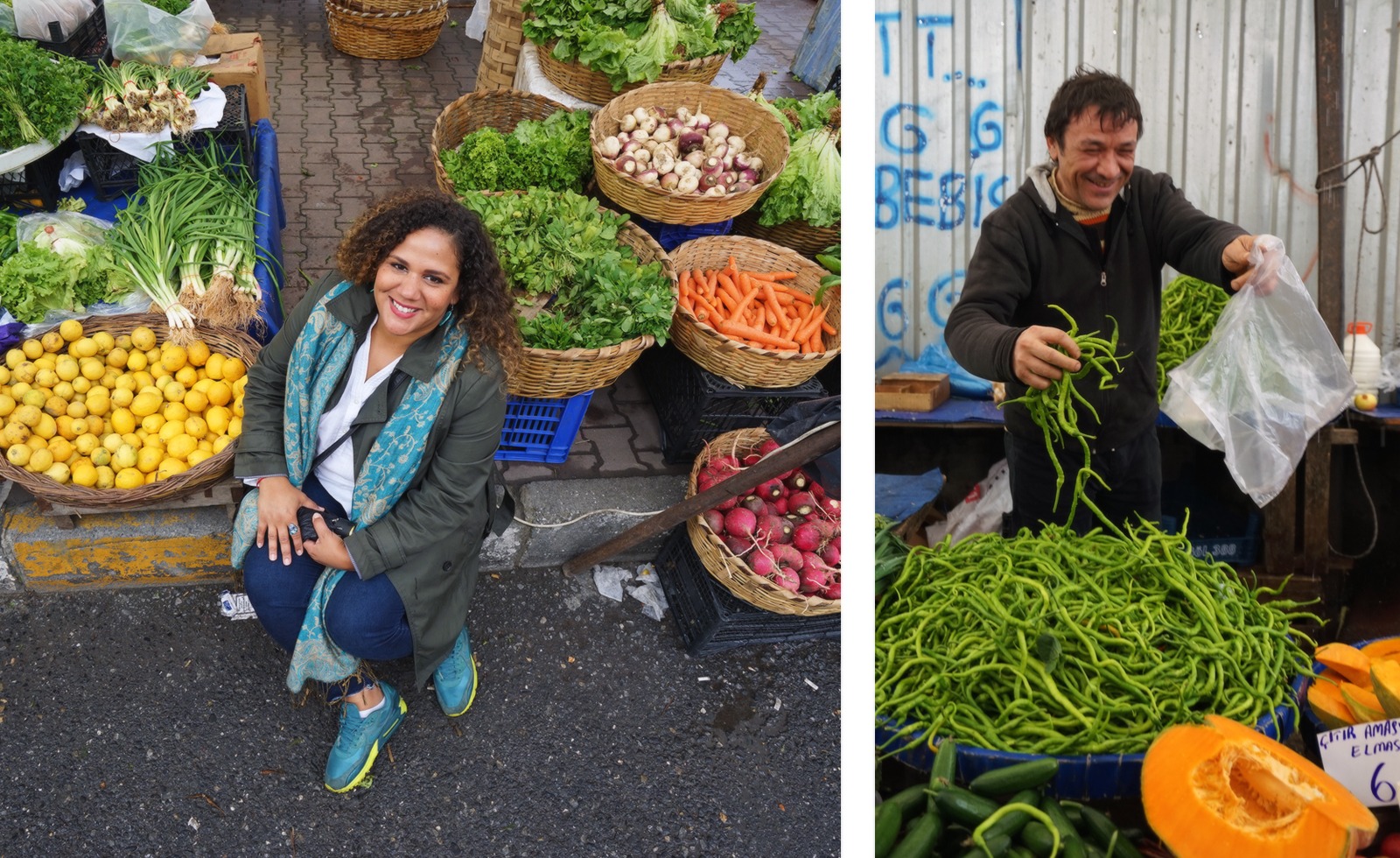 My curated tour was specifically designed to highlight as much herbaceousness as possible, showcasing organic and historic farming within the city. This included the weekly Ferikoy Organic Market, filled with organic fruits, vegetables and products like soaps and wooden kitchen tools. We explored all kinds of specialty food shops and food artisans in the hip neighborhood of Kurtulus, known for its many Greek  and Armenian inhabitants. We managed to log about 15 miles a day through the various markets. We stopped at countless little shops where we tasted baklava, pickles, breads, sauces and even a strange dessert made from chicken breasts, called Tavuk Gogsü. Traveling in spring means artichoke season, and artichokes (especially the whittled down hearts) were everywhere. A highlight of the tour was visiting the men who specialized in the whittling.
The Kastasamonu Bazar, a specialty market specializing in famers, food artisans and products from the Black Sea, was my favorite market. The villagers from Kastasamonu must travel all night to get to the bazar and the items here were quite special. Lots of cheeses, honey, eggs, syrups,  and loads of fresh herbs. Many items we hadn't seen elsewhere dominated the tables and the vendors were incredibly warm and friendly.  This popular market felt relaxed and very special. The Tarlabasi Market was big and fun, too. I was equally impressed exploring the back streets in the Beyoglu district. In times prior, I had dismissed them as too touristy. I definitely recommend Culinary Back Streets for food tours, and I will look closely at all their offers in my future adventures knowing that they operate in several cities throughout the world. They come highly recommended by many prestigious food folks in my network.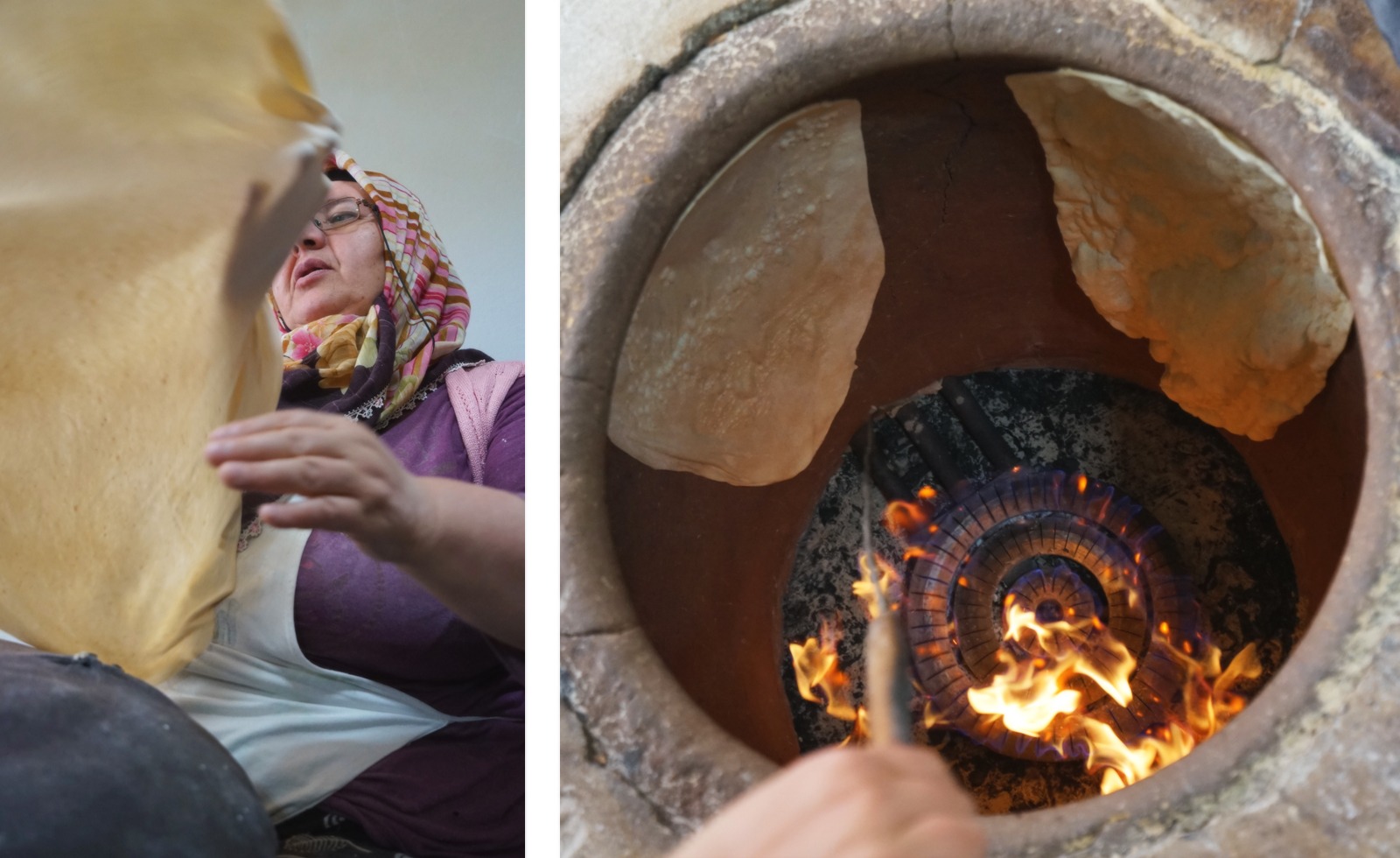 Agriculture
Many of the fruits, vegetables and nuts in Turkey have extraordinary flavor. Much of this flavor can be contributed to an agricultural system that has grown substantially while remaining comparatively small to other countries which have adopted more capitalistic agricultural systems (and thus changed the nature of farming and native species). Turkey is the seventh largest agricultural system in the world yet the average farm is still under ten acres and farmed by families. Most farms are still growing ancient varietals of apples, pears, pomegranates, apricots and nuts.  A plethora of fresh herbs are cultivated and foraged and are a staple part of the average Turks diet, including the 11+ million residents of Istanbul. Many of the traditional methods of curing, pickling and preserving are still carried on as the norm, inside the city as well as throughout the country in small towns and villages. Turkish flavor is the result of tradition, even in modern times.
Turkey, like so many countries, is on the threshold of substantial change in agriculture. As usual, it's a highly politicized venture. It's hard to say whether Turkey will preserve its varietals and methods, or if it will follow the rest of the world into more commoditized (bland) food systems.
I was able to visit a few of Istanbul's historic farms. In the Yedikule Historic Gardens, known as the bostans, crops of herbs, lettuces and fruits have been growing since the Byzantine empire. These ancient farms/gardens are under siege by Turkey's rapid development. Confusion and mixed feelings reign high on whether to protect the areas or convert them into parks and cafes. I'm working on a special blog post dedicated to the  farms, the farmers and the controversy, but for now I'll just point to the agricultural dichotomy within Turkey as it moves to further modernize. It's interesting to watch other countries move down this path, especially as so many of us in the USA and other highly "developed" countries are desperately trying to circle back to where Turkey is now, with diversity and flavor in agriculture. Hopefully Turkey will learn from our mistakes and the mistakes many others make in a world racing to develop (and in doing so, erasing things that we can't get back). Varietals with robust flavor are rapidly disappearing from our world, and it's sad to imagine flavor leaving Turkey too.
My Tourism
There is no better way to start an Istanbul experience (especially after a long plane ride) than with an authentic hammam experience. One of the best examples of Turkey's devotion to the ancient and modern is at the Kilic Ali Pasa Hamam. It's one of the oldest hammams in the city and one of the symbolic buildings of the Tophane Harbor area in Istanbul. It's been beautifully restored and is incredibly clean. The attention detail is sharp, starting with the cool seasonal sherbet (fruit nectar) upon arrival. Ours was made of perfumy quince (ayva); it evoked a lavish sultry feeling which was perfect as we prepared to relax and be bathed. I have been to several hammams in the city, and this one is the best of both worlds. It feels luxurious and offers the real deal scrub down.
The hammam is located next to the small waterfront section of the city known as Karikoy. This quaint Bohemian area offers some of the city's best  baklava, and the small streets are lined with chic cafes and artisans selling everything from paintings, to jewelry and sunglasses. A bevy of diverse eating options can be found here as well as my new favorite shop, Pitane, where I bought handmade ceramic plates with painted herbs and flowers painted  on them.
From Karakoy it's easy to catch short, cheap, breezy ferry ride to the Asian side, which yields  an entirely different experience.  It's predominantly residential and calmer. It seems to be populated by young, hipster types mixed with older generations of various locals and immigrants. Moda, located just off the ferry drop, is filled with cafes, bars, music venues, hostels and a wide array of creative enterprises. You can feel the sweet harmony between those that have lived there for generations and the newcomers.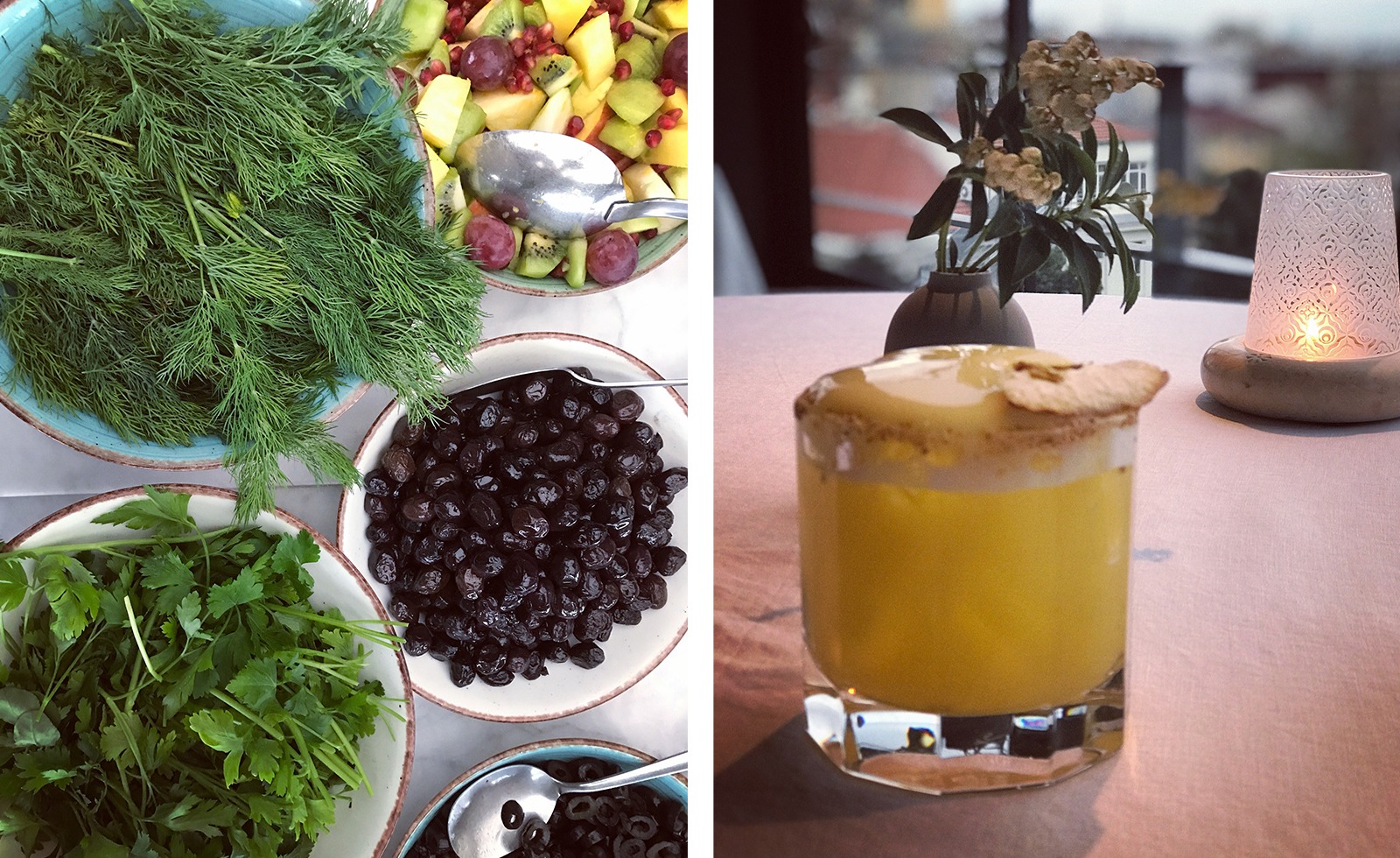 Lunch as Ciya is a no brainer. It's gotten lots of TV press and is really delicious. Chef Musa Dagdeviren is a food anthropologist working to record and preserve the traditional food of Turkey. Despite his fame, the restaurant remains  modest, reasonably priced and offers some of the most flavorful Turkish foods (lots of choices) and  dedicated to the specific and traditional flavors of many villages throughout the country. Eating here is like a history, geography and cultural lesson all at once.
The Galata Tower area is also quite happening. This time around I chose that area as our base. In the Galata neighborhood, you can walk (mostly straight up and straight down, mind you)  for miles and miles through tiny curved cobblestone streets that are filled with all kinds of shops: mostly souvenirs, trinkets and locally made artisan goods.  The area is also considered the Beyoglu district, referred to as Pera during Roman days and sometimes still. It's also known for its Venetian influenced architecture and is quite majestic to stroll around in. The main pedestrian only street, Istiklal Caddesi, runs all the way to Taksim Square about 2 kilometers. It has lots of clothing shops with many global brands, as well as bookstores, sweetshops and eateries. The nightlife in this particular area is well known, while other parts of Istanbul shut down early. The side streets here are the best, with lots of amazing local stores and food shops. I found a hand-crafted Ottoman era coin ring in one of them. There are also fantastic high-end restaurants, NeoLoKal, Mikla and my new favorite restaurant in the world, Nicole by Chef Aylin Yazıcıoğlu. (Separate blog post coming since this one is so special). They all specialize in traditional Anatolian ingredients and flavors, using modern and ancient cooking techniqueswith upscale deliveries and views of the Golden Horn. They also offer a taste of  the amazing Turkish/Anatolian boutique wine craft, with amazing red, rose and sparkling wines – including the reasonably priced, first Turkish, naturally produced sparkling wine by Vinkara using traditional methods, called Yasasin. Anatolia is thought to be the birthplace of wine. Drinking wine in Turkey is hands down the best wine experience I have had globally. That is saying a lot as those that drink beside me can contest.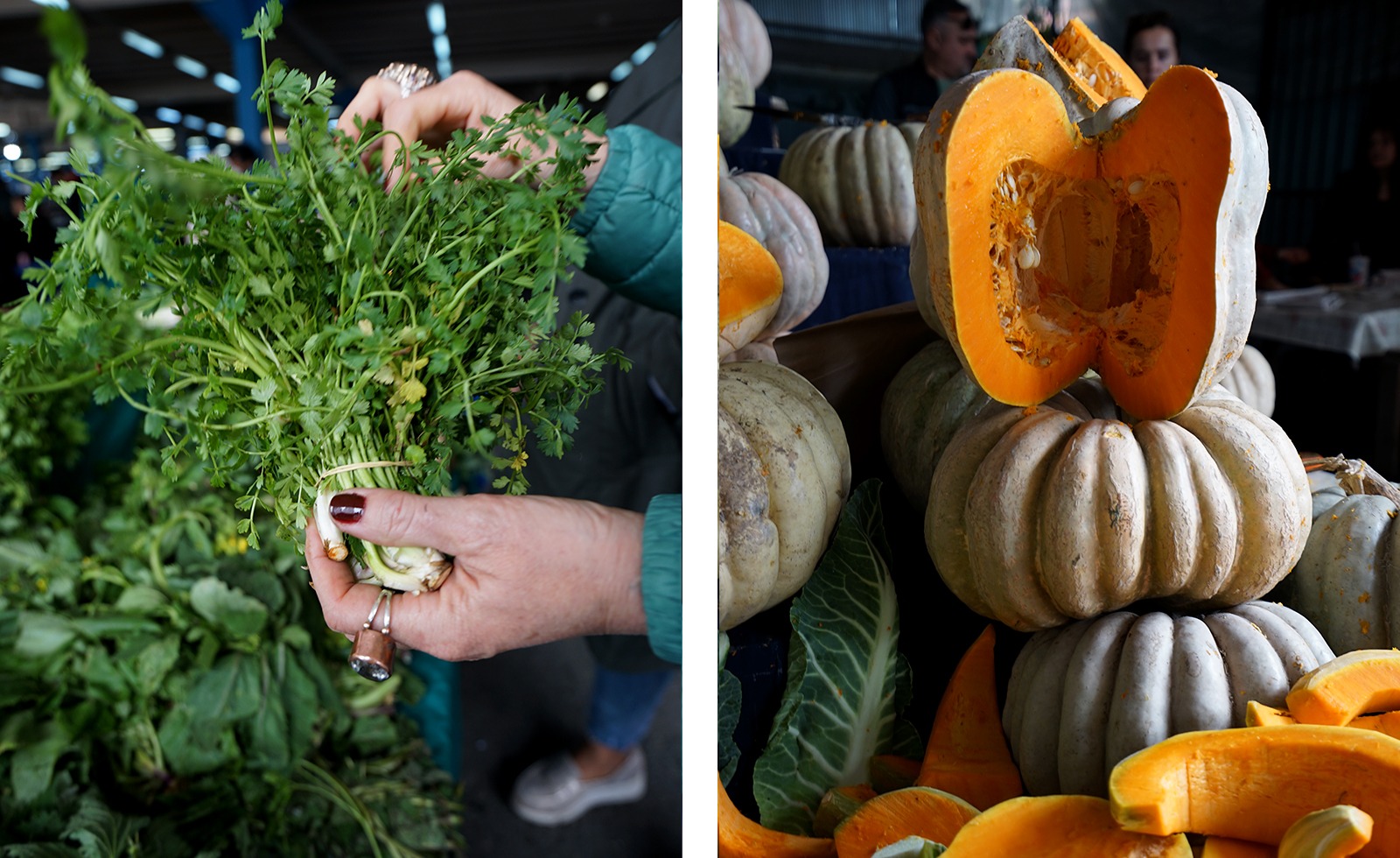 The old city is a fantastic place to stroll around as well. In the past, I have stayed at Hotel Nena.It's  tiny and dead center in the old city. The breakfast area has gorgeous views of the Blue Mosque, and there is a kick ass towel shop as well as some amazing rug shops on the same street.
The Corrine Hotel, technically located in the Taksim area, is another great hotel, its surrounded by antique stores and some of the best artistry around the city. There are book stores, fruit stores, record stores and specialty clothing and towel shops all over. If you happen to stumble into Turkish Modern (Seyda Carter's store), you won't regret it. This special little shop has some of the most amazing wares from Turkey's smaller Kurdish villages, including towels made by hand-operated looms with natural vegetable dyes, hand crafted Turkish leather goods (shoes) and beautiful jewelry. If you have no plans to go to Turkey, you are in luck. They happen to have a store in San Francisco.
In terms of what to buy as souvenirs, I am an inconsistent example. Sometimes I buy nothing and sometimes I buy a lot. Turkey, more than any place in the world, invokes a desire to bring things home with me. There is a lot of cheaply made stuff everywhere in the world, so be weary. Remember, you get what you pay for. I usually bring back tiles that I use as coasters; although, I tend to buy the higher end ones now (not the white clay ones), as they last longer and look better. I buy wine, jewelry and leather, because I'm obsessed, but typically I have to search for the modern stuff made by younger artisans, which fits my style. Bathrobes and bathroom linens are wonderful to bring back. Wool pillow covers are cool, and there are plenty of rugs.
Spices and teas are always a big disappointment to me because if they are not cured/dried properly they will mold. Spices that are stored in the open air are just not the same as spices that have been cured and packaged. So, I have lost a lot of what I have purchased because of moisture in past trips. How to avoid this? Buy from reputable high-quality vendors and know luck will dictate everything. Buy small amounts you will use quickly.  I stopped buying spices and resonate more with pepper pastes, pomegranate molasses, dried fruits and nuts. Turkish delights make an amazing gift for your loved ones.
What more can I say? Go to Istanbul, and see for yourself…….