Mint & Turkish Manti
This time of year, with the onset of colder wetter days, my garden seems to burst with tender shoots of mint. This vibrant bumper crop, as they call it, always feels unexpected and yet deeply appreciated.  With it, I start to see the full potential of mints warming and comforting qualities within my own cooking, especially as fall pulls and seemingly forces me into eating warmer, heavier and more comforting foods. Mint's hidden talent of encouraging the fresh and healthy in any dish draws me in further.
I have just started experimenting more in depth with this idea- the warming qualities of mint, so I suspect you will see more of the results in the months to come as well as next fall. For now, I can share some of the ideas and tinkering's that are happening in my kitchen as well as give you a recipe for the best example I know and love already- that showcases mints fresh and comforting qualities, Turkish Manti.
Before we get into the manti, I should admit mint, being comforting, is not a totally new idea to me. The idea originally was planted in my head about 20 something years ago, in something I saw in Martha Stewart's magazine. That idea lead to a recipe I have been making since- Roasted Brussel Sprouts, Apples and Mint. This dish has a permanent spot on my Thanksgiving table, as I reference when this recipe was recently published in the Fall 2018 Edition of Edible Marin & Wine Country. I describe the idea as weird and have always, yet since creating this recipe I take notice to mints complementary behavior toward falls heavy meals, techniques and ingredients.
Spending a lot of time over the years in Israel and other parts of the middle east, like Turkey and Tunisia, I have also taken notice to mint use in their cuisine, they use it in savory concoctions much more than we do. Many of these recipes or notions I have long been incorporating  into my own food and eating. Steamed potatoes with olive oil, salt and mint is something I picked up in Tunisia, as was the idea to put fresh mint into my first harissa recipe. While  the Israelis were key in teaching me to use the leaves in my salad as I would parsley. Twelve years later, you can't come to my house and eat a salad without mint leaves in it.
Probably the best comforting mint dish I have ever had and the one that I've again been obsessed with as of late, is Turkish Manti. Manti are a simple style of dumpling, commonly found (in variance) throughout Eastern Europe. In Turkey the variance is typically lamb stuffed and topped with tomato sauce, brown butter sauce and garlic yogurt sauce. Depending on where you are in Turkey (it's a big place) the recipe varies.
My favorite version, which I had in a sweet little village located on the south western Çeşme peninsula along the Aegean sea, called  Alaçatı, was made with ground beef, which I prefer. This version also showcased fresh mint, liberally a strewn throughout the meat as well as the many layers of sauce- tomato, butter and garlic yogurt.  Often times you see manti made super small and dried. The manti I had in Alaçatı was large and bulbaceous and made with fresh soft fresh dumpling dough.  It was fall and there was a slight chill in the air and the end of tomato season was producing super sweet and juicy tomatoes, of which the small tavern made a lovely fresh sauce, simply by melting them down. This was and is the ultimate comfort dish, in my mind.
My version, some would say cuts corners, I merge the tomato butter sauce into one and I do insert mint into every layer. I forgo making a garlic yogurt sauce and add garlic to my tomato butter sauce. I realized recently that what I do so often in my recipes is not actually cutting corners — its cooking with the skills, knowhow, equipment, ingredients and time that I have, based on all that I know. I have been blessed to have learned to cook all over the world in the ordinary homes of the most extraordinary cookers. I continue to merge the information and insight and do things that fit with my own intuition as a creative cook- creating tasty and healthy food that uses fresh ingredients with ease –void of anxiety.  Joy filled, herbaceous cooking is what I do.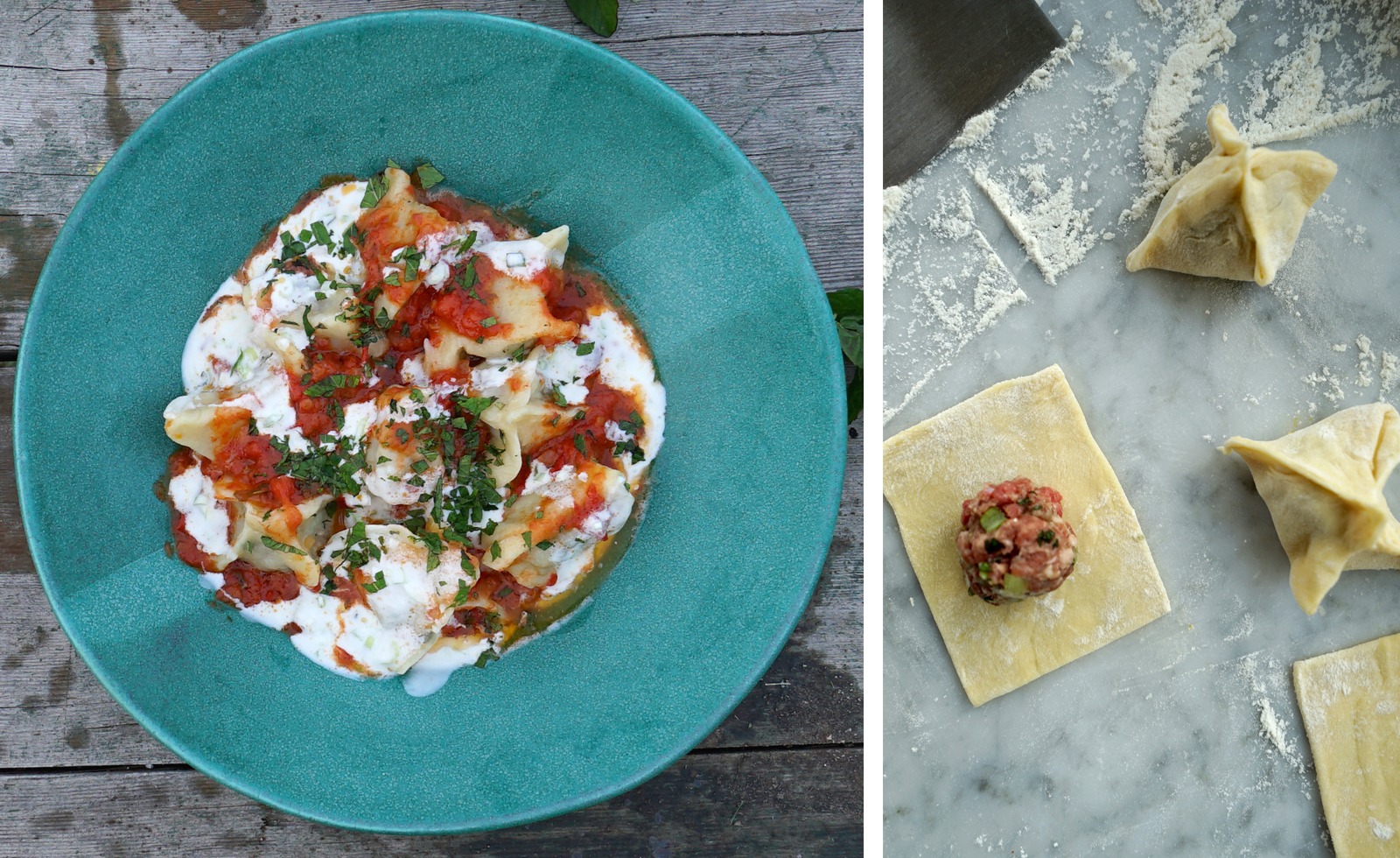 Turkish Manti with Minted Tomato Butter Sauce
I love adding a little sour cream to my dumpling dough, although it's Russian in style and not authentically Turkish; it makes the dough way more manageable and I'm a fan of ease. You can just as easily omit the sour cream, in which case you can add olive oil.
Makes about 35 – 45 dumplings
Ingredients
For the dough
3 room temperature eggs
2/3 cup room temperature water
2 tablespoons sour cream or two tablespoon olive oil for a vegan version
1 teaspoon salt
3 ½ cups all-purpose flour, plus more for dusting
For the dumpling filling
1 pound ground beef
½ cup grated white onion
1 tablespoon finely chopped parsley leaves
1 tablespoon finely chopped mint leaves
1 teaspoon cumin powder
1 teaspoon ground coriander
1 teaspoon smoked paprika
1 teaspoon salt
1 teaspoon ground black pepper
½ teaspoon ground cinnamon
¼ teaspoon ground or freshly grated nutmeg
For the sauce
2 tablespoons butter, plus an extra tablespoon reserved
1 tablespoons extra-virgin olive oil
2 cloves garlic, minced
3 large big juicy red tomatoes, preferably heirlooms, chopped small (16 oz. canned chopped tomatoes totally acceptable)
1 teaspoon Aleppo pepper
1 teaspoon salt
1 tablespoon chopped mint leaves
For serving
1 cup thick Greek yogurt
¼ cup fresh mint leaves, finely chopped
Maldon Salt
Directions
For the dough
In a large mixing bowl, whisk together the eggs, sour cream or olive oil, water and salt until well mixed. Slowly stir in the flour, ½ cup at a time, until all the flour is incorporated and the dough begins to come together. Turn the dough onto a well-floured surface and gently knead it with your fingertips, turning the dough and literally dropping it onto the floured surface, a technique often used with more delicate doughs. After gently kneading for about 3–5 minutes, the dough should be smooth and elastic on the outside, but still slightly sticky on the inside, which you can determine by poking the dough with your fingertip.
Cover the dough in plastic (I use compostable Ziploc-style bags) and allow it to rest for about 30–45 minutes. You may also refrigerate the dough at this point, for later use.
For the filling
Mix together all of the filling ingredients in a large mixing bowl until thoroughly combined. Refrigerate about 20-30 minutes so the mixture is very cold when assembling the dumplings.
For the sauce
Heat the 2 tablespoons of butter and oil on medium heat, in a medium sauce pan. Add the garlic and sauté about 30 seconds. Add the chopped tomatoes and stir, season with salt and Aleppo pepper. Bring the mixture to a boil and then reduce heat to simmer. Allow the tomatoes to simmer for about 30 minutes, until they melt and break apart. Turn off the burner, stir in the remaining tablespoon of butter and fresh mint, cover and let stand while the dumplings are assembled and cooked.
To assemble & cook the dumplings
Prepare a big pot of salted boiling water.
Divide the dumpling dough into 3 pieces, keep the portions you are not rolling out covered with a kitchen towel. On a lightly floured surface roll one piece of the dough as thin as you can (about a ¼ inch is fine). Cut the rolled dough into 2-inch square with a knife, pasta cutter or pastry wheel.
Place about 2 teaspoons of the cold filling into the center of each square. Seal up the dumplings by gathering each corner into the center over the meat and sealing the edges- making a X shape in terms of the creases or seals. Make sure all the creases are completely sealed. It takes a good deal of thumb and finger work to get the hang of this particular seal, but with just a few practices you will master it. If you can't master the X shape seal, seal it however you can and move on to cooking and eating! Place the sealed manti on a lightly floured or lined with parchment paper tray, making sure they don't touch one another.
Place the dumplings one at a time in the boiling water using a slotted spoon. Make sure you have enough room in the pot so they can all move around freely. They will need to cook for about 4-6 minutes in total. Gently move them around using a spoon a few times while they cook. The dumplings will float to the top when they are just about finished. I like to make sure they are all at the top for at least a minute and a half before removing with a slotted spoon.
While the dumplings cook, heat up your tomato sauce.
For serving
Place several cooked dumplings down on a plate style bowl (or bowl style plate). Spoon the tomato butter sauce over the dumplings and dollop with yogurt. Garnish with a little extra fresh mint and finishing or flake salt.