"Different" Chicken Congee
It's New Year's Eve Day, I'm in Miami, Florida where I have traveled with my pets for a little 45-day snowbirding experience (and possibly the subconscious desire to travel to the source and unravel some deep seeded and complicated emotions I have been carrying for far too long).
It's currently 80 degrees and I'm in my swimsuit outside by the pool near the beach with my pets. I have a sweet little menu prepared for a dinner tonight and was just lollygagging a bit when I got a text asking me for the recipe for that cold weather chicken congee I made during the recent artic chill.  You remember, the congee recipe that I had labeled one of my best dishes. The one I was supposed to have posted the recipe for already, the one I keep getting asked for. Here you go.
I'll warn you, my congee recipe is a little different. But what do I know, I had never made congee before. But different is who I am and what I do and staying authentic to who I am is a constant goal, New Year or not.
My entire life I have done things "differently".  Part defiance, part peculiar personality and mostly the assortment of all varying ideas (people, places, culture, things) that attach themselves to the creative parts of my being; ideas that I have encountered by a lifetime of traveling around the globe solo, which in itself is the epitome of doing things differently; in particular for a woman.
Since it's the New Year holiday I thought I would attach some wisdom to my recipe; a reminder that different is good. Sure, it can be lonely,  and filled with discomfort (therein lies the learning) but different, in particular if its authentic, not only feels good but tastes good.
Most the congee I have ever had has been served lily white- the porridge and the chicken strewn atop. Sure, there are usually thinly sliced green onions tossed on for garnish but mostly it looks white like rice. My chicken congee is colorful, herbaceous and vibrant. And EASY!!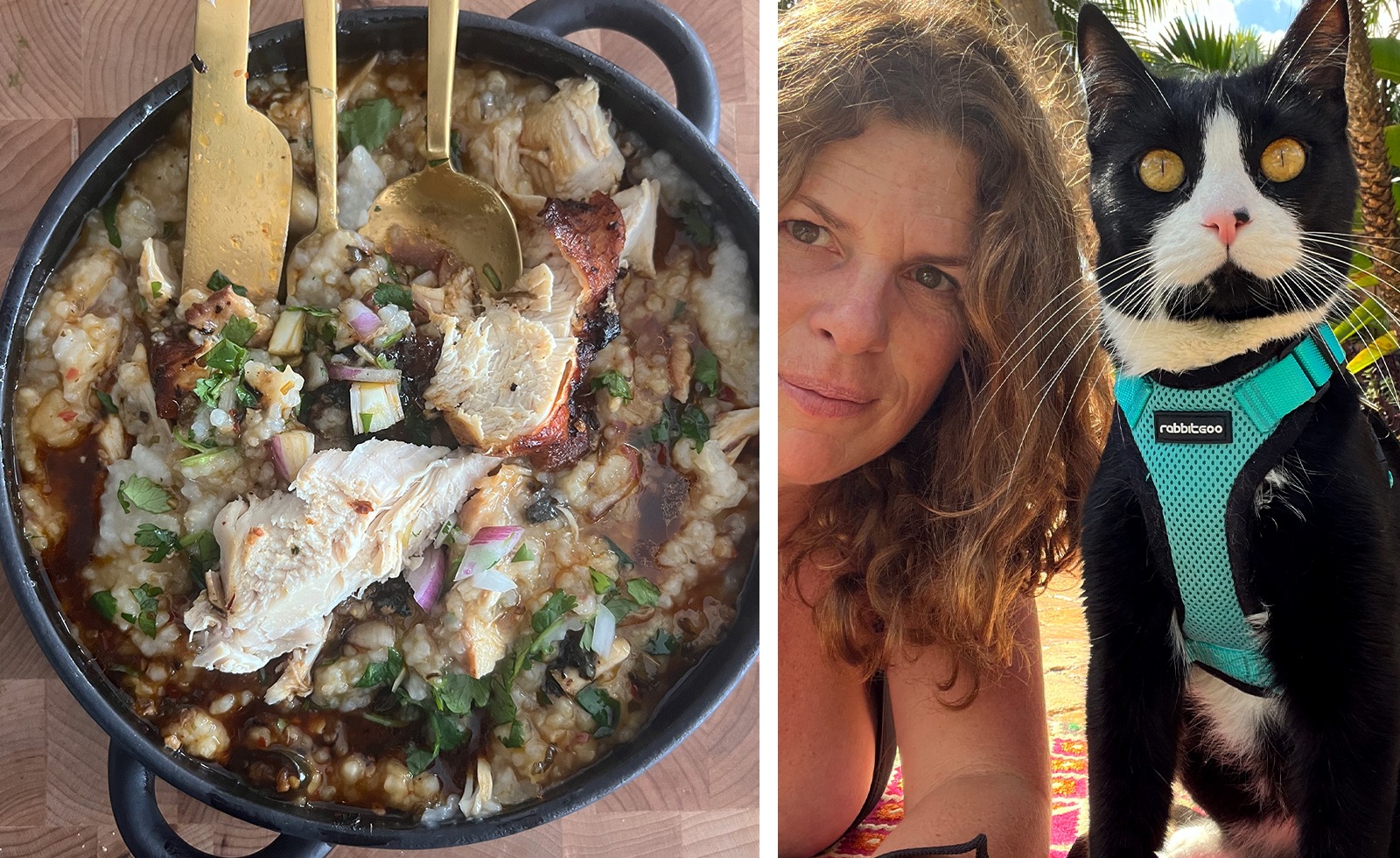 The idea of congee during that cold snap came about because I had a few bone in/skin on chicken breasts I had to cook up and was sick of soup.  I was bored and hungry and in a creative mood (a rewarding and tasty combination for me typically.)  The idea of congee hit me and of course since I had no real experience with it, it felt like a blank canvas. It felt exciting. I researched some recipes and was a bit irritated with the lack of diversity, flavor and vibrancy of most of what I found online. I changed all that part for my recipe.
My general assessment and the direction I wanted to take was to keep the idea of the porridge part simple, rice porridge after all was something I was used to as a little girl in Nicaragua, it was always bland tasting,  like rice; it was what we topped it with that mattered. That was the approach I took with my chicken congee.
There was no way I was using 7-9 cups of chicken or vegetable stock either as most recipes call for. Store bought stock, in my opinion, is overused in recipes. I think it's lazy for recipe writers and publishers (who have often a lack of space to put more ideas and words) to not offer other ways to get flavor into broth. Good stock is often ridiculously expensive and the cheap stuff is all salt and preservatives and tastes as such. Most stocks, unless there are homemade, are mostly one dimensional, they add a "fat" element, which can add a certain richness but again, in my opinion one without depth.
I'm of the belief that you can create fat and richness with fresh ingredients on the spot. My big use of fresh herbs in everything I do (plus lots of vegetables) allows me to create lots of layered flavor. I opted to use some  bacon in my congee for flavor and richness. I had some on hand and was inspired by a recipe in Food & Wine for bacon and onion congee. I added onions too and left out the stock. The bacon would add the fat and the rest the dimensional flavor and some vibrancy amidst the blandish rice taste.
The real key to my finished dish, which was far from lilly white, was the chicken and the rich, tasty broth I created on the fly with the pan dripping technique. I flavored the chicken breasts with some random thai(ish) flavors mixed with butter, roasted it on high to get the skin crispy and put some water in the pan to make the broth, which I eventually spooned over the chicken and congee. My garnish was more of a pico de gallo- red onion, thai basil and cilantro leaves. Of course, I used my Fall Herbal Salt – Spicy Vietnamese & Thai Soup Salt.
I'll make this, or a version of, again and again, it's just good; the concept is good. And sometimes my recipes start with a general concept and that I do my differntNISS to it.
My advice for the New Year?  Don't be afraid to do things different, to be different. Good stuff comes from it.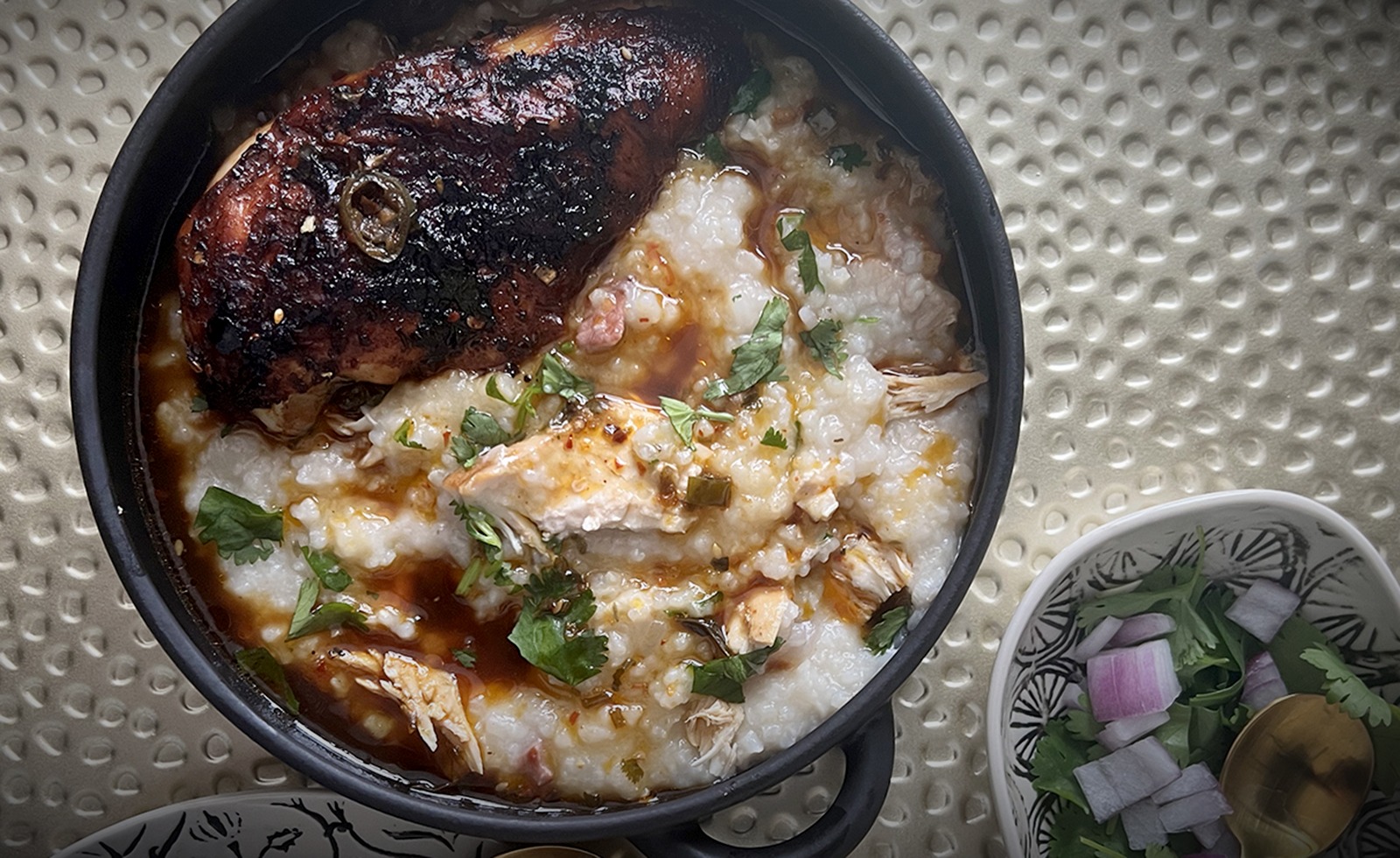 Spicy Herbaceous Thai Chicken & Bacon, Onion Ginger Congee (Jok)
Serves 4
Don't be afraid to mix and match flavors for the chicken based on what you have on hand. I tend to always keep a slew of Asian condiments in my fridge. Use lots of ginger and garlic. Make sure to use a deeper roasting pan and add some water to the bottom so you have a wonderful and flavorful pan juice (drippings) that is made when sauce ingredients and chicken cook, intermingle and drip to the bottom of the pan.
Ingredients
For the chicken
2 bone-in skin-on chicken breasts
Salt (my herbal salt if you got it)
2 tablespoons freshly grated ginger
4 cloves garlic, finely chopped
1 teaspoon garlic powder (optional)
2 teaspoons red chili oil or use some fresh finely chopped green or red chilies
2 tablespoons hoisin sauce
¼ cup tamari
2 teaspoons lime zest
Juice of 1 lime
1 tablespoon brown sugar (optional)
2 tablespoons rice vinegar
2 tablespoons chopped cilantro leaves
2 tablespoons chopped thai basi leaves (optional)
½ stick of butter, melted
For the congee
2 pieces of thick bacon
1 tablespoon finely chopped ginger
½ cup finely chopped red onion
2 teaspoons salt
1 cup white long grain rice (anything but basmati)
8 cups water
Cilantro & red onion garnish
Directions
For the chicken
Preheat oven to 425 degrees F.
Lightly salt all sides of the chicken breasts.
Whisk together all the remaining chicken ingredients until mixed into a sauce. Place the chicken breasts skin side down in a small deep(ish) baking dish and drizzle a few spoonful's of the sauce over the bottom the chicken. Turn the breasts skin side up and drizzle the rest of the sauce all over the chicken, making sure to cover every part of the skin and chicken that is exposed.  Place about 1 cup water in the bottom of the pan and place in the oven to roast. Roast abut 35-45 minutes until done ,the skin should be browned and crispy. If the water starts to evaporate too fast, at about the 25 minute mark add another ¼ – ½ cup.
While the chicken is roasting make the congee.
For the congee
Heat up a thick bottom pan (I use a le Creuset) to medium high heat. Cut the bacon into ½ inch pieces and cook until crispy. Turn the heat to medium and add the ginger, onions and salt and sauté for a few minutes until the onions are a little caramelized.  Add the rice and water and bring to a boil. Reduce heat and simmer, stirring occasionally for about 35-40 minutes. It's possible you may have to add more water if the porridge gets too thick too quickly. You want to make sure any additional water put in gets a chance to cook for at least 10 minutes. Cook porridge until the desired thickness. It should look like creamy, gritty rice that's super soft; you choose the thickness.  Keep in mind it will get thicker after you take it off the heat and it sits a bit.
Serve the congee with sliced of the chicken with sauce spooned over the top of it all. Garnish with finely chopped cilantro and red onions. Add a little finishing salt on top.