The Herbal Dry Brine
As you are probably aware, brining helps create a more succulent meat. I am a big fan of the dry brine when it comes to cooking a turkey or even a chicken. The dry brine is easier and less messy than wet, and it delivers moist meat and a crispy and flavorful skin, which I happen to be a fan of.
Adding herbs and spices to a dry brine (salt) adds flavor, texture, and a joie de vivre by creating an aromatic and flavorful experience customized to your palate. The salt on the skin draws moisture from the turkey and then commingles with the herbs, spices and salt and gets re-absorbed back into the turkey, creating flavorful, succulent and juicy meat. The salt and air dries out the skin which allows it to become extra crispy when roasted, and the herbs and spices add extra flavor as they cook and get embedded into  the chicken skin by means of chicken fat.
If you are lucky enough to get a jar of my Chipotle Cranberry Mezcal Herbal Brine in time for Thanksgiving, you will need to know how to use it. And if you didn't get one (which is likely because I made limited quantities this fall), you can still make one using the same formula listed below.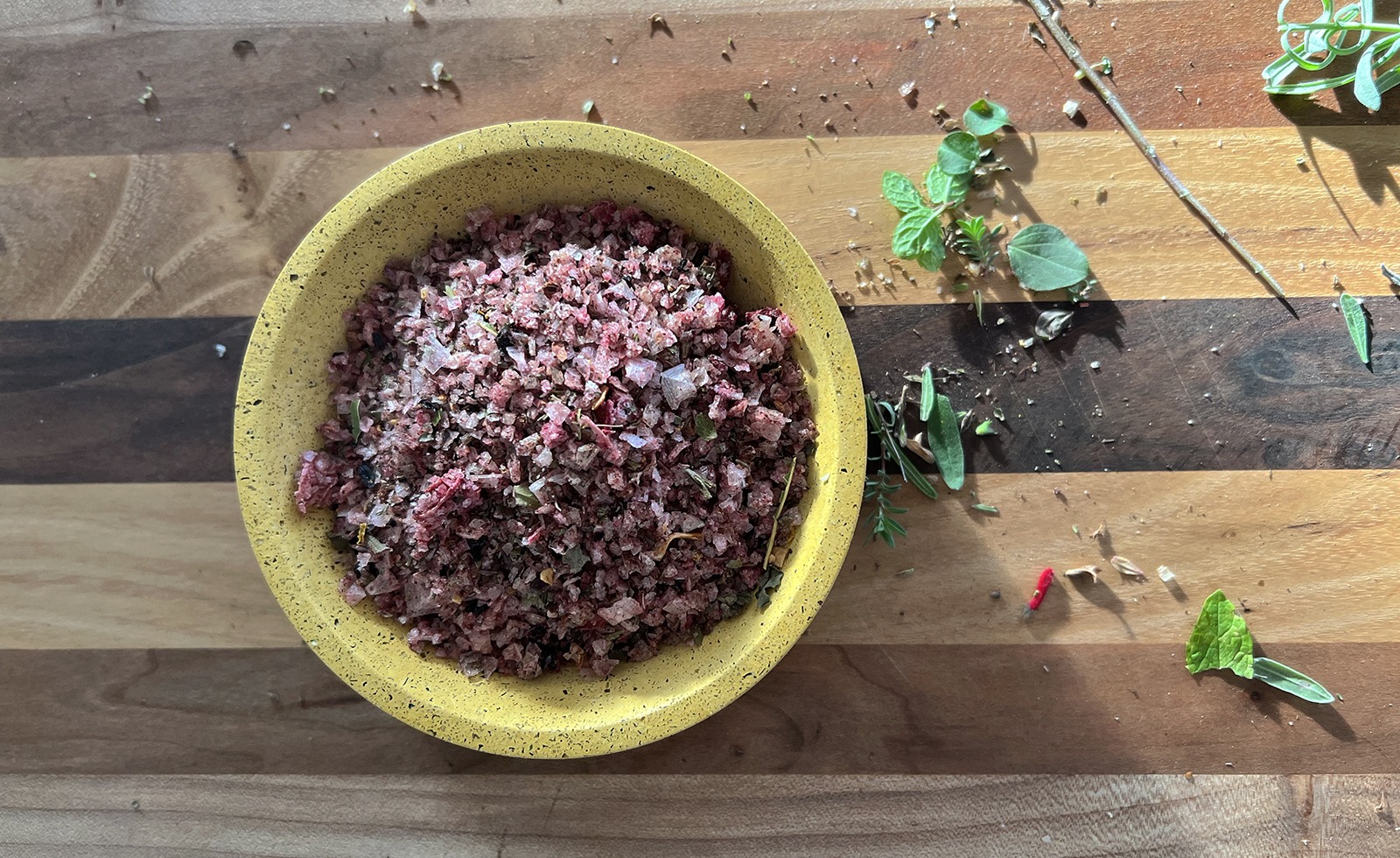 Not only am I re-sharing my (extremely popular) Cranberry Mezcal Sauce but I'm giving you a simple and elegant turkey recipe that I love making:  Cranberry Mezcal Glazed Roasted Turkey Breast Roulade with Orange-Rosemary Gastrique Gravy, a recipe I created for a wine event with Pineau des Charentes a few years back that makes a wonderful alternative to cooking an entire turkey, which utilizes the cranberry sauce and will be perfect for this seasons herbal salt brine as well.
My fall herbal brine (Chipotle Cranberry Mezcal Herbal Brine) melds bright tangy cranberries, butter fried sage,  earthy Mexican spices and mezcal into a sultry herbal salt. The smokiness of the Mezcal pairs well with the cranberries. Del Maguey Vida Mezcal, in particular adds wonderful vegetal tones, that I'm in absolute love with. It smoky, savory and fruity with a tinge of chipotle spice that tends to stick to the skin. The skin of the turkey is laced with flavors from spice to smoke to tang, and the "drippings" from the salt brine penetrate deep into the meat so each bite is an experience in gratitude for life.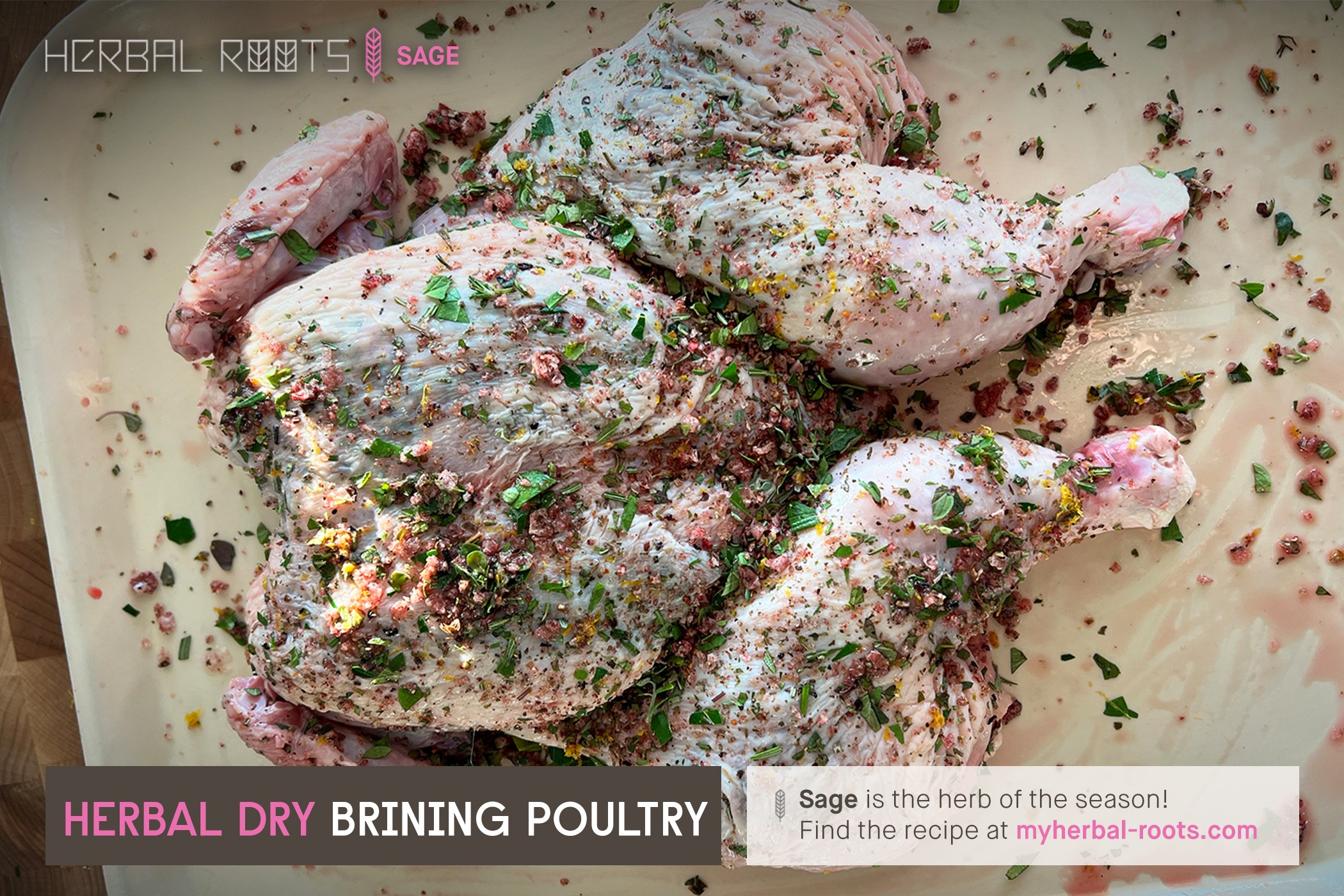 Chipotle Cranberry-Mezcal Herbal Dry Brined Turkey
Brines one turkey up to 18 lbs
Dry brining a bird is easy. You just need to plan ahead and figure about 1½ tablespoons of salt per 4 pounds of turkey; so my 2.5 ounce jar of salt will accommodate a turkey up to 18 pounds. If you have a bigger turkey, add a bit more kosher salt to the mix.
You'll need to dry brine your turkey or chicken 2 days prior to cooking which means you need to have your bird totally thawed out 2 days prior to cooking. Rinse it off and pat it dry. Make sure to get the salt mixture under the skin and leave it uncovered in the refrigerator until you cook it. The skin will get dried out which is good. This yields a crispy skin.
Ingredients
1 turkey (12-18 lbs.)
1 2.5 ounce jar of Herbal-Roots Chipotle Cranberry-Mezcal Herbal Dry Brine
1 cup fresh fall herbs of choice: sage, rosemary, marjoram, thyme
2 tablespoons orange zest
Directions
Rinse and pat turkey dry. Break apart the skin (loosen it from the flesh).
Mix together the salt, fresh herbs and zest and first start by placing some of the salt underneath the skin and into the cavities. Once you have placed some salt inside the skin, cover the entire bird with the remainder of the salt, packing it onto the skin all over the bird.
Set the bird on a tray or baking sheet and refrigerate uncovered for 36-48 hours. If you must cover it, draping a bit of plastic over the top is ok, but ideally you want to leave it uncovered so the air circulates around it; this will give you super crispy skin.
Once you have brined your bird, you can roast or bake it as normal. Do not rinse off any of the brine; all the salt will have been absorbed into the bird and all that will be left on the skin are remnants of herbs and spices which will add flavor to your skin. Let your turkey come to room temperature before cooking.
*To make your own herbal salt brine combine 2/3 cup Maldon flake salt with 1 cup of fresh herbs of choice, spices of choice (about 1 tablespoon) and about 2 tablespoons orange zest.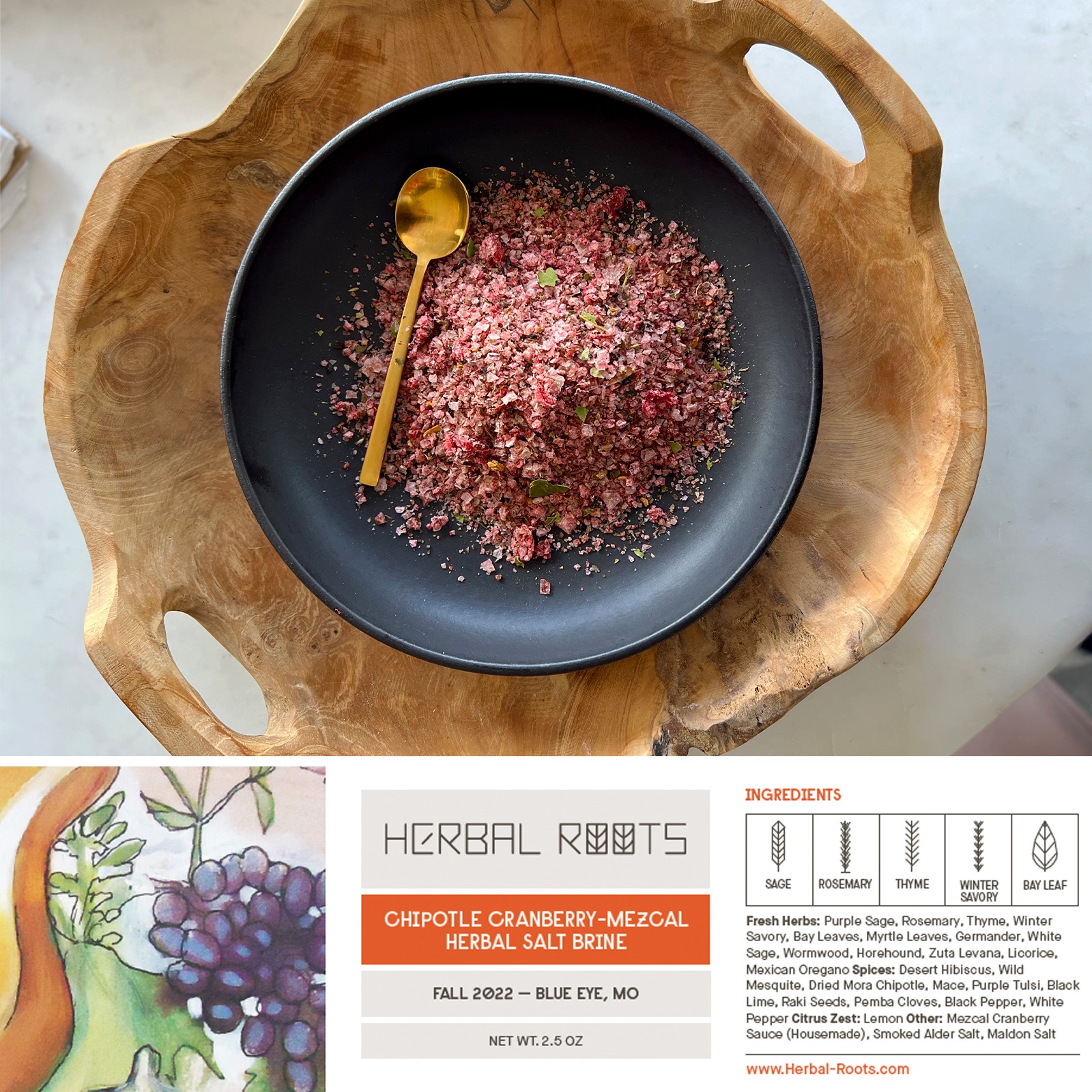 Mezcal Cranberry Sauce
Makes 3 cups
The smokiness of mezcal pairs incredibly well with cranberries, and its delicious with turkey. Subtle herb and spice seasonings give this depth, and the butter fried sage lends texture and a tinge more smokiness. The Vida mezcal also has a vegetal tone that brings this all together, making the final sauce the perfect combination of sweet, smoky, and savory. Blend some of this up, and glaze your bird with it.
Ingredients
2 cups fresh cranberries
½ cup raw or turbinado sugar
½ cup brown sugar
2 teaspoons orange zest
½ cup orange juice
½ cup Vida Organic Mezcal
2 cups water
1 teaspoon finely cracked white pepper
½ teaspoon salt
½ teaspoon smoked salt, Alderwood or Cherrywood
¼ teaspoon ground cinnamon
¼ teaspoon nutmeg, freshly grated
¼ teaspoon Aleppo pepper
8 sage leaves, butter-fried and crispy and roughly chopped
¼ cup white balsamic vinegar
Directions  
Combine all the ingredients in a medium saucepan, except the vinegar,  on medium-high heat. Stirring often, bring the mixture to a boil. Continue to boil, still stirring, while the cranberries begin to pop and burst open. Once all the cranberries have opened, reduce the temperature, and simmer for about  30-40 minutes, stirring occasionally until the sauce is thick. Drizzle in the vinegar in the last few minutes of cooking the sauce.  Remove from heat and cool. Once cooled this can be blended for an ultra-smooth sauce or glaze or kept thicker and more rugged.
Cranberry Mezcal Glazed Roasted Turkey Breast Roulade with Orange-Rosemary Gastrique Gravy
Serves 6-8
Dry brining leads to a more succulent turkey, it's not only juicier but it cooks better, and you can impart a bit more flavor by dry brining. This recipe calls for dry brining 2 days prior to cooking, and it stuffs and rolls the breasts with rich cranberry sauce. Ask your butcher for a split breast, deboned, skin on. You will need kitchen twine to tie up the turkey roulade.
Ingredients
For the turkey breast
1 whole (split breast) de-boned turkey breast (6-8 pounds)
2.5 ounces Herbal-Roots Chipotle Cranberry-Mezcal Herbal Salt Brine
1 cup chopped winter herbs; rosemary, sage, thyme, savory, marjoram
2 tablespoons orange zest
2 teaspoons white pepper
1 teaspoon cinnamon
1 teaspoon Aleppo pepper
1 cup Mezcal Cranberry Sauce, plus ½ cup blended into a smooth paste, reserved for glaze
¼ cup maple syrup
2 cups dry white wine
For the Orange-Rosemary Gastric Gravy:
1 – 1 ½ cups turkey juice/drippings
¼ cup Mezcal Cranberry Sauce
1 teaspoon orange zest
1 teaspoon cracked black pepper
1 tablespoon maple syrup
¼ cup honey balsamic vinegar
Directions
Set your dry brine 2 days before you plan to cook your turkey. Mix together the Herbal-Roots Chipotle Cranberry-Mezcal Herbal Salt Brine, zest, fresh herbs and spices in a medium bowl.
To prepare the turkey breast, first pat it dry on a tray or baking sheet that will fit into your refrigerator. Next, gently loosen up the skin with your fingers, making sure not to rip the skin. Turn the turkey breast upside down and rub a tablespoon or two of the salt and herb mixture inside the cavity. Flip back over, take another tablespoon or two and try and get it underneath the skin, still taking care not to break the skin. Rub the remainder of the salt and herb mixture as evenly as you can all over the breast, rubbing and packing it into the skin.
To roll the turkey roulade, you will need to prepare 6 strands of kitchen twine, 12-inches each in length. On a clean working surface, lay down 4 of the strands side by side so they are parallel and evenly spaced from one another. Lay the turkey breast (skin side down) over those strings, this will make it easier to tie the turkey without the sauce escaping. Spread 1 cup of the Mezcal Cranberry Sauce evenly over the breast. Tightly roll up the turkey breast, and tie with the 4 strands ready. Where needed, secure the rolled breast with the two remaining ties to hold it firmly into a roll.
Refrigerate the rolled turkey for the 2 days before cooking, wrapped in plastic (I use compostable bags). When you remove it after 2 days, the turkey will look dried out. This is good.
Preheat your oven to 325 degrees F on the day of cooking.  Remove the dry brined turkey from your refrigerator and brush off any excess salt. Place the turkey breast on the rack of a roasting pan, with the tie side down.
Mix the ½ cup blended Mezcal Cranberry Sauce with the maple syrup. Gently brush it all over the top of the turkey breast, making sure every exposed part is covered in glaze. Set the remainder of the glaze aside. Pour the wine into the bottom of the roasting pan.
Roast the turkey for about 1- 1 ½ hours until the glazed skin is crisp and caramelized. Typically, roast turkey takes about 15 minutes per pound; when an instant meat thermometer poked deep into the breast reads 155-165 degrees F, you'll know it is done. If the skin begins to brown too much after the first hour of cooking, tent it with aluminum foil so it doesn't burn. Brush a little more glaze on periodically during the first hour of cooking, being careful not to take so much time you cool the turkey and the oven. At the 1 hour mark, remove the ties that hold the turkey together, remove and reserve the juices from the pan, and place the turkey back into the oven. Once the turkey is cooked, remove it from the oven, and let it rest for about 15 minutes before carving up.
For the Gastrique:
Combine all of the ingredients in a medium saucepan and bring it to a boil. Turn the temperature down low and let the sauce reduce by about half. The sauce should be thick and syrupy and coat the back of a spoon. Timewise it varies but should take approximately 15-20 minutes to reduce down by half.