My Herbal Salts
I have to go back pretty far to recall how my herbal salts first materialized. While surely some form of fresh herbal salt has existed in my culinary repertoire for a long time, I know the first shelf-stable, oven-dried version started in Brooklyn while running Ger-Nis Culinary & Herb Center:  one of the few Brooklyn-based businesses I started in my early 30's.
Ger-Nis was a small, hands-on cooking school specializing in teaching ordinary folks about food, with an emphasis on local, sustainable, organic and fair trade. It was also a fully equipped professional food photography and videography studio as well as a local food events center. It existed in the midst and rise of the Brooklyn food scene, during the acceleration of young creative entrepreneurs and artisans creating community and doing so with collaboration, passion and good old fashioned hard work.
Today the physical cooking school no longer exists, but the business still does. Its focus is primarily still on food education and cooking but today with greater focus on consumers targeted by global organic fruit and vegetable farmers and of course significant focus on culinary herbs and nowadays these herbal salts.
Prior to  today's oven-baked version, my herbal salts' original formulation would have been for cocktails. Cocktails and mocktails have forever been one of my herbal specialties, and I like creating (and drinking) cocktails made with quality ingredients, crafted creatively. I made a lot of great cocktails and mocktails in Brooklyn during the heyday and was an early disciple of salt's usefulness in drinks.
I enjoy a salty drink; it can be pleasant on the lips and lead to a well-balanced drinking experience: akin to the lime, salt and tequila act. It's not much different than food really; salt helps certain flavors pop and it also quells overly potent flavors, like the bitter, sour and umami. It also helps to give sweetness shape and nuance. It can equally highlight savory aspects in cocktails, which is a favorite play of mine since my own palette is highly averse to sugary tastes.
I do, however, think salt is overused in cooking and beverage making in a way that doesn't enhance flavor. Salt, like many powerful ingredients, can be too dominant, and more often it immobilizes the other complexities for a drink to be thoroughly enjoyed. Like when you order a margarita and the rim is caked in inches of thick salt. Who actually enjoys that? Who doesn't flake off a good portion of it before sipping?
For me this has always been herbs' super power: herbs make the salt experience less salty, more magical. If you have ever had one of my cocktails like My Salty Dog Bit You or my Crespo Organic Mango Margarita with Spicy Cilantro Salt, you know what I mean. Herbs, spices, fruits, vegetables mixed into the cocktail salts has always been my taste buds' preference, versus just plain salty. I also like to use herbal salts inside the cocktail, not just along the rim.
Eventually my herbal salts did make their way into my food. I think the first time I baked the herbs, spices and salts together was for a job I was doing for the Wines of Chile about ten years ago. There were a series of live, virtual wine tastings with food pairings hosted by Master Sommelier Fred Dex for wine writers and influencers all over the country (think about how advanced we were doing virtual events ten years ago!). For my part I had to come up with recipes that the virtual tasters would make at home to taste with the wine pairings Fred chose. I wanted to add a little herbal sass to the box of wine and recipe cards that the tasters would receive, so I made little tins of herbal finishing salts. If you knew me then and now, you know herbal gifts are not just my signature move but really a symbol of joy I like to pass on. Happiness is at the core of my herbal salts.
My herbal salts began to transform and mature as I traveled the globe. I became a better, more skillful cook and ingredient finder and my herbal salts reflected this growth. As I traveled to each new place, I found more creative fuel for my artistry, more passion and more personal happiness in creating. The herb salts just kind of metamorphized into what they are today as I fed my mind, passion and artistry and I hardly even noticed it was happening.
There is some irony in me landing in this passionate salt endeavor. You see, I'm a salt-hesitant cook. My chef friends give me a lot of grief for this but I remind them I wasn't trained to cook in a chef school or a restaurant kitchen. I don't have many rules engrained in my culinary repository. I'm self-taught. I absorb what I see, smell and taste and use my intuitive skills to create my magic.
I learned to cook in the kitchens of the world whilst on my agricultural journeys (read more about that here). I have been blessed with a parallel work life where my agricultural work with global farmers has taken me and still takes me all over the world, and everything I know I learned from the kitchens of these farmers and their families. The biggest take away has been that herbs work similarly to salt, and the need for actual salt (and sugar and fat) becomes a lot less when using them. Real flavor takes center stage.
I remember once years back having a "stock off" with a bunch of chef friends back in my Brooklyn cooking school kitchen one weekend for kicks. The idea was simple. They wanted to prove me wrong about salt in stock. My chef friends didn't think I could produce a rich and tasty chicken stock without cooking it for days and using lots of salt, regardless of my use of herbs. The local judges (some, likely intoxicated, unbiased friends) admitted my stock was just as good, flavorful and tasted more fresh, herbaceous and less salty, which is how most people would describe my soups. I rarely use pre-made stock. It also took way less than half the time theirs did and, as someone who teaches ordinary home cooks how to cook, I know this is important. A restaurant is equipped with stations and staff, and they have some luxury of prep time. The home cook doesn't have the same but can still produce something equally delicious, and even more so when incorporating even a few fresh herbs. This is my mantra.
I think of salt like I think of fresh herbs:  as a layering ingredient designed to highlight the other flavors. Both herbs and salt also have their own flavor to impart. Salty things are delicious. I use salt and herbs at all stages of the cooking experience, as I think salt and herbs both yield great dimension of flavor with this method. My herbal salts are made with the same philosophy. Different flavors, whether it be herbs or other ingredients including other types of salts, are added to the process with various timing and technique to achieve this multidimensional flavor.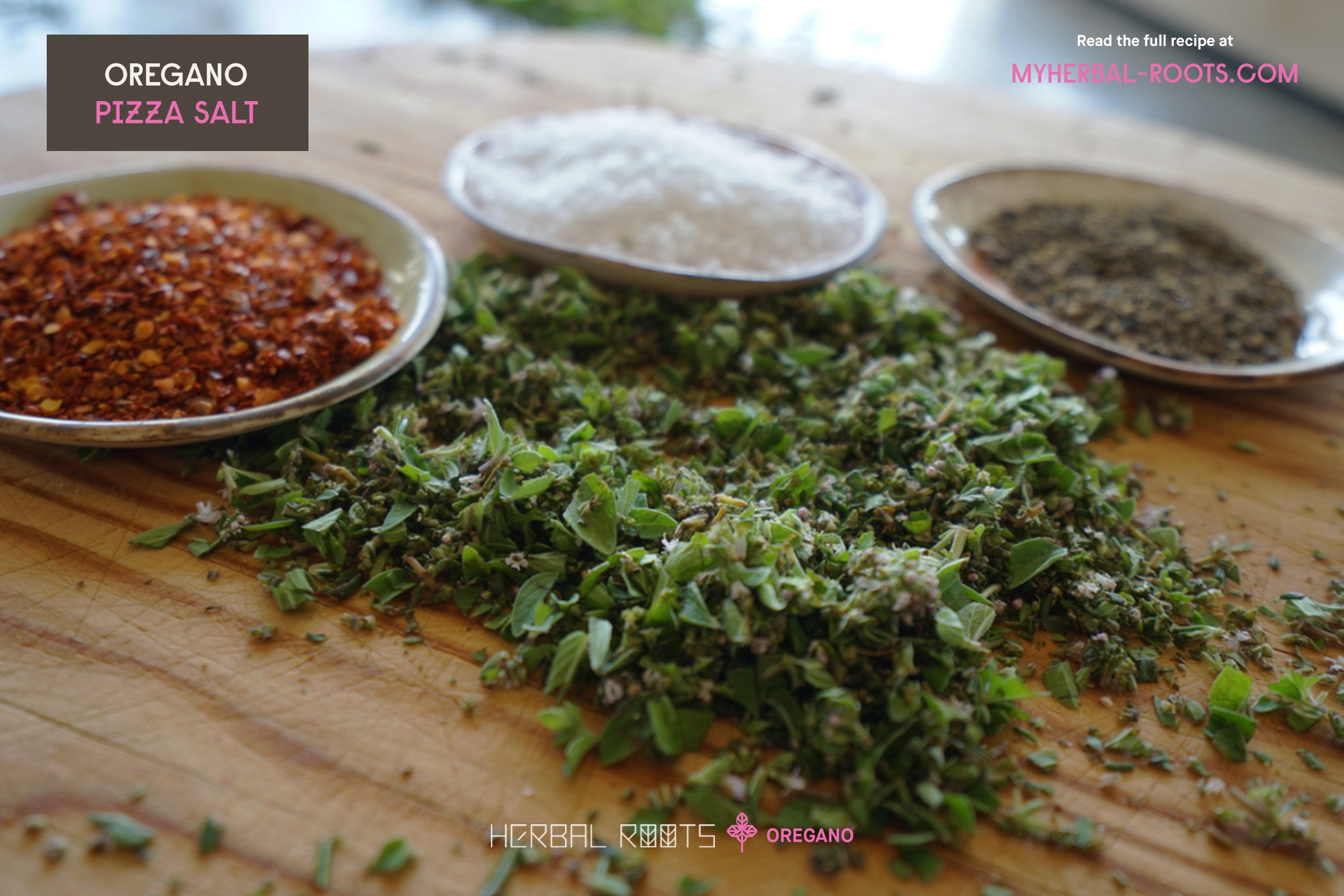 Salts, like my recent discovery of oregano varietals (I have about 15 varietals growing currently in my Blue Eye, MO, garden) come in many forms, flavors and saltiness. Table salt, the salt most widely available to Americans, is technically the saltiest with the highest sodium content. This is best used for gargling if you ask me. It also has the least amount of nutrition, as most natural salts contain key minerals.  I'm not judging the typical American. People simply know what they know or what's put on their store shelves. Our capitalistic food system has a way of shielding people from real food and real food truth. All we can do is try and share what we know.
All of this feels rather fortuitous: me landing in southern Missouri where I am finally creating my little herb farm and salt (ad)venture. Trying to share more information with my community about good fresh food. I'm learning to prolong all the seasonal gifts I can uncover and extract as much optimal flavor from anything I can because, well, I'm not in bountiful CA or in get-anything-you-want NYC anymore. Getting the abundant supplies I was used to in the past has proven difficult, but being here has forced me to find (and produce) flavor from unusual places and to use what I do have around me. It all feels full circle in what I learned from the farmers of the world.
The lack of fresh food diversity here drives me to use more fresh and seasonal ingredients of what I do get in my salts. Likewise, I've grown itchier than ever for more diversity in my herb garden,  and am experimenting with a plethora of new and unusual varietals, a likely result of the deficit and an intuition from my creative center to expand what I know. All of this can be seen expressed loudly in my most current seasonal herb salts: Summer 2022 Herbal Salts – The Fruit Series.
I fell into designing the salts for each season as a nod to the offerings of a particular moment within each season. Like a seasonal menu at a farm to table restaurant does. Living here, secluded with the lack of fresh ingredients has in a weird way made it easier to hone in on the specificities of each actual season and savor them in each actual moment while also capturing them in my herb salts.  The difficulty of the seasonality aspect creates a new freedom of expression that I likely would not have uncovered had I been rolling in abundance.
Lots of time alone in my kitchen, both here in Blue Eye, MO, and prior in Bolinas, CA, have given me the space to refine my techniques and  advance my skills. I'm not only currently imparting the craziest of ideas into these herb salts, but I'm doing so with an incredible amount of aptitude, without sacrificing creative whimsy. Ingredient-wise, the herbs are still the show stealer, and there are lots of herbs I'm just uncovering like lemon leaf, licorice and Vietnamese mint. Seasonal fruits & vegetables, spices, condiments and even cheese and yogurts are all contributing significant additional flavor profiles to my herb salts.
It's been an incredible journey refining this herbal salt thing inside me, cultivating joy while doing it, all from the unlikely position of southern Missouri. But it is indeed here, in my Blue Eye, MO, kitchen that these herbal salts have culminated.
Click here to learn how I suggest using my salts.