Swooning For Spring Peas
Spring is my favorite season. It always feels full of potential—the kind of potential that must make its way into the world. This sentiment feels reminiscent of my essence. All of that which is inside me must eventually come to be. Sometimes it sprouts and sometimes it blossoms. (It's also been known to burst out even though I try to coax it to unfold and emerge more slowly.) Spring is the season for new things to be born. I was born in spring and my spirit gets giddy at the thought of reemergence and newness in my life and in my cooking.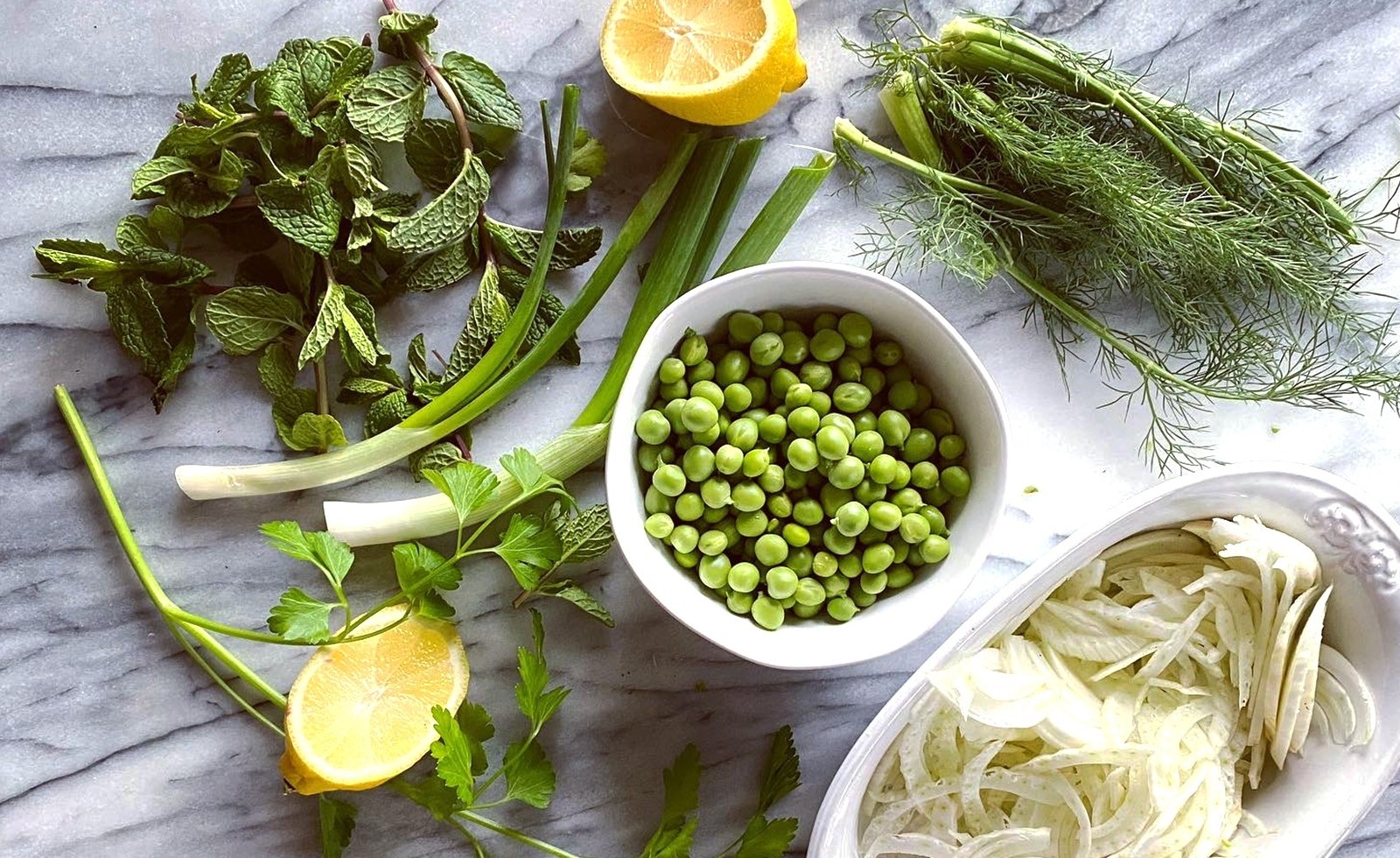 This is the first time in many years I have headed into spring from the depths of a real winter – the kind that is cold, icy, snowy and dark. The kind of winter I dread, the kind that feels like an entrapment, the kind that delivers that trickery that makes you believe there is no warmth or light ahead.
So, as I approach this particular spring, from this foreign cold land of Missouri, I feel a significant burst on the horizon. I feel myself wanting to explode out into the light, the warmth and all the newness I can find around me. I feel famished for spring and want to begin devouring it; especially spring foods.
So far Missouri has delivered the weather that I crave and that I never fully received in California. Im appreciative and recognize, like people, places can't give us everything we want, but they can usually give what is needed. Sadly, Missouri hasn't delivered peas, but it has delivered the warmth in which to enjoy them.
This time of year I crave spring peas more than any other produce item. (Artichokes are a close second.) Well before winter even considers being done, I am typically conjuring up new spring pea recipe dreams and blanketing myself in the thoughts and flavors of my past creations and new born ideas. I get pea brain, for sure! About a month ago, I felt this pea fever coming on. If I was still living in California, spring would have sprung already and I'd be swimming in peas of all kinds. My menus would have been totally pea-centric and my smile would have been very big. I love peas, and in particular the English Shelling peas. In my mind this is the only real pea and certainly the only swoon worthy one.
The problem is where I live. Remember? I moved to Missouri back in October and reported on the difficulties of obtaining fresh, organic produce. It's not just organic produce that's hard to find, but finding generally fresh produce is incredibly challenging. I still drive 2 hours and sometimes 3.5 hours to go to better quality grocery stores in Fayetteville, Arkansas, and Kansas City, Missouri. That seems asinine, but it is the truth of my food quest here. Like water carving its way through rock to move as destined, I too have found all the little routes that bring me closer to my food bliss and eating the way I want to: freshly, weirdly, organically and ethnically.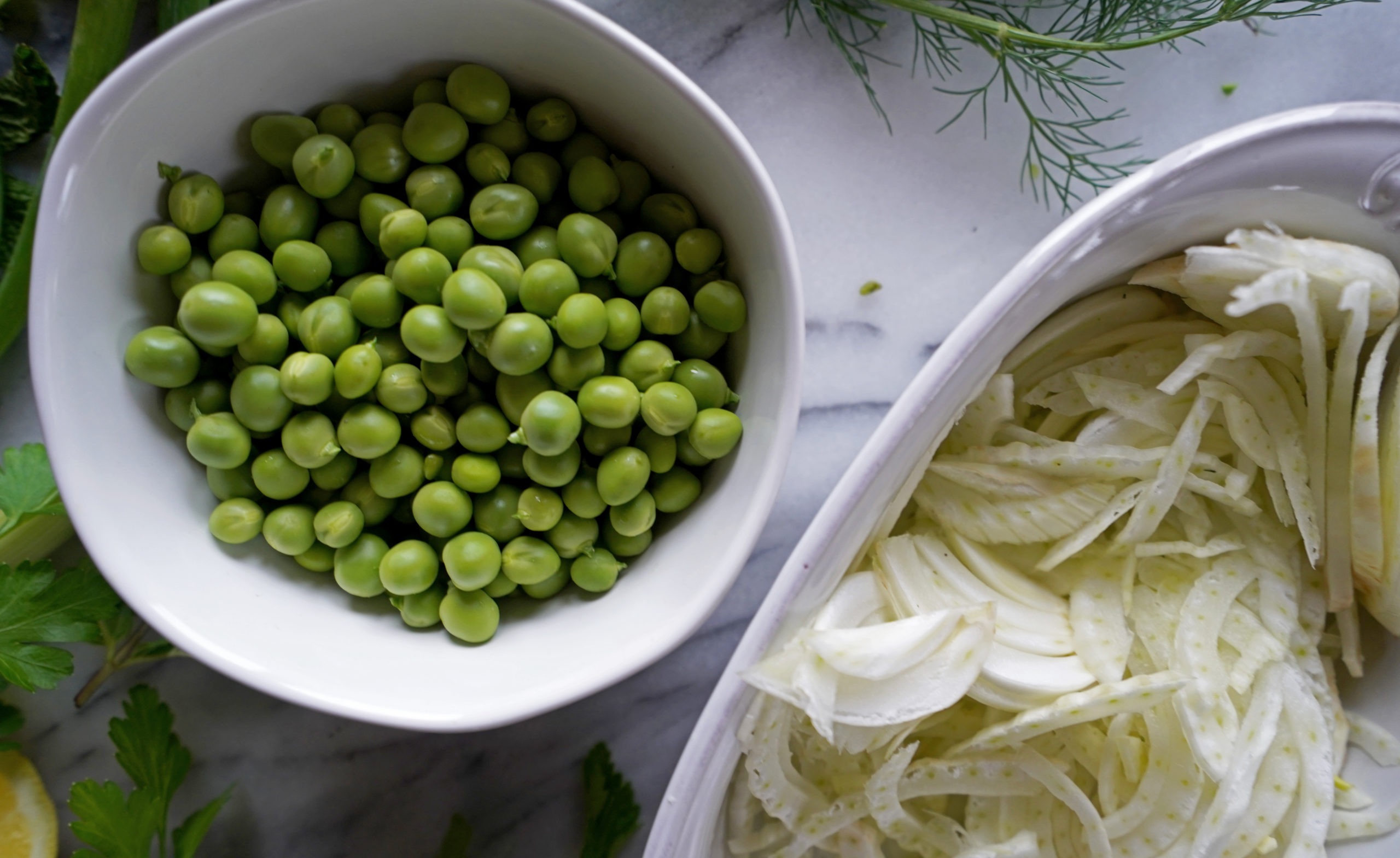 By driving farther I can find better quality and organic fresh produce. I purchase online organic and sustainable meats and fish and better-quality wines and liquor. While its true that these delivery a footprint of "trash". Id argue that the real trash is in some of the big conventional grocery stores around my parts- the ones filled with highly processed foods of all kinds.
But even  with driving and piecing together through mail order many of the not-so-mainstream items – like shelling peas – are still rather hard to find in the mid-west. I have the opposite feeling that Dorothy had when she said, " Toto I don't think we are in Kansas anymore" Inca and I are pretty clear, we are not in the plush fruit and vegetable state of California. But We are working it out, slowly slowly. And I'll  admit that I am beginning to like it here some.  My new kitchen, the upcoming garden and the weather are energizing my spirit and there is a speckle of people that intrigue me. I'm positive about it here, but with the warm weather and the thought of swimming daily on the horizon, who wouldn't be, especially now that I have found good food.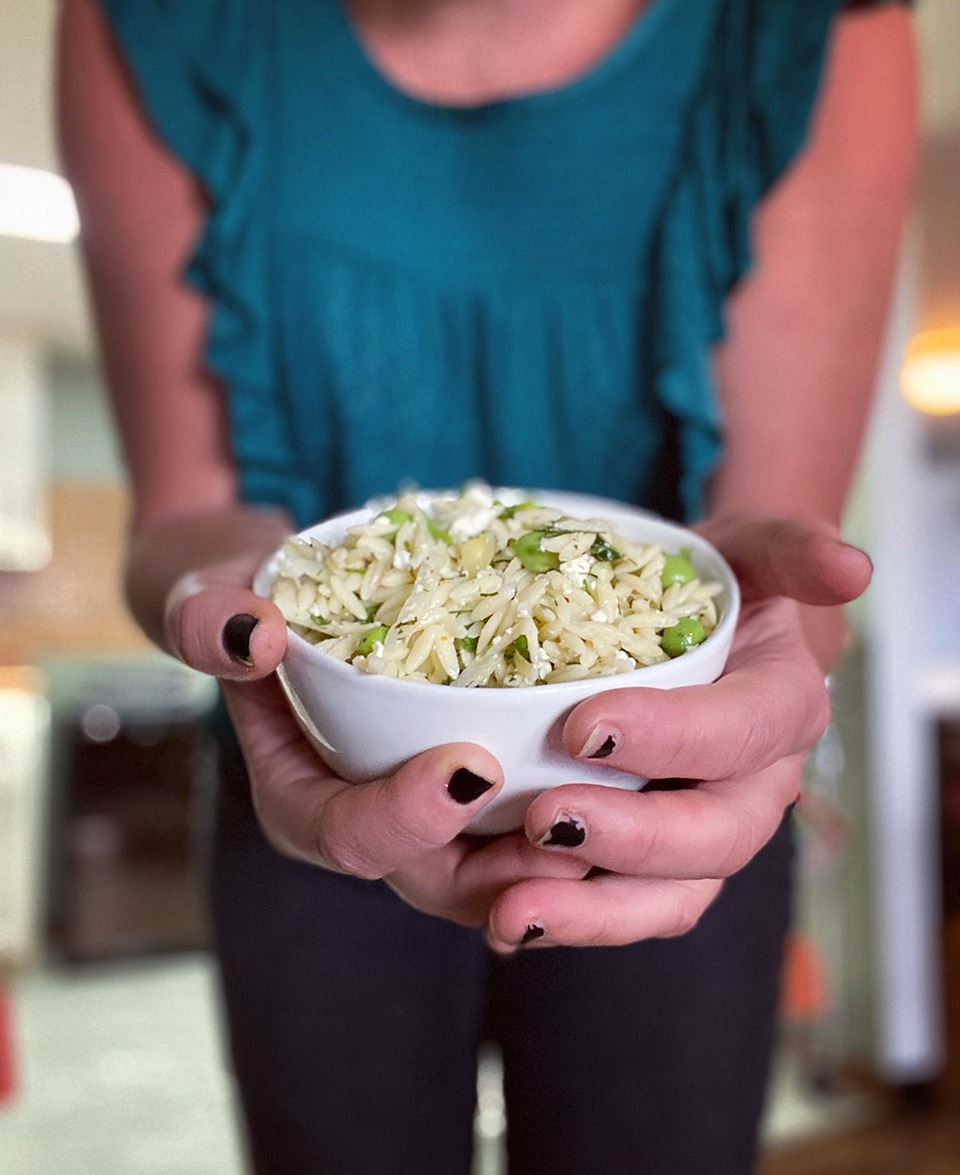 Back to peas….I got lucky last week when my friends at Jacobs Farm Del Cabo (where I buy all my fresh herbs for the culinary part of my business, when I am not growing them) got wind of my pea obsession and put a few of their retail bags in with my herb shipment. Obviously, I was beyond happy and grateful that pea artistry would come to life again. And so it did….
Most of these pea recipes were conjured up long ago, most during my Brooklyn days. I've updated them by using the kitchen wisdom and maturity I have picked up over the past years and mostly I have great precisionI seem to have mastered. Don't be alarmed for those of you who are fans of my wild ideas coupled with simple executions, that is still my signature recipe style.  Basically, these are just old ideas that are remastered and improved with greater vision. They are my 48 year old self's recipes!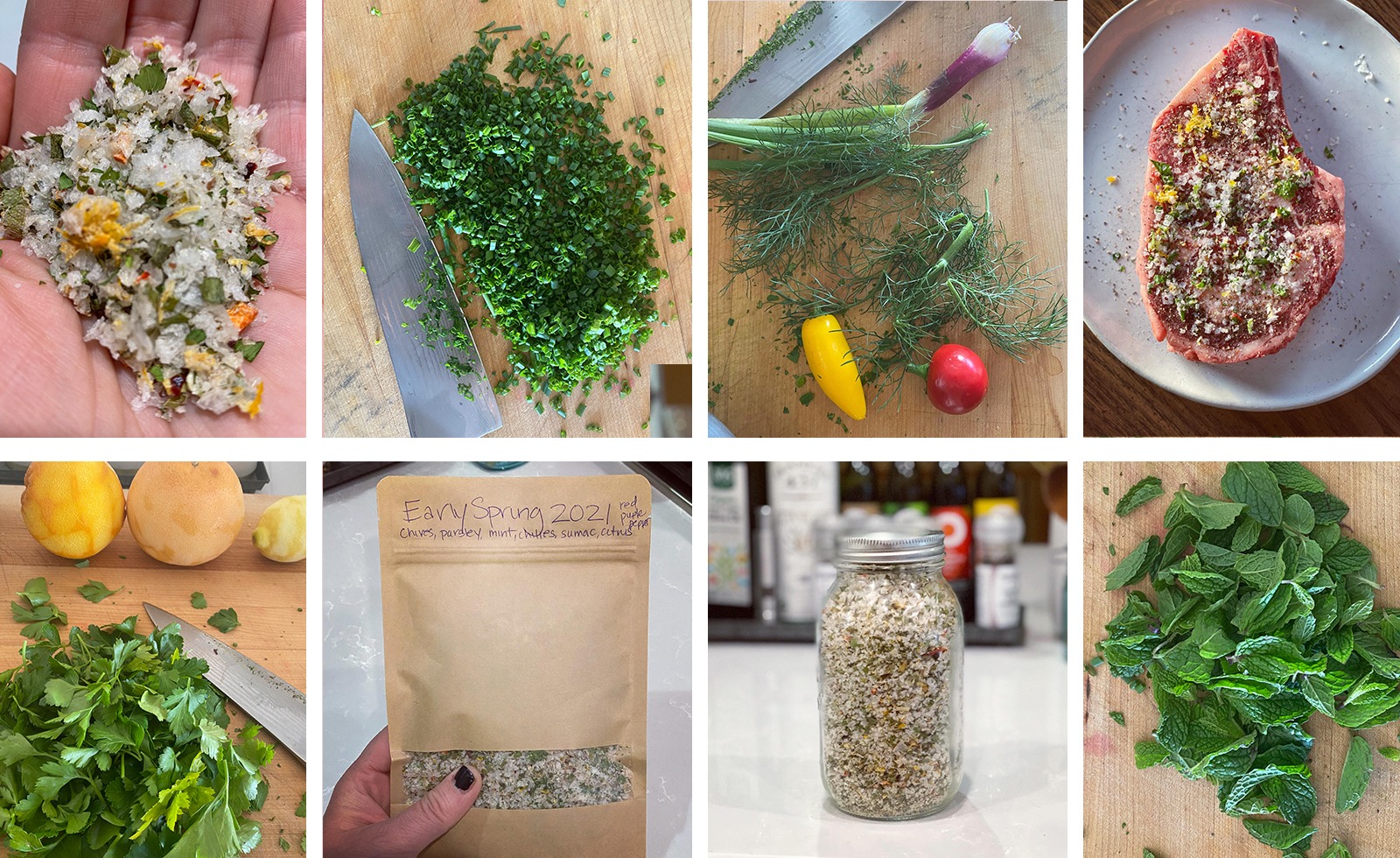 Early Spring Herb Salt
Makes 2  1/2  cups
Certainly this isn't a pea recipe, but as part of my pea maturity, I have learned that fresh peas are complimented with the inclusion of one of my fresh herb salts. This salt was designed with early spring in mind, which for me not only means chives, parsley and mint but it screams end of season citrus- lemons, limes, grapefruit, blood orange and tangerines. This salt recipe also utilizes my favorite of all the onions, the red spring onion. It tastes so fresh and oniony, it's a staple of my spring- when I can get it here in Missouri! All of this early spring bounty pairs exceptionally with peas and thus this salt on peas is rather perfect.
Ingredients
¼  cup finely chopped parsley leaves
¼  cup finely chopped chives
¼  cup finely chopped mint leaves
¼  cup finely chopped fennel fronds
1/3 cup finely chopped red spring onion, red and green parts
2 teaspoons finely chopped red chilies
2 teaspoons finely chopped green chilies
2 teaspoons lemon zest
2 teaspoons blood orange zest
1 teaspoon grapefruit zest
1 teaspoon lime zest
1 teaspoon finely cracked pink peppercorns
1 teaspoon finely cracked purple peppercorns (optional)
1 teaspoon sumac
1 ½ cups Maldon flake salt
Directions
Pre Heat oven to 250 degrees F.
Mix together all of the fresh herbs, chilies, zest and spice in a medium mixing bowl. Gently fold in the salt and mix. Use your fingers to make sure the herbs and spices are well incorporated into the salt. Place the salt/herb mix on a baking sheet covered with parchment paper so that its spread out evenly across the entire sheet and flat.   Place in the oven and bake for about 20-25 minutes or until the herbs seem have lost their moisture, they should not be dried out but still look greenish. Store in a glass jar for a few weeks and use on everything spring.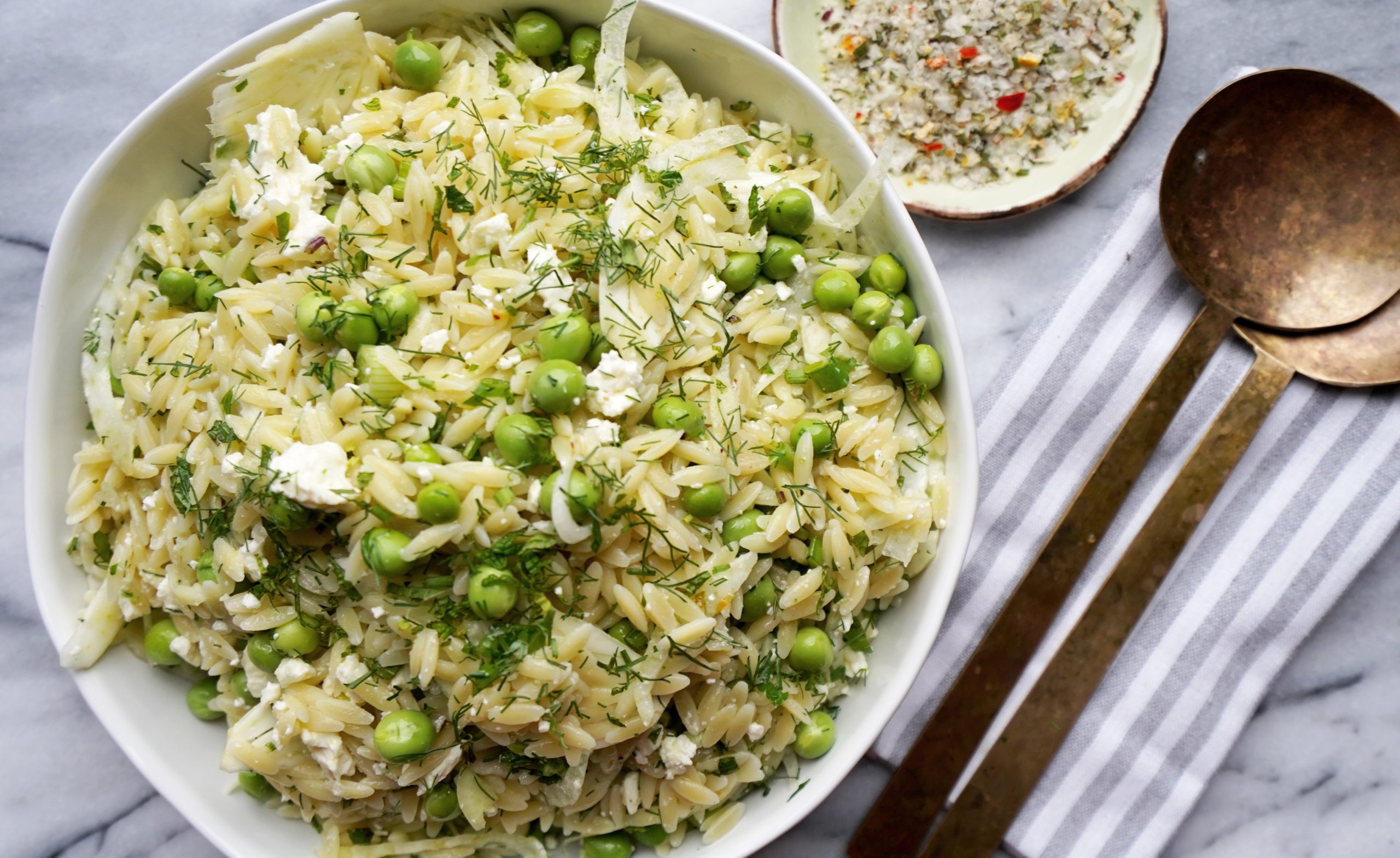 Fennel Orzo Salad with Fresh Peas and Mint
Serves 8-12
This is one of my favorite recipes I've conjured up and the fact that it also has peas in it makes it even more pleasing to me. The original idea of this recipe was too busy and drenched with too much sauce- originally it used a dill pesto. This version is more refined, simple and to the point. This is one of my recipes that I could care less if others like or not, (although the do) this recipe is one I make over and over again just for me. I mix and match the herbs in it based on what I have one hand, more so since living here in Missouri. I have found that its super forgiving of the herb combo flavors- the key is using spring herbs like dill, parsley, chives, mint and fennel fronds. I use a simple hand held mandolin to shave the fennel, I don't like complicated mandolins.
Ingredients

1 fennel bulb, halved and shaved thin
2 tablespoons finely chopped dill leaves
2 tablespoons finely chopped parsley leaves
2 tablespoons finely chopped mint leaves
3 tablespoons finely chopped fennel fronds
2 cups English shelling peas, peas removed from pods
zest of 1 lemon
juice of 2 lemons
1/3  cup extra virgin olive oil, possibly another tablespoon
2 ½ teaspoons Early Spring Salt or Maldon flake salt
2 cups orzo pasta
1 – 1 ½ cups crumbled feta cheese
Directions
Combine the vegetables, zest and herbs in a large bowl and add the olive oil and lemon juice. Mix together well.
Cook the orzo pasta per instructions on the box and rinse with cold water until all of the heat is out. Make sure its drained well and mix the orzo into the herbs and vegetables.  Add the feta and gently mix again. Taste the salad. It might need a little more olive oil depending on if you like it less lemony.
Serve with a pinch of the early spring salt.
Spring Herbal Osso Bucco with Mint Gremolata
Serves 4-6
This lovely & lively dish is perfect for a chilly spring day, perfectly fresh yet warming with loads of fresh herbs and spring vegetables. It's a stew, so by nature its heavy- but this springy version is much fresher and lighter.
I don't use veal as they do in traditional Osso Bucco's,  I use beef shanks, as many do these days and they work perfectly.  I also rarely use stock, water works fine, especially with so many herbs and vegetables, no one has ever complained that anything I make lakes richness.
Ingredients
Early Spring Salt
4-6 cross-cut beef shanks
½ cup all-purpose flour
1 tablespoon fresh mint, chopped fine
¼ cup olive oil
3 cloves garlic, chopped fine
1 tablespoon lemon zest
2 sprigs onions, whites and green parts, chopped fine
1 medium carrot, chopped fine
1 small fennel bulb, cut in half and sliced thin
2 teaspoons salt
1 teaspoon black pepper
1 pinch of cayenne pepper
1 tablespoon fresh parsley, chopped fine
1 tablespoon fresh tarragon, chopped fine
1 tablespoon fresh chives, chopped fine
1 cup dry white wine
1 cup water
1 cup yellow tomatoes, chopped medium
1 ½  cup fresh peas
1 cup asparagus spears, cut into 1 ½ inch pieces
Herbed Gremolata (recipe follows)
Directions
In a small mixing bowl, mix the flour and mint and season with a little salt, about 2 teaspoons. Dredge the osso buco in the flour until they are all coated. In a large dutch oven or Le Creuset, bring the oil to a medium high heat. Brown the osso buco on all sides or about 2 minutes on each. Take out of the pan and set aside. Sauté the garlic, onions and lemon zest for a few minutes or until translucent. Add the carrots and the fennel and sauté a few more minutes. Season with salt, pepper and cayenne and add the herbs. Mix well and continue to sauté a few more minutes. Season with salt, pepper and cayenne and add the herbs. Mix well and continue to sauté. Add the wine and stir well removing any bits stuck to the bottom of the pan. Add the water and the tomatoes and stir well. Add the beef shanks to the pot and cover with the vegetables and juice. Turn the burner to low and cook for about 40 minutes until the shanks are tender. Add the peas and asparagus cook another 5 minutes. Take off heat and serve with orzo topped with the herbed gremolata.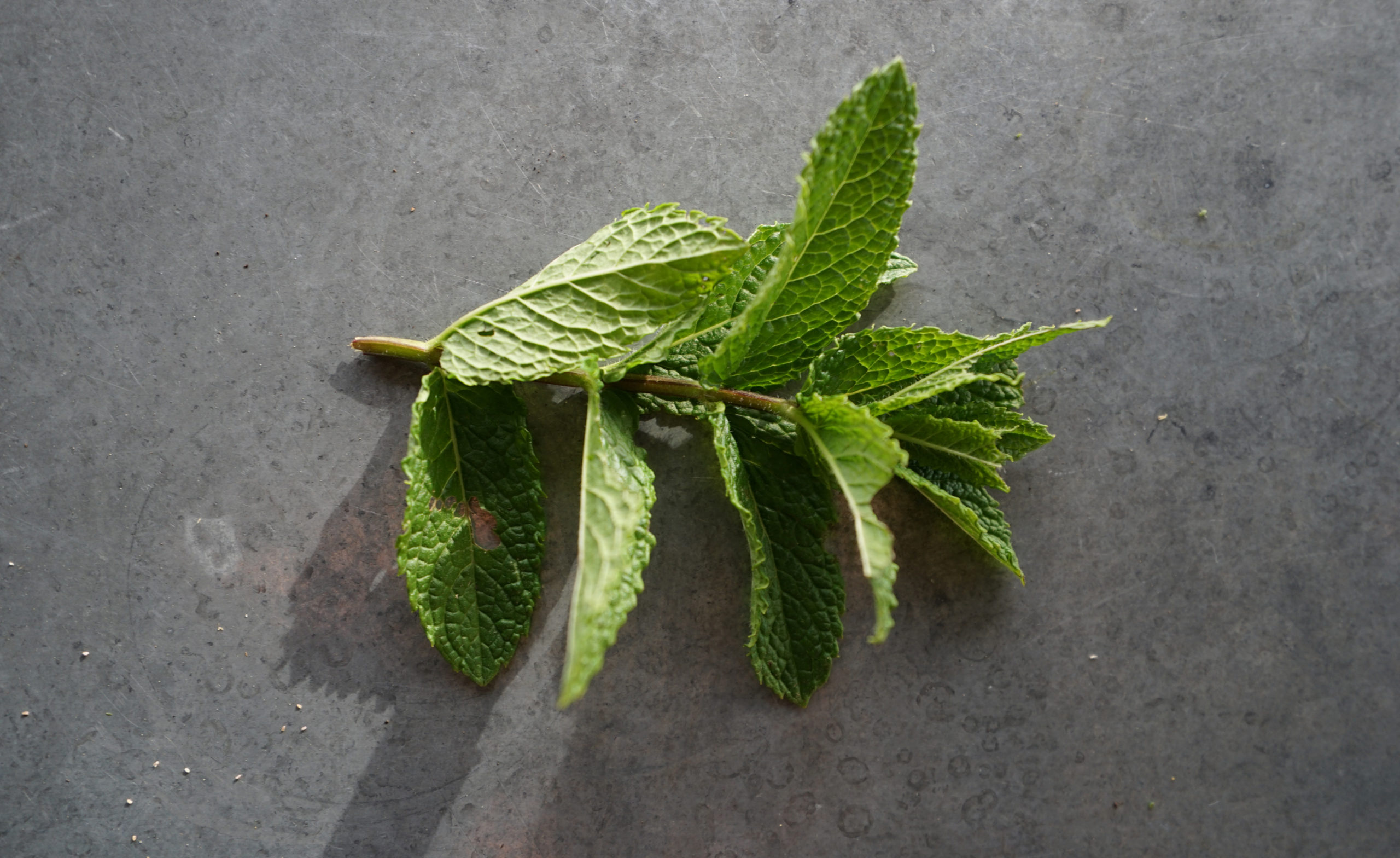 Mint Gremolata
Makes approximately ½ cup
Ingredients
¼ cup finely chopped mint leaves
1/3 cup finely chopped parsley leaves
1 clove garlic, finely chopped
1 tablespoon lemon zest
½ teaspoon finely chopped fresh red chili or red chili flakes
1 teaspoon Early Spring Herb Salt
Directions
Combine all the ingredients in a small bowl and mix well.