Purpose, Meaning and a Mortar & Pestle
I tend to be an extremist when it comes to emotions. This is why I've had to really practice balance. Part of that practice started many years ago, when I had to slow down my crazy capacity for taking on more and more work and make time for empty space in my head and body. Daily yoga, meditation and breathing practices have been pivotal in my ability to understand how to achieve and (mostly) maintain balance as I move through this life thing. A general slowing down long enough to observe myself.
Solitude and the ocean have also been vital in helping me reach and maintain more homeostasis. My kryptonite, or the "thing" that most throws me off balance, which I believe is rather normal, is always overwhelm. Too much uncertainty, too many MAJOR things happening at once always rocks my balance. From there I either find equilibrium or fall.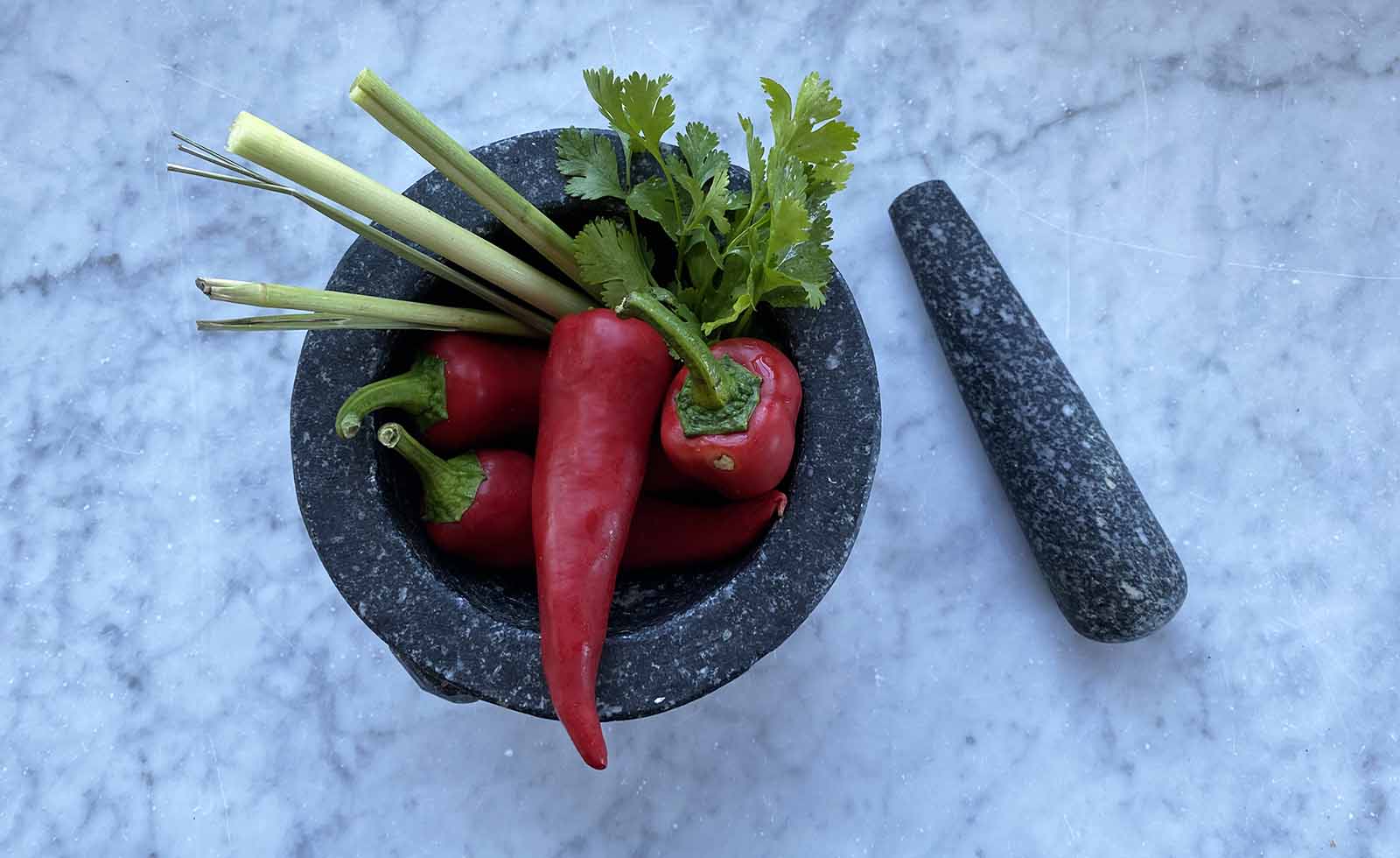 I am currently moving though one of these moments of imbalance, the type where I fall.  Surrounded by a massive amount of change in my personal life happening quickly and all at once, of course amidst all the change and chaos happening worldwide- pandemics, fires, ash etc. All of this has me triggered, and gigantic balloons of emotion are surfacing: anxiety, fear, uncertainty, doubt and an overwhelming sense of feeling unloved. When I hit the I am unloved space, is the point in which I know I am falling deep into what I call the pit of despair. There,  I wallow in all these dramatized emotions and self-doubt.
Leaving California and the Bay Area behind and moving to Missouri, letting go of so much that was my life here in the past 8 years, has thrown me off big time. I didn't expect it to be this way. Surely there is too much to process here in the short time I have left. I know some of my emotions I will probably have to pack up with the rest of my things, only to unpack them and process them when I get to Missouri—but starting the process here is key.
And how do I personally start such an endeavor, not very attractively. I wallow in the shit of it all. I have realized that it is a part of my process—to sit at the bottom of the abyss and flail around in the muck. The pit is not a foreign place to me, in a way I am just becoming more comfortable with it, as I have been in this pit often throughout my life.  There is a new feeling emerging these days that almost feels like I can trust the pit, which is probably more about trusting myself in the pit (in life.)
In the past it used to feel like I would never leave the pit. It always felt like I'd be stuck in that realm forever, reminiscent of being on psychedelic mushrooms and truly thinking my weird mind would be frozen as such forever. Eventually the overwhelm, like the drugs, dissipates. My weirdness, I accept lives on no matter what!  The feelings however just move, like waves. It reminds me of that song Emoji of a Wave- and it's most important message- just hold on…..I think that is is what needs to done while in the pit. Watch, listen, hold on and most importantly- trust. Truly getting to know yourself means you get to learn your process' of healing as much as you learn your triggers. The pit these days serves me.
My balancing practices and a few real live angels are key, especially in the time before the overwhelm begins. Once the fall happens, I have learned not to deny the emotions but, rather, start to watch them, see them unravel and then process them.  This undertaking, for me, is extremely complex and mostly consists of feeling the feelings, labeling them and reflecting on them, if I am able. Getting to know the myriad of emotions possible in a human being and labeling correctly in self and in others is actually really difficult work. But I'm trying. I'm learning. I'm taking the time needed to do it.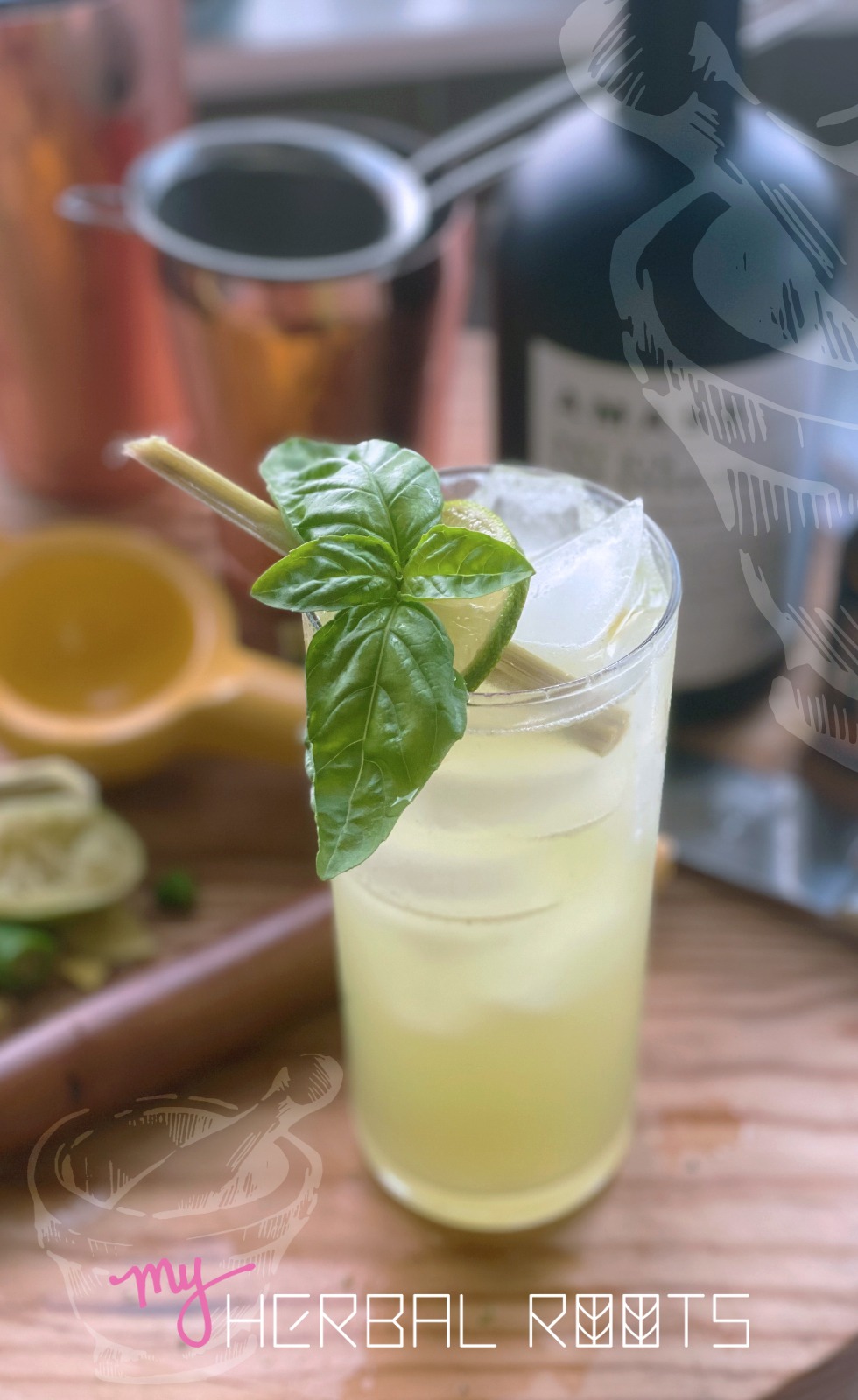 At a certain point in life I came to recognize that tumbling into the pit was something I needed to do, and I came to recognize and trust in my ability to climb out of it. The stabilization practices have helped me trust in myself. I often wonder about others, though. Is this normal, this pit metaphor, or is this unique to me? Why don't more people talk about the hard, emotional stuff of life? That's a question I keep asking over and over.  One of the reasons I really try to show all of myself, as fearful as it can be, is I hope to give others gentle reminder that we are all essentially the same.  We all wallow.
I presume that a little wallowing in the pit—deep in darkness—works for me because I don't get stuck there, even though I still sometimes think I might. It always feels risky, but I have concluded that all emotional growth takes risk. So, there is an acceptance of this fear in losing myself to the abyss, knowing that my courageous heart will always guide me out.
I've been thinking about what exactly it is that pulls me out, especially as I sit more comfortably at the bottom of my self-pity pit, looking around for what's going to help me get out. Sometimes, I wish I could just be a rescued damsel in distress, and that it's a hand of someone who loves me, dramatically pulling me out.  The truth is that has never happened; though, I always wish it would. I can't lie about that.
The pit is one of the most selfish places I know. Like the ego itself, this isn't necessarily a bad thing. It's come to be important for me to really look around while I am down there, in all the dark caverns of myself. It's a dark place for a reason. I see a lot of the worst of myself, which is an essential part of the self to know and also to love. My instincts are always to look for how others see those dark spots in me—not about what they mean to me, to my life, and my history. It's easier to hope that others love the darkness than actually loving our own darkness as a part of who we are.
The best way out of the hole is to climb out yourself. This is the only route to deep meaning and purpose… the only way to feel true self-love or love for anyone else for that matter.
My life of global travels has shown me that the world is a small place, filled with beautiful and gracious meaning.  While in the pit these days I often remember the meaningful connections I have made in my short little life with others and with that my own life has been meaningful.
I sometimes forget how good I am at living with meaning. It's easy to forget our own goodness as human beings. A good portion of my life flashed before me within this last stint in the pit—of building, directing, creating, motivating, fueling, expanding and teaching others, contributing through my genuine love and openness and utilizing all my immense power, influence, and capability to expand on that over and over and over again.
In those moments when I connect to my authentic self and feel the sense of my life as meaningful to others, I can actually see the value in my own life. I can feel the radiance of those I love all around me. I can see the beauty of the world and how I can, have and will continue to make a difference in it. This part is what stops the wallowing.
The selfish love I crave while I am in the pit—the 'I wants' and the 'I needs' and the 'why nots'—is ego driven. It's fight or flight versus nurture and nature. It's not really who I am. But it takes me being in the pit for a bit to realize that and to begin to climb out of it.
My mother is the type that was never able to climb out of the pit. She is still stuck there. She's the type that gets stuck there repeating over and over the 'I wants,' 'I needs,' the 'whys'…Demanding from the world her due.  My mother's weak essence within me is what pulls me into the pit. My father's powerful essence within me is what pulls me out.
This time in the pit, the appearing balloons were filled with immense grief. These were undoubtedly triggered by having to move my life from California, from the Bay Area. A lot of the surfacing grief was about Patrick (yes, I said his name for the first time in three years).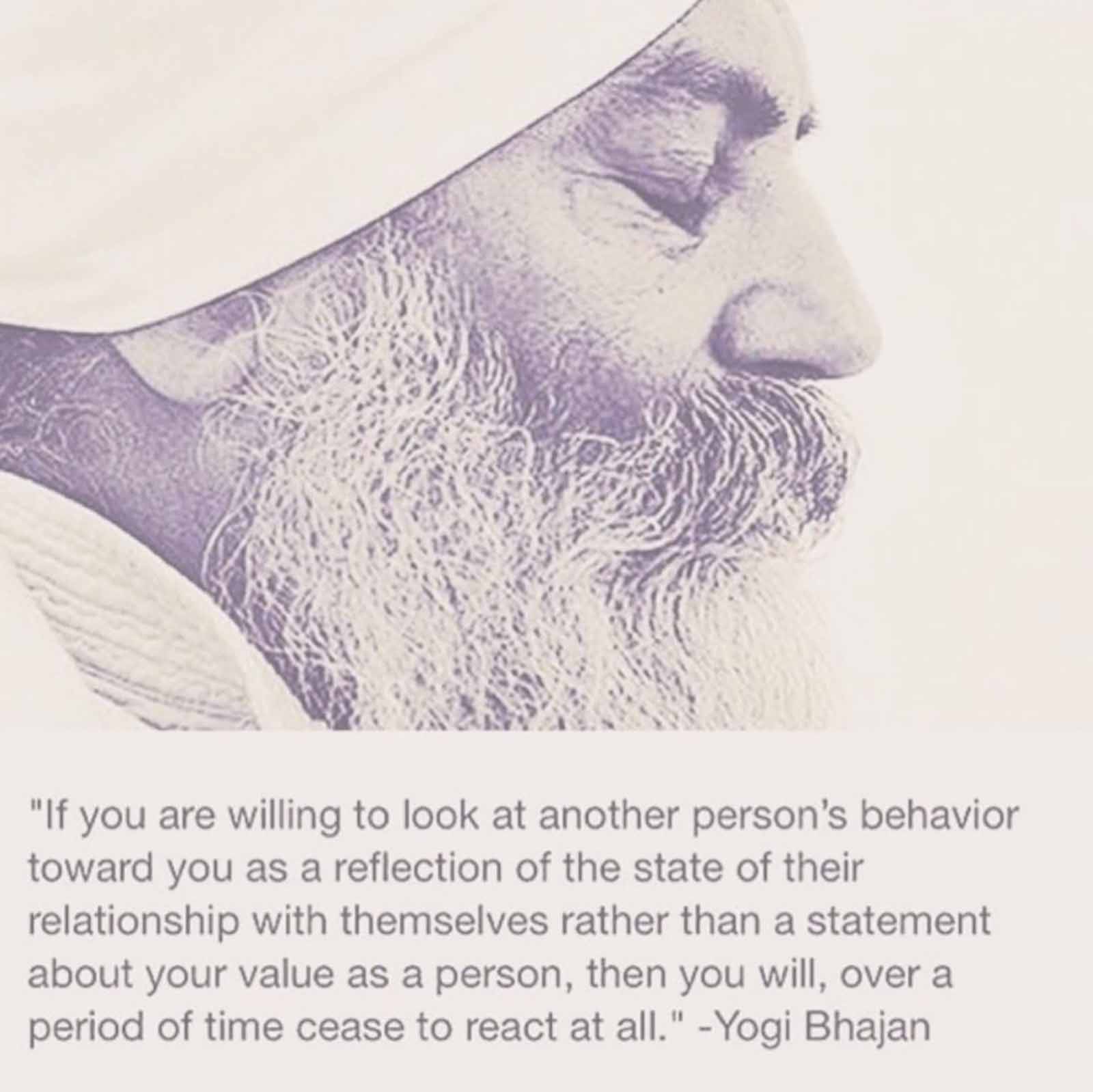 To leave this area behind means to leave him behind for good, in a way. It's been exactly three years since he left and never looked back. I can say with certainty that I am grateful for the path life has given me. My life today is richer because of this experience and because of the work I was forced to do after my heart broke. Today parts of my heart have healed while other parts seem like they will be broken forever. My heart isn't any bigger. Physically it's still the same size and still potent like the heart of a lion, but the expansion of my heart has been vast. I have discovered several more intricate and tender parts of my heart, like new colors seen for the first time, new energies are flowing within and out of me, and I have been able to authentically connect with more people and create more meaningful relationships than ever before. My life with Patrick was good, for me, but I am a deeper, richer person in his absence- I have more love to give because he left me.  With his walkout, I was able to see my true being for the first time in full form- the dark and the light sides- and it was only than when the real journey to self-connection was possible.  The pit can teach you a lot about yourself if you learn to sit it it  comfortably.  This time in the pit, I saw and felt all of that. And I felt the grief of that relationship ending, maybe for the first time since he left. I watch it and hold on, surely I will eventually reflect back on this time with some deeper meaning, for now, I just feel better for letting it move through me.
Today, climbing out of my pit, I can feel the energy of my loved ones, their presence, their voices calling me, their vitality, and it's a strong pull. No matter how cozy my psyche can make wallowing feel, their pull is always stronger. My father's essence in my soul, assures me that I will always climb out.
Over the last few days, I've been thinking a lot about Ruth Bader Ginsburg, as we all have. There is nothing that can be said that hasn't already been said. She truly achieved more for women's rights in America than any other human in my lifetime. I can't help but to pause and reflect on her words about what makes a life meaningful.
She often said, so it was said, that leading a meaningful life means living for one's family and community and not for oneself. My father lived like that while my mother never did, and still doesn't. One died contently and well loved by the world on his own terms with all his children by his side; the other most likely will die alone. A morbid thought, yes, but something I need to remember when I sink into the pit of selfishness and of feeling like the world owes me love. Rather, I owe the world love. I think that's the key to it all. I can feel that I am meaningful in my loved ones' lives. I felt this last night on the phone with my nephew, who is currently struggling and to whom I will be close to soon with my move to Missouri. Our instincts always bring us to family and community if we are living meaningfully.
All of these reflections help me climb my way out of the pit of selfishness. Please, don't put an image in your head of some powerful wonder woman figure climbing out. I'm more like an amateur rock climber, slipping upward. I am climbing out, stumbling, losing my grip and footing, but I'm slowly finding where the strong and solid aspects are—where the helping hands are, where the teachers are, where the cheerleaders are—as I move up and out, deeper into meaning.
This exact spot, the coming out part, in my pit process, is also when I find my creative energy start to build back up. The power of the light through the cracks reignites my passion, and I begin to cook and create again. Despite the unbelievable joy I feel while creating food art, my creativity shuts down fully when I am in major overwhelm, sad or feel unloved. Others cook in this stage, I cannot do anything but wallow- but when I begin the climb, that's when the passion soars again and I'm at my creative best.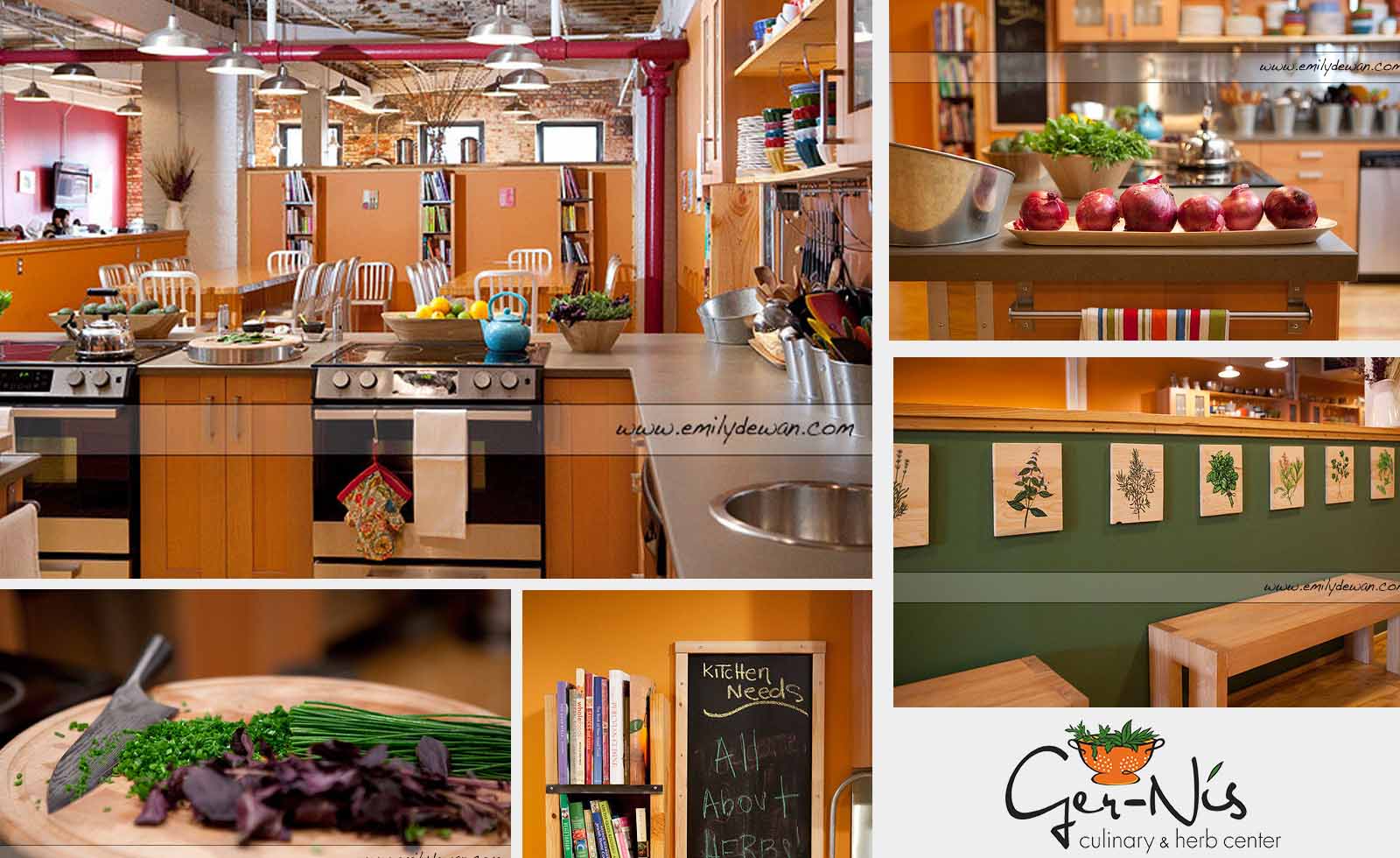 Today's recipes may seem random, and I thought they were at first, too. But, like everything, they are fully interconnected. In this case, it all started with one of my life's rocks, my friend Danielle, and a simple conversation about what she was making for dinner. Within an hour, my head unraveled a recipe I had created for Ger-Nis Culinary Center in Brooklyn years ago. The Culinary Center was one of my most meaningful projects. It not only served the people immediately around me but also a community of people far and wide throughout Brooklyn and the New York City metro area. One of my most popular classes was Fresh Thai, in which we made hand-pounded Thai-style sauces and dishes. I was taken by the memories of those classes and the extraordinary ordinary people who happily gathered to learn about food and cooking in a setting built for me by my brothers, skills they learned from our father, which made the space and the energy even more meaningful. Making this dish at the same time as climbing out of my selfish hole, I remembered how good I am at making meaning. I was also able to pound out a lot of grief in the process, which was a perk.
In sum, the world does not owe me love. I owe the world my love. My love is abundant, creative and for a select few, maybe it can even be overwhelming a times : – )  – It is however PURE. It comes in many forms; right now, here,  it comes in the form of some honest self-reflections, some divulgences of the deepest level and a recipe for  Thai-style fresh curry and  of course a cocktail, because I am Nissa! Herbs abundant, because herbs are my medium of love.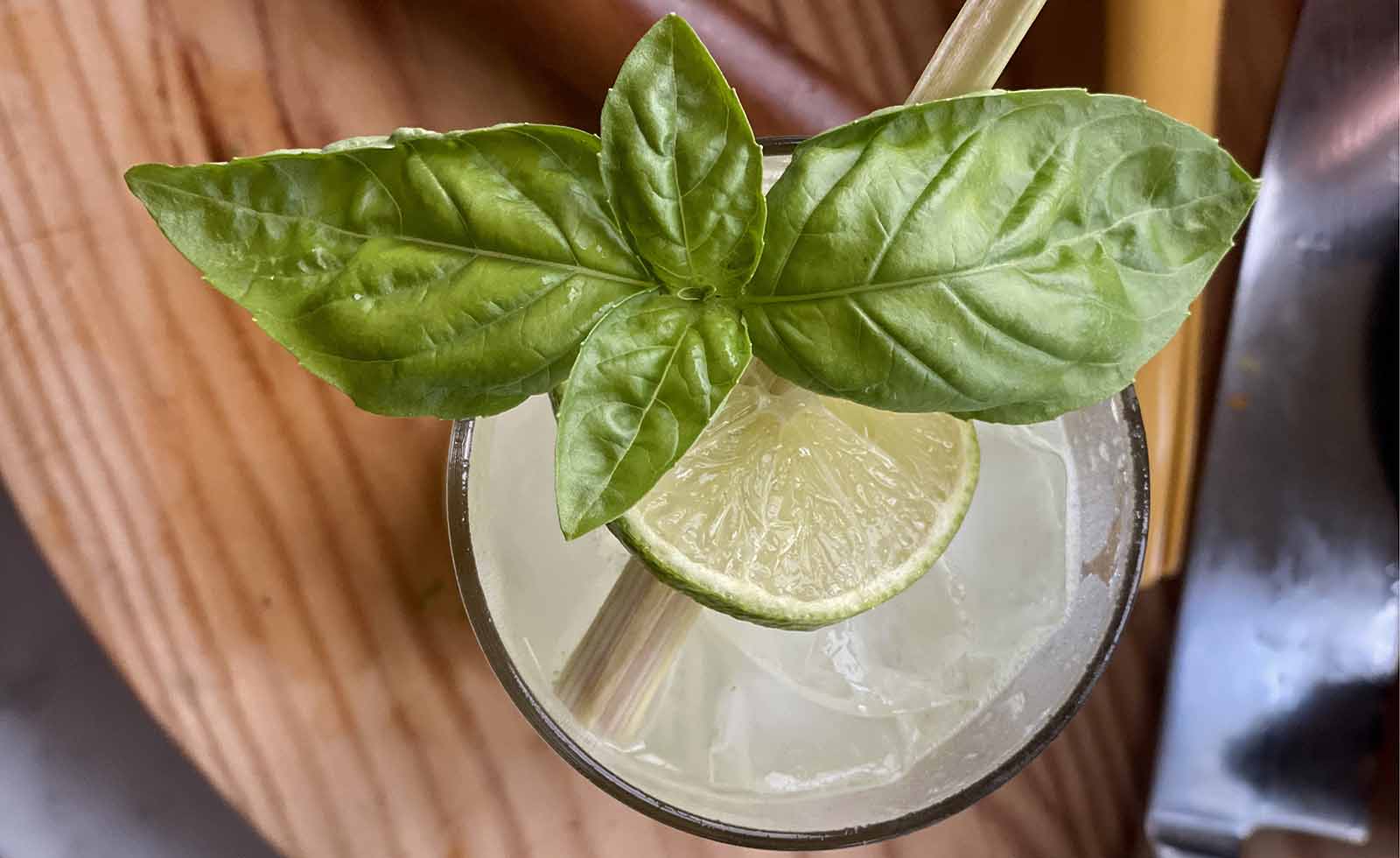 Thai Melon Cooler
Makes 1 drink
People don't drink melons enough. While I was making this cocktail (which began because I had some extra melon to use up), memories of the melon juice I used to drink as a little girl in Nicaragua surged. I had forgotten what a lovely medium melon makes for drinking. Today my cooking skills are added to that memory in this heavenly cocktail. It is vibrant and perfumy, and it doesn't taste overly boozy. The drink invites us to savor it, much like we should be doing with life.
Ingredients
¼ cup green melon, cubed small
Zest of 1 lime
2 teaspoons sugar
1 teaspoon lemongrass, bulb, finely chopped
1 teaspoon sliced thin green chili
1 teaspoon grated ginger
3-4 basil leaves, chopped
5-6 cilantro leaves, chopped
2 ounces lime juice
1 ½ ounces gin
Sparkling water
Bitters (FloraLuna Ginger Cayenne Bitters, preferably)
Directions
Place the melon, lime zest, sugar, lemongrass, chili, ginger and herbs in the bottom of a cocktail shaker, and muddle until all the melon is mashed up into a thick chunky liquid. Add the lime juice and gin. Fill the shaker with ice and shake vigorously. Double strain into a large Collins glass filled with ice. Fill the glass with a little sparkling water. Drop a few Ginger Cayenne bitters on the top and garnish with a lime wheel and fresh basil leaf.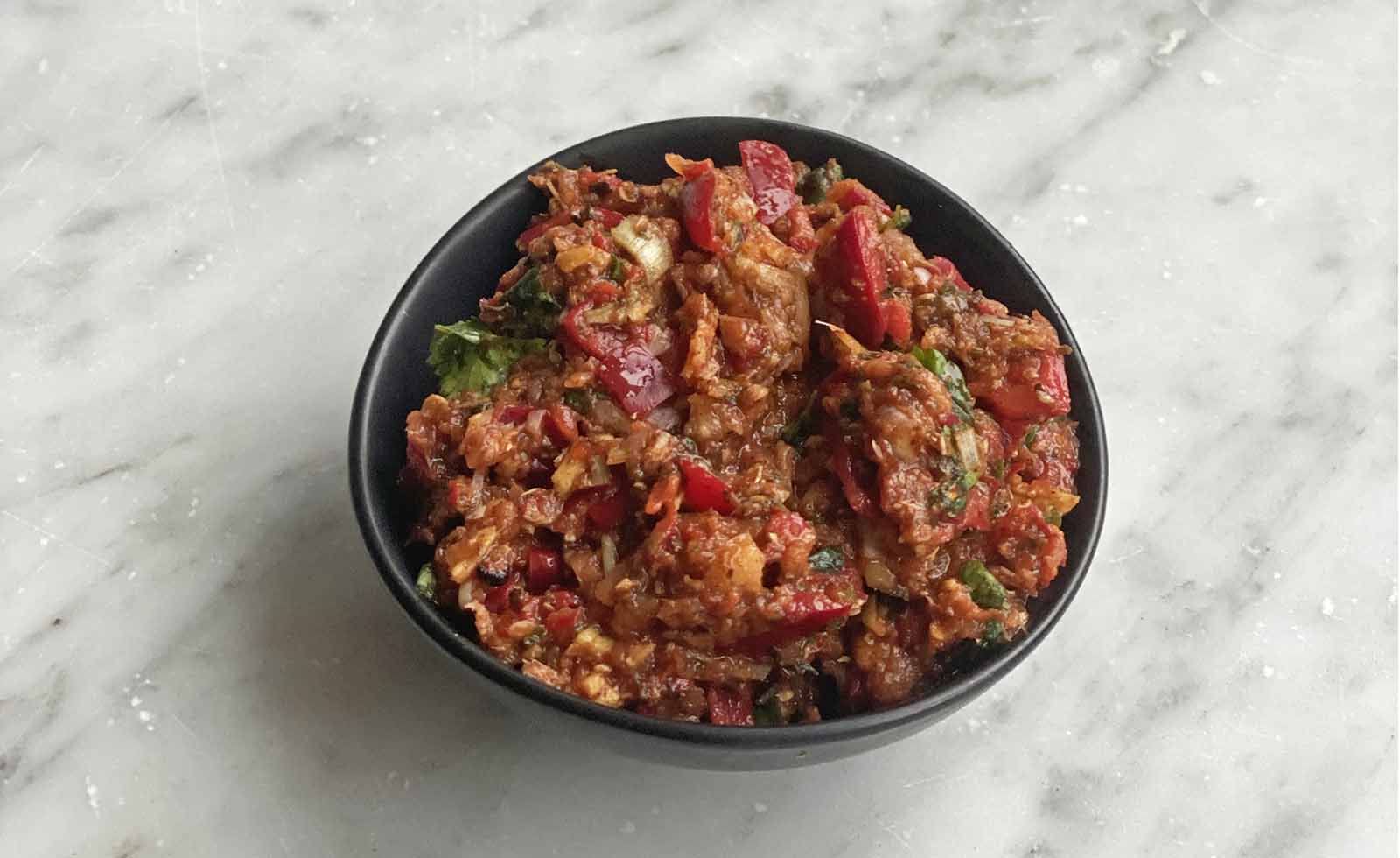 Massaman Thai Curry Paste/Gaeng Massaman
Makes 3 /4 cup of curry paste
Massaman is a Thai curry that has been heavily influenced by Persian and Indian spices like cardamom, cumin, cinnamon, star anise and mace. These eastern influences are combined with traditional fresh Thai ingredients like chili peppers, lemongrass, galangal and cilantro to create a rich and mild curry paste, often combined with coconut milk and stewed with meats.
At Ger-Nis Culinary & Herb Center, we specialized in making cooking accessible to all levels of culinary prowess as well as utilizing local, sustainable organic ingredients, all while accenting the herbaceousness of cultural cuisines. This class did just that. I tried to make the recipe easy to recreate, in terms of ingredients, technical skill and equipment. The result was a super fresh Thai curry that everyone could make. This current version of the recipe hasn't changed much, and it reminded me how therapeutic it is to pound into a mortar and pestle. It felt much like pounding out grief, I have to admit!
Traditionally the recipe includes peanuts. I omit the peanuts because it was originally for a class and I wanted to eliminate hazards, but I found I enjoyed the sauce sans the nuts.
The recipe can work in a food processor, but I recommend a mortar and pestle. They are not expensive these days and can be super versatile.
Ingredients
1 tablespoon white peppercorns
1 tablespoon black peppercorns
1 tablespoon coriander seeds
1 tablespoon cumin seeds
3-4 cardamom pods, cracked
1 star anise, cracked up
3-4 fresh red chilies, fresno, cherry bomb or red jalapeno, seeds removed, all finely chopped
5 cloves garlic, finely chopped
2 teaspoons Maldon salt
1 tablespoon peeled and chopped ginger root
1 tablespoon peeled and chopped galangal root (optional)
1 tablespoon finely chopped lemongrass bulb
1 tablespoon lime zest
Juice of 1 lime
1 teaspoon cinnamon
½ teaspoon mace
½ teaspoon nutmeg
½ cup cilantro leaves, chopped
Directions
Mortar & Pestle Method:
In a small, thin bottomed sauté pan, toast the white and black peppercorns, coriander seeds, cumin seeds, cardamon pods and the star anise for about 30-40 seconds overheat. The spices will start to smoke. Just make sure they don't burn.
Place the toasted spices in the mortar and pestle and grind them up finely. Add the fresh chilies, garlic and salt, and pound and scrape in with the pestle until most of the chilies and garlic are broken into fine pieces. Add the ginger, galangal, lemongrass and zest, and continue to pound and grind until a thick paste forms. Add the lime juice, cinnamon, mace, nutmeg and cilantro leaves and, again, pound and grind until the cilantro leaves are fully dissolved into the paste. The end result should be a thick chunky paste.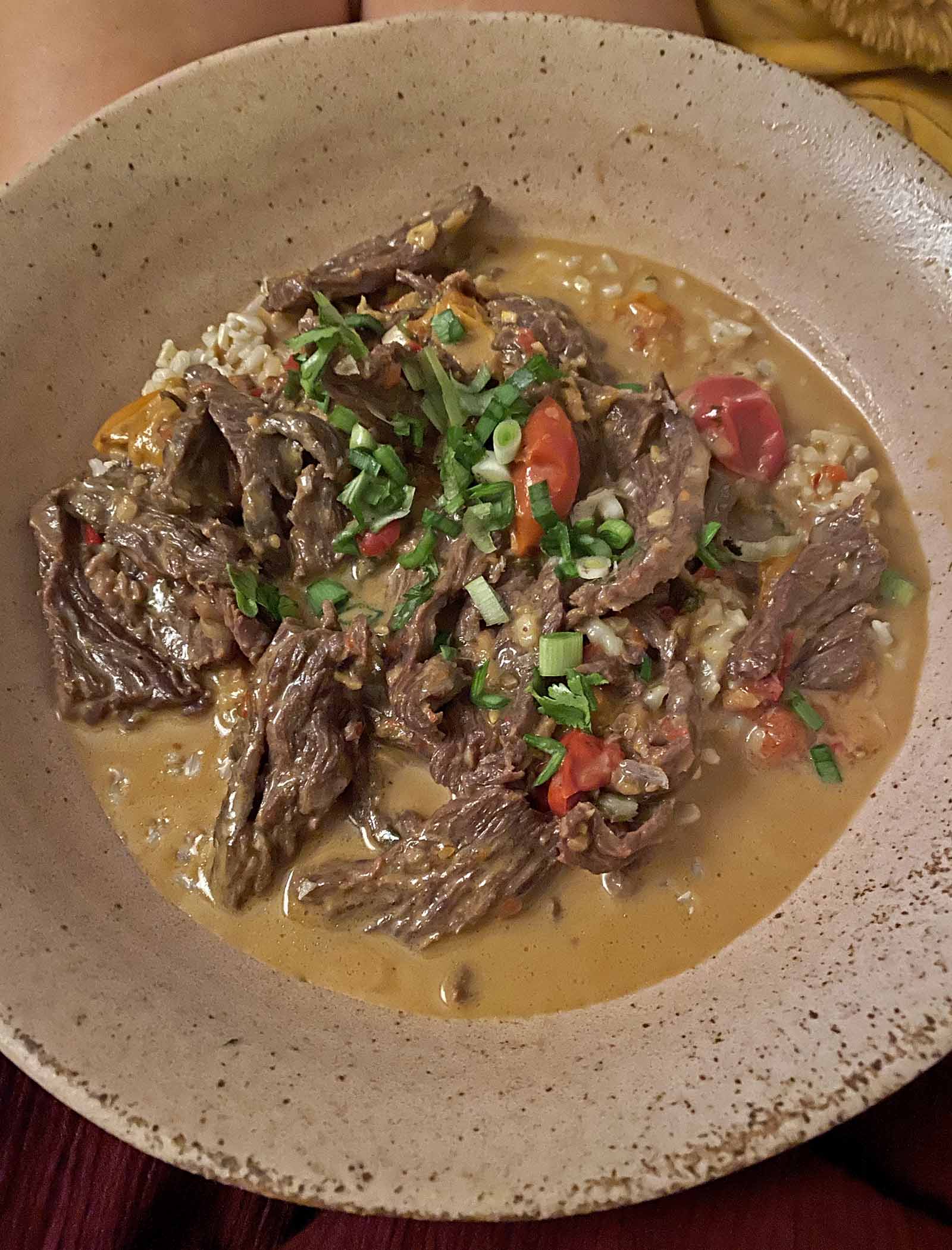 Massaman Beef Curry with Summer Tomatoes
Serves 6
Once you have the paste made, there are many things you can do. The most traditional recipe uses it stewed with coconut milk and beef, and this is by far my favorite way of enjoying this curry as well. It's warming and comforting and yet feels light and summery. In this version, I add summer cherry tomatoes and use a technique for bulgogi that I found works really well in giving the meat a slight sear before it's stewed in the coconut milk. This comforting dish served me well on my recent pit climbing adventure.
Ingredients
1 – 1 ½ pounds hanger or flank steak (thin steak is key), slightly frozen
¾ cup Massaman curry paste
½ cup tamari or soy sauce
¼ cup coconut amino or 2 tablespoons brown sugar
1 ½ tablespoons extra virgin olive oil or other neutral oil
1 cup cherry tomatoes, halved
1 teaspoon salt
1 can (15-ounces) coconut milk
Directions
Slice the steak very thin. This is much easier to do when the steak is partial frozen. In a large bowl, whisk together the curry paste, soy sauce and aminos (or sugar) and place your meat in the bowl covering it all with the sauce, to marinate.
Heat up a thick bottomed pan with a little oil spread evenly over it to medium high heat. Place the meat slices down in the pan, shaking off any liquid from them before and pack them tightly in the pan. Let them sear for a few minutes until browned. Turn them over and sear them more on the other side. Add the remainder of the marinade and stir, let some of the juice cook off and then add the tomatoes and salt- stir. Cook for a few minutes until the tomatoes start to melt a little bit in the heat and the coconut milk. Bring to a boil, then reduce to and simmer about 15 -20 minutes or until the tomatoes are all cooked down. Serve over rice.