Asparagus, Mint & Chive Blossoms
I am deeply obsessed with all things spring. Perhaps my enthusiasm for fresh herbs was born in spring, when we get to witness herbs shoot up from the cold ground of winter with expeditious vigor and vibrancy. Mint, parsley, chives and chive blossoms are the first to appear in our gardens ready for us to toss their tender leaves into salads, soups, pesto, and sauces.
Today I want to place a special focus on mint (specifically spearmint) and chive blossoms and, in particular, how beautifully they relate to asparagus – another of spring's powerful popups. (I've more recently spent some time ruminating on the joys of parsley, so you can check out those posts for more.)
If you are lucky enough to have a garden, mint is both a blessing and a little bit of a curse. It grows and spreads taking over any amount of free soil it can get its rhizomes on. Oftentimes mint is planted in containers to stop the spread. I am personally not a workaholic gardener, so I planted mine where I just let them be. It turns out they are so powerful they have eliminated most the weeds. Fresh mint is, of course, also available in your grocery store's produce department, either in bunches or in clamshells.
Chive blossoms are more difficult to get your hands on, unless you have a garden or shop at your local farmers market. They are rarely available at the grocery store (something Herbal Roots aims to change down the road).
If you can get your hands on them, consider yourself and your cooking repertoire blessed. A chive blossom is exactly as the name alludes: the edible flower of a chive. It's made up of several tiny little flowers that, when in full bloom, appear as one big roundish flower. They range in color from a light purple to a deep purple, depending on several factors such as bloom stage and weather.
They have a gentle but obvious onion taste and aroma. I consider these little blossoms essential for flavoring my spring dishes. They not only add a fresh onion essence, but they are incredibly beautiful and remind us of the beauty of spring's abundance.
Most often they are used as garnish. I use them a lot like salt, by just tossing them on top of everything. But I also use them as an herb, flavoring all the different layers of each dish by using them throughout the entire cooking process. Most folks underutilize fresh herbs in their cooking, by only thinking of them as garnish. If you only use chive blossoms at the end, you will truly miss out.
Here are a few of my latest spring creations using mint, chive blossoms, and asparagus.
Spring Chive Blossom Salt
Makes 2 ½ cups of salt
I think this is my favorite salt to date. This one is bountiful with everything from my garden, including all my beautifully weird herbs, so I don't imagine you can recreate it easily. It's gorged with tons of tiny little chive blossoms and hence delivers a distinct and garden fresh oniony flavor. Lots of flowers and very mint forward, I also include some wild fennel pollen I foraged from my sea coast. The addition of some pink salt makes it very pretty! If you want to recreate this without all the unique herbs I have on the list, the main objective would be to get your hands on the chive blossoms.
This batch I made specially for my friend Danielle, who I desperately wish I could be quarantine buddies with.
Ingredients
10-12 chives blossoms (about a ½ cup or more of the tiny blossoms pulled off)
½ cup finely chopped parsley leaves
¼ cup finely chopped mint leaves
2 tablespoons finely chopped chives
2 tablespoons lemon zest
2 tablespoons finely chopped nasturtium petals
1 tablespoons finely chopped calendula leaves
¼ cup of fennel pollen or tops of the blooming fennel pollen chopped fine
1-2 tablespoons finely chopped yarrow leaves
1-2 tablespoons finely chopped angelica leaves
1-2 tablespoons finely chopped zaatar
1-2 tablespoon finely chopped hyssop
¼ cup finely chopped baby onion greens
2 teaspoons Aleppo pepper
1 ½ cup Maldon flake salt
¼ cup Himalayan pink salt (course preferred)
Directions
Pre-heat oven to 200°F.
Mix together all fresh herbs, zests, flower petals, and spices. Gently fold in the salts and mix. Use your fingers to make sure the herbs and spices are well incorporated into the salt. Place the salt/herb mix on a baking sheet covered with parchment paper so that it's spread out evenly across the entire sheet and flat. Place in the oven and bake for about 20 minutes or until the herbs seem to have lost most moisture. They should not be totally dried out and still look greenish. Store in a small bowl on your counter for a few weeks.
Asparagus Mint & Eggs
Serves 1
This is the easiest and most special tasting egg dish you will ever make for yourself. I eat it 3-4 times a week in the spring. I add chive blossoms to mine, but I have a spring garden bourgeoning with chives and chive blossoms so it's quite easy for me. The true beauty of the dish is in the seemingly weird mint and egg combination. It's one of my favorite ways to enjoy fresh mint. When I make this, my breakfast feels special.
Ingredients
2 eggs
½ teaspoon Spring Chive Blossom Salt
1 tablespoon butter, salted or unsalted
3-4 mint leaves, finely chopped
2-3 spears of asparagus, sliced in pieces
1 chive blossom (optional)
Directions
Using a fork, beat the eggs together with the salt until the yolk and white is all mixed up together. Heat a small skillet with the butter to medium heat. Add the mint, asparagus and (if using) chive blossoms, and sauté for about 45 seconds. Add the beaten eggs, making sure to turn the pan to spread out the eggs so they are flat and cover the bottom of the skillet. Cook for about 30 seconds and then mix up and finish cooking to your preference. It shouldn't take more than a minute and a half longer. Season with a pinch of Spring Chive Blossom Salt.
Spring Farro Salad
Serves 4-6
This hearty salad is filling and yet incredibly light. It puts spring's burgeoning bounty of fresh mint and asparagus to task, and the nutty flavor and chewy texture of the farro makes this a perfect main dish. The chive blossoms give it a beautiful gentle onion quality that I quite enjoy.
The quantities in the ingredients list are more of a suggestion than a strict protocol. Reduce or increase the amount of vegetables and farro according to your liking. When it comes to mint, however, take heed. The mint is rather crucial to capture that vibrant spring taste.
Farro is easy to cook. It's cooked about the same way you would cook pasta. Rinse the farro well with cold water before cooking, which cleans away any dust which can settle on the grain. Boil about 3 times as much water (water to grain ratio), add and cook the farro until tender but still chewy. Then strain through a fine mesh strainer and allow to cool.
Farro is an ancient grain. There are three different types of farro: pearled (the most common in the USA, semi-pearled and whole (the most common in Italy). Whole farro is the entire grain with all the bran. Semi-pearled has had some of the bran removed and pearled farro has no bran at all. The pearled takes the least amount of time to cook (about 15 minutes versus the whole which takes the longest at about 30-40 minutes).
Ingredients
2 cups farro, pre-cooked and cooled
1 bunch asparagus, chopped bite size
1 ½ cups spinach leaves, ripped bite site
½ cup thinly sliced spring onions or green onions
2 medium sized carrots, sliced thin or roughly chopped
¼ cup Castelvetrano green olives, pitted and halved
2 tablespoons finely chopped mint leaves
¼ – ½ cup parsley leaves
2 tablespoons thinly sliced chives
4-5 chive blossoms (optional)
2 teaspoons lemon zest
¼ cup extra-virgin olive oil
¼ cup lemon juice
1 teaspoon salt
¼ – ½ cup crumbled fata cheese (optional)
1 teaspoon Spring Herb Salt (sub ½ teaspoon Maldon salt)
Directions
Prepare an ice bath for the asparagus. Bring about 3-4 cups of lightly salted water to a boil and add asparagus. Cook the asparagus for 2-3 minutes only. Remove the asparagus and submerge in the ice water and stir until the asparagus starts to cool off considerably. Let stand in the ice water until ready to use.
You can cook the farro in the same water you cook the asparagus to make things easier. See the recipe notes below for cooking the farro.
In a large mixing bowl, combine the farro, spinach, carrots, green olives, mint, parsley, chives, chive blossoms and lemon zest and toss to mix, making sure all the ingredients are well combined. Drizzle the oil and lemon juice over the top and sprinkle the regular salt on top. Stir well. Sprinkle the feta over the top and gently fold a little of it inside the salad. Toss a bit of Herbal Roots Spring Herb Salt over the top. Serve room temperature or cold.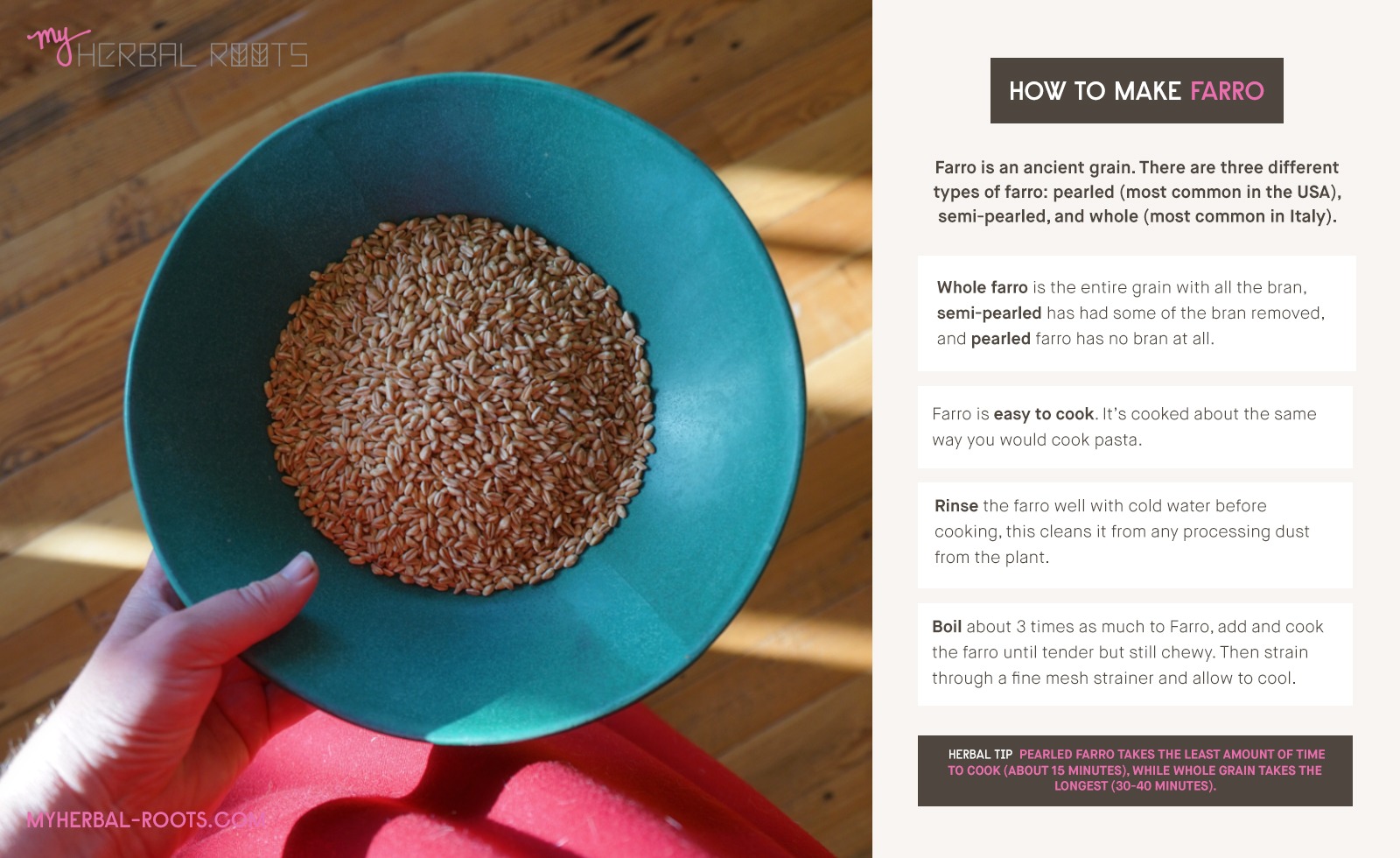 Minted Pork Meatball Noodle Salad with Spring Herbs
Serves 4-6
I love to make a version of this salad in the middle of spring when my garden is abundant with fresh herbs & flowers like mint, chives, parsley and nasturtiums. You can easily make the recipe herbaceous using grocery store herbs like parsley, mint, chives and basil. The farmers market in the spring should have all kinds of specialty and hard to get fresh herbs so take the time to indulge in them. They are not only super healthy and full of antioxidant and micronutrients, but they add incredibly amounts of flavor. Skip the meatballs and the dish becomes a vegan staple. In the summertime, toss in mangoes for an even more ultra-refreshing dish.
Ingredients
For the meatballs:
1 ½ pounds of ground pork
3 cloves, garlic, finely chopped
1 tablespoon super-finely chopped ginger
3-4 chives blossoms (optional)
3 tablespoons finely chopped mint leaves
2 tablespoons soy sauce or tamari
1 tablespoon toasted sesame oil
2 tablespoons sriracha sauce
1 tablespoon hoisin sauce
1 egg
½ panko breadcrumbs
For the salad:
2 -3 cups cold, cooked udon or soba noodles
1 large English cucumber, sliced
1 red bell pepper, deseeded and chopped or a few minis
1 cup shredded red cabbage
½ cup mint leaves, roughly chopped
¼ cup cilantro leaves, roughly chopped
¼ cup parsley loves, roughly chopped
A few tablespoons (approx.) of snipped chives
4-5 nasturtium flowers, chopped (optional)
Juice of 2 limes
1 tablespoon red chili sauce
1 tablespoon rice wine vinegar
3 tablespoons soy sauce or tamari
1 teaspoon salt or 1 ½ teaspoons Spring Chive Flower Salt
1 Serrano chili, sliced thin (2 if you like spicy)
1 cup cherry tomatoes, halved
1  1/2 cups cooked cold asparagus
4-5 chive blossoms
Directions
For the meatballs:
Pre-heat oven to 375°F.
Combine all of the ingredients in a large mixing bowl and mix together until all of the ingredients are well combined. Using your hands is the ideal method for mixing ground meat and making meatballs.
Shape the meatballs into a 1 ½ inch size and place on a baking sheet. Make sure there is a little room in between each meatball, but since they won't expand you just need enough room so the hot air from the oven can circulate around them.
Once all the meatballs are shaped and on the baking sheet, place it in the oven and bake for about 30-35 minutes or until the meatballs are fully cooked.
For the salad:
Combine the noodles, cucumbers, bell peppers, cabbage and fresh herbs and nasturtium flowers if using in a large mixing bowl and toss together until well mixed. In a separate smaller bowl, whisk together the lime juice, sesame oil, red chili sauce, vinegar and salt. Drizzle the depressing over the cold noodles and again toss together until the noodles and vegetables are covered in the dressing. Add the Serrano chili, cherry tomatoes and chive blossoms and gently fold together, mixing it only lightly. Refrigerate. Serve with asparagus and few hot meatballs on top.