Herbaceous Enchiladas
As I promised in my Instagram post, I will make this introduction brief. But I can't pass up the opportunity to share a tiny bit of opinion. After all, that is what a blog is, and that is exactly what My Herbal Roots is– a blog. It is also a part of something larger, which most blogs are-  my fresh herb site Herbal Roots which is currently still in build mode with a aim to launch in April 2021.
I take no issue with the twitter comments made by Mindy Kaling that caused such a big stir. With so many of us are stuck at home with the internet remaining our only connection to the outside world and in this general realm of panic and anxiety, almost anything can cause a stir. So the fact that there was a lot written about her wanting the recipe instead of the chef's life story… barely registered for me as an issue.
But way before she tweeted it, her opinion on the subject did register with me. I had placed a great deal of thought into the same subject matter when I was conceptualizing Herbal Roots & My Herbal Roots. I too often want and need just a recipe, and, as my company Ger-Nis continues to build new sites for food ad recipes, I have struggled with many of the formulas and software for making easy-to-use designs and websites – food oriented- that are also visually pleasing, easy to read and foolproof to post. Like all things in this world, shit ain't simple.
Eventually we all have to make decisions and most of these website decisions keep us locked in to one idea. The costs – money and time to make changes to websites are a real factor for us all and as technology keeps evolving, better ideas continuously are emerging. And if you are like me, not wanting to have a site of ads, you are generally without any means to make money on the site itself. Eventually one has to decide to be a part of the norm or forward thinking and different.
The photo below is a mock up of the recipe section of Herbal Roots and how all recipes on the site will look when the are completed.

I think Mindy will be happy with the final decision on the recipe site.  First, I separated my blog from my main site Herbal Roots. The blog portion, My Herbal Roots, is where my ideas and opinions come to life. Let us not forget this is what a blog is.  Herbal Roots is the herb-centric webspace where people will go to discover all they ever wanted to know about culinary herbs, useful information, tips and tricks on herbs and the place where the Mindy's of the world can find easy-to-read and print recipes, sans the life stories, opinions and metaphors…. Just simple, clear recipes.  Each recipe that appears on the blog will also be in the recipe section of Herbal Roots. The search engine which is proving amazing by the way, will converge both sites and allow any searcher to opt of getting blog posts in the results.
The hard news is that this part of the site is not yet public…  April 2021 is the launch date for the fully finished site and still is.  I will be soft launching the recipe portion in 3-4 months and when I do Mindy Kaling will be first person I let test it out! Until then, I encourage Mindy and the rest of us to keep cooking and being funny. These are two things the world needs much more of.
And here is the enchilada recipe, as promised!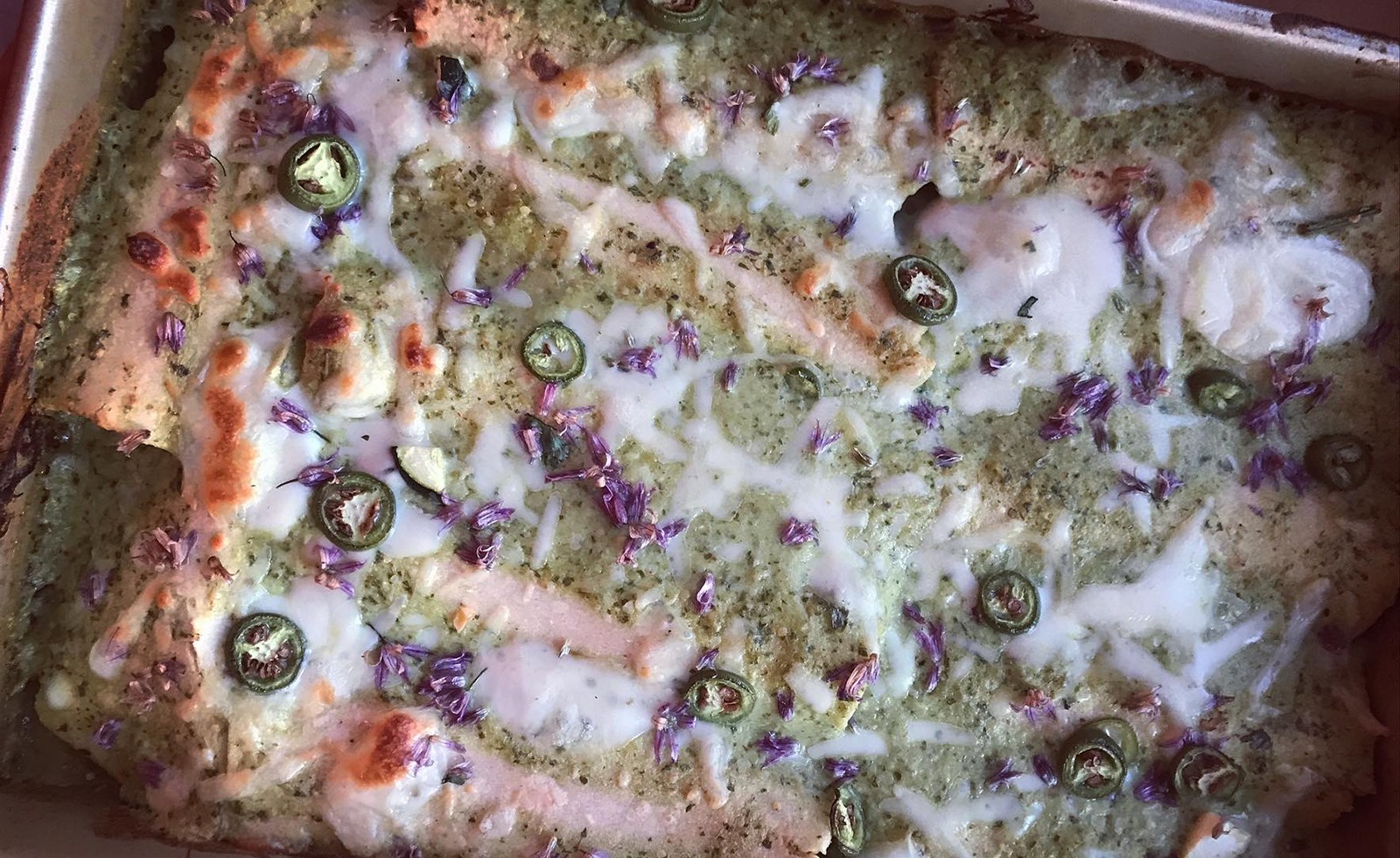 Herbaceous Enchiladas
Makes 12 enchiladas (9" x 11" baking dish)
Don't fear this recipe's many steps. Enchiladas are easy. You just have to keep going and don't look back to get good results. I set myself up for success by using tortillas that are a corn-flour blend. The 100% corn tortillas lack pliability, and the steps to make them soft are tedious and challenging. Both the filling and the sauce are easy to personalize using the flavors you like best or the ingredients you have on hand. Don't be afraid of vegetables in this dish. Even kids love this recipe. I like to make this dish with leftover roasted chicken. I don't grease my pan or wet the bottom of it when I make these. There are a lot of steps that just don't make realistic sense, so I take those away – because why do work we don't need to?
Ingredients
For the green sauce:
8-10 tomatillos, husks removed and cut into quarters
½ white onion, roughly chopped
1 jalapeño pepper, roughly chopped (with or without seeds)
1 Anaheim pepper, roughly chopped
1 ½ teaspoon salt
Juice of 2 limes
2 tablespoon olive oil or avocado oil
1 cup cilantro leaves
¾ cup chicken stock, water, half-and-half cream or any combination thereof (I use chicken stock and cream)
For the filling:
2 tablespoons olive oil
1 poblano pepper, seeds removed and chopped fine
1 jalapeño pepper, seeds removed and chopped fine
2 cloves garlic, chopped fine
½ cup chopped red onion
1 tablespoon loosely packed fresh oregano, chopped fine (optional)
1 tablespoon finely chopped chives
1 ½ teaspoon salt
1 teaspoon ground cumin
1 ½ cup roasted chicken, chopped small
1 zucchini squash, cut into tiny cubes
1 yellow crookneck squash, cut into tiny cubes (if you can't find this use 2 regular zucchini)
1 packed cup, spinach leaves
1 -2 tablespoons water
1 cup shredded Oaxaca cheese
To finish making the 'whole enchilada':
12 corn-flour blend tortillas
1 serrano chili pepper, sliced thin
Chive blossoms (optional)
Directions
For the sauce:
Preheat the oven to 425° F.
Arrange tomatillos, white onion, jalapeños, and Anaheim pepper flat on a baking sheet. Sprinkle these with salt and drizzle the lime juice and oil over the top. Mix using your hands and then rearrange so everything is flat and the tomatillos are facing skin-side down. Place in the oven and roast for about 20 minutes until all of the ingredients are lightly charred and the pepper and tomatillos are soft and juicy. Allow the mixture to cool and then place in a blender with the cilantro leaves and liquid. Blend until super smooth and silky. You might have to add more liquid. It should be a texture similar to heavy cream. Taste and decide if you want to add a little more salt.
For the filling:
In a large sauté pan, heat the olive oil over medium-high heat and add the peppers, garlic, and onions. Sauté for a few minutes at which point the items will be getting a little soft. Add the herbs and spices and continue to sauté another minute. Add the chicken and again sauté another minute. Then add the squash. Reduce the temperature to medium-heat and continue to cook, stirring often for 2-3 minutes until the squash is soft. Add the spinach and a few splashes of water and continue to cook the mixture until the spinach is wilder and all items are soft. All of the water should be gone by the time you are finished. Set aside to cool.
To assemble enchiladas:
Reduce oven temp to 375°F.
Place a tortilla down on a cutting board or other flat surface and place a tiny amount of cheese down, about 1-2 teaspoons. Add a few tablespoons of filling on top of that and roll up the tortilla tightly so that the filling is packed into the middle evenly. Place the tortilla seam-side down in the baking dish. Repeat with the remainder of tortillas.
Pour the sauce evenly over the top, making sure to spread it into the cracks and crevices. It will make its way down underneath to the bottom on its own. Sprinkle the remaining cheese you have left over the top and garnish with fresh serrano chilies and chive blossoms.
Place in the oven and bake for about 45-60 minutes or until the cheese is melted and the top is golden brown. Remove from the oven and let it sit for about 4-5 minutes before serving.