A Powerful Sabich
As I sit here on the last day of the decade (obviously reflecting), it's hard not to think of my past life and the decade I spent traveling to Israel for agricultural work. Israel, its people, land, and produce had a powerful influence on me becoming me. My Israel story is rather unique, and, as I contemplate my times there, I'm fully convinced Israeli agriculture will make a comeback in my life… although I'm not certain yet how.
For now, my thoughts land on a precise moment where change took hold. A time when I was left by the side of the road outside Tel Aviv by an at the time business partner and also long time "friend" and ate my first sabich. That sabich reflected back my own strength and the moment when I came eye to eye with my hunger to be seen for my own accomplishments and power. It's a moment when I learned that to be a woman in business meant that I had to make bold moves. It's also the moment I would come to prove that I could be honest, tender, and show emotion in business and still be successful and powerful.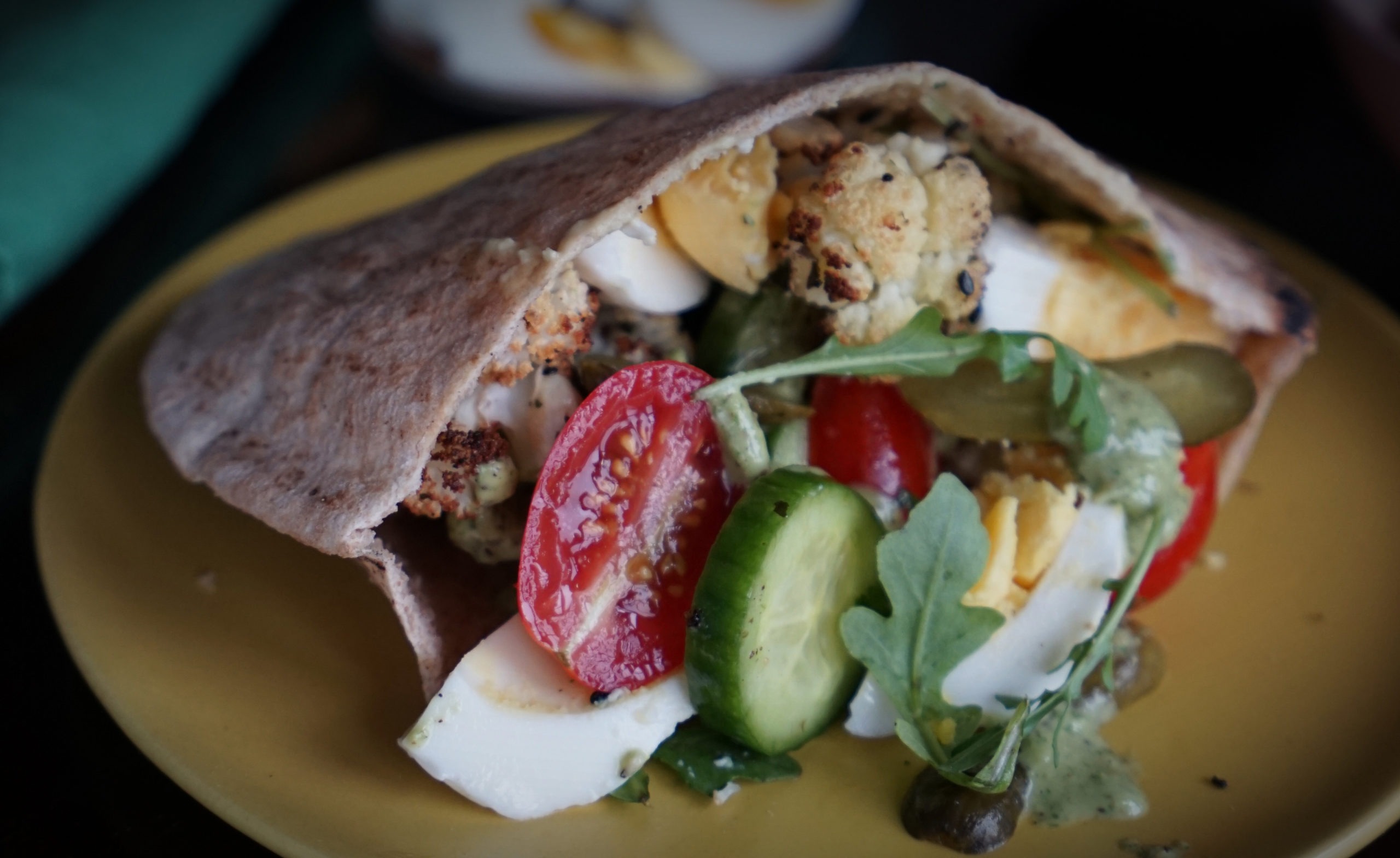 The man that left me on the side of the road (which he did several times over the years I had known him, all across the globe) is not the important part of my story. He was an essential component of  part what I would later come to recognize was what I had authored and built – my own story.
The moment that he left me in the middle of nowhere, with nothing around but one sabich vendor… that vendor to whom I cried profusely while trying to communicate that I needed to call someone but couldn't get my USA cell to dial the number correctly… that moment I recognized I needed to make a bold change. Had I been able to make my call, I would have perhaps acted too hastily and risked losing more of what I had built. About 30 minutes later, the he-who-shall-be-called "Strander" returned. He asked me if I was sorry, as he often did and offered to buy me a sabich. I could see the vendor uncomfortable with the act and notice, in retrospect, sometimes we see our own pain, that we cannot yet feel, through the eyes of those watching us, this was that.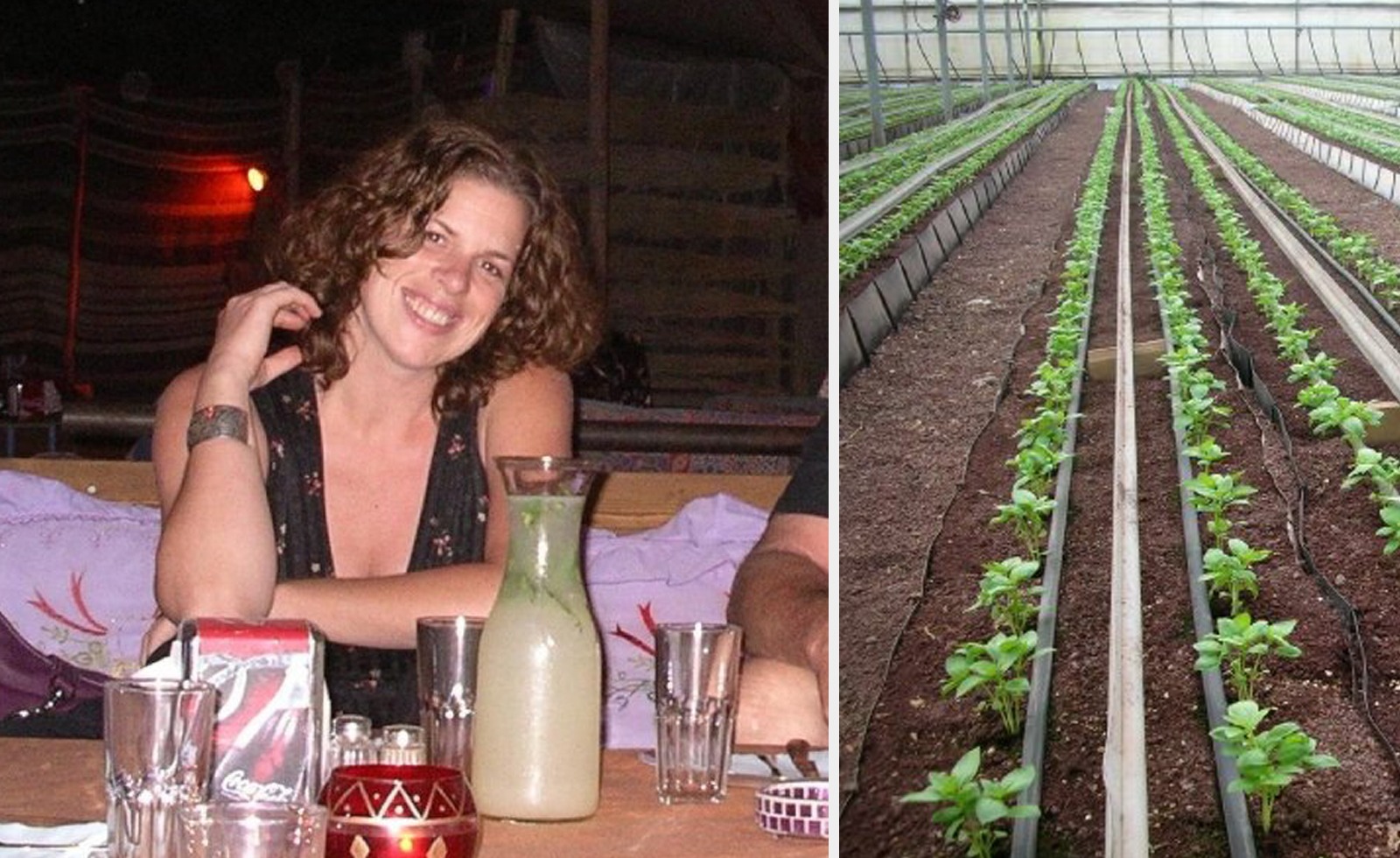 As I ate the phenomenal sabich, a powerful new business side of me emerged, and I began to think and plan. Smarts was the leverage I always had over him, as his chauvinism led him to underestimate the power of women. As I ate that sabich I subconsciously arranged and planned my freedom, my power.
Sometimes memories get clearer with time. This memory is one of those. I used to remember simply how good the sabich was and how awful things were with this partner. As the memory crystalized I now see how that particular sabich changed the course of my life.
The short version of how the story unfolded from there is that there was a consensus among my Israeli and Dutch suppliers that despite the Strander's crucial contributions at the onset of the business venture, his contributions had become minimal at best. It was clear to everyone involved that he had to go, and I made that happen. It was not easy emotionally, but I did it – exactly how is story for another time. The power of a sabich is the most important detail of this story.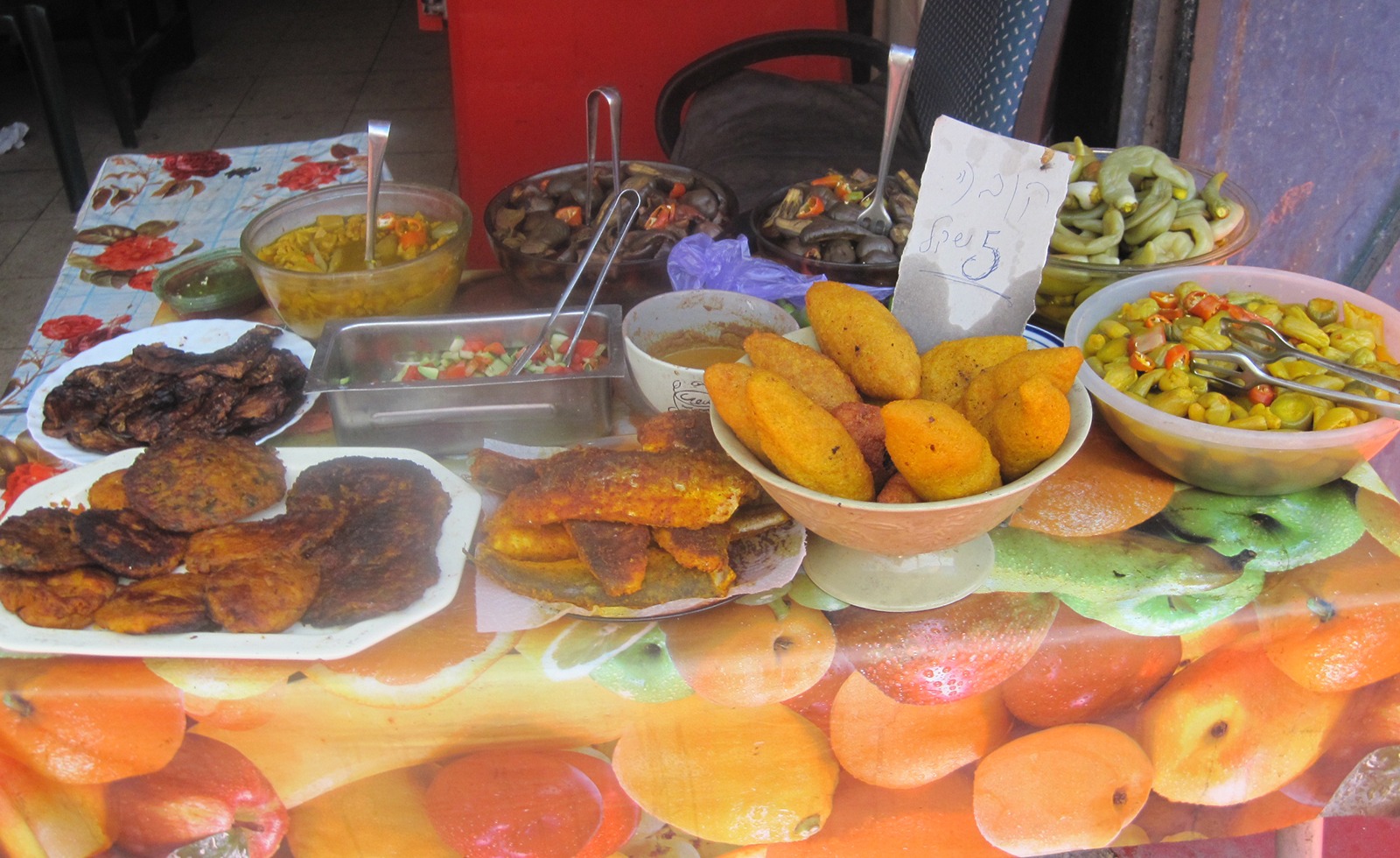 I continued my work in Israeli agriculture for many years after, traveling there at least 7-8 times a year. I even spent 3 months living in Tel Aviv with my dog. I have since eaten many other sabich sandwiches in various parts of the country. All were good and yet none were as memorable as the first.
Cauliflower Sabich
Serves 6
A sabich (pronounced "sa-beech") is an Israeli street food. It's basically a sandwich, but there are a wide berth of ideas on what should be in it or even how it should be eaten. The word Sabich comes from the Arabic word for morning, and most of the traditional ingredients are typical of an Iraqi breakfast. Eating it as a sandwich was thought to have originated as a Shabbat morning meal for Iraqi Jews. Potatoes, fried eggplant, hamim (cholent egg), Israeli salad, and pickles are traditionally stuffed inside a warm pita along with hummus and tahini sauce and topped with Amba – a spicy pickled mango sauce.
My version is not a traditionalist version, but it is close. I add more flavor to my hummus and spice up the tahini sauce. Like most Israeli and Middle Eastern dishes, mine brims with fresh herbs. I love it with grilled eggplant, but I skip it in the winter. I have been known to eat a deconstructed salad version of this as well, usually with black lentils. It's good! Im still perfecting my Amba sauce but my Mango Turmeric Tabasco is a spicy and sour alternative that I enjoy atop this.
Picking up the store made versions of each of these make for a simple and tasty picnic! I always buy pita bread when I want to stuff it, my home versions often don't open nicely.
Ingredients
Pita Bread
Lettuce or arugula
Hummus
Roasted cauliflower
Grilled eggplant (optional)
Israeli Salad
Pickles
Hardboiled eggs
Zhug Tahini Sauce
Amba sauce or Mango Turmeric Tabasco
Directions
How you build your sabich is important as you don't want it to be too messy. The order helps keep it neat, so my suggestion is to follow these directions or at least the concept of building for neatness.
Heat the pita bread in your oven or on the stove top. Microwaves work, too. Cut about an inch off one of the sides to create a wide enough opening to stuff. Gently pry open the sides to create the pocket.
Place some lettuce or arugula on the bottom, followed by some hummus. Next add roasted cauliflower and grilled eggplant, if you are using it. Next, add a little more hummus followed by some Israeli salad, pickles, and eggs. Top with tahini and Amba sauce.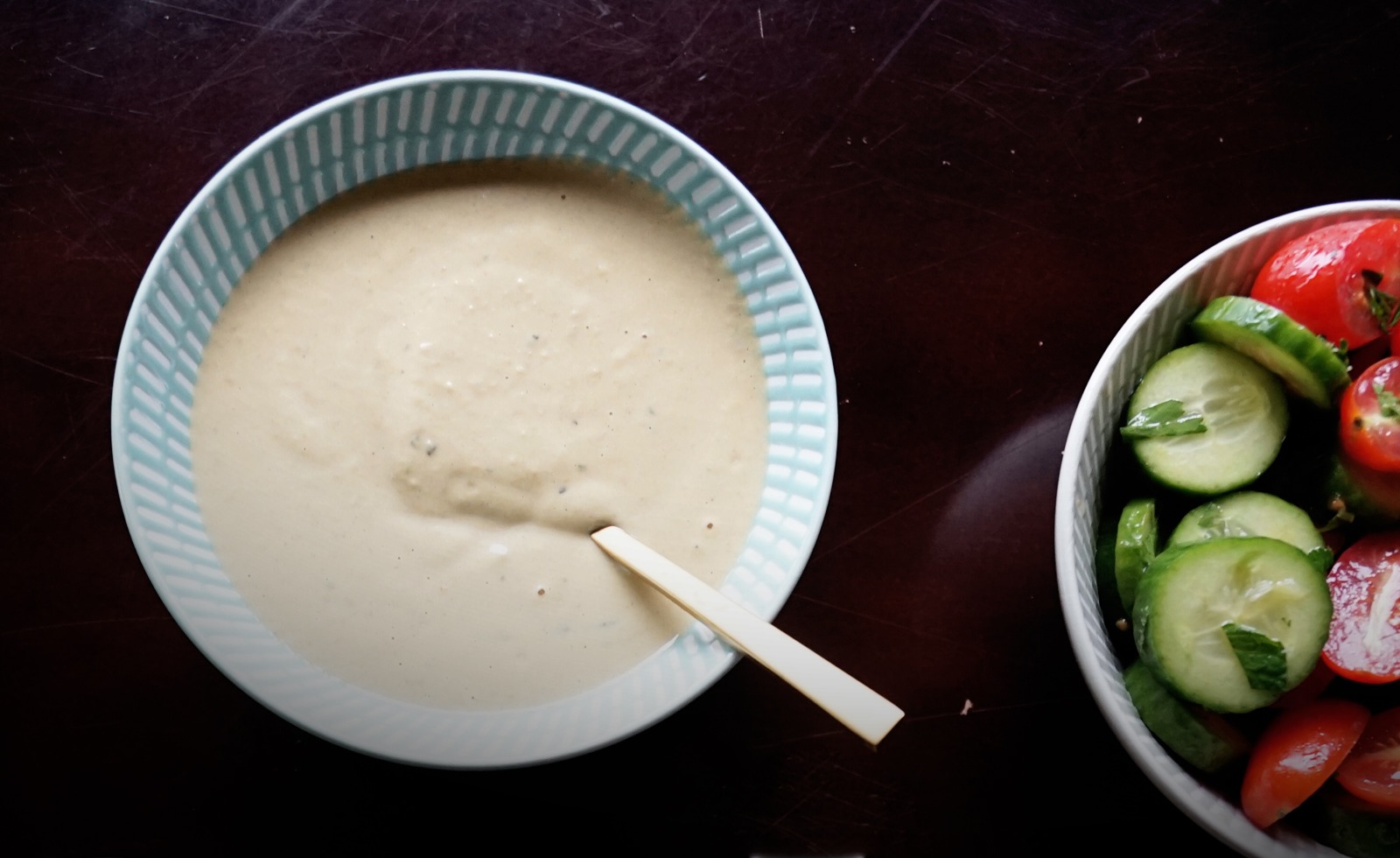 Turmeric Hummus
Makes 2 cups
I love the earthy addition of fresh turmeric to hummus; just a little bit will barely change the color but will give a slight early flavor that I enjoy. Add a little baking soda to your chickpeas while you cook them to help soften them.
Ingredients
1 ½ cup cooked chickpeas (plus 1/2 cup reserved chickpea cooking liquid)
3 cloves garlic, roughly chopped
1 teaspoon lemon zest
1/3 cup lemon juice
2 teaspoons freshly grated turmeric
1 ½ teaspoons salt
¾ cup tahini
1 cup ice cold water
Directions
In the bowl of a food processor, combine the chickpeas, chickpeas liquid, garlic, zest, lemon juice, turmeric, salt, and tahini. Puree until the mixture is a thick and chunky paste-like consistency. Add the ice water and process for a good 4 minutes until the mixture gets totally smooth. It should also become a whiter color. The sauce will seem thin but will thicken up after it sits. Let the hummus rest for a few hours before using or serving.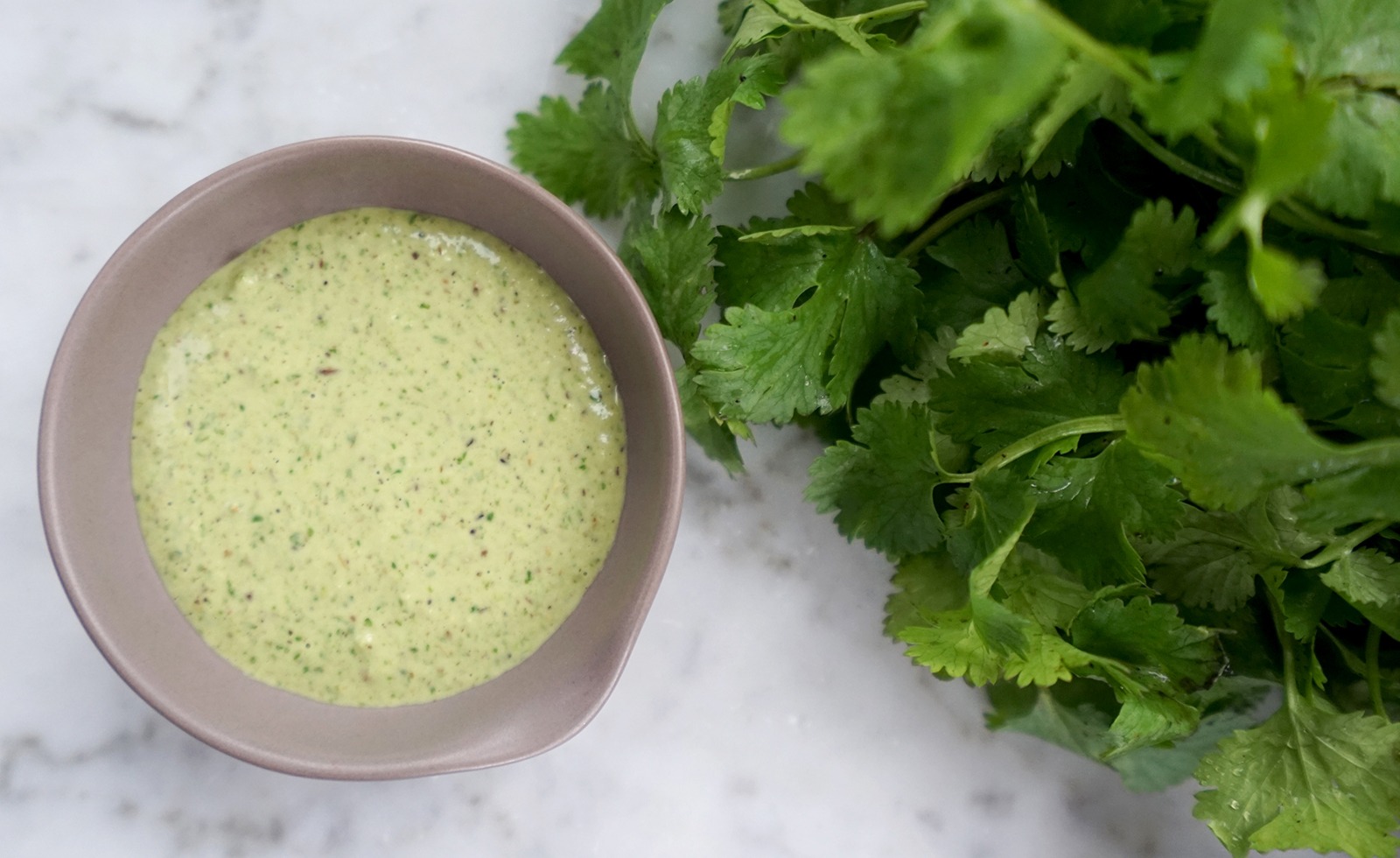 Spicy Yemini Zhug Tahini Sauce
Makes 2 cups
I will never forget the day I discovered Yemini Zhug sauce at the Carmel Market in Tel Aviv. It was and still is one of my favorite sauces, and it turns out it is easy to make. To make this tahini sauce, I simply mix my Zhug sauce with tahini.
Ingredients
½ teaspoon coriander seeds
1 teaspoon black peppercorns
Seeds of 2 cardamom pods, pods discarded
1 teaspoon cumin seeds
½ teaspoon caraway seeds
1 ½ teaspoons salt
3 gloves garlic, roughly chopped
1 ½ cups packed cilantro leaves and stems, use only the stems at the top by the leaves
2 serrano chilies, roughly chopped seeds and all
1 teaspoon lemon zest
1 tablespoon lemon juice
½ cup olive oil
¾ cup tahini
Directions
Toast the spices in a small thin bottom skillet or pan over medium-low heat. Shake the pan often to prevent burning while you toast them for a few minutes.
Add all of the remaining ingredients, except the tahini, into a blender along with the toasted spices. Blend until totally smooth. Add the tahini and continue to blend for about 3 minutes.
Israeli Salad
Makes about 3 cups
The secret to this salad is in the uniformly chopped ingredients. Regardless of whether you are chopping small or large pieces, make sure everything is cut into the same size. Typically these salads are heavy on parsley. I also like to add mint.
Ingredients
4 small Persian cucumbers
1 cup cherry tomatoes
½ cup loosely packed parsley leaves
¼ cup roughly chopped mint leaves
3 tablespoons lemon juice
3 tablespoons olive oil
¼ teaspoon sumac
1 teaspoon salt
Directions
Chop the cucumbers and tomatoes uniformly – either big, medium, or small. In a medium mixing bowl, toss them together with the herbs, lemon juice, and olive oil, and mix well. Season with the sumac and salt, and gently mix.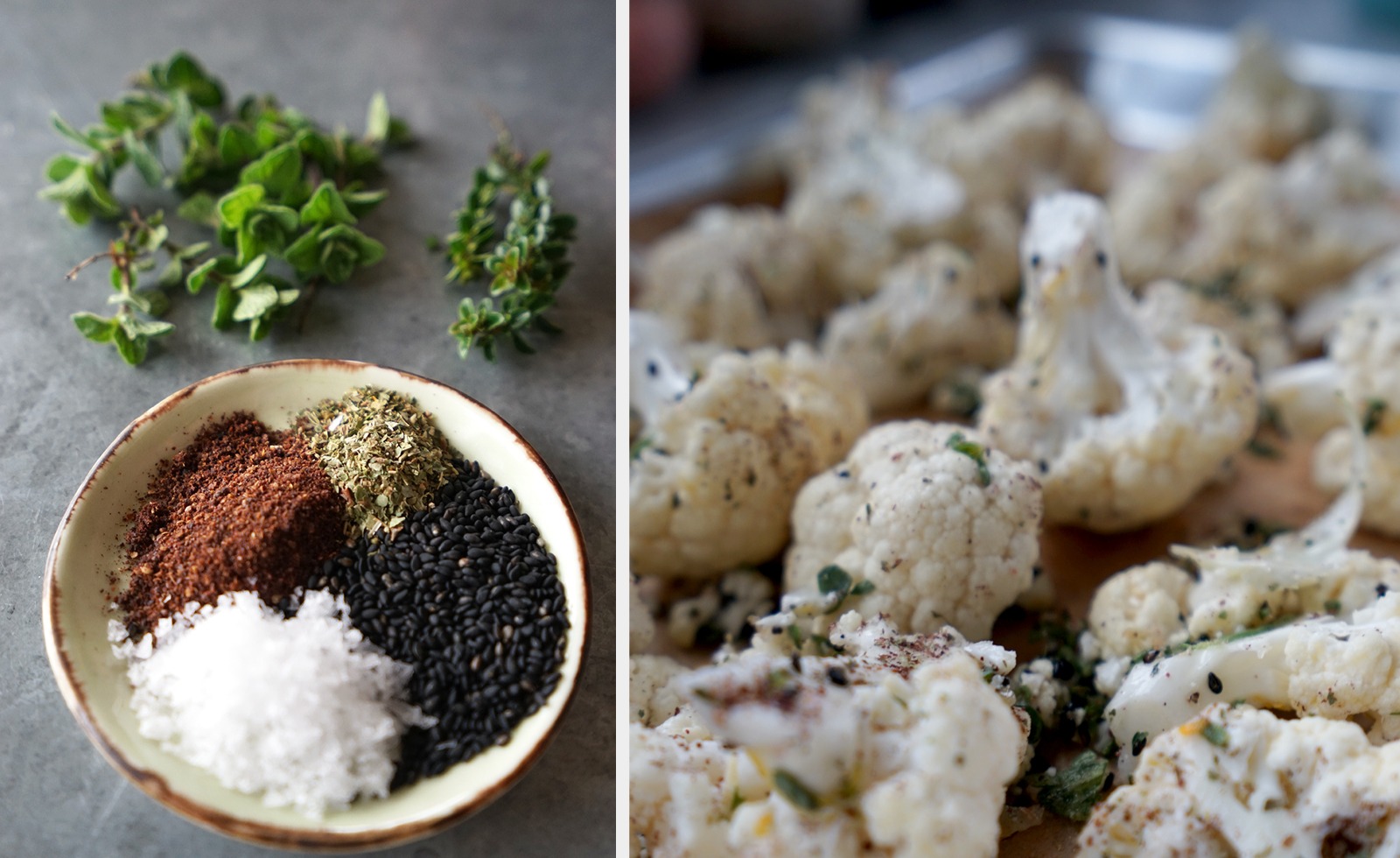 Sumac & Zaatar Roasted Cauliflower
Makes 3 cups
Sumac is one of my favorite spices, and it tastes great in roasted cauliflower. It's also an essential ingredient to the spice mixture Zaatar, which is also an herb that tastes similar to oregano. To get the crispy cauliflower we want for a sabich, it's important to roast the cauliflower at high heat for a short period of time, so be careful not to cut the florets too big as the center of each floret will be undercooked.
Ingredients
1 teaspoon sumac
1 teaspoon salt
1 tablespoon oregano or zaatar leaves
1 teaspoon thyme leaves
1 teaspoon dried oregano
1 tablespoon sesame seeds, black or white
3 cups cauliflower florets, a tad bigger than bite size
Juice of 1 lemon
2 teaspoons lemon zest
2 tablespoons olive oil
Directions
Pre-heat oven to 425°F.
Mix together the sumac, salt, herbs, and sesame seeds in a small bowl. In another medium mixing bowl, combine and toss together the cauliflower, lemon, zest, and oil. Add the sumac spices and mix well. Place on a baking sheet (lined with parchment paper) and bake for about 20 minutes until the cauliflower florets are crisp and caramelized on the outsides.