Winter Savory Salt
By nature, Winter Savory is a salty tasting herb with a light pine-like flavor profile. Not surprisingly then, it makes for the perfect winter herb salt. Savory can be a confusing herb because technically there are several types. The most well-known are Summer & Winter varietals, and they are most abundant in their namesake season. I think the names are spot-on as I feel they are most useful in those seasons. Both taste salty yet don't actually contain salt.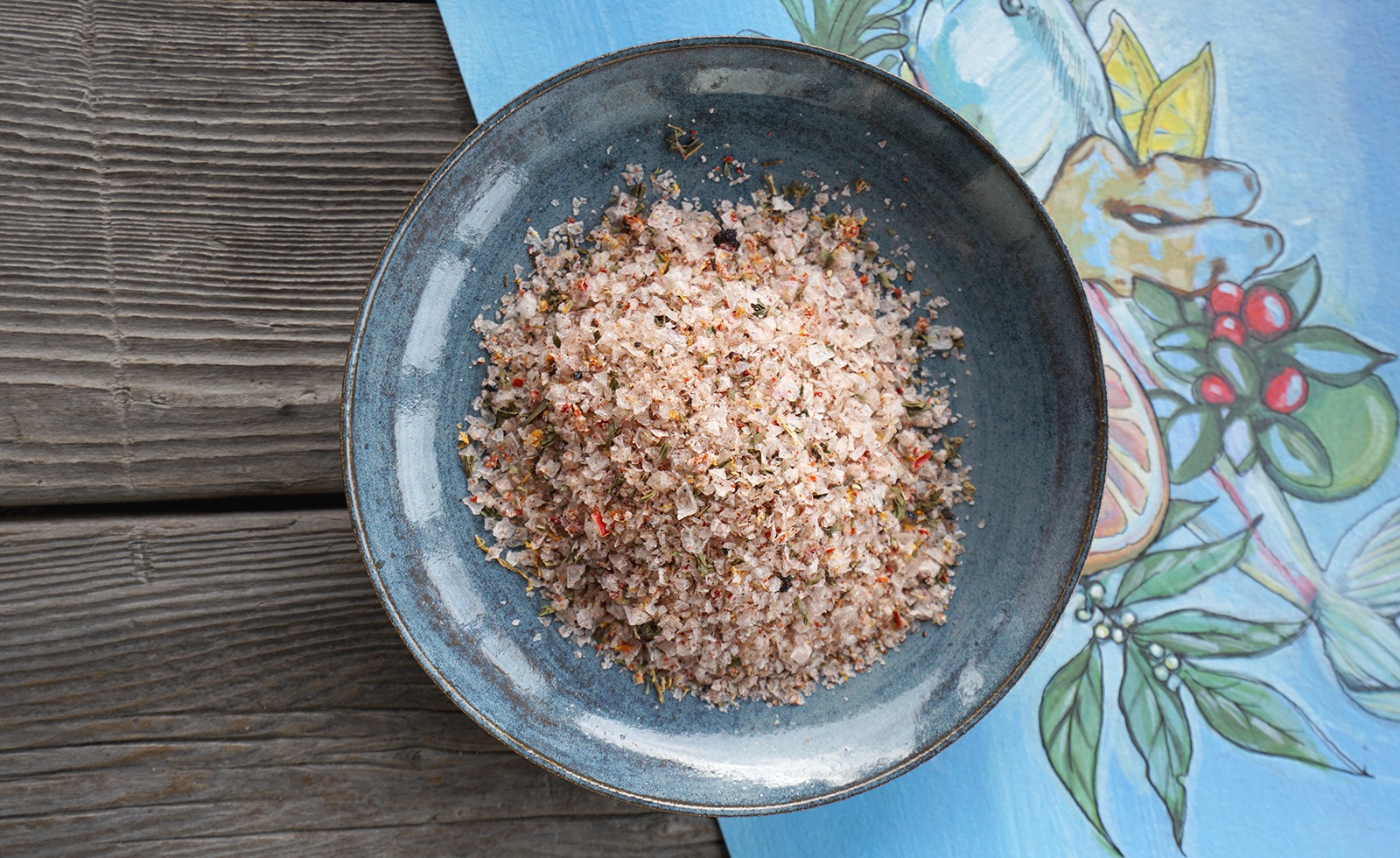 These two types of savory are actually different types of herbs that are seemingly similar yet wildly different. Both are members of the mint family and are native to the Mediterranean. Summer Savory is a light and delicate annual plant with a tame, sweet peppercorn flavor. Winter Savory is a hearty perennial with a bold earthy-peppery and slight pine taste. Notes of marjoram, thyme, and mint are reminiscent in both varietals; yet the overall flavor of each tastes drastically different. I have a soft spot for Winter Savory and find it useful in my winter cooking. For me, it is the herb most people don't know about but should.
Winter Savory, also known as Mountain Savory, is quite common in Italian and French kitchens, but most US grocery stores usually sell it as simply Savory, bypassing the nuance of varietals altogether. The dried variety is made from Summer Savory, and it is quite subtle in fresh or dried forms. Winter savory is harder to come by. It's more aromatic and sharper than most herbs, and it can withstand long and hot cook times without losing much flavor.
Throughout history, Savory has been better known for its medicinal properties, but both types of Savory were highly coveted by the Romans as a salt substitute. I find the winter version highly appealing for this same reason, along with the unique winter pine flavor it imparts to foods. Its dual peppery and salty flavor enhances all kinds of seasoning mixes, including Herbs de Provence. It's undoubtedly a useful ingredient in low and no salt diets. I am by no means salt-phobic, but I am happy to use less salt and add more flavor by using it. My winter soups, stews, breads, and salads are all improved by its use. Mixing it with salt and making a winter herb seasoning is a no-brainer for me.
At this time of year, it's fairly easy to find Winter Savory in clamshells in the produce department by brands like Jacobs Farm, although they are typically marked simply as Savory.
Winter Salt
Makes about 2 cups
This is a supremely salty tasting salt, so use it sparingly or excessively depending on your appetite for saltiness. It's heavy on the Winter Savory, a naturally "salty tasting" herb, so it just tastes a bit saltier than some of my other salts. This works well with some of winter's more potent items, like citrus and chicories. It's robust with an overall pine-like flavor profile that resembles a mixture of marjoram, mint, and thyme, but it's way more peppery. Its slightly bitter flavor also makes it perfect for winter ingredients and cooking; winter ingredients tend to perk up when paired with bitter as well as peppery notes.
A flurry of zests lend more bitter and bright notes to the Winter Salt. The chili pepper add to the salt's brightness. In my mind, these notes also signal the brightness of increasing sunlight characteristic of this time of year and the brightness that begins to appear in seasonal foods as we move into January & February. In particular, citrus adds brightness to winter. Sumac's lemony disposition and Aleppo's mild heat both brighten and expand the palette. Tasmanian pepper berries round out the flavor with a light juniper-fennel edge that pairs with almost anything. Overall, this salt can remind us that winter is not just dark, cold, and dreary; a lot of life happens in winter.
Ingredients
½ cup finely chopped Winter Savory leaves
1 tablespoon finely chopped thyme leaves
1 tablespoon finely chopped rosemary leaves
1 tablespoon orange zest
1 tablespoon lemon zest
2 teaspoons grapefruit zest
1 tablespoon finely chopped nasturtium petals
1 red chili pepper, deseeded and super finely chopped
2 teaspoons Aleppo pepper
1 teaspoon finely cracked white pepper
1 teaspoon sumac
1 teaspoon finely cracked Tasmanian pepper-berries
10 drops Meyer Lemon bitters
1 cup Maldon flake salt
Directions
Pre-heat oven to 200°F.
Mix together all fresh herbs, zests, flower petals, chili, and spices with the 10 drops of Meyer lemon bitters. Gently fold in the salt and mix. Use your fingers to make sure the herbs and spices are well incorporated into the salt. Place the salt/herb mix on a baking sheet covered with parchment paper so that it's spread out evenly across the entire sheet and flat. Place in the oven and bake for about 15-20 minutes or until the herbs seem to have lost most moisture. They should not be totally dried out and still look greenish. Store in a small bowl on your counter for a few weeks.
Winter Savory Focaccia
Makes 2 9" x 12" sheets
I tend to forget how much I love focaccia and also how easy it is to make. Winter Savory mixed with rosemary make for a rich salty seeming and wintery feeling topper. This recipe is super forgiving, even your kids can make it.
Ingredients
1 package active dry yeast (2 ¼ teaspoons)
1 ½ cup lukewarm water
1 teaspoon sugar
4 cups all-purpose flour
1 teaspoon salt or Winter Savory Salt (1 reserved for the top)
2 tablespoons extra-virgin olive oil (plus a little more)
1 tablespoon chopped fine rosemary leaves
1 tablespoon chopped fine Winter Savory leaves
Extra flour for kneading
Directions
Gently whisk together the yeast, lukewarm water, and sugar together in a small bowl. Let the mixture stand until frothy, about 7 minutes. Mix together the flour and salt in a large mixing bowl. Add yeast mixture and stir until dough is well mixed. Add olive oil and again mix well. Turn onto a lightly floured surface and knead about 7 minutes, sprinkling more flour as needed if dough is too sticky. You want the dough to be smooth and elastic. Place dough in a lightly oiled bowl, dampen a kitchen towel in warm water and use the towel to cover the bowl. Let the dough rise until it doubles in size, usually about 1½ hours.
Punch the dough down and again turn it onto a lightly floured surface. Divide dough into two sections for rolling. Grease two medium baking trays. Roll dough out until it is about ¾ inch thick and set in 2 9" x 12" baking pans. Cover with the warm kitchen towels, and let it rise again for about an hour. Sprinkle salt, Winter Savory, and rosemary over the tops and with a few oiled fingers. Push little indentations about ½ inch deep and about one and a half inches apart all over focaccia. Place pans in a 450°F oven that has been pre-heated for at least an hour. Bake for about 10-15 minutes or until golden brown. I use my pizza steel in the oven when I make these. Take out of oven and cool.
Citrus Radicchio Salad with Winter Savory Citrus Dressing
Serves 4-6
As you probably know, I am a bit obsessed with winter chicory. My last blog post Rosemary & Chicory and my story featured in Edible Marin and Wine Country a few years back- Hearty, Bold & Robust- Winter Chicories-give me away. My chicory obsession traces back to Al Di La Trattoria in Brooklyn, NY, where I had countless winter meals that utilized this bitter green. Anna Klinger is one of my favorite chefs (and people); during my 12 years living in Brooklyn, Al Di La Vino was my jam. During my many solo meals there, I met some of the most amazing people tending bar. There, I also was known to consume lots of wine with co-workers after long and grueling hours selling organic produce to the nation. In the main dining room I would have romantic dates, celebrate special events with family, and entertain foreign work guests. But it was Anna's winter orange salad that I looked forward to most. These days I load mine up with chicory, and I think she'd be proud. A bevy of winter citrus is key. Anna uses blood oranges, Cara Caras, and navels paired with red onion, shaved fennel, mint, and pomegranate seeds. This is a salad that I whip up at least once a week in the winter. It uses whatever I have on hand, but I always incorporate local chicory. The salad is exceptionally easy and quick to put together.
Ingredients
1-2 cups bite-size torn chicory leaves
2-3 oranges, preferably 1 blood orange, 1 Cara Cara and 1 navel, sliced and peeled* (with ends reserved)
¼ cup mint leaves, torn
¼ small red onion, peeled, halved, and sliced thin
¼ cup pomegranate seeds
½ fennel bulb, shaved thin (optional)
½ teaspoon winter salt or Maldon salt
1 tablespoon extra-virgin olive oil
Directions
Arrange the chicory leaves on a large platter or bowl-plate. Arrange the citrus slices all over the top and sprinkle with mint leaves, red onion, pomegranate seeds, and fennel (if you are using). Sprinkle the salt evenly on top of the salad. Squeeze the excess juice from the ends of the citrus all over the salad and drizzle olive oil on top. Toss gently before serving.
*A Note on Slicing and Peeling Citrus
I suppose carving the peel and removing the pith from the entire citrus fruit is necessary in order to make fancy citrus segments. But I don't totally understand the need for those; I find flat citrus slices to be more versatile, much easier, and way prettier. Contrary to what all the How to Cut Citrus Google searches might display, you need not have ninja master knife skills to perfect the flat, peel-free citrus slices. I like to make it even easier and reserve the ends and utilize the juice for dressing. Grapefruit, which tends to have a bitter pith, is probably the one citrus fruit I believe needs to be segmented in most recipes, but all oranges and tangerines have much less pith which barely tastes bitter.