Untethered & Connected In My Kitchen
I love celebrating my birthday. Many friends and loved ones would claim that I enjoy celebrating it a little too much. But I ask? "Who among us doesn't celebrate their birthdays for the entire month?"  Maybe they don't realize that the month-long celebration for me is actually more intricate and involves consciously and subconsciously setting intentions for growth and change in the year that lies ahead. So, my birthdays involve a great deal of self-reflection and self-awareness. That's what I celebrate- that I have grown and that it's my choice to decide where I go and grow next.
So, in my excessive celebration defense, a month-long birthday celebration is not an arrogant display beckoning the world to shower me with attention – despite the fact that I do like attention. Birthdays provide a moment for all of us to stop and say, "I was born. I have lived, and I should celebrate that great feat."
Life isn't easy for any of us. To stop once a year and celebrate all I am and who I have become seems like a totally reasonable thing to do. My crazy birthday party menus and over-the-top herbal ideas are just fanfare. I do that part every day while seeking joy in my life.
Each year my thoughts huddle around what my spirit seems to need. Last year, I mostly focused on cultivating self-compassion. With a freshly broken foot and a birthday party that consisted of only my lockdown trio (Kianna, Inca and I), self-compassion felt very necessary.
Last year's focus on self-compassion didn't just help heal my foot, but it propelled a deep dive into my own softness- what ended up being the final stages of a several-year healing process. Fresh out of California, while I drove through Arizona en route to my new life, I realized I felt free and light. Last year's softness and the tending to all my broken parts (literally and metaphorically) allowed my deeply injured soul to finally heal. I felt ready for what was to come and also aware that it wasn't going to be easy. After all, according to my astrologer, Missouri isn't on my power lines.
What came next was hard and not just hard because I was in Missouri. I felt a strange loneliness here for the first several months that was rather unbearable. Admittedly, I tried to quell that feeling rather poorly. Although I was connecting deeply and richly with my loved ones, I was feeling excruciatingly uncomfortable in neediness and trying to untether my soul. (The Untethered Soul is a great book, by the way)
After my Missouri move, it took me a long time to regain my comfort in being alone. I have spent a good portion of my life living alone, and I have so often reveled in being alone – traveling alone, eating alone in restaurants, living alone and so on. But my early days here in Blue Eye disconnected me from the part of me which could always feel joyfully alone and independent. Content in my aloneness.
I was really flailing, searching desperately for someone to tether myself to. But I don't tether easily, even when I want to. As the new kitchen became ready after the renovations, I eventually discovered that I just need a place to exercise my spirit. It's in my kitchen creating I feel most alive; creating, dreaming and sharing- really connected to myself as well as to others. The refreshing energy of spring and the cycle of birthday reflections helped remind me this, helped reconnect me to myself.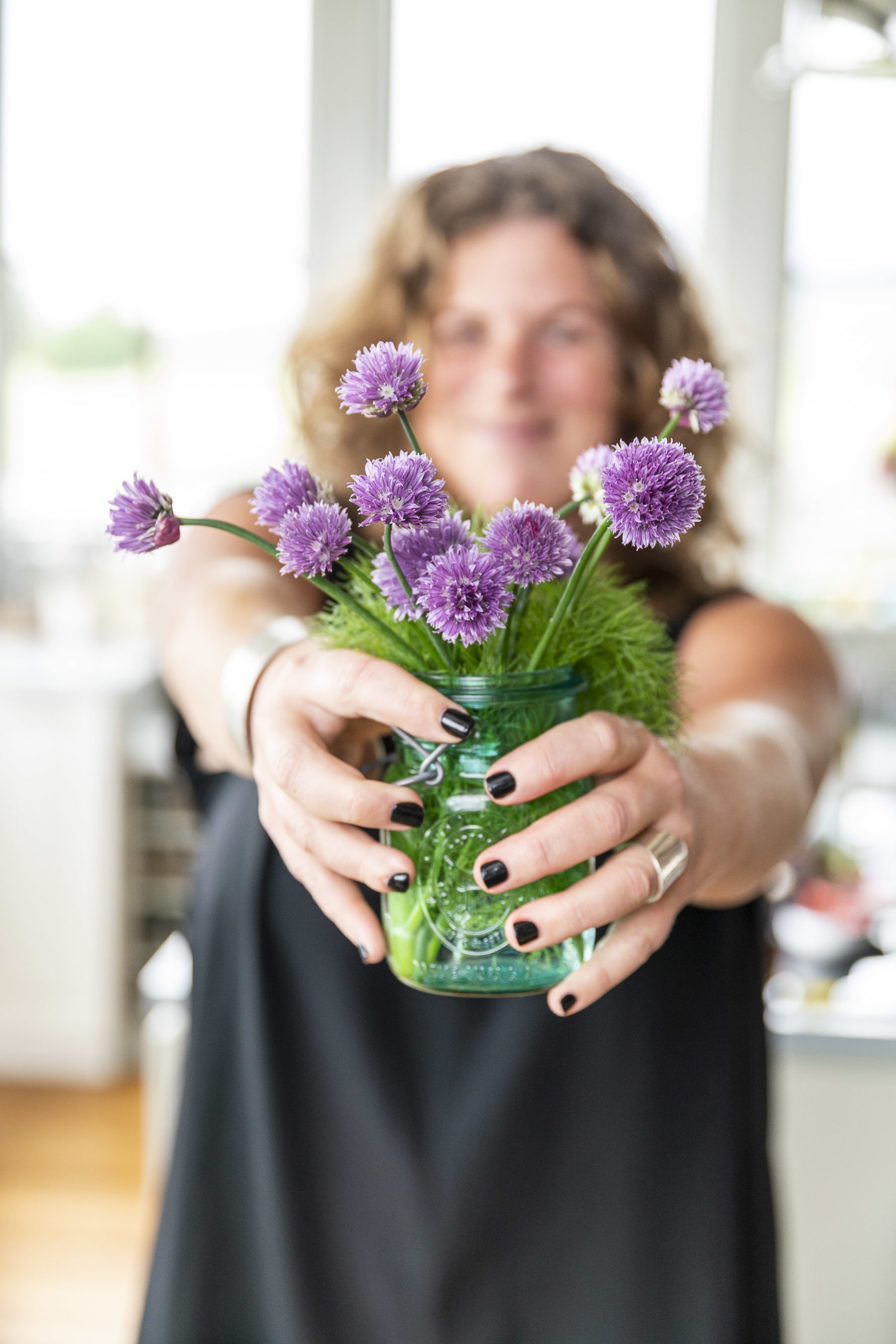 This year's reflections have drawn a paradox – encouraging me to connect more authentically with others while learning to untether myself from needing others to fulfill me. The gift that keeps on giving is that I get to use my amazing new kitchen to do this.
My authentic self has never needed to be tethered. I've been independent since I was little. My father was probably the only person I was ever truly tethered to and, when he died, I felt that  loss, I felt the connection dissipate with his last breaths.  That kind of connection is irreplaceable, which was and still is an incredibly sad thing to realize.
Loneliness has been the catalyst for my craving to tether, and it's been a powerful force for most my life. These past few lonely months, I have really started to learn about my own loneliness. I have often had hunches about what it is and where it comes from.,  My mind has often told me that I'm lonely because I am weird and don't fit in. This is, in part, true. I am and always have been a unique character. Starting with my bizarre childhood as a transplant in Central America, to my powerful career as a woman in produce, to the fact that I travel the world by myself, and, of course, that I have no husband or kids.  These experiences are not the norm in the USA or, really, anywhere else in the world.
I am starting to understand that I can feel lonely and secure in my aloneness simultaneously and, more importantly, that it is okay to feel both.  I just have to continue to nourish my authentic self as best as I know how. Not having a kitchen for a few months was a gigantic hinderance to my feeling happy and secure in my aloneness. That is my truth. I need my space. We all do, and I don't think people should feel guilty about that.
My kitchen is a place where I can be alone, creating my art and magic that feeds and fuels me, or with loved ones, sharing my creativity and my love. I feel playful, joyous and untethered when I am in the kitchen creating.
I have immense gratitude for my brother Olof who made this dream kitchen a reality. I am not only able to deepen my relationship with him and his family because I am here and we are both soft and open, but I can cook for him and his family and share the most beautiful part of my soul.
For my birthday, I give you five beautiful recipes from my heart. All shared with people I love, all created while I was joyously alone, untethered and connected in my new Missouri kitchen!
I am also offering you a sneak peak at this years birthday menu, recipes will be posted soon after the event so keep an eye out! Happy birthday to me!
My Fresh Perspective
Makes 1 cocktail
This cocktail recipe I concocted for the first guests of the kitchen. It reminds me that, even in Missouri where I may not be able to get everything I want, I can get my hands on enough to make something seasonal and tasty. I start with a grassy corn vodka to give a fresh vibe and then add a fresh raspberry honey syrup with some tangy champagne vinegar, which gives a tangy sweet linger to the drink. Fresh rosemary provides an earthy sultriness, as well as an edge. Fresh lemon and lemon peel give a pop of brightness that every spring drink needs. Dolin rouge adds a little layer of weirdness, which is my signature style, and Burdock bitters (made by Tara Heffernan and Laura Sanfilippo, co-founders of Duke's Spirited Cocktails) completes the cocktail with a little 'dirty and rooty' black magic! I garnish it with a dried lemon wheel from my birthday trip to Istanbul a few years back.
Ingredients
2 ounces vodka (I used fresh corn vodka)
1½ ounces fresh raspberry honey syrup
Fresh Raspberry & Rosemary Honey Syrup
1 ounce lemon juice
½ ounce Dolin Rouge
A few splashes of burdock bitters
Dried citrus wheel
Rosemary leaves garnish
Directions
Combine all the ingredients, minus the citrus wheel, in a shaker filed with ice. Shake vigorously for about 30 seconds. Strain into a pretty little coup style glass and float a citrus wheel on top. I like to add a few tiny rosemary leaves on top just for extra prettiness.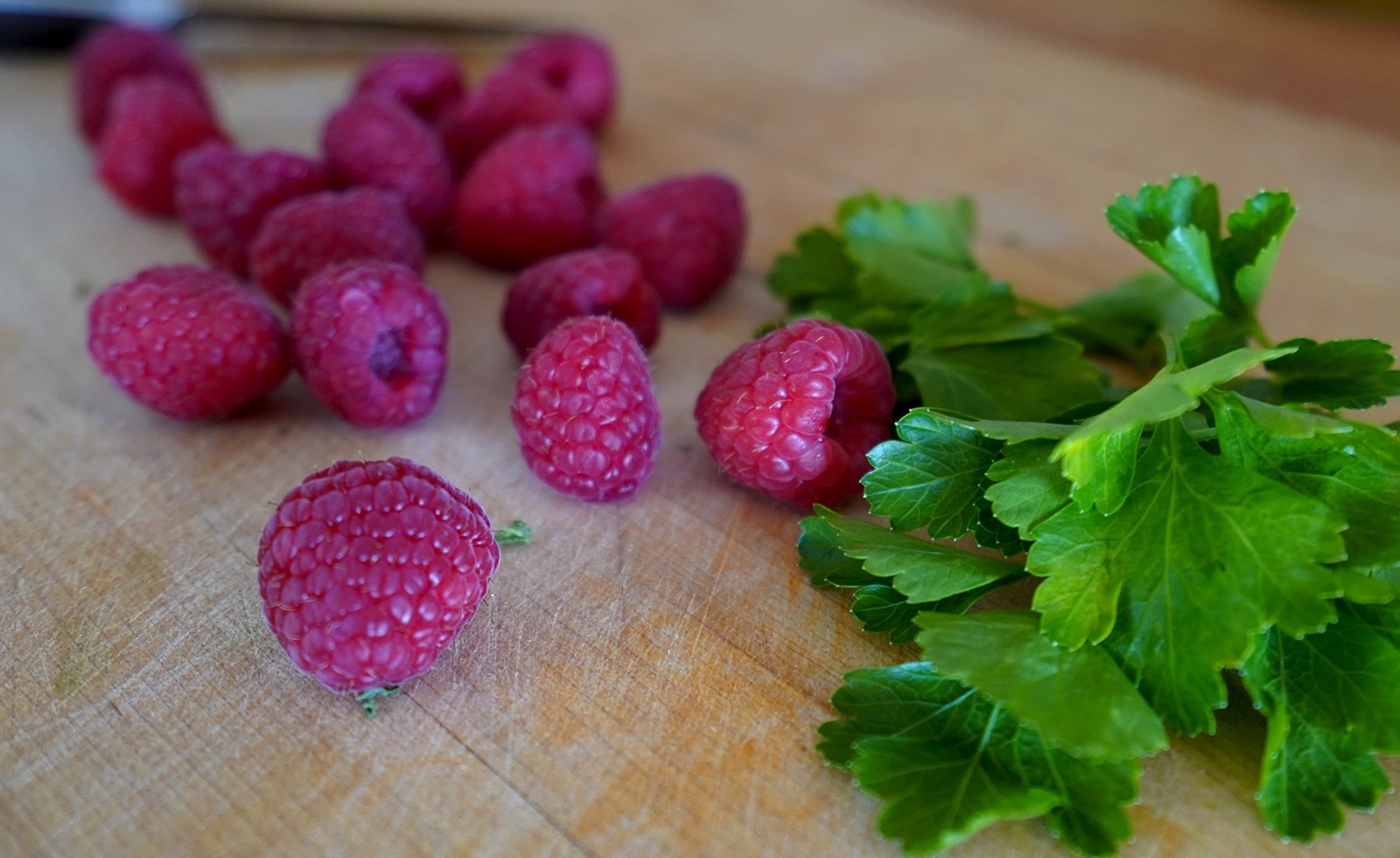 Fresh Raspberry & Rosemary Honey Syrup
Makes 2 cups
A fresh spring syrup that you can use on cocktails and mocktails. Honey syrups are one of my favorite syrups to make. They taste way more dynamic in comparison to a simple (sugar based) syrup. I use fresh parsley to give it a more springy grassy vibe, but the rosemary still shines.
Ingredients
½ cup honey
1 ½ cup water
3 teaspoons lemon zest
Handful of chopped parsley leaves
2 teaspoons rosemary leaves
Directions
Combine all of the ingredients in a small sauce pan and simmer on the stove for about 10 minutes. Allow to cool. Strain and chill.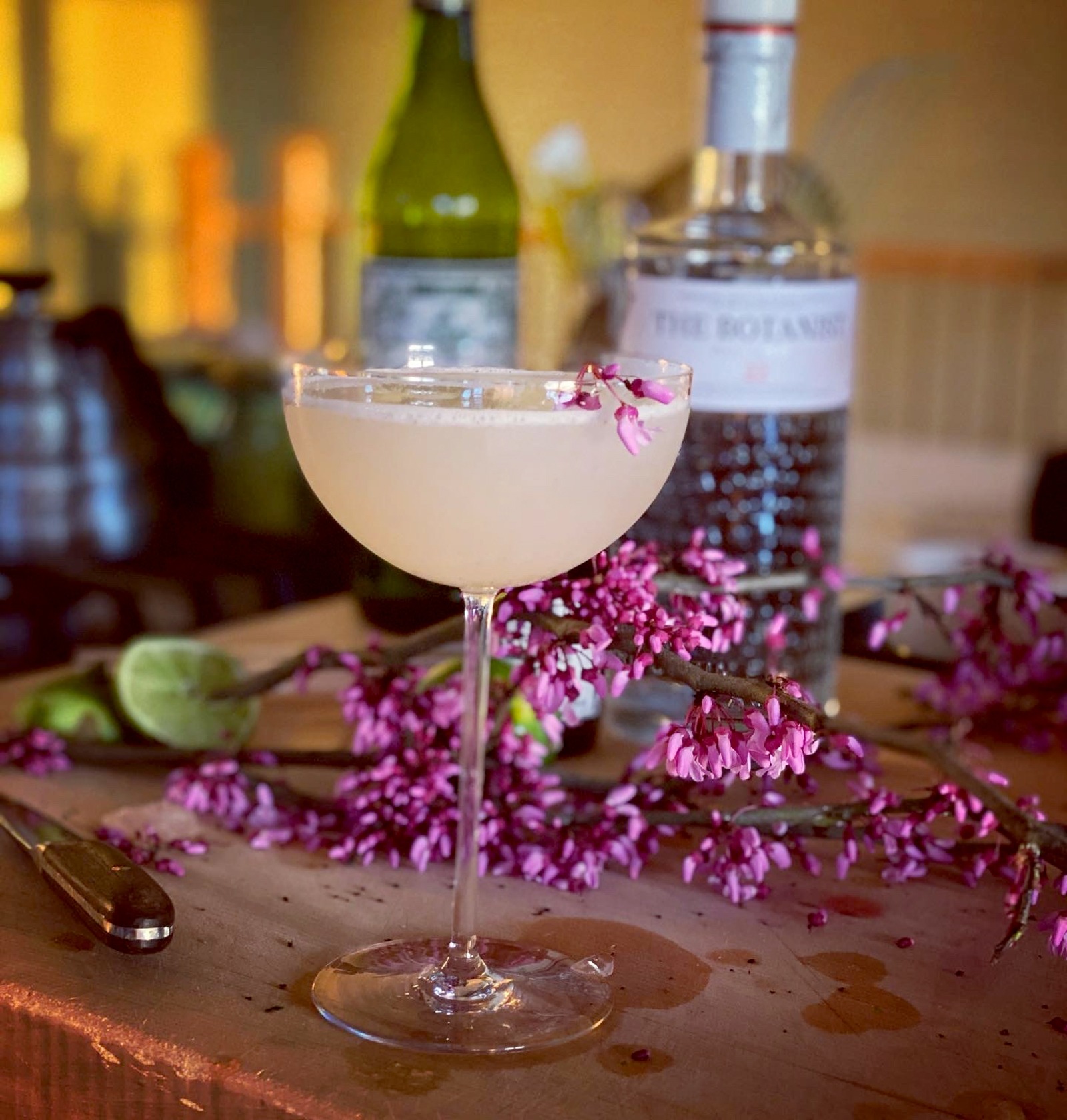 Missouri Redbud Gin Fizz
Makes 1 cocktail
This is not an herbal recipe, but it's close enough for me. The discovery of the redbud trees' beautiful vibrant pink, edible blossoms has been the highlight of my spring. Starved for the spring flowers and colors that I used to grow in my California spring garden, these little buds are providing great joy. They taste vegetal, a little bit like a sweet pea, and have a tinge of sour. They are one of my new favorite things.
Ingredients
1 egg white
2 teaspoons sugar
2 teaspoons lime zest
2 teaspoons redbud blossoms
1-ounce lime juice
2 ounces gin
Seltzer or club soda
Citrus bitters
Directions
Add the egg white to a small glass. Using a milk-frother, froth the egg white for about 45 seconds until it is super frothy. In the bottom of the shaker, pound together the sugar, lime zest, redbud blossoms until pulverized. Add the lime juice and pulverize for a few more seconds. Add the gin to the shaker and shake vigorously, about 20 seconds. Fill the shaker with ice and continue to shake vigorously for another 30 seconds. Double-strain into a little coup style glass and top with a little seltzer or club soda. Add a few drops of citrus bitters on top.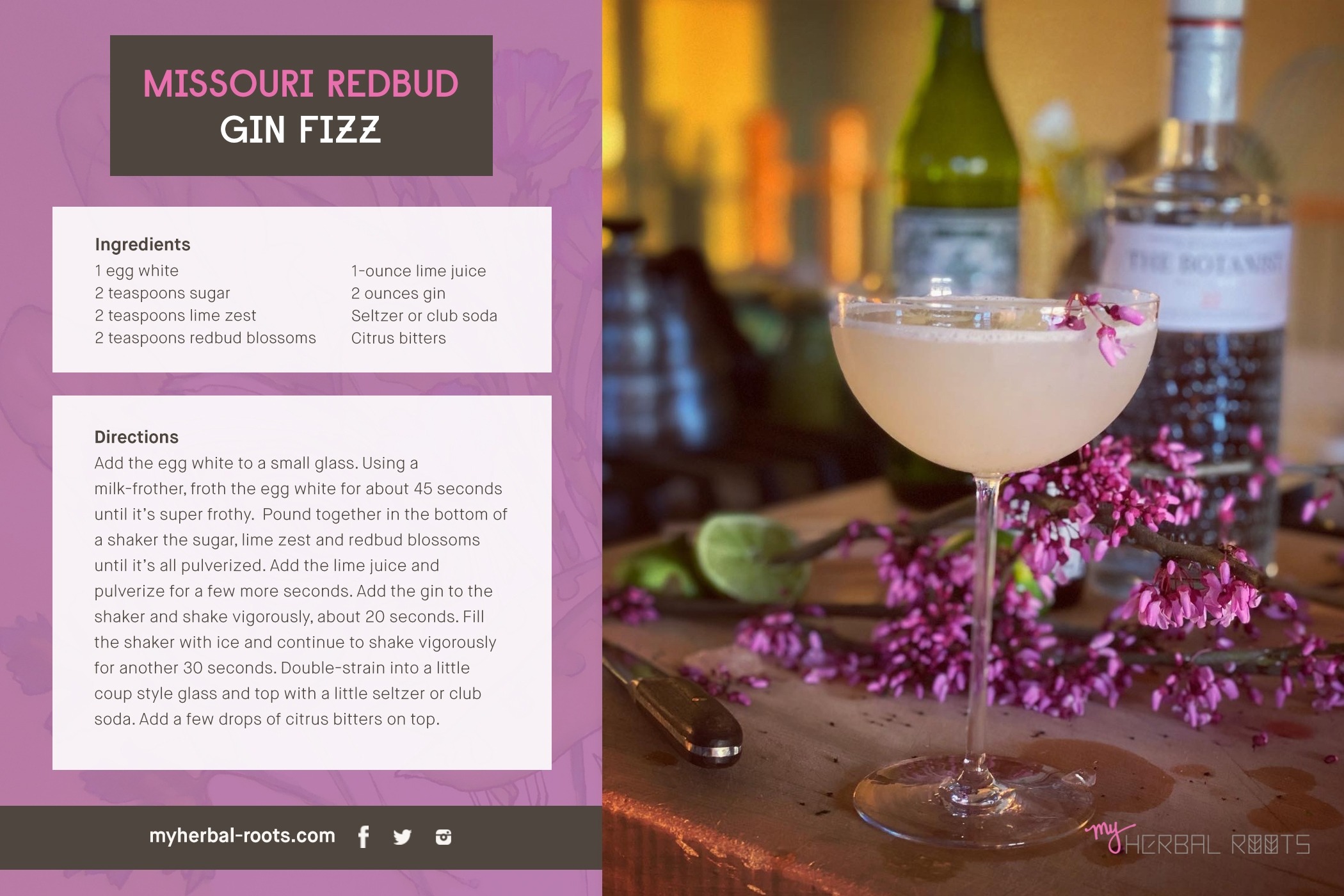 Missouri Redbud Spring Salt
Makes 2 cups
No better way to celebrate my Missouri spring than with an herb salt. The redbud tree not only gave me the color pop I wanted but its more savory flavor provides wonderful depth. I am using it on everything these days, and its vibrancy is like sprinkling lots of joy all over my kitchen concoctions.
Ingredients
¼ cup finely chopped parsley leaves
½ cup finely chopped mint leaves
2 teaspoons finely chopped yellow chilies
2 teaspoons finely chopped green chilies
2 teaspoons lemon zest
2 teaspoons blood orange zest
1 teaspoon finely cracked pink peppercorns
1 teaspoon finely cracked purple peppercorns (optional)
1 teaspoon sumac
2 teaspoons purple garlic powder
1 ½ cups Maldon flake salt
Directions
Pre-heat oven to 250°F.
Mix together all of the fresh herbs, chilies, zest and spice in a medium mixing bowl. Gently fold in the salt and mix. Use your fingers to make sure the herbs and spices are well incorporated into the salt. Place the salt/herb mix on a baking sheet covered with parchment paper so that it's spread out evenly across the entire sheet and flat. Place in the oven and bake for about 20-25 minutes or until the herbs seem have lost their moisture. They should not be dried out but still look greenish. Store in a glass jar for a few weeks and use on everything spring.
Filipino Crispy Skin Chicken Adobo
Serves 4
I make pretty incredible crispy skin chicken thighs. This version came about browsing through one of my food magazines at an article about Filipino Chicken Adobo, which is a chicken leg and thigh dish. The chicken is braised in basically a black pepper laden soy and vinegar sauce with bay leaves, which really intrigued me. The normal potency of bay leaves is quelled by the strength of the soy vinegar combo. My version takes that idea and makes crispy skin chicken magic out of it!
Ingredients
4 chicken thighs, skin on, bone in
2 teaspoons salt (I used my redbud salt)
3 tablespoons soy sauce or tamari
2 tablespoons champagne vinegar
1 tablespoon brown sugar
2 teaspoons freshly cracked black pepper
2 cloves garlic, finely chopped
2 teaspoons finely chopped green chilies
4 bay leaves
4 tablespoons butter, cubed
Directions
Pre-heat the oven to 425°F.
Sprinkle salt on both sides of the chicken thighs and place them skin side up in a small square baking dish. Whisk together the soy sauce, vinegar, brown sugar, pepper, garlic and chilies in a small microwavable bowl until all the sugar dissolves. Crumple up the bay leaves using your hands so as to release the oils. Add them to the bowl of sauce along with the butter. Microwave the sauce with the butter until the butter is about melted. Pour the sauce over the chicken making sure to place a bay leaf atop each chicken.
Place in the oven and cook for about 40 minutes or until the chicken is crispy on top and the chicken is cooked through.
I like to serve this with white rice and Snow Pea Slaw.
Snow Pea Slaw
Serves 8
I received a bunch of beautiful spring peas from Jacobs Farm Del Cabo last week and decided that this slaw, which is a version of an earlier slaw, would be the perfect spring side dish to my chicken. The key to using lots of fresh vegetables in a slaw is to cut them super thin (the culinary lingo is julienned, which basically means super thin and long). I gave this project to my nephew Ivin (#IvintheYouTubeStar) and he proved what I already knew… kids can be awesome at cutting if we teach them and give them a chance to learn!
Ingredients
1 cup chopped tatsoi or spinach leaves
1 cup shredded red cabbage
2 cups julienned snow peas
5 mini peppers (red, yellow and orange), deseeded and julienned cut into thin strips
1 large carrot, cut thin (julienned) into 3 ½ inch slices
1/3 cup matchstick style cut watermelon radishes
¼ cup mayonnaise
Juice of 1 lime
1 tablespoon sriracha
1 tablespoon black sesame seeds
Directions
Toss all the vegetables together in a big mixing bowl. In a small mixing bowl, whisk together the mayonnaise, lime juice and sriracha and mix into the salad well. Top with black sesame seeds.