My Epic Cake
I made a truly epic cake for New Year's Eve. I had originally thought the cake just accidentally happened, but I have since come to realize the cake was meant to be made. My hands and my spirit were meant to bring it to life for one epic moment in time. The cake was special, and it reminded me that I was, too.
This multilayered cake is kind of like a metaphor for the life I have lived so far feeding into the life I am yet to live – culminating in this particularly sweet past New Year's Eve.
It captures my reflections and desires for the year ahead – to live with authenticity, vulnerability, trust and passion. It also reminds me that failures are an essential part of success, as they were with this cake from the get-go. I thought my cake would be a certain way, but it had other plans.
As if hovering overhead, I witnessed myself encounter multiple failures: The cake fell. The frosting was originally way too sweet. A meringue burnout (aka a fire) occurred in my kitchen. There were no more blackberries at the store to make an epic chocolate drip idea come to life. All the while, I saw a non-plussed side of myself constantly emerge, allowing this cake to show me what it was supposed to be. Destiny? Fate? Or maybe just what happens when we roll with life, knowing it's just a cake.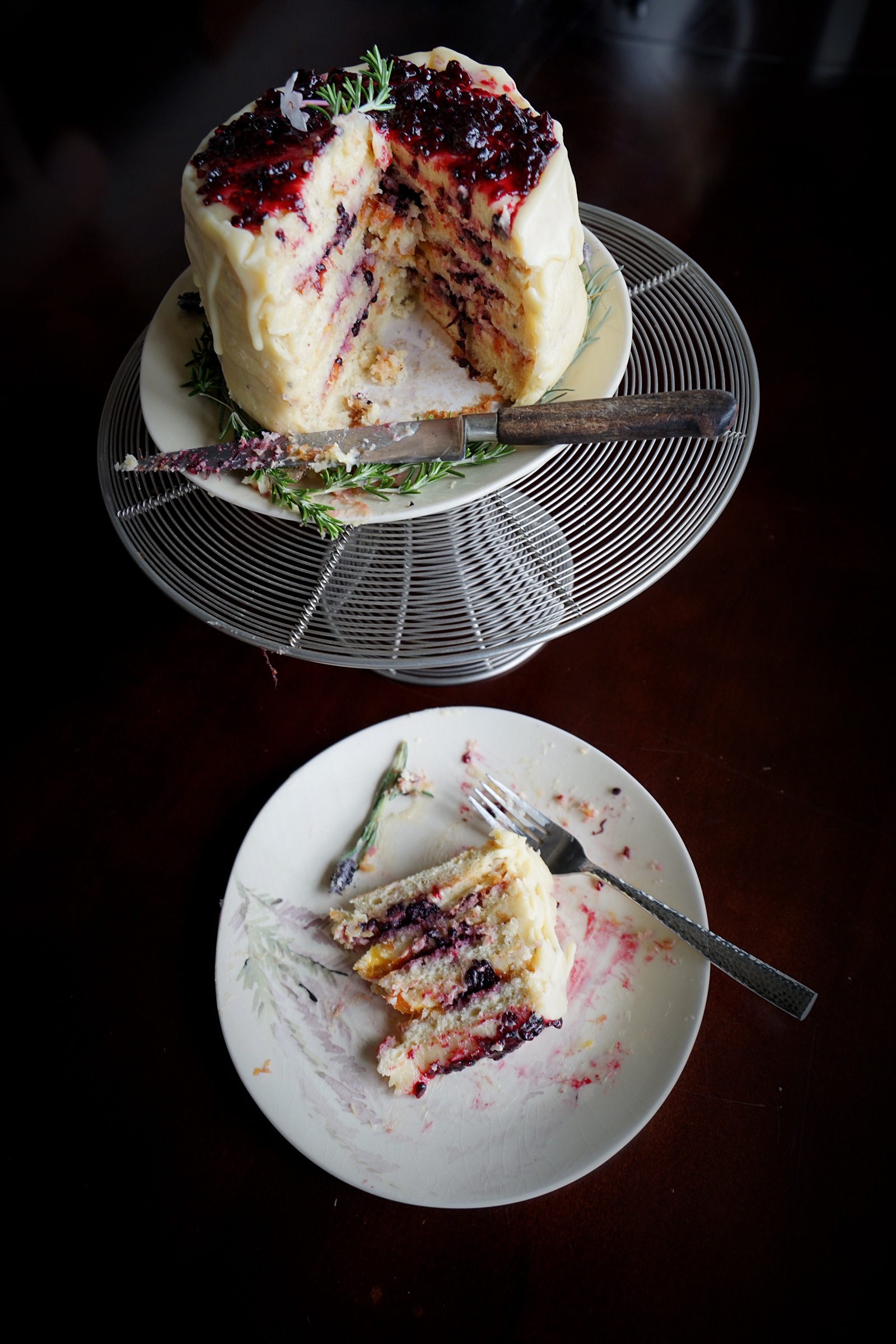 More than anything I had the desire to make a cake that reflected me. Considering I'm not a baker, I feel like I did just that. My cake turned out to be happy, creative, passion-filled, and also somewhat easygoing. The easygoing part emerged from trying to do too many fancy things unsuccessfully. An ability to let go affirmed the simple fact that we can only do what we can and that this is still good enough, sometimes even better and definitely different.
My cake obviously had to demonstrate my fervor for fresh herbs and my mango prowess. It also had to be mostly seasonal (I can make exceptions on this for major celebrations, but only minor ones). Next, it had to simultaneously appeal to my guest with a sweet tooth while honoring my disdain for the overly sweet. Of course, it had to be fancy because it was a bit of a celebration – entering a new decade and commemorating the joy and lessons learned over the past decade. This cake shows the power and beauty of compromise, the ever present coming and going of all things.
Still, a cake is just a cake. A cake is to be eaten and enjoyed. It, too, is impermanent. Once the cake is eaten, it is gone and replaced by memories of what was. While the resulting cake was more luscious than I could have anticipated, the real beauty unfolded in the process of getting there and then eating it.
Nissa's Epic Cake
(White Rosemary Layer Cake, Mango-Passion Fruit Jam, Macerated Blackberries and White Chocolate Mascarpone Lemon Frosting)
Makes one 4-layer, 6-inch cake
This is a celebratory cake, so I wouldn't call it simple. It has a lot of steps and separate recipes in the ingredients. It is a small -two person- four-layer cake with jam and macerated berries in-between the layers. The cake, the berries, and the frosting are all herbaceously flavored. The frosting is sweet-tart and chocolatey smooth, bathed in jam on top with a mango-chocolate drip. This drip was new for me, and it turned out to be super easy. Despite the cake's many steps and over-the-top nature, it is very forgiving of imperfection. All it takes to succeed is a bit of time and attention, all of which should be a joyful experience. I encourage you to play with the flavors and sweetness based on your own preferences. This particular version exhibits my fancy for complex bittersweet, tart notes in a cake.
Ingredients
For the mango passion fruit jam:
3 passion fruits
½ cup sugar
½ cup water
2 large mangoes, about a pound each or roughly 2 cups of finely chopped mango flesh
½ cup satsuma juice
2 tablespoons lemon juice
1 teaspoon lemon zest
2 teaspoons satsuma or orange zest
½ teaspoon kosher salt
2 teaspoons salted butter (optional)
For the macerated blackberries, herbs, flowers and top jam:
2 cups blackberries
¼ cup sugar
Juice of ½ of a lemon
¼ cup orange or tangerine juice
2 teaspoons lemon zest
1 teaspoon orange or tangerine zest
1 tablespoon of finely chopped herbs and flowers (think: lavender, jasmine, hyssop, rosemary)
½ cup water
For the rosemary white cake:
2 cups cake flour
1 teaspoon baking powder
½ teaspoon baking soda
½ teaspoon salt
1 ½ cup sugar, separated (½ cup set aside)
1 tablespoon finely chopped rosemary leaves
1 cup sour cream, room temperature
2 sticks salted butter (1 cup), room temperature
½ teaspoon vanilla extract
¼ teaspoon almond extract
7 egg whites, room temperature
For the white chocolate rosemary & lavender lemon mascarpone frosting:
3 sticks (1 ½ cups) salted butter, room temperature
1 ½ cups powdered sugar
8 ounces white chocolate, melted and cooled
8 ounces mascarpone cheese, room temperature
2 teaspoons lemon zest
1 teaspoon finely chopped rosemary
1 teaspoon finely chopped lavender flowers
For the mango-white chocolate drip:
4 ounces white chocolate, melted and cooled
1 tablespoon mango puree, room temperature
1 tablespoon heavy cream, room temperature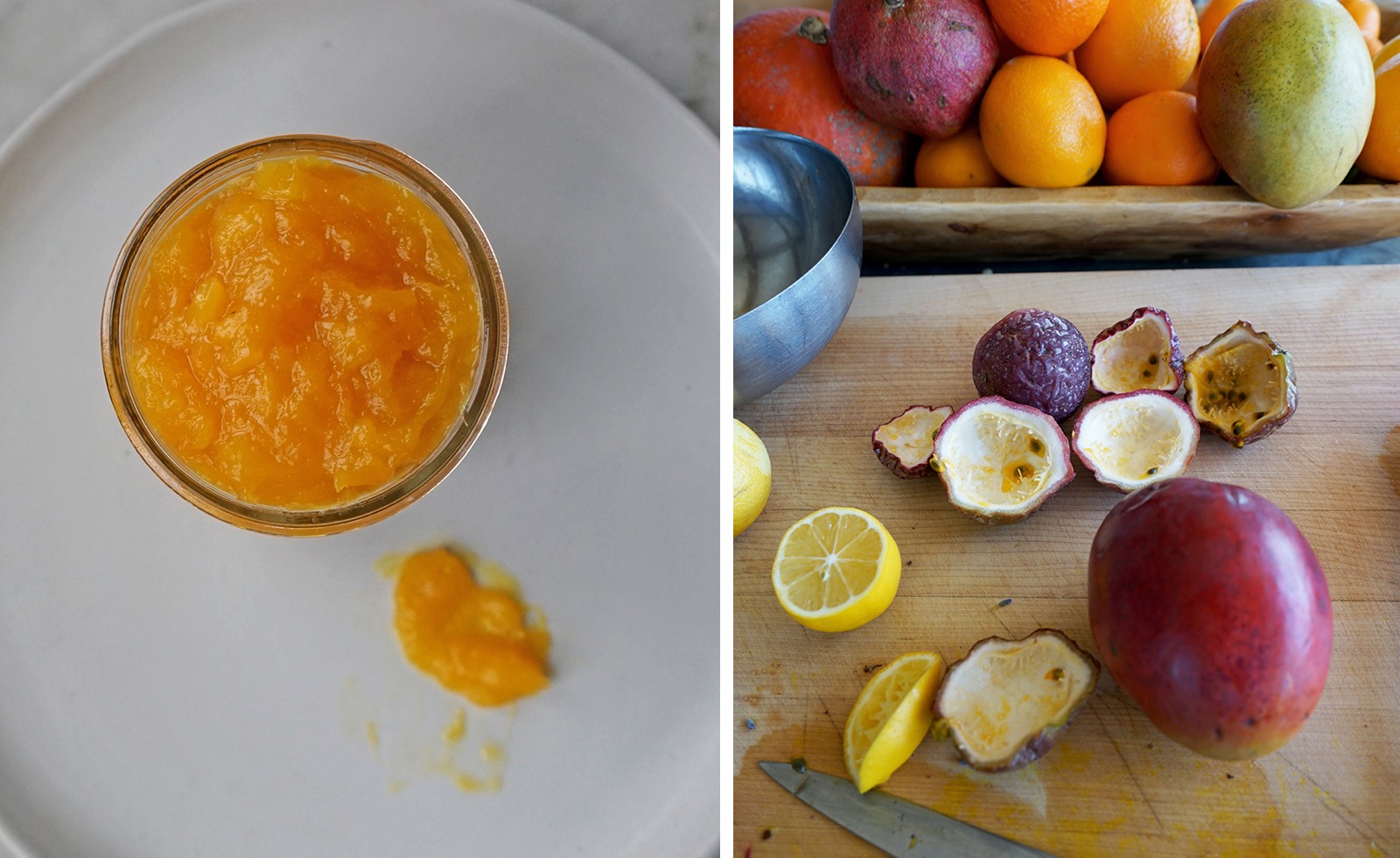 Directions
For the mango passion fruit jam:
Place a plate in the freezer. (This is to be used later for testing if the jam is done.)
Combine the fresh passion fruit, sugar, and water in a medium saucepan and bring to a boil, whisking often. You want to use the whisking motion to help separate the seeds from the flesh of the passion fruit. Reduce the temperature to medium and continue to cook; whisk for a few minutes until the seeds are all loosened from flesh. Strain and discard the seeds and place the passion fruit flesh/liquid back into the saucepan with the mangoes, citrus juice, zests, salt, and sugar in large heavy bottom saucepan. Mix to combine. Place the pot on the stove over medium-high heat. Cook on medium-high heat for a total of 30 minutes, paying attention and stirring often. Stir well but gently so as not to totally break apart all the mango pieces. Make sure to scrape the bottom of the pan often, to keep it from burning or sticking.
Turn the heat down to medium-low and continue to cook and stir another 20-30 minutes, or until the jam is to your desired thickness. The jam should be thick, jammy, and not easily slide off a spoon. Once you believe the jam is almost done (and before testing with the plate), add the butter and stir well, cooking another 1-2 minutes.
Take your plate out of the freezer to test your jam. To do this, place a small spoonful on your cold plate and poke your finger in the jam. The jam should stay firm as opposed to running into the crevice you just made with your finger. If the jam is still runny or loose, allow it to cook again (on high heat) another 3-4 minutes and test again. Make sure you put the plate back in the freezer in between.
Cover and place in the refrigerator for up to 4 weeks.
For the macerated blackberries, herbs, flowers and top jam:
Smash the blackberries up well in a small mixing bowl and mix in all of the other ingredients. Allow the mixture to macerated, refrigerated for about 4 hours and up to overnight.
Separate ½ cup of the macerated berries and put it in a small saucepan with ½ cup water and place on high heat. This will be the top jam. Cook, stirring constantly for about 5-8 minutes. This will cook fast so you will want to make sure you stir the entire time. Once the jam is thick, take it off of the burner to let cool and then refrigerate.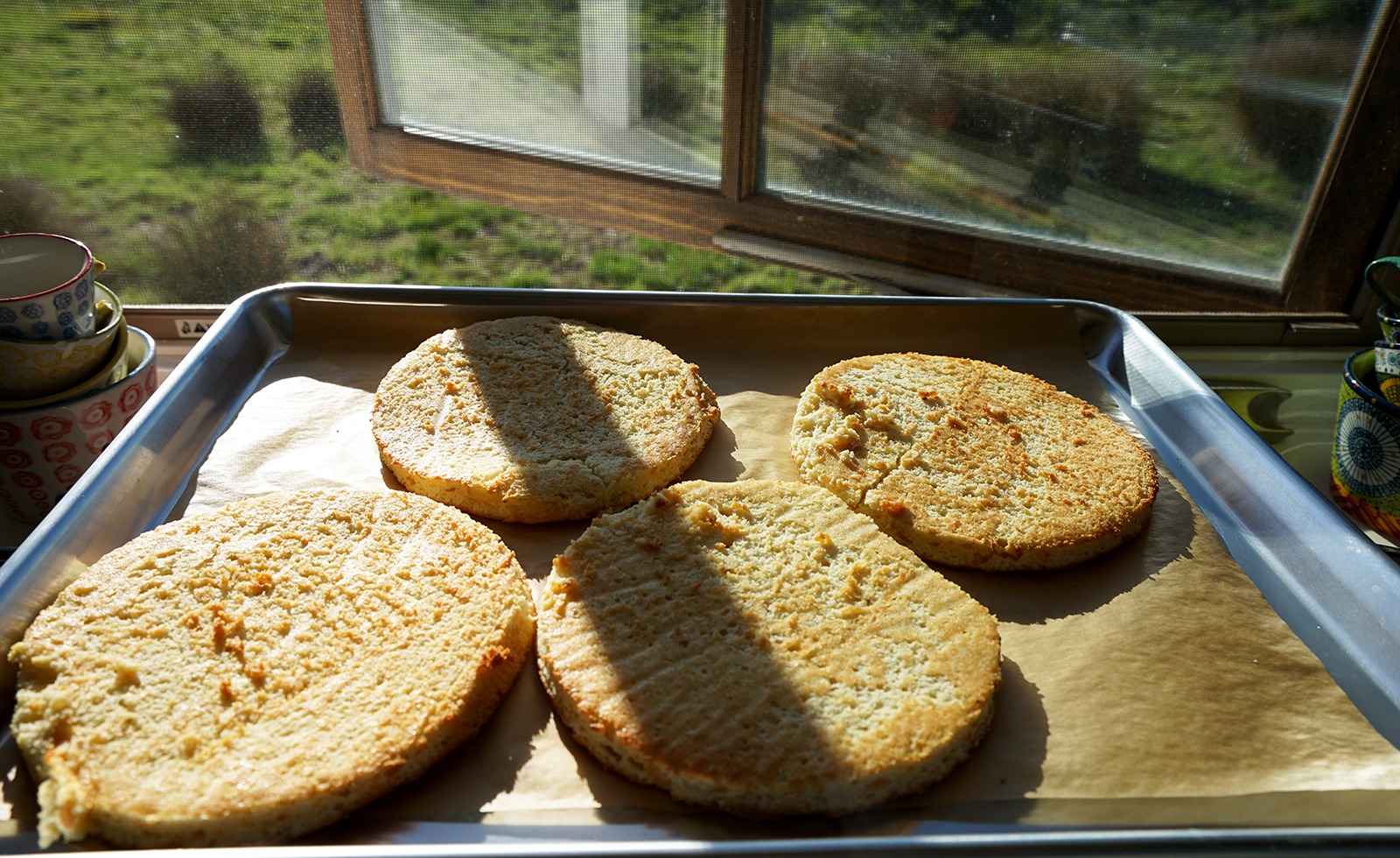 For the rosemary white cake:
Pre-heat oven to 350°F.
Line an 18 x 13-inch baking sheet with parchment paper.
Sift the flour, baking powder, baking soda, salt, and 1 cup of sugar together in a large mixing bowl. Add the rosemary and mix together well and set aside.
In a stand mixer or using a hand mixer, beat together the sour cream, butter, vanilla and almond extracts until totally whipped and creamy, very aerated. This should take a total of about 5 minutes of mixing. Make sure to stop occasionally and scrape the side of the bowl to ensure everything gets mixed together.
Slowly add the flour mixture a little at a time and beat until creamy. It will be thick.
In another medium mixing bowl, using the hand mixer beat the egg whites on medium-high speed until soft peaks form. Slowly, add a little of the remaining ½ cup sugar to the egg whites as you continue to whip on high. Reduce the speed to medium and beat the whites until stiff peaks form, about three to five minutes.
Slowly fold the egg whites into the batter, and mix until there are not streaks appearing and the egg whites are fully, but gently incorporated.
Spread the fully mixed batter evenly in the baking pan, making sure it's totally smooth and flat.
Place in the oven and bake for 20-25 minutes or until a knife inserted into the cake comes out clean. The cake should be bouncy and spongy to touch.
Once ready, allow to cool for 30 minutes on a cake rack. When the cake has cooled, use a 7-inch cake cutter to cut out 4 rings of cake from the baking sheet. Gently place the cut cake layers on a cake rack to cool fully.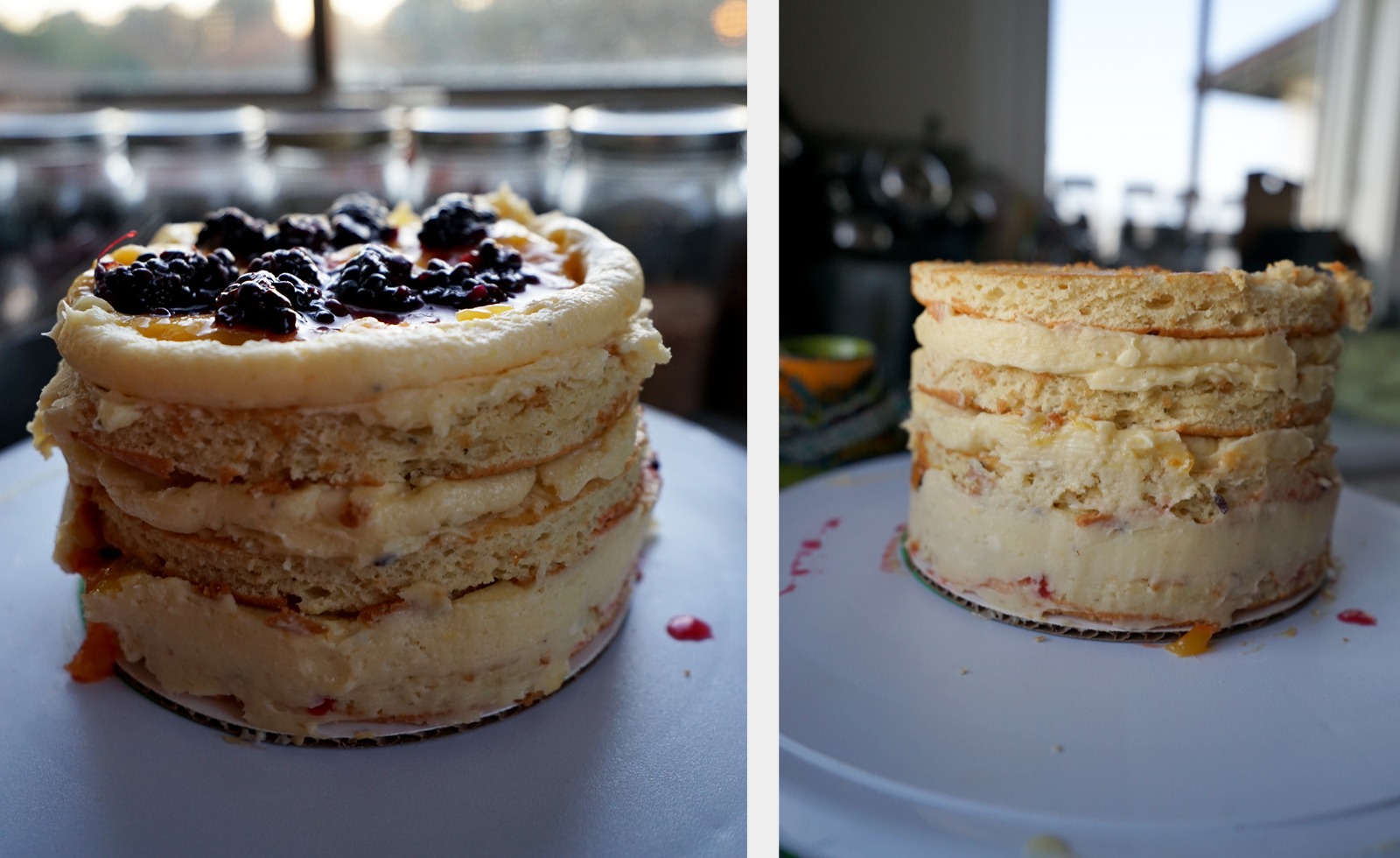 For the white chocolate rosemary & lavender lemon mascarpone frosting:
Combine the butter and powdered sugar in a large bowl and beat, using a hand mixer until the mixture is light, fluffy, and totally mixed. Add the melted white chocolate and beat until combined. Add the mascarpone, lemon zest, and herbs, and continue to beat until fully mixed and soft. Fill 1 large piping bag fitted with a regular tip with the frosting and let sit at room temperature. Make sure you have enough frosting in the bowl to frost the side of the cake.
Layering and frosting the cake:
Place one cake layer flat side up on a plate. Around the outside of the cake, make a circle (outline) using the piping bag of frosting. Make a few more circles on the inside, and then evenly spread the frosting using a large offset spatula. Spread a thick layer of mango jam over the frosting and gently spoon 1/3 of the macerated berries mixture evenly over the top of the jam.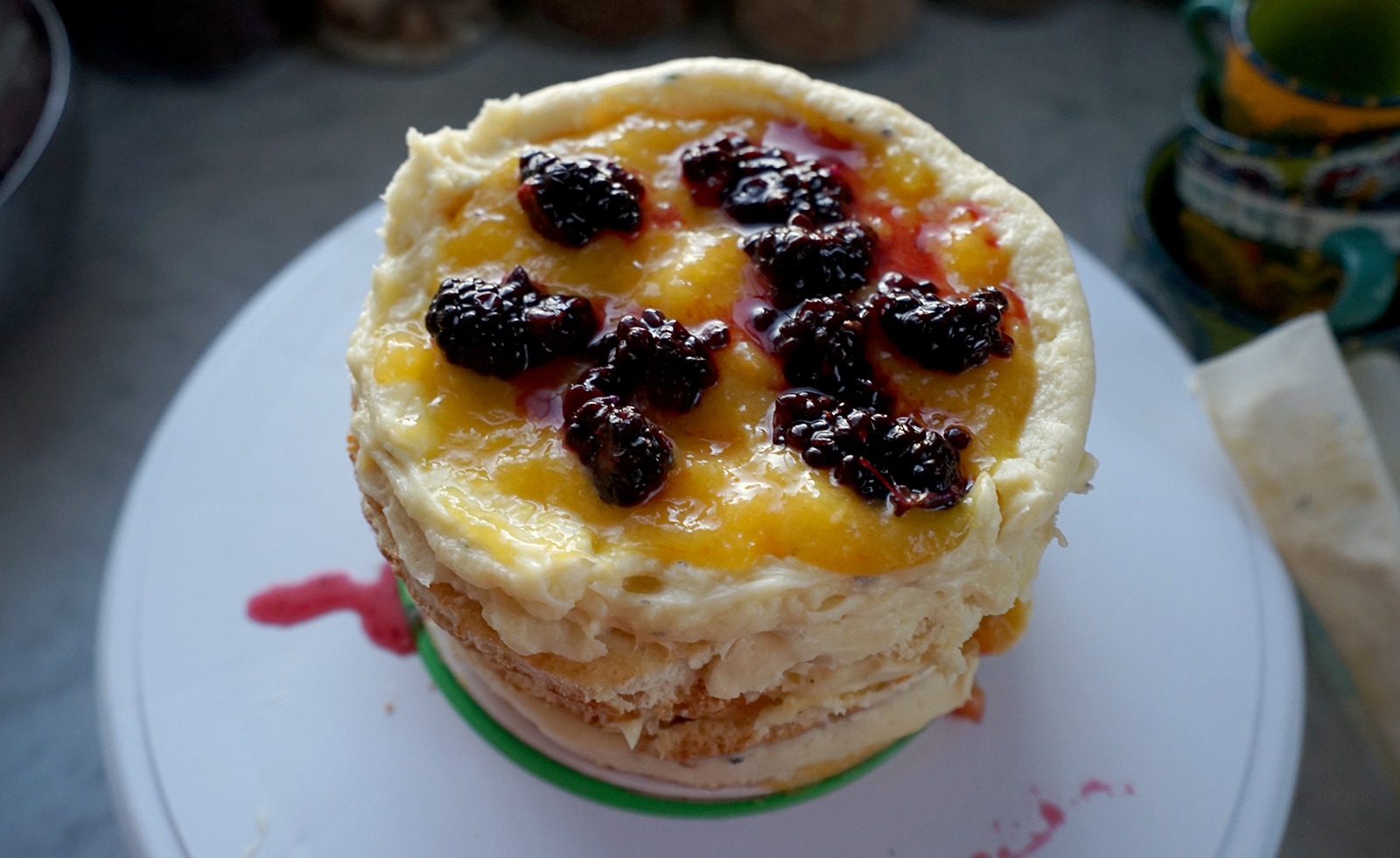 Place another cake layer (again flat side up) over the frosted first layer and repeat the same steps with two more layers. Place the top layer on the cake (flat side up) and repeat the circular frosting technique until the top is frosted and even.
Using the frosting left in the bowl, give the sides a light crumb coat of frosting; this is a little bit of frosting that smooths the cake and seals in the crumbs. Use a small offset spatula to fill in the gaps, and the piping bags can help fill larger gaps. The goal is to fill all the crevices so there is one totally smooth flat circle to work with. A cake turntable is really helpful for this process. Once your crumb coat is on, pop the cake in the fridge to make the top frosting layer easier to go on.
Frost the outside of the cake and make it totally smooth using either a large offset spatula and turn table or an icing smoother. I like to use a plastic bench scraper. Once the cake is frosted and smoothed out, you can apply the white chocolate drip.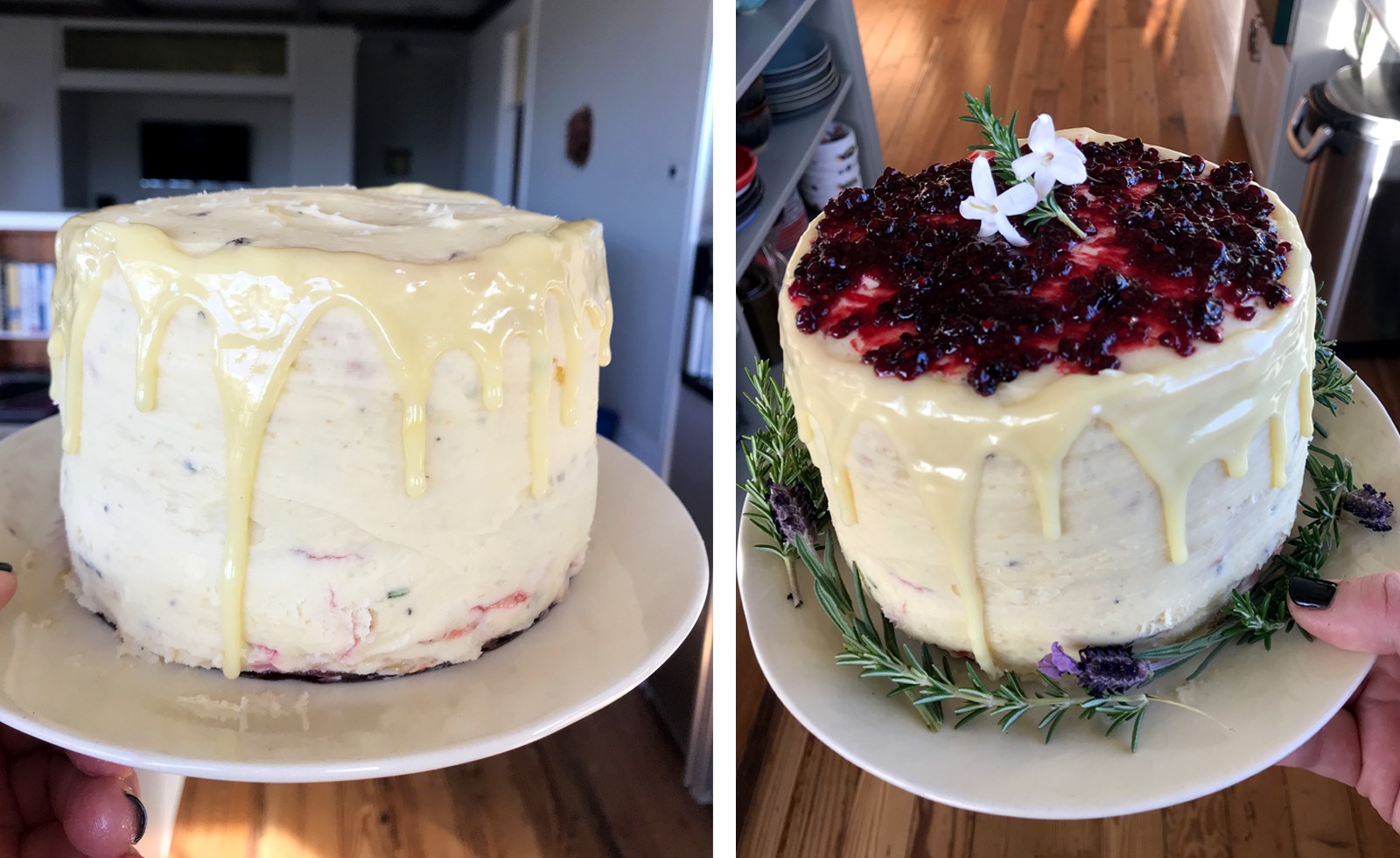 For the mango-white chocolate drip:
Prepare the drip right before you are going to use it, after your cake is fully frosted. I had never done this before so I chose the squeeze bottle method because it seemed most foolproof and, since I'm not known for my precision, I suspected my drip would look better.
Gently whisk together the melted white chocolate, mango puree, and heavy cream. Pour mixture into a small squeeze bottle and place the top on it. Place the tip of the squeeze bottle a centimeter above the edge of the cake and gently squeeze it on the very edge, making a drip. Use the turn table and slowly make the drips by squeezing and releasing. Once you have all the drips done, go back and fill in a tiny bit around the edge of the entire cake. This will create a circle on top where the blackberry jam will go.
Finishing decorations:
Gently spread the macerated blackberry jam over the top inside the white chocolate circle. Garnish with some rosemary and jasmine. You can place the cake in the refrigerator, but make sure it's out for a few hours before serving. I made this cake one day ahead of serving it.